CALL FOR PAPERS
The European Defence Agency in cooperation with the working group on Safety and Regulations for European Unmanned Maritime Systems (SARUMS) calls for papers to be presented at the second workshop "Exploring Safe design and operations for the European Unmanned Maritime Systems". The workshop will take place on 23-24 October 2013 in Brussels.

The workshop addresses three main topics applicable to both military and civilian unmanned maritime systems (UMS):

> UMS legislation, assurance, liability - Applicable rules, regulations (COLREG), experience and best practice

> UMS safety related to operation - Systems, procedures, experience to achieve safe operations

> UMS safety related to design - Systems, products, technology, research needed to accomplish safe unmanned systems


2nd WORKSHOP

Exploring Safe design and operations for the European Unmanned Maritime Systems

Date: October 23-24 2013

Venue: European Defence Agency (EDA), Brussels

1st Announcement

The Workshop supported by European Defence Agency and SARUMS Working Group is open to Industry, Research Institutes and Government Organisations.

The workshop aims to cover three main topics that could be applied to military as well as civilian unmanned maritime vehicles:

Maritime System safety related to operations and design as well as their rules and regulations, highlighting Possibilities and Risks as well as Technologies and Solutions offered to meet challenges and requirements for a foreseen future increased use of Unmanned Maritime Systems for Naval and Civilian applications.

Arrangements:

The Workshop is free of charge but attendees are to arrange their own travel and hotel accommodations. Registration for attendance will be issued in August.

CONTRIBUTIONS TO THE CONFERENCE

Formal paper is not required but presentation should be supplied digitally in advance for distribution to attendees.

An offer of a presentation should contain the following information:

1] Title of presentation
2] A synopsis of approximately 150 words to explain the contents of the presentation.
3] Contact details:

Name
Position
Company
Email
Telephone

Abstracts of around 150 words should be submitted by email to: jari.hartikainen@eda.europa.eu by 15 September 2013. Your offer will be evaluated and you will be notified if your presentation is accepted as soon as possible but no later than end of September 2013.
LINKS
http://www.eda.europa.eu/projects/projects-search/effective-procurement-methods
http://www.eda.europa.eu/info-hub/defence-data-portal
http://www.eda.europa.eu/info-hub/news/2013/safety-and-regulations-for-european-unmanned-maritime-systems-(sarums)
http://www.eda.europa.eu/procurement-gateway/opportunites/eda-procurement/procurement-view/13.r-t.op.624
http://www.defense-unmanned.com/article/1022/asv-wins-contract-for-unmanned-boat.html
http://rpdefense.over-blog.com/tag/LEMUSV/
http://www.science.mod.uk/Engagement/the_portal.aspx
http://www.science.mod.uk/Engagement/enterprise.aspx
https://www.dstl.gov.uk/centrefordefenceenterprise
http://www.maritimejournal.com/news101/industry-news/ukho-appoints-new-national-hydrographer
http://en.wikipedia.org/wiki/United_Kingdom_Hydrographic_Office
http://www.spri.cam.ac.uk/friends/committee/
http://www.thefutureofnavigation.com/ten_steps.aspx
http://www.quaynote.com/ankiti/www/?code=ecdis13&f=programme
Wiki United_Kingdom_Hydrographic_Office
https://www.dstl.gov.uk/insight
US Department of Navy Research, development & Acquisition - http://acquisition.navy.mil/
US Fleet Forces Command - http://www.cffc.navy.mil/
http://en.wikipedia.org/wiki/Naval_Oceanographic_Office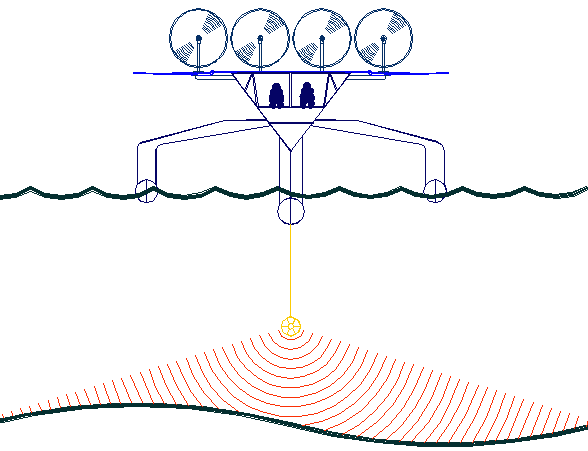 The Bluefish SNAV platform, presently under development, is a robotic ocean workhorse. Based on a stable SWASH hull that can achieve high speeds for long duration. This robot ship uses no diesel fuel to monitor the oceans autonomously (COLREGS compliant) at 6-7 knots continuously 24/7 and 365 days a year - only possible with the revolutionary (patent) energy harvesting system. The vessel may also sprint from one location to another covering distances in excess of 100 nautical mile at speeds of over 10 knots - Thus may reach a target area within a relatively short response time. The hullform is ideal for automatic release and recovery of ROVs or towed arrays, alternating between drone and fully autonomous modes. International development partners and agents are welcome. Initial results suggest that this vessel pays for itself in fuel saved every ten years.