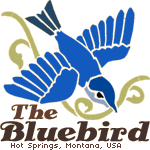 Information about the Bluebird Store Montana, USA
The Bluebird Beads and Gifts is located in the historic Old Post Office Mall, 222 Main St., on the corner of Main and Wall. The Bluebird was founded in 2001 with a commitment to providing full service for bead enthusiasts while supporting regional artisans and their work.
This store has evolved to become an emporium of one of a kind art objects. Our goal: If The Bluebird was suddenly transported to a large metropolis, such as San Francisco or Seattle, it would standout as a wonderfully ecclectic shop with great prices.
This website is Copyright © 2013 Bluebird Marine Systems Limited. The names Bluebird, Solar Navigator™,Blueplanet Ecostar BE3™, Utopia Tristar™ and the blue bird in flight

logo are trademarks. All other trademarks are hereby acknowledged.