LAND SPEED RECORD CARS
Art Arfons' Cyclops Streamliner
342 mph in 1962
http://www.mshf.com/index.htm?/museum/cyclops.htm
The Bean Bandits Racing Team Streamliner
http://members.aol.com/beanracers/
Rick Byrnes
The world's fastest four-cylinder Production Sedan
http://www.rbmotorsports.com/
Malcolm Campbell
http://www.racingcampbells.com/
Jack Chisenhall and the "Cool 200" '53 Studebaker
http://www.vintageair.com/
The Danny Boy Streamliner
http://www.dannyboystreamliner.com/
Dempsey's World Record Associates' White Lightning Electric Streamliner — 245 mph on batteries
http://www.dwra.net/
The Dreamliner III Streamliner
http://www.geocities.com/MotorCity/2078/
Chauvin Emmons' Fuel Modified Roadster
http://www.roadsters.com/chauvin/
Darrell Ferguson and the Black Radon Engineering Blown Fuel Altered '68 Firebird — 259 mph
http://my.cybersoup.com/blackradon/
Andy Green and the ThrustSSC Streamliner
http://www.roadsters.com/750/
The Hoffman / Markley Streamliner
382 mph with 309 cubic inches
http://www.hoffmanmetal.com/
The Hot Rod Lincoln
http://www.hotrodlincoln.com/
Kugel Komponents — the first stock-bodied production car over 300 mph
http://www.kugelkomponents.com/
Ron Main's Flatfire Flathead-powered Streamliner — 295 mph
http://www.flatfire.com/
Mallo Racing's 1928 Ford roadster
http://www.malloracing.com/
Dave Mann's Reprosteel 1932 Ford A/Gas roadster
http://www.roadsters.com/32/
McBride & Moreau Racing's One-Liter Streamliner — 224 mph
http://www.oneliterlandspeed.com/
Rosco McGlashan and the Aussie Invader III Streamliner
http://www.aussieinvader.com/
Russ Meeks and the Finishline Coatings Modified Roadster
http://www.finishlinecoatings.com/
Ky Michaelson — The Rocketman
http://www.the-rocketman.com/
The Nish Motorsports Streamliner — 345 mph with a small block Chevy
http://www.nishmotorsports.com/
Richard Noble and the ThrustSSC
http://www.roadsters.com/750/
The North of 49 Bonneville Racing Team Street Roadster
http://www.fsra.org/n49/
The Phoenix Unlimited Diesel Truck — 221 mph
http://www.phoenixdiesel.com/
The Racing Beat Mazda RX-7
http://www.racingbeat.com/
The SO-CAL Speed Shop Belly Tanks and Streamliner
http://www.so-calspeedshop.com/
Waldo Stakes and the Sonic Wind Rocket Sled
1,000 mph on ice?
http://www.sonicwind.com/
Strasburg Racing
http://www.strasburg-racing.com/
Summers Brothers
http://www.summersbrothersracing.com/
Al Teague — 432 mph Blown Fuel Streamliner
http://www.alteague.com/
Danny Thompson and Mickey Thompson
http://www.thompson-motorsports.com/
The Tom Thumb Special II D/Fuel Competition Coupe — 227 mph
http://www.bryantauto.com/
Don Vesco and the Team Vesco Racing Turbinator Streamliner — 458 mph with a turbine
http://www.teamvesco.com/
Ken Warby
In 1978 his boat went 317 mph with 6,000 HP.
Now he's built a new boat with 9,000 HP.
http://www.kenwarby.com/
The Y Be Normal Turbocharged 1989 Pontiac Trans Am
http://www.ybenormal.com/
Rick Yacoucci and Jack Costella's Nebulous Theorem II Streamliner
http://www.yacoucci.com/
MOTORCYCLE LSR RACERS
Ron Cook
http://www.pureguts.com/
Corbin — Harley-Davidsons
http://www.corbinracing.com/
Don't Be Scared Racing — Kawasaki
http://www.dontbescaredracing.com/
Jim Feuling and the Feuling Advanced Technologies motorcycle streamliner — 332 mph
http://www.feuling.com/
Mark Fillebrown
http://www.flattracker.com/
Denis Manning and the Bub Enterprises 3,000cc Motorcycle Streamliner
http://www.bubent.com/tenacious/
Carl Morrow and the Carl's Speed Shop Harley-Davidson
http://www.carlsspeedshop.com/
Joe Petrali — 136 mph on a Harley Knucklehead at Daytona Beach in 1937
http://www.mshf.com/index.htm?/hof/petrali_joe.htm
RB Racing — Harley-Davidsons
http://www.rbracing-rsr.com/
S&S Cycle — 239-mph Harley-Davidson
http://www.sscycle.com/
Sportster List Racing Team
http://www.lsr.sportster.org/
Team Cooked Goose — Moto Guzzi
http://www.cookedgoose.org/
Team Elves — racing a Buell at Bonneville
http://www.teamelves.com/
Team SNART Racing — racing a Sportster at Maxton
http://www.snartracing.com/
Jon & Nancy Wennerberg — 247cc and 1,270cc Kawasakis
http://www.infodestruction.com/
Sam Wheeler's Ez-Hook Streamliner — 1350cc Fuel Streamliner
http://www.streamliner.com/
LAND SPEED RECORD PARTS

For those of you who are interested in building a car or motorcycle for Land Speed Record racing, here's a partial list of specialists to help you get started.
Many Bonneville cars have been built with parts designed for drag racing, so have a look in the Speed Equipment Directory for chassis parts, engines and transmission parts, and safety equipment.
Wheels and tires are among the most specialized parts that are used in this type of racing.
Although several companies have provided Bonneville racers with tires in the past, Mickey Thompson Tires is presently the only source for tires rated over 375 miles per hour. Here's what they have available:
| | | | | |
| --- | --- | --- | --- | --- |
| Size | 30.0 x 9.0-18 | 26.5 x 9.0-18 | 24.5 x 7.50-16 | 25.0 x 6.0-15 |
| Speed Rating | 590+ mph | 475+ mph | 375+ mph | 300 mph |
| Wheel Size | 6.5 x 18 | 6.5 x 18 | 5.5 x 16 | 15 x 3.5 |
| Height | 29.4" | 26.1" | 24.2" | 24.2" |
| Weight | n/a | 16 pounds | 13 pounds | 12 pounds |
| Tread Width | 6.7" | 7.0" | 5.2" | 5.2" |
| Section Width | 9.0" | 9.0" | 7.5" | 6.3" |
| Part Number | 033011 | 033057 | 033060 | 033050 |
These tires are available from the factory and from their West Coast distribution center.
Mickey Thompson Tires
4670 Allen Road
Stow, OH 44224
Tech (330) 928-9092
Fax (330) 928-0503
http://www.mickeythompsontires.com/

Mickey Thompson Tires West
32240 Passeo Adelante, Suite B
San Juan Capistrano, CA 92657
Phone (714) 489-3507
Fax (714) 489-6595
Two of the companies that specialize in building custom wheels for these tires are run by Ken Huff and the Taylor brothers.
Ken Huff Racing Wheels
10827 Larrylyn Drive
Whittier, CA 90603
Phone (310) 943-6877

Taylor Made Wheels
9220 South Atlantic Blvd., Building #29
South Gate, CA 90280
Phone (213) 567-39
Race car fabricators that specialize in Bonneville racing are not very common, but a look in the pages of some of the magazines provided ads for several of the companies that are run by successful Bonneville racers. I'll be expanding this section whenever I find something to add, so keep checking back.
Barkdoll Racing — aerodynamic consultant and hand-laid fiberglass
1029 Harrop Street
Ogden, UT 84404
(801) 392-4140
California Chassis Engineering — race car fabrication and aluminum bodies by Dave Tuttle
http://www.dragsters.net/
Deist Safety — safety equipment for land speed record racing
641 Sonora Avenue
Glendale, CA 91201
(818) 240-7866
http://www.deist.com/
Hoffman Metal Products — custom metal fabrication
1007-A Bransten Road
San Carlos, CA 94070
(415) 592-5506
http://www.hoffmanmetal.com/
Krem Engineering — mechanical engineering, race car design and problem solving
10204 Perry Highway
Meadville, Pa 16335
(814) 337-2992
http://www.krem-enterprises.com/
Strasburg Racing — "Specializing in speeds over 200 mph"
468 North 1200 West
Lindon, UT 84042
(801) 785-2753
http://www.strasburg-racing.com/
Stroud Safety — safety equipment for land speed record racing
2715 South Agnew
Oklahoma City, OK 73108
(405) 632-2022 or (800) 554-4648
Summers Brothers, Inc. — streamliner axles, chassis and bodies
530 South Mountain Avenue
Ontario, CA 91762
(714) 986-2041
LSR SANCTIONING AUTHORITY

ECTA — East Coast Timing Association
11241 Barnes Bridge Road
Laurinburg, NC 28352
(910) 266-9868
http://www.ecta-lsr.com/
SCTA — Southern California Timing Association, Inc.
43807 40th St. East
Lancaster, CA 93535
(661) 946-6986 phone
(661) 946-6483 fax
http://www.scta-bni.org/
USFRA — Utah Salt Flats Racing Association
Post Office box 27365
Salt Lake City, Utah 84127-0365
Phone and fax (801) 583-3765
http://www.saltflats.com/
Races at Lake Gairdner are sanctioned by the Dry Lakes Racing Association in Australia.
http://www.dlra.org.au/
World land speed record runs are officiated by the FIA — Federation International de L'Automobile.
http://www.fia.com/
For information on how you can help support the Save The Salt campaign, contact Rick Vesco at (801) 723-7737.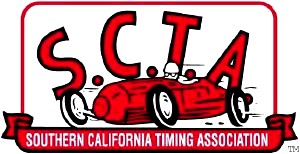 LSR WEBSITES

More useful links to Land Speed Record racing related sites.
Bluebird Electric
Bonneville 200 MPH Club
http://www.bonneville200mph.org/
Bonneville Racing News
http://www.roadsters.com/brn/
Bonneville Speed Week — Dave Mann visits the salt
http://www.roadsters.com/bonneville/
Breaking the Sound Barrier — Andy Green and the ThrustSSC team
http://www.roadsters.com/750/
Ugo Fadini Land Speed Record Models — In addition to being a master model builder, Ugo's site provides articles about the historically significant race cars he builds models of.
http://www.ugofadini.com/
The Speed Record Club — publishers of Fast FACTS
http://www.speedrecordclub.com/
The Speed Record Shop — LSR and WSR souveniers from the U.K.
http://www.speedrecordshop.com/
Thrust Powered Race Cars
http://www.roadsters.com/thrust
---
The Bonneville Salt Flats are a 121 km² (47 mi²) salt flat in northwestern Utah. A remnant of the ancient Lake Bonneville of glacial times, the Salt Flats are now public lands managed by the Bureau of Land Management.
The Salt Flats are perhaps most famous for their use as the Bonneville Speedway for high-speed race cars which have achieved speeds in excess of 600 miles per hour (1000 kilometers per hour). Several movies have been filmed at the salt flats, including portions of Independence Day, The Brown Bunny and The World's Fastest Indian.
Each rainfall erases tiremarks and flattens the densely-packed saltpan that is inhospitable to plantlife.
In 2006 the Stardust landed safely on the salt flats; however, in 2004 the Genesis crashed into it, damaging the spacecraft after a failed parachute deployment. Los Alamos National Laboratory stated that they should be able to meet many, if not all, of their primary science goals.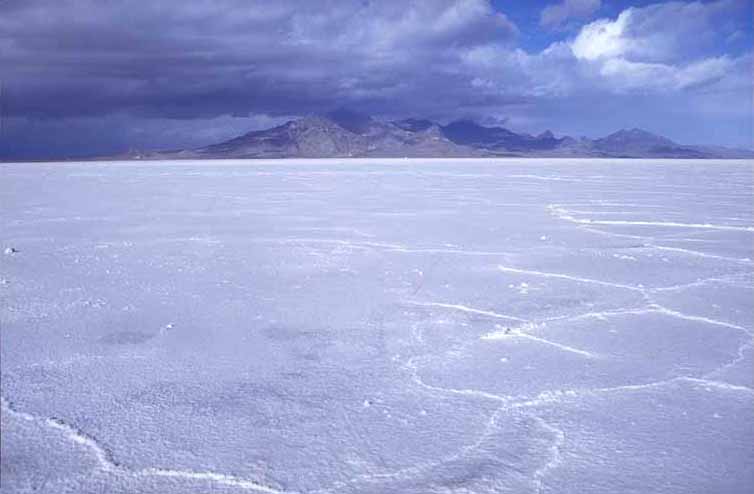 The Bonneville Salt Flats as seen from a rest area along Interstate 80
One of the areas in the MMORPG World Of Warcraft is a possible homage to the flats. The area called "The Shimmering Flats" is located within the zone "Thousand Needles." It is a large salt flat in which the game's two engineer races, the goblins and gnomes, test and race rocket powered vehicles.
WHAT IS A SALT FLAT?
An alkali flat, also known as playa or sabkha, is a dry lakebed, generally the shore of, or remnant of, an endorheic lake. Such flats consist of fine-grained sediments infused with alkali salts. Their surface is generally very dry, hard and smooth in the summer months, but wet and very soft in the winter months. While the playa itself will be devoid of vegetation, they are commonly ringed by shadscale, saltbrush and other salt-tolerant plants that provide critical winter fodder for livestock and other herbivores.
Many playas contain shallow lakes in the winter, especially during wet years. If the layer of water is thin and is moved around the playa by the wind, an exceedingly hard and smooth surface can develop. Thicker layers of water can result in a "cracked-mud" surface. Too little water can result in dune formation.
The extremely flat, smooth, and hard surfaces of playas make them ideal surfaces for driving motor vehicles on. Large-sized playas are further excellent spots for pursuing land speed records, as the smoothness of the surface allows low-clearance vehicles to travel very fast without risk of disruption by surface irregularities, and the course of travel does not need to be too precise to avoid obstacles. The playas at Bonneville Salt Flats in Utah and Black Rock Desert in Nevada have both been used for setting land speed records. The latter is also the site of the annual Burning Man art and music festival.
Salar de Uyuni in Bolivia, near Potosν, is the largest salt flat in the world (12,000 km², about 300 times bigger than the Bonneville Salt Flats).
Terminology
The Spanish word playa (/ˈplaʝa/) literally means "beach". Alkali flats are known by this name in some parts of Mexico and the western United States (pronounced /ˈplaɪə/). On the Llano Estacado and other parts of the Southern High Plains, playa refers to a playa lake, a smaller seasonal depression.
In Arabic, an alkali flat is called a sabkha (also spelled sabkhah, sometimes sebkha) or shott.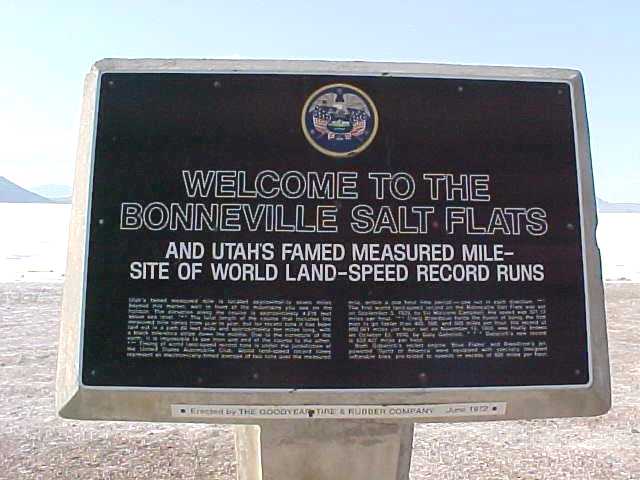 The Bonneville Salt Flats - Welcome Sign
LAKE BONNEVILLE
Lake Bonneville was a prehistoric pluvial lake that covered much of North America's Great Basin region. Most of the territory it covered was in present-day Utah, though parts of the lake extended into present-day Idaho and Nevada. Formed about 32,000 years ago, it existed until about 16,800 years ago, when most of the contents of the lake were released through the Red Rock Pass in Idaho. Many of the unique geological characteristics of the Great Basin are due to the effects of the lake.
The Great Salt Lake is a remnant of the original Lake Bonneville. Several levels of the old shorelines are still visible above Salt Lake City, along the Wasatch Front and elsewhere. Its appearance is that of a shelf or bench protruding from the mountainside, well above the valley floor. Four main shorelines are associated with the fluctuating levels of the ancient lake. The Stansbury, Bonneville, Provo and Gilbert shorelines each mark a time when lake level remained constant long enough to deposit massive accumulations of sand and gravel.
The Bonneville Bench, at approximately 1,555 m (~5,100 ft.) elevation, is part of the preserved ice age shoreline. This shoreline marks the highest level attained by the Pleistocene lake approximately 15,500 years ago. During this period, the lake covered over 52,000 km² (20,000 square miles ) and was over 300 m (1000 ft.) deep in places.
About 14,500 years ago, the lake level fell catastrophically as Lake Bonneville overflowed near Red Rock Pass, Idaho. The lake level fell some 105 m (~350 ft.) to what is now the next lower bench (the "Provo level") in a flood that geologists estimate to have lasted up to a year. The Provo level is the most easily recognized shoreline feature throughout the valley and is distinguished by thick accumulations of tufa that formed nearshore during the 500 years that the lake was at this level.
About 14,000 years ago, the lake started to drop again due to changing climate conditions, and by 12,000 years ago, the lake reached a level even lower than that of the modern day Great Salt Lake. A slight transgression or rise in lake level occurred about 10,900 to 10,300 years ago and formed the Gilbert shoreline. The Gilbert shoreline is the least conspicuous of the major shorelines but evidence of it remains at Antelope Island and in large coastal features, such as the Fingerpoint Spit near the Hogup Mountains.
Lake Bonneville is named after Benjamin Louis Eulalie de Bonneville (1796–1878), a French-born officer in the United States Army, fur trapper, and explorer in the American West. Bonneville is noted for his expeditions to the Oregon Country and the Great Basin.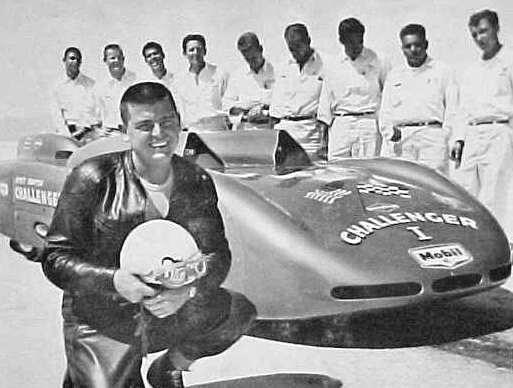 Mickey Thompson and Challenger at the Bonneville Salt Flats
References
Green, S. A. and Currey, D. R. (1988). The Stansbury Shoreline and Other Transgressive Deposits of the Bonneville Lake Cycle. In In the Footsteps of G. K. Gilbert — Lake Bonneville and neotectonics of the Eastern Basin and Range Province. Guidebook for Field Trip Twelve, The Geological society of America, p. 55-57.