Lord C. C. Wakefield was England's Rockefeller. He was the governing director of C. C. Wakefield and Company, Ltd., known as 'Castrol', perhaps the largest oil company in England at that time, the name coming from 'Castor' and 'Oil', Castrol 'R' being one of their best selling racing oils. Lord Wakefiled was interested in speed records, not just for the publicity it generated, but also for the achievement. It was Wakefield who financed Amy Johnson's record flights to Australia. He also sponsored Captain James A. Mollison in his westward flight across the Atlantic.
On day when speaking to Gar Wood, Segrave said: "There's no reason why Lord Wakefield will not be interested in boats as far as I can see," he said. "We've won the records we wanted on land and in the air. What England wants now is the water speed record and the British International Trophy. I think Lord Wakefield will be interested." He wasn't wrong.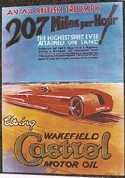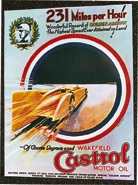 Castrol LSR publicity Posters
At any rate Segrave gained great popularity in England because of his success against Gar Wood. He went back to England with his Miss England I, obtained the backing of Lord Wakefield for a new boat, Miss England II, which then began to take shape. Segrave had his heart set now on the British International Trophy and the world speed record on water. But the Spring of 1930 came and Segrave had not challenged for the Trophy. His hull experiments had not been completed. He made some adjustments in his old boat, Miss England I, and cabled Wood during the summer:
"Cannot challenge for Harmsworth this year but if you send boat to Venice regatta will promise to bring Miss Eng land to Detroit in 1930."
Segrave, speaking to Lord Wakefield said: "I honestly don't know what is going to happen, old fellow, when I release 4,000 horsepower to that little fifteen-inch propeller." Wakefield had given Segrave carte blanche. "I don't care what it costs. But return the British International Trophy to England," he had told him.
Backed by the British Air Ministry, the Rolls-Royce Company, Ltd., had developed a new aircraft engine of 2,000 horsepower. Wakefield went to the Ministry and contracted for the rights to use two of those engines. When the boat was finished it was a seven-ton projectile, powered with two 2,000 horsepower Rolls-Royce engines that spun a tiny two bladed propeller through the water at 12,000 revolutions a minute. Malcolm Campbell was to use the same engine in his K3 Bluebird boat.
Unfortunately, Miss England went out of control killing its famous driver. When the boat was raised out of sixty feet of water the greater part of the front step was torn away and the entire bottom was broken up. Lord Wakefield said, "That's enough for me. I've killed two wonderful men. I'm quitting." Of course the loss was not Wakefield's fault. Racing is just rather dangerous. Some years later he was to change his mind.