The National Motor Museum at Beaulieu is home to a number of famous land speed record vehicles. Nelson Kruschandl met Lord Montagu in 1993 during the launch of his Bluebird Electric (BE1) vehicle at the famous collector's hall of fame.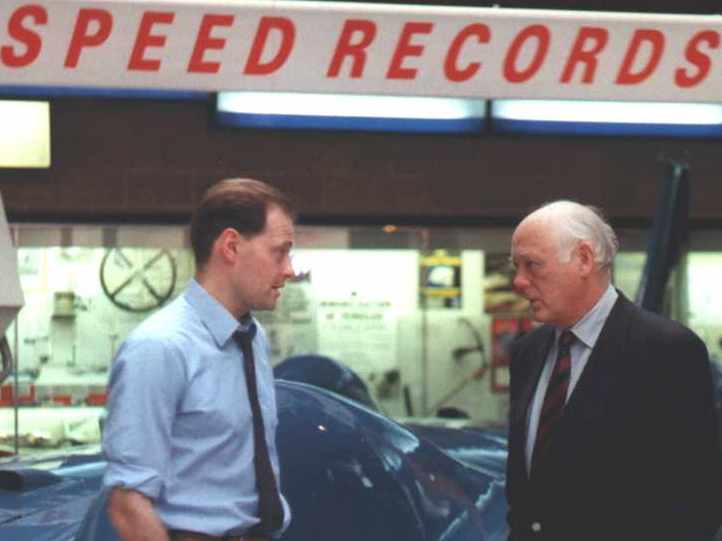 Nelson Kruschandl and Lord Montague at Beaulieu
The BE1 was on display at Beaulieu for a short time by kind permission of Lord Montague. The event was covered by the Daily Telegraph and other local newspapers. This launch was organised for Nelson by Bill Nichols of the firm Nichols PR. Thanks Bill.
Beaulieu is situated in the S.E. of the New Forest and can be reached via Lyndhurst (B3056), Hythe (B3054), Brockenhurst (B3055) or Lymington (B3054).

The name Beaulieu is derived from the Latin "Bellus Locus" meaning beautiful place. The estate has been in Lord Montague's family since 1538 and has been a Motor Museum since 1952 and this is probably what most visitors come to see. However it is worth taking the time to wander through the village streets to browse the interesting shops and houses, which include antique shops, gift shops, a pottery and quaint little tea rooms. A picnic on the village green is invariably shared by the resident donkeys !!

Beaulieu Abbey was built in 1204 and partly destroyed in the Dissolution and now houses an exhibition of monastic life.

As you wander through the village you will no doubt notice that some of the cottage doors are painted red whilst others are not. The red doored cottages signify that they still belong to the Montague Estate.

Close by is the maritime museum at Bucklers Hard and Exbury Gardens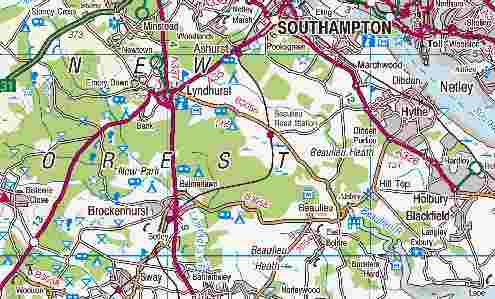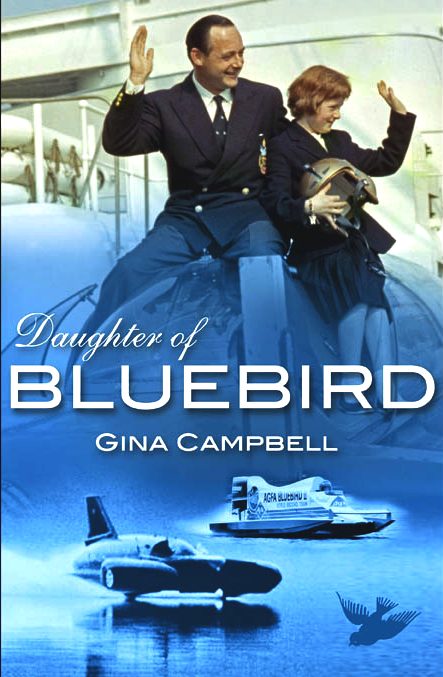 LINKS
http://www.carsuk.net/the-bluebird-dc50-is-an-electric-supercar-to-celebrate-land-and-water-world-speed-records/
http://www.nextgreencar.com/hybrid-cars/
http://cheltenhammotorsports.com/intro.html
https://www.ticketsouth.co.uk/MotoExpo
http://www.thegreencarwebsite.co.uk/2013/07/09/bluebird-to-debut-two-new-electric-cars
http://www.nextgreencar.com/news/Bluebird-to-officially-unveil-two-new-EVs
http://www.carsuk.net/bluebird-dc50-electric-supercar
http://www.greencarreports.com/famous-bluebird-name-to-grace-new-electric-sports-car
http://evworld.com/bluebird DC50
http://bluebirdelectric.com/
http://fastestlawnmower.wix.com/pb#!
http://uk.linkedin.com/pub/joe-wales/5b/908/519
http://www.gordonpoole.com/Don-Wales.aspx
http://www.donwalesphotography.co.uk/
http://www.donwalesweddings.co.uk/
http://www.nextgreencar.com/news/6264/Bluebird-to-officially-unveil-two-new-EVs
http://www.thegreencarwebsite.co.uk/blog/index.php/2013/07/09/bluebird-to-debut-two-new-electric-cars/
https://www.ticketsouth.co.uk/event.asp?show=MotoExpo
http://www.greencarreports.com/news/1085444_famous-bluebird-name-to-grace-new-electric-sports-car
http://evworld.com/news.cfm?newsid=30733