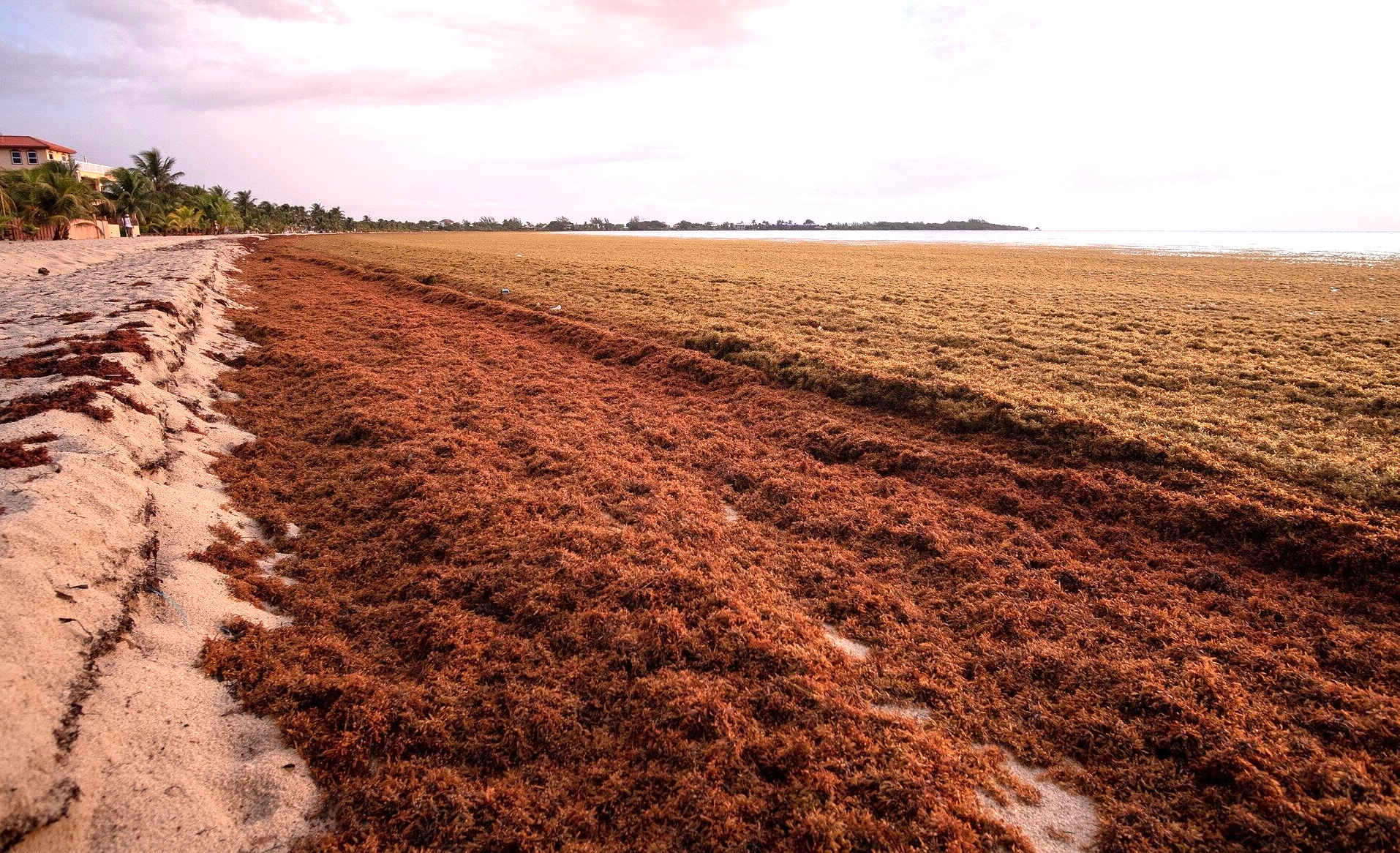 FROM THIS
You can think of it as an insurance policy against sargassum ruining your eco tourist holidays, and conserving the ecology dependent on clean shores. But how much will such policies run to, and are there companies that offer such protections, against acts of God? Unfortunately not.
The suggestion is to form a Community Interest Company, by way of a Sargassum Cooperative, or self-help group, where members give Undertakings to work together towards developing sustainable solutions to deal with seaweeds in the most affordable manner, and to engage in fleet or other coordinated operations, that are theoretically (scientifically) more efficient, with a view to defining the best practical solutions.
COST OF INSURANCE - EXAMPLE SOLUTION:
Initial proposal to include 30 vessels (1 per island) in the Caribbean, operating in coordinated fleet formation to collect and disgorge 5 x loads/day = 15,000 tons/day capacity - or around 3 million tons over 200 days. Added to this, a further 20 vessels, 5 per Government, in the Mexican Gulf - adding a further 2 million tons over 200 days.

To this, we would suggest that an auxiliary fleet of 50 vessels, operating further out to sea, might be funded by the US Administration, adding another 5 millions tons capacity (over 200 days), for a total proactive fleet capacity of 10 million tons.

We would suggest phasing such fleet in, after assessment of one island using 5 sargassum patrol vessels (to simulate group operations). Before this, assessing just one development prototype, and one beach launch and recovery vehicle (if needed). Most especially in terms of reducing asset processing.

In support of such endeavour, the parties may wish to consider installing solar and wind powered electrolyzers, to produce green hydrogen, to fuel any ocean/beach cleaning equipment, in line with UN SDGs 3 (good health), 6 (sanitation), 11 (sustainable communities), 13 (climate action), 14 (life below water) and 15 (life on land).

Likewise, by way of the potential of sargassum as a cash crop, to undertake a study as to the market worth, of appropriately treated macro algae. Most especially in terms of cleaning cost offset from earnings from biomass, fertilizers, foods, chemicals and carbon sequestration.
SYSTEM CAPACITY
The proposed system, capable of harvesting some 10 million wet tons per year @ 90% moisture content, would be worth something in the region of: 1,000,000 tons x $125 (half seaweed value) = $125,000,000. Based on a fleet of 50 SeaVax-Calypso™ vessels equipped with the SeaNet tracking system (simply by way of example). Approximately $25 million less income, than the cost of the fleet.
Any vessel with similar harvesting and hauling/offloading capacity, would suffice, save for diesel costs. The SeaVax system would significantly reduced fuel cost via green hydrogen and solar assistance - over any diesel powered system.
Total annual yield in Caribbean/Gulf based on current trend @ 24m tons = $300,000,000 million dollars ($0.3billion).
Assuming, that once development costs absorbed, production SeaVax harvesters may be purchased for around $3m dollars per unit, it would take roughly 5 years to recover CAPEX, minus Sagassum Taxes.
RECENT COSTS EXAMPLE: After the 2018 sargassum surge, occupancy rates at Riviera Maya hotels declined by 2.87 percent. That same year, hotels between Cancún and Puerto Morelos to the south spent around $200,000 (£146,000) 'each' on wages for beach clean-up personnel and transporting seaweed to ecologically unsound disposal sites. Many hotels used specialized removal boats, which can cost up to a million dollars (U.S.), and for offshore sargassum barriers that run $100 (£70) per linear foot.
The escalating cost of cleaning beaches from increasing quantities of sargassum blooms, may destroy any eco tourism that benefits the nations bordering the Gulf of Mexico, and Islands in the Caribbean Sea. Turning the former holiday seafront Riviera destinations into loss making septic locations to be avoided by tourists.
SARGASSUM RETURNS
Seaweed is valued on the open market according to species and quality, a rough guide for which is the World Bank average for farmed produce, seen below. Typically macro algae is washed and dried, then shipped to manufacturers of foods and medicines, etc., in a convenient form. The cost of insurance against sargassum blooms will depend to a large extent on the recoverable value of sargassum, to offset capital investment in cleaning plant and machinery.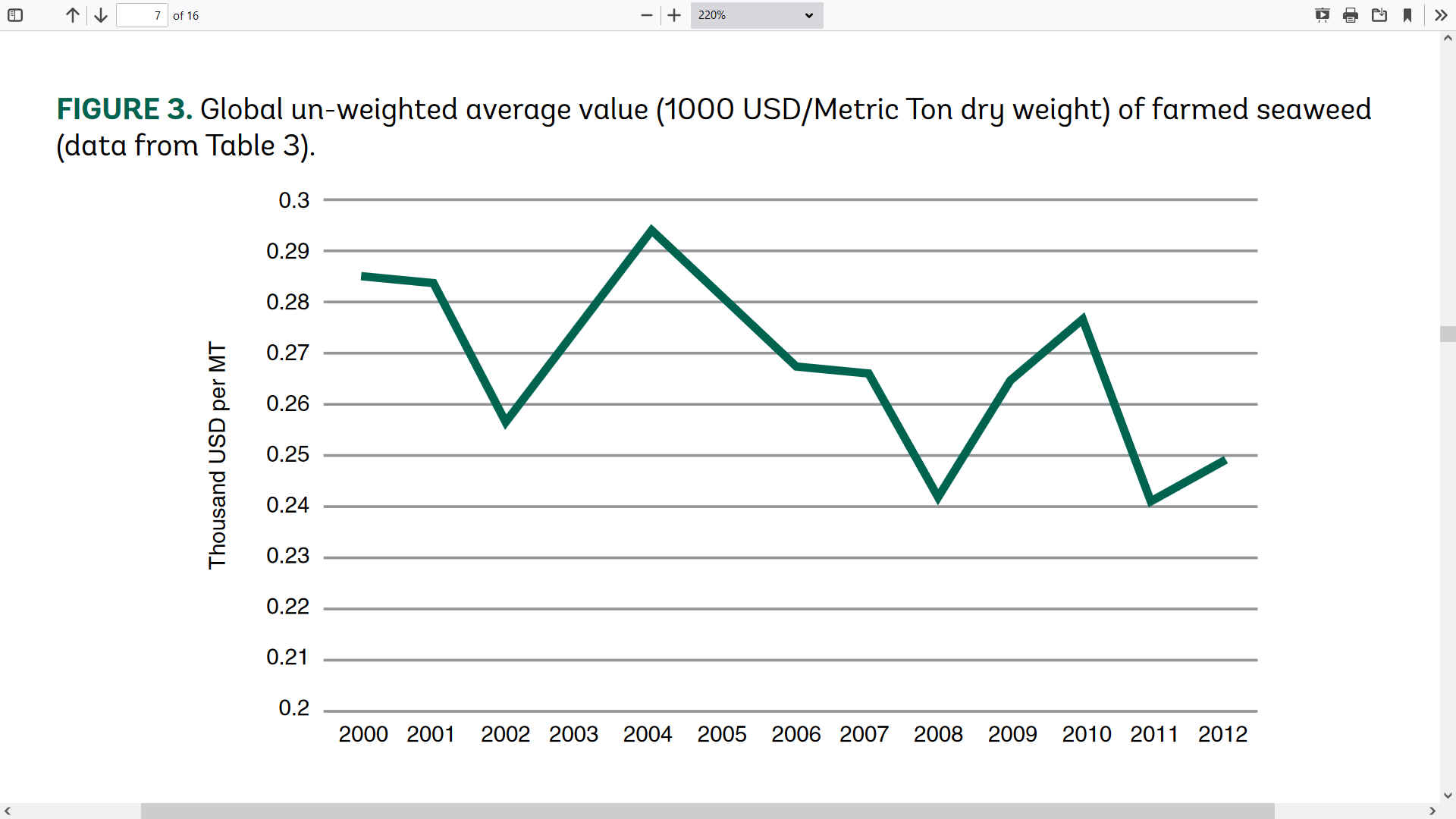 BIOMASS - BUILDING MATERIALS - CANCER - CLOTHING & SHOES - CO2 SEQUESTRATION - COSMETICS
FERTILIZERS - FOODS - MEDICINES - MINERALS - PACKAGING - SUPPLEMENTS - VITAMINS
SARGASSUM COOPERATIVE EXPRESSIONS OF INTEREST: The "Sargassum Cooperative CIC" is a proposed consortium of affected Governments, the aim of such group being to develop a cost-effective system for the sustainable, proactive removal and long-term management of pelagic Sargassum seaweed in the Mexican Gulf and Caribbean Sea - and specifically, for sharing the development and operational costs of specialized harvesting and handling equipment. Thus meeting the economic and environmental needs of these geographical regions, in relation to the present crisis, and future emergency situations.
In the first instance, please contact the Cleaner Ocean Foundation with your interest.

Read more on this subject via the UN Watchdogs:
FUNDING ENVIRONMENTAL STRATEGIC ACTION
SARGASSUM WHITE PAPER - TURNING A CRISIS INTO AN OPPORTUNITY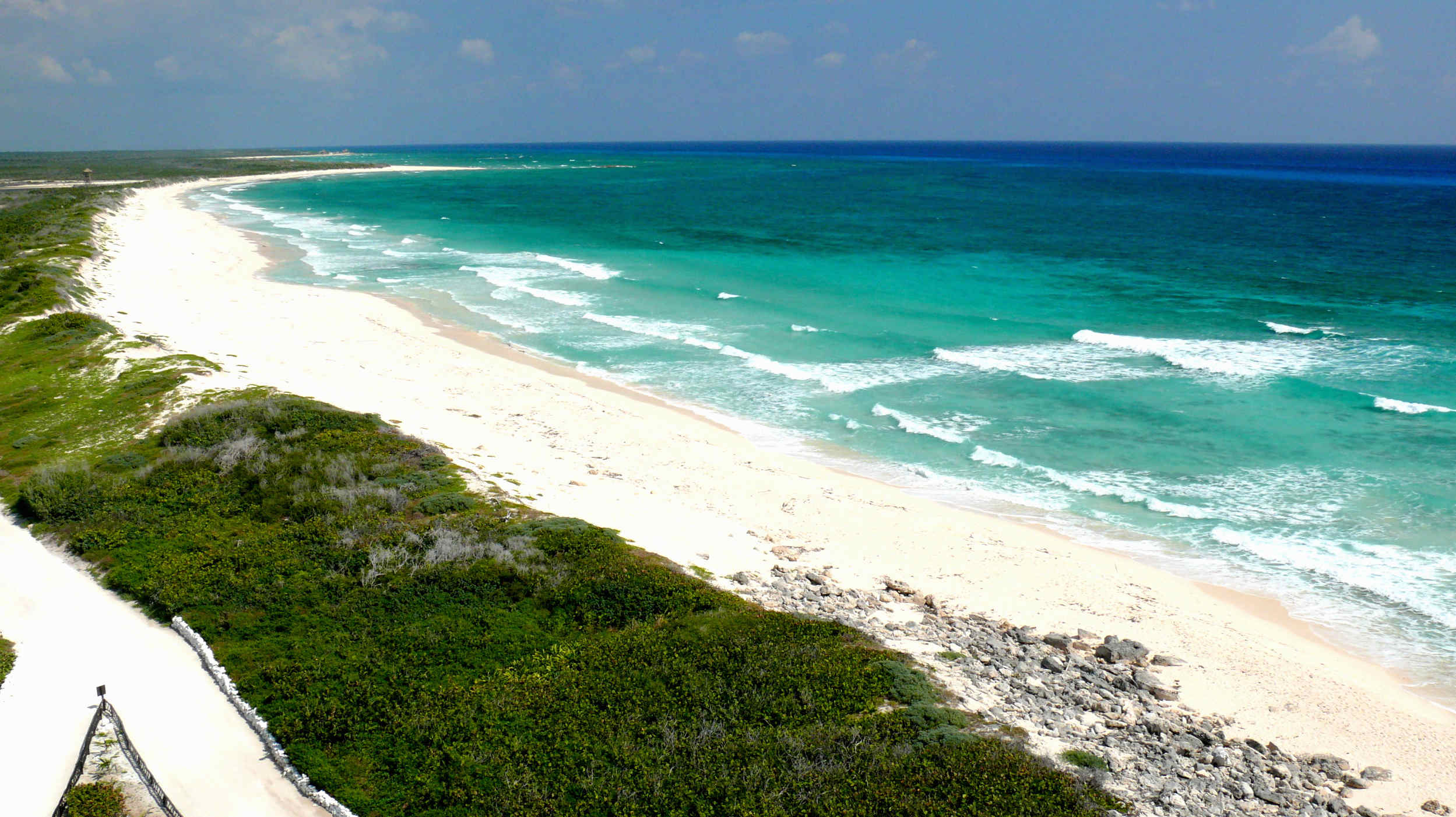 TO THIS