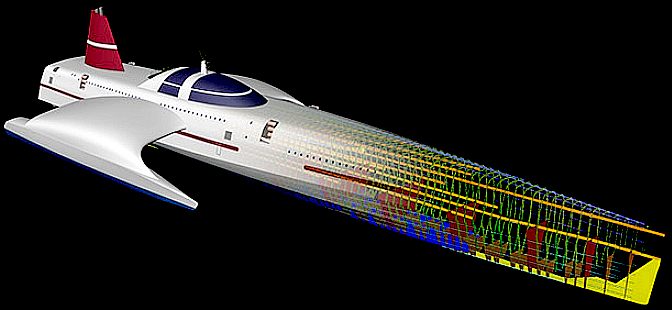 The BGV 461 - 2011 design by Giles Vaton
ARTICLE 11 Jul 2011
The World's Largest "Zero Carbon Neutral" Super Yacht Exceeding 60 Knots: BGV MY 461 Mega -Yacht

Revolutionary Eco-Efficiency, Eco-Friendliness and Eco-Innovation Super Yacht Technology

A striking new "Paradigm Shift" takes to the sea. Measuring 140.63 m/ 431'63 (respectively), BGV MY-461 Mega Yacht will have the carbon footprint far smaller, often reaching Zero, when compared to other vessels even a third of her size. As projected, her lowering of CO2 emissions is equivalent to the annual carbon footprint than less than 1,630 people on Earth.

She will have an innovative and timeless design that will be able to travel at high speed in warm and shallow waters, whilst providing luxurious and sophisticated accommodation to its guests. The yacht will break new grounds in terms of dimension, performance and technology.

Principle Characteristics:
• Length overall: 140.63 m
• Length, waterline: 140.63 m
• Beam, central hull: 8.863 m
• Total Breadth: 42.63 m

The BGV Trimaran Hull (global patent) reduces resistance up to 28%, and is a hydro and aerodynamic advanced high-speed displacement hull design, maximum solar cell deployment and kinetic energy regeneration alongside computerized monitoring systems for energy and heating. With a hybrid power supply sourced from the sun, she is the ultimate ecological yachting experience. Solar cells and Lithium-ion storage system allow the vessel to achieve speeds under peak loads or to navigate in and out of harbors with carbon neutral CO2 emissions. Operating with renewable sources of energy, this yacht combines the advantages of reserve power for emergencies, more comfort in rough seas, and more space for entertaining privileged guests all while having Zero Carbon Footprint.

"Power Generation"

Solar power and the use of fuel cells are mounted on the superstructure, which are capable of producing enough stored charge to run the entire vessel's lighting systems; even enough to manoeuvre the ship at low speed around harbors using the planned rotating water jets, thus reducing the dependence on conventional generators for electrical power. Solar cells will exemplify cutting edge technology and will be implanted onto flexible surfaces using a semiconductor ink, allowing them to be deployed on almost any surface. The electrical power plant is powered entirely by non-polluting solar panels that envelope the structure like skin.

Additionally, the yacht utilizes wind energy. The yacht is equipped with vertical axis wind generators that do away with bladed propellers and instead use helix shaped wind vanes. The systems operate at lower wind speeds when compared to wind turbines.

"Energy Conservation"

The installation of new type of solar control glass will reduce the heat that enters the internal space. Additionally, this super yacht is coated with heat reflective paint on the hull and superstructure, which will completely eliminate the need for climate control when the vessel is moored in a tropical or sub-tropical environment and will add energy conservation saving to up to 29%.

"Waste Management"

The yacht has the installation of a hydraulic press and the subsequent removal of the liquid element, which can dramatically reduce both its, volume and weight and enable it to be stored in a dry and odour-free form. The water that is extracted can then join other grey water outputs such as those from showers, laundry and the galley will be sent to a water recycling facility that will use either biological or distillation processes to separate the purified water from the residual elements. Elsewhere on board non-organic waste is compacted for high density and low volume storage while waiting for recycling. She also is equipped with "bio gas digestion system" for the kitchen that uses the waste from food for energy creation that fuels the cooking stoves.

BGV MY-461 will be carbon neutral in even the most sensitive environs. The yacht will have the capability to internalize the already lower CO2 emissions and waste the yacht cannot avoid generating.

As for who will take over the top spot as owner of BGV MY 461 the most Eco-Efficienct, Zero Carbon Footprint Super Yacht- who knows? Anything is possible- it's just a question of who is willing to conquer the seas?
CAD
BGV Innovation uses the best CAD modelling tools available and has several Work-stations equipped with the CATIA Dassault Système programme, thus providing hyper-professional solutions for new projects – from the original concept through to turnkey delivery



CONTACTS

Naval Architect - Gilles Vaton
Bureau : +33 (0)4 91 54 00 00
Mobile : +33 (0)6 13 02 04 17
Vatongilles@orange.fr
9 bis, rue Protis
13007 Marseille France
www.vaton-design.com
www.bgvdesign.com

Hubert Vinez
hubert@yacht-josephine.com
+ 33 (0)6 322 22 523
http://www.yacht-josephine.com/

Lucius von Bron
BGV.Megayacht@gmail.com
LINKS

http://www.bgvdesign.com/bgvanglais/concept.htm
http://www.theguardian.com/environment/carbon-offset-projects
http://www.theguardian.com/environment/2010/may/06/eco-super-yacht-carbon-neutral

Comparing websites about ropes and knots