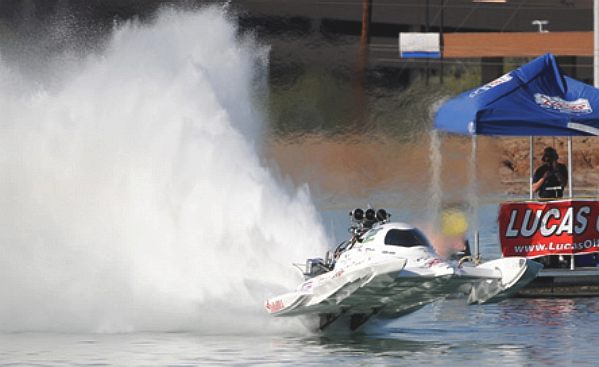 Scotty Lumber leaps from the starting line leaving behind the traditional water fantail from the 261 mph prop driven, top fuel drag racing hydroplane.
Thirty four year old Scotty Lumbert is the driver of the Spirit of Texas drag boat. He is one of the most popular drivers in the sport, "Scotty" dreamed about driving drag boats as a kid. He started with his dad Ray in the family owned Top Fuel Jet and in 1997 was named Rookie of the Year, and then Driver of the year. In 1998 and 1999 he was the World Champion in Top Fuel Jet.
In 2000 Scotty stepped up to the Top Fuel Hydro ranks with his "Public Nuisance" hydroplane. He has since won 16 races out of 26 final round appearances and finished 2nd in the 2009 World Championship driving the Spirit of Texas. Away from the track, Scott manages the family owned business, Lumbert's Marine and Auto Service in Creal Springs, IL. Scotty is a sportsman who enjoys fishing, boating and sports.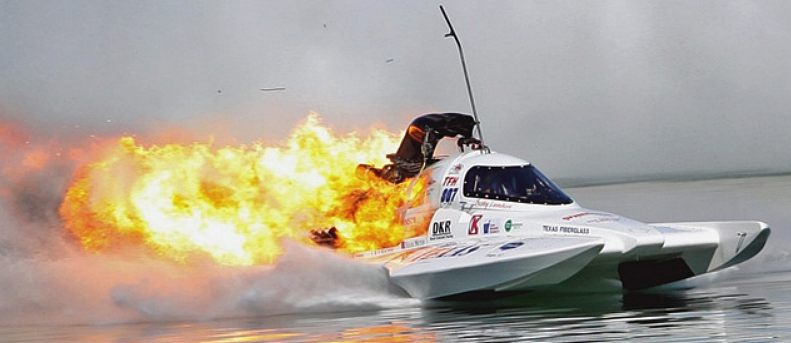 August 2010 - Scotty Lumbert had a bit of trouble over the weekend at the lake at Firebird International Raceway in Phoenix when the engine of his Top Fuel Hydro "Spirit of Texas" caught fire. We'll have coverage of the Lucas Oil Drag Boat World Finals later this week in DRO.
David Kirkland is the owner and crew chief of David Kirkland Racing. He currently resides in Parker , Texas with his wife, Dewana who also plays a major role in the racing operation.
David has been drag boat racing for 28 years. He has served on the Board of Directors of the SDBA as both Vice-President and President, and in 2000 was inducted into the SDBA Hall of Fame. When he is not racing he owns and operates Kirkland Sales, Inc., a fabricator of customized foam and packaging products. You will usually find him flying across Lake Texoma in one of his Hi-Speed lake boats, or tuning on his 55 Nomad during his moments of relaxation.

These drag boats routinely equal the water speed records of Donald Campbell. Imagine strapping in a modern jet engine - how much faster that would make them. It's surprising that no British team has thought of that, to bring back the record from Ken Warby's Spirit of Australia.
RACING SCHEDULE 2013
National "Run for the Ring" Race Schedule 2013
May 3-5 – Lake Irvine California Classic, Lake Irvine, CA
May 17-19 – Gila River Desert Challenge, Phoenix, AZ
June 7-9 – John Haas Memorial, Wheatland, MO
June 21-23 – Showdown in San Angelo, San Angelo, TX
July 19-21 – 28th Augusta Southern Nationals, Augusta, GA
August 9-11 – Marble Falls Lakefest 2013, Marble Falls, TX
Aug 30-Sept 1 – 3rd Diamond Drag Boat Nationals, Wheatland, MO
Sept 20-22 – LODBRS Fall Classic, San Deigo, CA
Oct 11-13 – Lucas Oil Thunder on the River, Lake Havasu, AZ
Oct 31-Nov 3 – Napa/Lucas Oil Word Finals, Phoenix, AZ


RACING SCHEDULE 2012
National "Run for the Ring" Race Schedule 2012
June 8-10 – Wheatland Missouri-John Haas Memorial *
June 23-24 – San Angelo, Texas – Showdown in S.A. *
www.showdowninsanangelo.com
July 20, 21, 22 – Augusta, GA. Augusta Southern Nationals
July 28-29 – Choteau, OK Mid America Summer Nationals
August 10-12 – Marble Falls,TX Lakefest in Marble Falls*
August 31-Sept.-2-Wheatland,MO. Diamond Drg Boat Natl's*
Sept. 14-16- San Diego, CA. Lucas Oil Fall Classic *
Nov. 1-4- Phoenix, AZ. NAPA/Lucas Oil World Finals *

* denotes televised events
A diecast 1:18 scale Top Fuel Hydro boat from Bad Ass Die Cast. It is the 2007 Spirit of Texas Top Fuel Hydro World Champion boat owned by David Kirkland and driven by Todd Odom. This jewel features a super detailed blown engine, opening canopy on capsule to show the incredible driver's cock pit complete with cloth safety belts and photo etch buckles, detailed outdrive and twin props, high luster paint and simply flawless decoration. This model has five removable magnetic pieces to reveal even more detail and accuracy. 2007 Spirit of Texas Top Fuel Hydro Drag Boat $147.00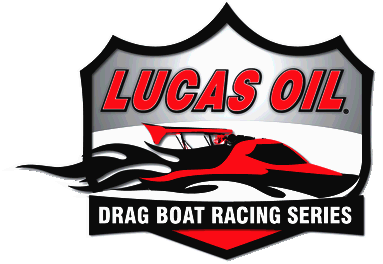 LINKS
http://www.diecastcars.tv/spirit_texas manufacturers products
http://www.lucasoil.com/CorporatePartnerOfTheLucasOilDragBoatRacingSeries
http://www.dragracingonline.com/agent
http://www.redlineoil.com/news_article.aspx?id=172
http://www.lucasoil.com
http://www.davidkirklandracing.com/
http://www.dragracingonline.com