---
MG ex 181
---
STIRLING MOSS was born on September 17th 1929 in London, England. His father, Alfred, was a dentist who raced at Brooklands. He twice competed in the Indianapolis 500, driving a Fronty-Ford to 16th in the 1924 race. His mother, Aileen, was also a frequent competitor in British rallies and trials. In 1936, she won the Ladies Experts Trials.
Stirling is often mentioned as the most celebrated Formula One driver. Yet he never won the World Championship. Many people believe this is due to his loyalty to British racing cars during a time when they were not yet competitive. Had he chosen to drive for other teams earlier, it is likely the ten-time British champion would have achieved World titles more than once. Moss featured in the top three competitors in the F1 World Championship for seven consecutive years.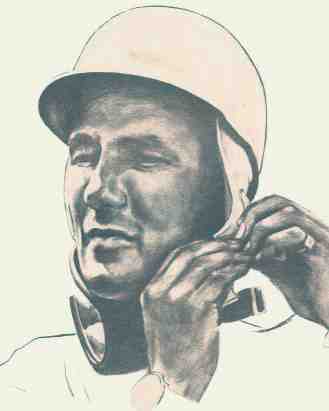 Stirling Moss
Undoubtedly, Stirling Moss was one of the most versatile drivers in history competing and winning not only in Formula One, Two and Three, but in hill-climbs, sports and touring car races, rallies and world speed record events. During his professional career, which started in 1949 and ended in a horrific and still unexplained crash at Goodwood on Easter Monday, 1962, Moss drove 84 different types of automobiles in 495 events, finished in 366 of them, and won an amazing 222 times.
By the age of 18, Moss was already a prospect. Driving a Formula 3 Cooper-JAP. He won eleven of fifteen starts in his first full year of racing and a hillclimb competition. In 1949. He soon captured the attention of the British public with seven more wins, including a "foreign" victory, the F3 race at Zandvoort. But it was a sports car win the following year in a privately entered Jaguar XK 120 that really started Moss' professional career: Moss won the Tourist Trophy, beating all the foreign entries and Jaguar's works cars as well. At the age of 20, Moss would win the first of his ten British Championships and was hired by Sir William Lyons to lead the Jaguar team in 1951.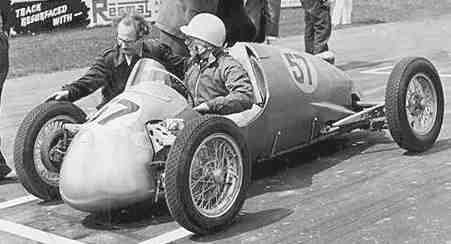 Stirling Moss at Brands Hatch in 1951
Moss' success continued in sports cars and his popularity grew. Despite miserable luck with British Formula cars, he showed enough talent to get an offer from Enzo Ferrari. This offer was rejected. Finally, in 1954, Moss relented and looked outside of Britain for a proper Grand Prix ride. In his new mount, a privately-entered Maserati 250F, Moss did battle with the works Ferraris, Maseratis and Mercedes', finishing third at Spa and qualifying on the front row four times. At Monza, Moss overtook Fangio and Ascari for the lead and held it easily until his Maserati broke ten laps from the finish. The victorious Fangio hailed Stirling Moss as the moral victor that day, telling one and all that the young Brit had "arrived".
Then in 1955 Mercedes team manager Alfred Neubauer signed Moss. Under the tutelage of his hero and mentor Juan Manuel Fangio, Moss bloomed in the reliable Silver Arrows. He won only one Grand Prix, his "home" race at Aintree, which to this day he maintains was a gift from the Maestro, but in the 300SLR sports cars, Moss had no equal. His victories that year included the fastest-ever Mille Miglia, the Targa Florio and the Tourist Trophy. Were it not for teammate Pierre Levegh's tragic accident at Le Mans and Mercedes' subsequent withdrawal, Moss, co-driving the leading 300SLR with Fangio, might well have added the twenty-four-hour classic to his list of achievements.
When Mercedes pulled out of racing at the end of the '55 season, Moss went to Maserati, beginning 1956 with a DNF at the Grand Prix of Argentina. There would be many more such outcomes that year, but in the non-championship International Trophy at Silverstone, Moss gave the British-made Vanwall its first GP victory, raising hopes for the future. In the World Championship rounds, Moss won only at Monaco and Monza, again ultimately finishing second in points to Fangio.
In 1957, Moss fulfilled one great ambition by taking over teammate Tony Brooks' ninth-place Vanwall and winning the British Grand Prix. It was the first World Championship victory ever for a British-made car. Further wins at Pescara and Monza seemed to point toward a World Championship for Moss the following season. Moss' three subsequent Vanwall victories and a second-place were enough to help Vanwall win the Manufacturers' Championship.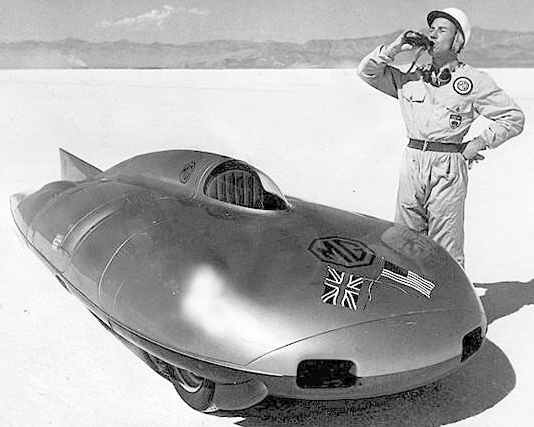 Stirling Moss and the MGex181 at the Bonneville Salt Flats
It was at Monaco in 1961 that he had perhaps his greatest race. He drove an underpowered Lotus-Climax which was the decided underdog to the powerful Ferraris. Moss gained the upper hand on lap 14 with Ferrari driver Richie Ginther having fallen back. By lap 81, Ginther had made up much of the distance and was just four seconds behind Moss. It seemed inevitable he would overtake his rival. But it never happened. Underpowered as he was, Moss was able to match the speed of the Ferraris and win by 3.6 seconds.
He won his share, though. He won the British, New Zealand, Monaco, Moroccan and Italian Grands Prix, among others. In 1961, his last full year of racing, Moss took part in 54 events, won 27, and earned the pole or fastest lap 31 times. Others may have scored more points toward the World Championship, but up to the time of the Goodwood accident in 1962 he was the man to beat. However he was seriously injured in the Glover Trophy race. He emerged from the accident with his left side partially paralyzed and, after coming out of a coma, he was slow to react.
He would accept nothing but a full recovery. In a few brief months, he had recovered to the point where he felt he could drive again. On 1st May 1963 at Goodwood, he climbed into a race car for a private session. He drove around the circuit for a half an hour, then coming in to the pits, he said simply, "I am retiring." Moss realized he had to think about everything he used to do automatically, and that would hamper his performance. He simply could not compete as before and the intense Moss would not race unless he could be at his best. Maybe he came back too soon!
Stirling Moss has two children, his daughter Allison and son Elliot. He has been married to his wife Susie for nearly twenty years. They reside together in their unique home in Mayfair, London, and also keep a townhouse in Florida. Moss has co-written sixteen books since retiring. He is also the subject of two authorized biographies. His interests include designing houses, attending theatre and cinema, historic racing and sports in general. In 1999, at the age of seventy, Stirling Moss was knighted by H.M. Queen Elizabeth II.
MOTOR SPORT LINKS
Visit The Official Sir Stirling Moss Website
Tom Burnside Motorsport Archive
B.S. Levy
Ray Besserdin Motor Racing Sculptures
123Carlinks.com
International Motor Racing Research Center at Watkins Glen
AUTOSPORT Magazine
Atlas F1
The Official Phil Hill Website
For Elva Enthusiasts
Pupiline
Wilkinson's Automobilia
MotorSport
Magazine
A - Z DIRECTORY of MOTOR MANUFACTURERS