Two jet-powered cars are to go head to head in Gloucestershire in a bid to break the British land speed record.
The current record is held by Colin Fallows, 54, from Northampton, in his Gnat jet powered dragster - Vampire - which reached 300.3mph in July 2000.

Colin Fallows in the Vampire jet powered dragster
At RAF Fairford on Friday, he will attempt to break his record, but will face competition.
Split Second, driven by Mark Newby, 48, from Oxford, is powered by a Rolls-Royce Viper engine. The engine comes from a commercial jet, putting out more than 6,000lb of thrust.
The record attempt is being organised by Primetime Land Speed Engineering. Team manager Malcolm Pittwood said: "We have been allowed to use one of, if not the, longest runways in the UK. "The signs are good that the cars will both break 300mph and we will achieve a new top speed."
The world record was set by RAF pilot Andy Green who broke the sound barrier in Thrust SSC, achieving a speed of 763mph in the Nevada desert in 1997. There will also be an attempt at Fairford to break the 138mph record for an electric car.
Mr Fallows broke the record twice in his Vampire dragster, powered by an aero engine he had bought for just £500 19 years ago from the Red Arrows. Mr Fallows spent years upgrading the engine, which produces 12 times more power than a Formula One car, after he bought in 1980.
Then, in the summer of 1998, Richard Noble's long standing Outright UK Record was eclipsed by Colin Fallows in Prime Time's "Vampire" jet dragster at 269mph in a widely publicised event held at Elvington in Yorkshire.
STATISTICS
Estimated top speed: 370mph

Acceleration: 0 to 272mph in 6 seconds

Engine: Rolls Royce Orpheus

Fuel economy: 7-10 gallons per mile

Weight: 2,200 lbs (998kg)

Length: 30 feet (9.14m)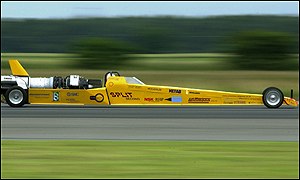 Mark Newby in 'Split Second' - 272.9 mph
Prime Time then built another jet dragster called "Split second" and pitted it against "Vampire" in a head to head combat between Colin Fallows and Mark Newby in an attempt to improve on 269mph. Thus is November 1999 the two jet cars turned up at Elvington, but the event was washed out by the frozen conditions and fog.
The two jet cars again met at Elvington on July 5th 2000. Mark Newby was first to run in Spilt Second setting a new record at 272.9 mph, although complaining of problems with his car. Next up was Colin Fallows in his "Vampire", when he raised the record to 300.3 mph, the average of two runs in opposite directions within the hour. The team said they'd be back in 2004 to raise the record further, but it seems they were too busy running the ABB E=motion, an electric record car, in Tunisia in that year.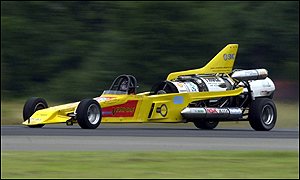 Collins Fallows in 'Vampire' - 300.3 mph
Engineer Colin Farrows has smashed the British land speed record with a 300mph run in his jet-propelled car.
Mr Fallows shattered his own previous 269mph record in his Vampire car just two hours after his colleague Mark Newby recorded a speed of 272mph at Elvington airfield, near York.
The pair had been working together to break the 300mph barrier and made several attempts in their two cars, Vampire and Split Second, throughout Wednesday morning.
But Mr Fallows, 50, from Northamptonshire, clocked the quickest official time, recorded as 300.30mph over two timed quarter-mile stretches.
Despite being the first to reach 300mph on British soil, Mr Fallows, who owns the engineering company which built the two cars, hopes to set even faster times in the future.

"I'm absolutely delighted. It was that last run which just managed to put us over the 300mph barrier," he said. "Three hundred miles per hour is really about the limit you can go with current tyre technology but maybe the next barrier will be 350mph."
Mark Newby made seven runs with Split Second on a two-mile stretch at Elvington on Wednesday. The average of his two fastest runs was 272mph. But the crowds who came to see the record attempt knew Mr Fallows had the best chance of beating the 300mph barrier in his 20-year-old Vampire.
Under 20 seconds
The 30-foot car is powered by a Rolls-Royce engine taken from a Red Arrow aeroplane and can accelerate from a standing start to 272mph in six seconds. He made four record attempts getting closer to the 300mph mark each time.
His final attempt earned rapturous applause from the crowd as he pushed the average of his best two times over the 300mph barrier. From a standing start he travelled along the two-mile stretch and stopped with the help of parachutes in less than 20 seconds.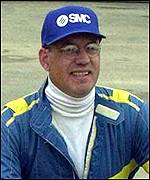 The next challenge for Colin Fallows is the world
speed record for an electric vehicle
Mr Newby, who held the top speed for only two hours, has the consolation of claiming the unofficial record for holding the British land speed record for the shortest time.
He said: "The only one goal has always been to win for the team and the sponsors today.
"It really didn't matter whether it was me or Colin who went out and got it just as long as we actually did it."
Mr Fallows, an ex-RAF technician and RAF-trained midwife, now aims to beat the world land speed record for an electric-powered car in 2002.
His company Primetime is already designing the vehicle which he hopes will propel him over the current 245mph record.
The world land speed record with a jet engine is 763mph, set in America by Andy Green in Richard Noble's supersonic car Thrust SSC.
But Fallows, who has four grandchildren, is content with his achievement for now.
He said: "It is the result of a lot of hard work. The weather was good for us as it was dry with very little wind.
"It's a brilliant feeling going at that speed. You feel in control and are totally aware of what's going on. It's the ultimate ride."
Richard Hammond and the 280 mph Vampire Crash 20 September 2006
While filming for Top Gear at Elvington, Richard lost control of the Vampire after deploying his chute at around 300mph...... READ MORE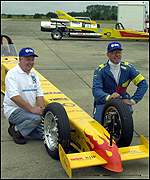 Mark Newby (left) and Colin Fallows worked
together to break the 300mph barrier
COLIN TRIED ELECTRIC IN 2006
A two-man British team has abandoned an attempt at the "official" world land speed record for an electric car after they were unsuccessful three times.
A series of technical glitches at a test track in Nevada put an end to Colin Fallows and Mike Newby's dream.
Designer Mr Fallows, from Northampton, had hoped his torpedo-shaped ABB e=motion car would smash the current record of 245mph by at least 55mph. But a scheduled attempt on Saturday failed after the car would not fire up.
Saturday was the last chance to attempt the record before insurance and a three-day permit to use the stretch of Route 93A near the city of West Wendover expired.
The 54-year-old Mr Fallows and driver Mr Newby, from Oxfordshire, hope to return next year with their bright orange, 10m-long (32ft) car to repeat their attempt. The car has 52 batteries and no mechanical gears.
'Extremely disappointed'
Mr Newby's wife Wendy said: "The car's just not working. Mark said it wasn't the batteries but the components from them. "They have fired the batteries up but the car's not starting. "Mark is extremely disappointed after all the work he has put in, getting sponsorship and putting so much time into it.
"He has been working for this for so long, but he will do it some way or another."
Two previous attempts on Thursday and Friday were abandoned due to winds and electrical problems.
The attempts were monitored and verified by officials from FIA (Fédération Internationale de l'Automobile), the governing body of world motorsport. The official record of 245mph (394km/h) was set by the US White Lightning vehicle in 1999, but e=motion had aimed to go through faster than 300mph (483km/h).
An Ohio University team has already averaged just under 315mph across two runs, but the Buckeye Bullet mark was not set with official FIA observers present. It is, however, recognised by the SCTA and BNI (Southern California Timing Association and Bonneville Nationals Inc).