Please use our A-Z SITE INDEX to navigate this site
THE TWO BIG ISSUES FOR 2020 >>
1. CLIMATE CHANGE THREATENS ALL LIFE ON EARTH: This topic has newly been accelerated by the protests of Extinction Rebellion and thousands of school children around the world, inspired by Greta Thunberg's skolstrejk fur klimatet all weather strikes.
We cannot match what these protestors are doing in terms of changing attitudes, but we are doing what we can to help the drive to zero carbon shipping, starting with the development of a concept aimed at providing sustainable tourism in the Mediterranean region of Europe using renewable energy directly, in the hope of staving off the built in efficiency losses of making and liquefying hydrogen for fuel cells, and the potential dangers from the handling of such an explosive fuel where passengers are concerned.
SUSTAINABLE OCEAN TRANSPORT - Economies that depend on cargo deliveries, coastal cruises and ferry operators, may be thinking of their future as zero carbon shipping becomes a requirement as part of a general transition to a circular economy. Our representative was at the SYAT event in Grado, Italy in October 2019, looking to build a consortium for collaborative research under one of the H2020 initiatives for 2020, aimed at using solar and wind power - as per the example design above - to minimize infrastructure disruption in ports during the transitional phases to clean ocean transport.
2. PLASTIC POLLUTION IS CHOKING OUR OCEANS: Plastic waste kills marine life and poisons our wild fish stocks. Our techies were pioneering what they believed to be the quickest potential ocean Clean Up Solution (5-10 years) based on a proven filtration principle that many of you use every week to clean your carpets, coupled with other industrial bulk collection methods and a little bit of computer magic. Imagine then a giant vacuum that sweeps seawater clean and help us achieve the additional support to develop the Sea + Vax concept into a fully workable ocean tune up system. The only way to do this at present is to lobby the leader of your country for policy changes.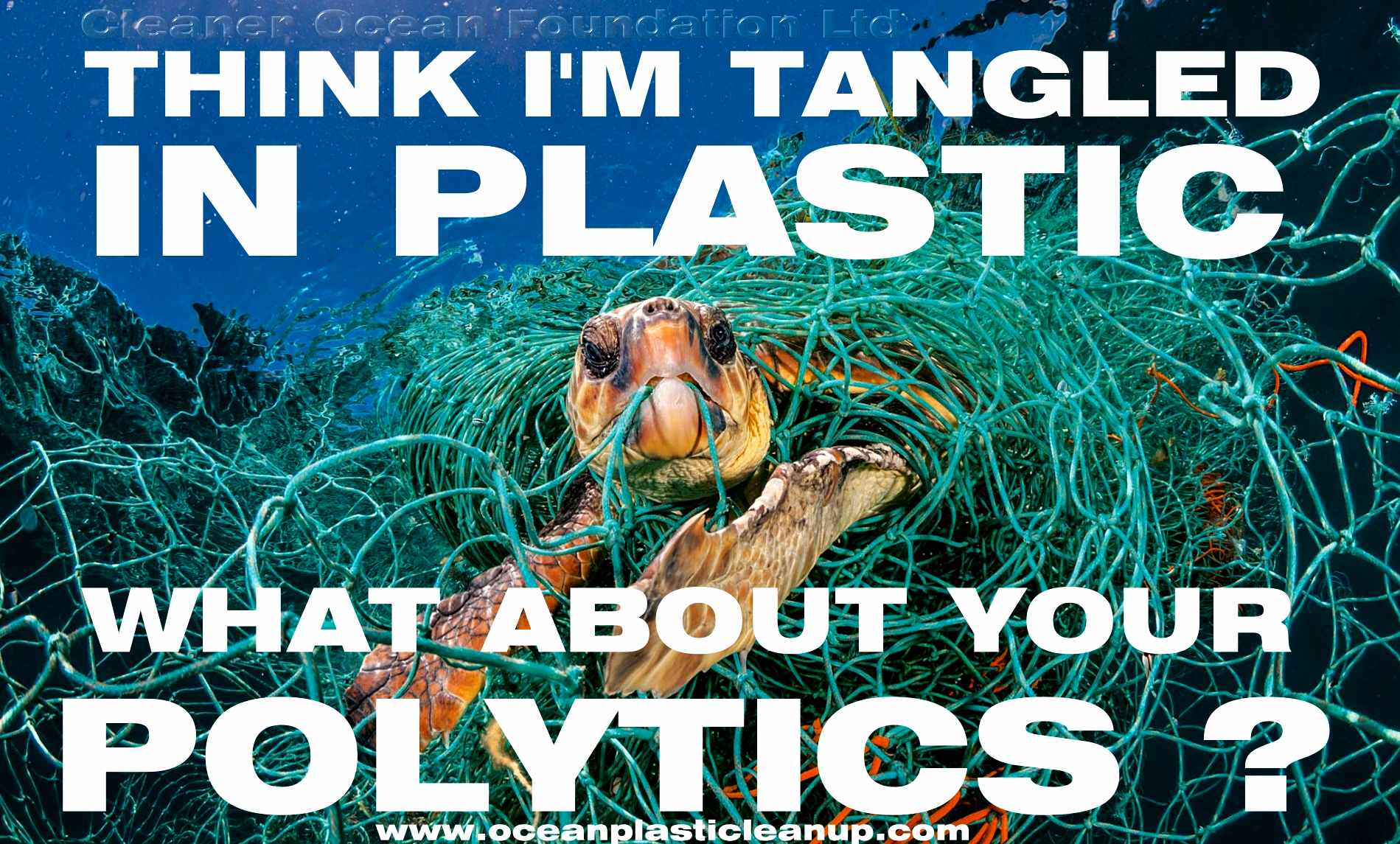 HEARTLESS - Rather than take responsibility for drowning thousands of marine animals and plastic waste from their rivers - the G20 are happy to allow potentially millions of humans develop cancer from toxic seafood. Our advice is not to risk your health. Only eat fish that is caught in lesser polluted geographical regions. That rules our aquaculture and wild fish produce from the Pacific Ocean for starters. We need fish passports, to be sure of origin.
Sadly, there is no funding for such social endeavors as ocean cleaning. UK charity rules as they are, prevent us registering - and so effectively prevent us raising sufficient funds to employ suitably qualified technicians, etc. Hence, we are back to lobbying in the hope of changes in maritime pollution law. The planet needs healthier oceans to be able to feed a growing population into 2050, when informed estimates put human occupation at 9 billion souls.
Meantime, we might develop the energy harvesting system, a system that applies equally to ocean cleaning workboats as it does to ferries and (when upscaled) to cargo and cruise ships. Where we have been on tick-over in 2018-2019, there are two projects in the running to develop zero carbon transports that may fire our boilers up on 2020. Keep your fingers crossed for us.
BIG PROBLEMS CALL FOR BIG SOLUTIONS - With 7 billion+ of us on the planet at the moment (2017), roughly 10% percent of us, 700,000,000 million people, depend on the ocean for food. But, sustainable fish supplies may be a thing of the past if we do not act now to rid our seas of toxic plastic waste, halt over-fishing and tackle climate change. Because of this, the Blue Economy and Blue Growth are high on some political agendas. SeaVax is a versatile platform that is designed to help the world to feed itself. We hope to persuade you to help us in our mission to give the world cleaner oceans.
The problem is that as our population grows, so to does the land we occupy to live on. As the population grows we need more land to grow crops to feed ourselves and that adds to climate change which in turn poisons our oceans with acid rain and reduces the available land for agriculture. It's hardly surprising then that fish stocks are taking a nose dive, when we'll need more ocean produce to offset a reducing land area - we cannot keep cutting down rain forests - we need them to produce oxygen and soak up carbon dioxide.
The World needs an Ocean Action Plan to coordinate the efforts of member nations that in turn will benefit each other as the oceans move from one shoreline to the shores of a neighbor country. To help us develop an international strategy we need to generate sufficient funds to effectively make headway, estimated to be in the region of $10 million dollars to develop a SeaVax prototype.
Follow on expenses, or pledges of ongoing support should be included to cover the cost of helping contributing nations to set up fleets of ocean cleaning boats - and running them in a network or pattern that stands the best chance of regenerating our oceans. Beach cleaning operation like 4Oceans and Pacific Booms, like the Ocean Cleanup Project, only scratch the surface, no matter how well intentioned.
Any Action Plan should involve coordinated research, communications and operations designed to tackle marine plastic, working with other organizations to make people aware of the dangers of plastic pollution and the need to review packaging policies.
| | | | | |
| --- | --- | --- | --- | --- |
| ARGENTINA | AUSTRALIA | BRAZIL | CANADA | CHINA |
| EUROPEAN UNION | FRANCE | GERMANY | INDIA | INDONESIA |
| ITALY | JAPAN | MEXICO | RUSSIA | SAUDI ARABIA |
| SOUTH AFRICA | SOUTH KOREA | TURKEY | UNITED KINGDOM | UNITED STATES |
PROPOSED OCEAN ACTION PLAN IN BRIEF (ON HOLD)
An Action Plan will involve coordinated research, communications and operations designed to tackle marine plastic, working with other organizations and academics who are committed to such development, to make people aware of the dangers of plastic pollution and the need to review packaging policies.
The G20 nations, including the European Union and the United Nations, have written to confirm that they will not support any Ocean Action Plan. That leaves beach cleaning organizations around the globe and the Ocean Cleanup Project of Boyan Slat, to continue and maybe develop some kind of coordinated retrieval system.
A suggested Ocean Action Plan might involve:
1. Developing ocean cleaning vessels and a central hub to coordinate plastic recovery missions and recycling.
2. Incorporate an awareness campaign to target young and old, to promote responsible use of plastics.
3. Lobbying Governments and Corporations for a rethink on product packaging design and recycling (in progress in many countries)
4. Collecting grants, accounting for and end of year reporting on progress to Ocean Alliance members.
5. As appropriate, winding down the Alliance and handing operations over to individual nations or other international bodies once the plastic menace is averted.
WHAT WAS OUR SOLUTION? The demonstration vessel seen below is our 'Proof of Concept' boat that has shown we can harvest plastic and other waste from the 5 garbage Gyres in the Atlantic, Indian and Pacific Oceans and (via third parties) recycle that waste into clean diesel fuel for shipping and new plastic products. SeaVax does not contribute to climate change, being solar powered.
Anything we can build small, we can scale up if we have more capacity. We have the in-house skills needed to get these machines made, working with specialist structural subcontractors and precision engineers.
THE FUTURE OF OCEAN CLEANING - SeaVax shreds fishing nets to help stop marine mammals suffering. A modification of the SeaVax could cleanse river water without adding to climate change. This clean-tech could improve social conditions in (for example) India manyfold, by targeting hotspots and the mouth of the great river Ganges, before the water exits into the Bay of Bengal and the Indian Ocean. Building a vessel this size economically represents a challenge that we think we have found a solution to. As a small entity, we cannot afford to place an order with a shipyard that would constitute an unacceptable commercial risk to us. For this reason we are starting small as constructors. That does not mean SeaVax will not be built, it just means that while funding is limited (and it always will be for a not-for-profit) we are looking for ways to stretch the money that we have and provide value to all our contributors large and small.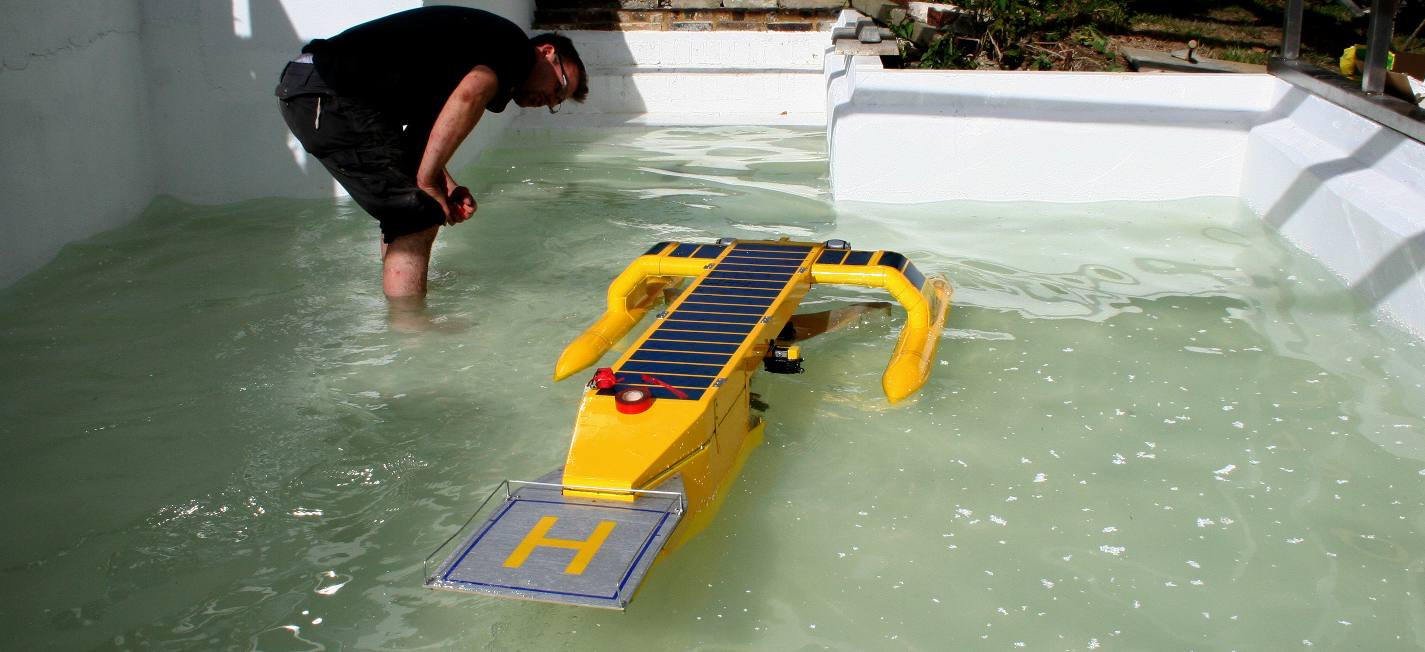 FRIDAY 29th JULY 2016 - This was a great day for the SeaVax team. Chris Close (project director), watches plastic and water being sucked into the SeaVax development model. This was an experiment in controlled conditions to prove that hydrocyclones are the way to go for small plastic particles. Without funding from Avaaz we would not have our test tank to undertake such experiments. Copyright © July 29 2016, all rights reserved. You will need the permission of Bluebird Marine Systems Ltd to reproduce many of the picture on this website except for educational use in schools, colleges, universities, or for private study or research.
HOW THE TECHNOLOGY WORKS - MOST POPULAR QUESTIONS & ANSWERS :
1. SEAVAX AVOIDS FISH & PLANKTON - It can see ahead underwater, adjust parameters selectively to target microplastics in a plastic soup, or shut down if necessary to protect marine life, until it is safe to resume cleanup operations.
2. RECOVERED PLASTIC IS RECYCLED - Giving 80% MARPOL grade clean diesel or other products, so conserving oil reserves.
3. LOGISTICS - Emptying SeaVax ships at sea in rotation & delivering harvested plastic waste to treatment plants on land.
4. SEAVAX IS STORM RESILIENT - It monitors conditions, can stow wings & turbines & employ sea anchors automatically.
5. FACTORY SHIPS - Harvested waste might be treated at sea on dedicated vessels, then sent to factories for new products.
6. OIL RECOVERY - SeaVax ocean cleaning dustcarts could be diverted to major oil spills for emergency recovery.
MISSION ACCOMPLISHED - [LEFT] In these pictures we can see the hydrocyclonic water filters in action. We scattered plastic fragments onto the surface of our test tank and allowed the SeaVax to trawl slowly for a couple of minutes. You can see the plastic spinning in the twin chambers as water passes through. [RIGHT] Out of the water, we can see the solid plastic waste we have collected at the bottom of the chambers. Copyright © July 29 2016, all rights reserved. You will need permission from Bluebird Marine Systems Ltd to reproduce these photographs.
FROM THE GENEROUS SUPPORT OF AVAAZ.ORG CROWD FUNDING IN JUNE 2016 WE RECEIVED A GRANT TO ACCELERATE SEAVAX DEVELOPMENT. The funds were accepted to fund core project areas to include the following core objectives:
1. Testing tanks, robotic equipment and experiments advancing the SeaVax project.
2. Efforts to raise additional required funds to build a SeaVax prototype.
3. Physical building of a SeaVax hull.
Using the funding received we completed as much of the work packages as we could before exhausting funding. SEE OUR ARCHIVES HERE. Patent protection is set to follow in 2020 by way of increasing our knowledge in the hope that policy makers might react to the pollution crisis before millions more humans die of starvation.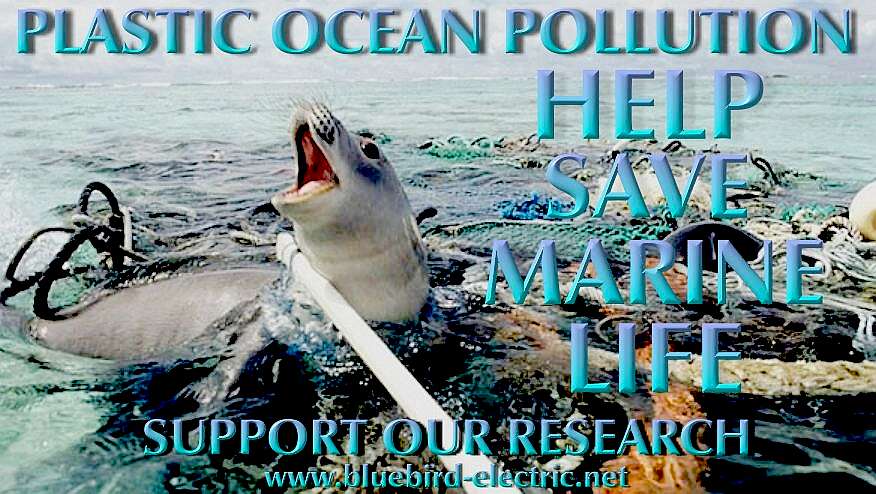 YOU CAN'T JUST FLUSH THE OCEANS - PLASTIC WASTE IS KILLING FISH AND DROWNING MARINE MAMMALS
Our research offers a potential blue growth solution where none exists at the moment. The ocean is the 7th largest economy valued @ $24 trillion, yielding $2.5 trillion annually, but it's going downhill fast according to a WWF report published in April of 2015 - marine life has declined by 39% since 1970 - that is a 0.85% fall per year with no sign of slowing.