If you would like more information on any of our projects or services, or on any of the IP that we are developing, either to collaborate with us on sustainable technology, or to take a developer/manufacturing License, please Email us in the first instance, when a member of the admin team will get back to you as quickly as possible.
Enquiries as to Horizon 2020 ZCC collaborative research and development should be directed to:-
Project SeaVax
BLUEBIRD MARINE SYSTEMS LTD
Solar House, Herstmonceux
BN27 1RF, United Kingdom
Marine systems and (ZCC) Electric Ship enquiries: bluefish@bluebird-electric.net (Briggette)
Jamie (Media Manager): jamie@bluebird-electric.net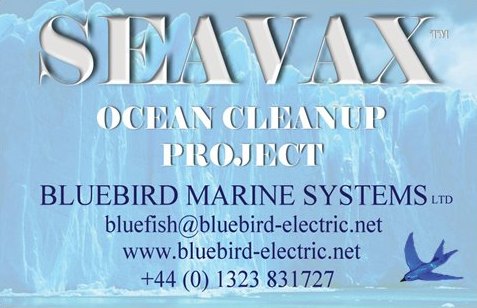 All patent and trademark License enquiries should be directed to:-
The IP Manager
Solar House, Herstmonceux
BN27 1RF, United Kingdom
+44 (0) 1323 831727
+44 (0) 7842 607865
Intellectual Property licensing: ip@bluebird-electric.net (Jamie & Leslie)
Automotive system enquiries: bluebird@bluebird-electric.net (Leslie or Brian)
Webmaster: Dunadd Lock
PROJECT MANAGER & PURCHASING SPECIALIST - Chris, a company director, is leading the charge to clean up our oceans with the SeaVax autonomous workboat in 2015, aiming to go full size as soon as possible in 2016. Richard is our purchasing specialist, with over nine years experience in the high-end logistics environment.
SEAVAX CLEANER OCEANS PROJECT 2020
For information on this important project please contact Briggette in the first instance, or use the dedicated "seavax" email address that you will be directed to by any of the team members.
SECURITY & IT SPECIALISTS - Terry is one one of the founding members of the SeaVax vacuum project, handling security across the board. He is also helping Christina with the Miss Ocean contest, where BMS are associates. Jamie is our IT expert. He maintains the computer network, also working on website design.
BLUE BIRD WORLD CUP™ TROPHY 2016
For information on the International Cannonball International ZEV Run series please email: cannon@bluebird-electric.net
Contact the Ecostar UK project team:
Terry Valeriano: ace@speedace.info
Note: Please do not use the Ecostar email addresses for the SeaVax project.
CANNONBALL INTERNATIONAL TV RIGHTS

Please note that television footage of these events should be available for all channels and film agencies, but that we are open to offers of coverage and distribution should that be of interest.
BUSINESS AREAS OF INTEREST TO US
* Zero Carbon Cruiser (ZCC) development
* Zero Emission Vehicles (ZEV) car prototyping
* Electric Propulsion, Transmission systems and Equipment
* Research and Development
* Consultancy and Design (R&D)
* Electric vehicle infrastructure - service station design
* Navigation Systems
* Endurance monitoring
* Oceanographic and hydrographic surveying
* Diving and Underwater Operations and Vehicles
* Blue water patrol vessels
* Anti-Piracy Technologies
* Command and Control Systems
* Shipbuilders (service and auxiliary vessels)
* Unmanned Systems