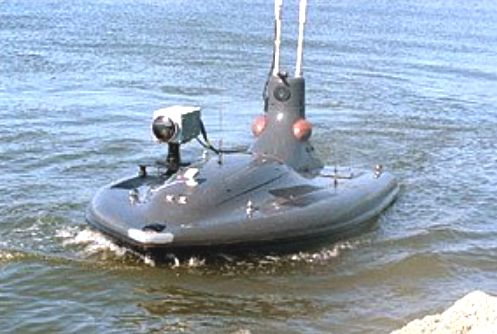 UNMANNED SURFACE VESSELS 2013
Leveraging all the lessons learned in 20 years of autonomous land and air vehicle development, GDRS is developing the maritime-specific sensors and robust endurance surveillance capabilities to support near-term and long-range maritime autonomy for military and homeland security objectives.

Under contract to the U.S. Navy Space and Naval Warfare Systems Center (SPAWAR), San Diego, Calif., General Dynamics Robotic Systems will develop autonomous Unmanned Surface Vehicles (USV) for the Littoral Combat Ship Anti-Submarine Warfare Mission Module leveraging the GDRS Autonomous Navigation System for vehicle command and control system to the Navy's unmanned surface vessel domain.

The USV will employ towed arrays, dipping sonar sensors and acoustic sources as payloads to carry out its Anti-Submarine Warfare mission. GDRS is developing fully autonomous USVs with extended range and robustness that will dramatically expand and enhance fleet operations, greatly reducing the logistics and command/control burden to the fleet, and enabling USVs to serve as tactical multipliers for missions that are currently manned, and for missions unacceptable for manned operations.

GDRS USVs will be equipped with:

Sensor-based situation awareness
Dynamic route planning
Harbor and sea navigation, docking, evasive maneuvers
Dynamic reconfiguration and management of systems & resources
Possible USV missions include:

Persistent Intelligence Surveillance and Reconnaissance (using radar, EO/IR, SIGINT, CBN)
Port & border security
Special Ops support
Autonomous search & rescue
Communications relay (space, air, surface, special operations support; underwater)
Maritime protection: anti-submarine, sea-skim missile, small boat Improvised Explosive Devices (IED)
Track & trail
Ice patrol
Interdiction
Force Protection
Mine Detection and Neutralization
Search and Recovery
Forward Reconnaissance
GDRS Manager:

Program Sponsor: U.S. Navy Space and Naval Warfare Systems Center (SPAWAR)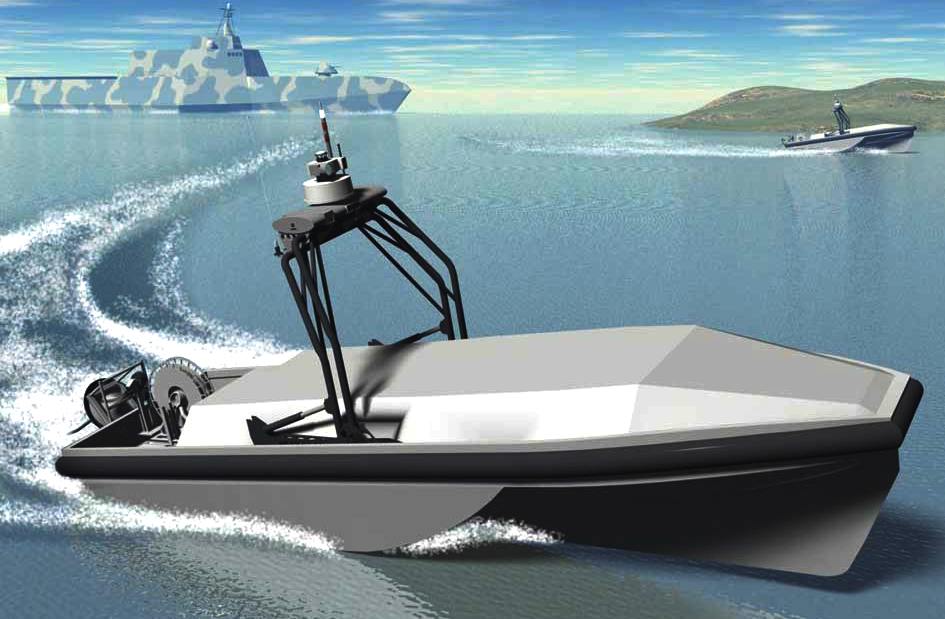 HISTORY OCTOBER 2006
General Dynamics Robotic Systems were awarded a $13 million USV Contract by the US Navy.

WESTMINSTER, Md. – The U.S. Navy Space and Naval Warfare Systems Center (SSC, San Diego) San Diego, Calif., has awarded General Dynamics Robotic Systems a $12.7 million contract for four Unmanned Surface Vehicles (USVs) for the Littoral Combat Ship Anti-Submarine Warfare Mission Module. General Dynamics Robotic Systems is a part of General Dynamics Land Systems (Sterling Heights, Mich.), a wholly owned subsidiary of General Dynamics (NYSE: GD).
As the prime contractor General Dynamics will provide the Navy with an 11-meter USV that is capable of long endurance missions while being highly efficient. General Dynamics will use its experience and expertise in design, development and integration to provide the command and control and systems integration.
The USV will employ towed arrays, dipping sonar sensors and acoustic sources as payloads to carry out its Anti-Submarine Warfare mission.
"We are honored to have been given the opportunity to design, integrate and deliver the Navy's premiere USV. We are excited at the prospect of incorporating our proven cutting-edge robotic technologies in a state-of-the-art unmanned surface vehicle platform," said Scott Myers, president of General Dynamics Robotic Systems.
General Dynamics' teammates include Navatek, Ltd. (Honolulu, Hawaii), Alion Science and Technology (Boulder, Colo.), Signal Systems Corporation (Severna Park, Md.), International Logistics Systems (Glen Rock, Pa.), and Chesapeake Sciences Corporation (Millersville, Md.).
General Dynamics Robotic Systems is a leading performer on Department of Defense advanced robotics technology projects such as the Autonomous Navigation System (ANS) for the Army's Future Combat Systems program, Robotics Collaborative Technology Alliance (RCTA), Mobile Detection Assessment and Response System (MDARS) and Vetronics Technology Integration (VTI).
General Dynamics, headquartered in Falls Church, Virginia, employs approximately 81,100 people worldwide and expects 2006 revenue of approximately $24 billion. The company is a market leader in mission-critical information systems and technologies; land and expeditionary combat systems, armaments and munitions; shipbuilding and marine systems; and business aviation.
AUTONOMOUS NAVIGATION ON LAND 2013
General Dynamics Robotic Systems (GDRS) has been developing key autonomous navigation capabilities for unmanned systems for two decades.

The world leader in the tactical robotics field, GDRS is pushing the envelope on autonomous navigation technologies, including image stabilization, distortion removal, 3D terrain visualization, hazard detection, and terrain classification.

Integrating laser radar, Millimeter Wave Radar, GPS and Inertial Navigation systems with proprietary perception modules that interpret data input, the GDRS autonomous navigation system is critical to the Army's Future Combat Systems vision.

In the short term, GDRS' autonomous navigation technology might provide improved night driving capabilities for manned vehicles and offer Soldiers 360-degree situational awareness around their vehicles for personnel safeguarding.
CONTACTS
General Dynamics
2941 Fairview Park Drive, Suite 100
Falls Church, Virginia 22042-4513

Contact: Barbara K. Lindauer
Tel: 410-876-9200
Email: blindauer@gdrs.com
http://www.generaldynamics.com/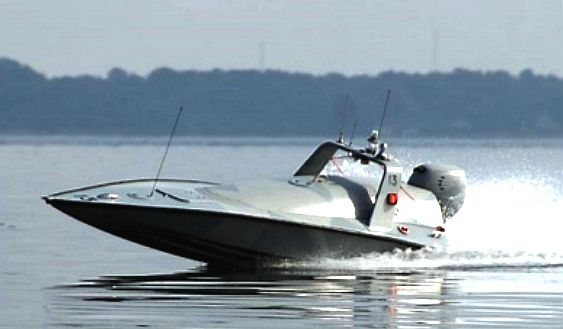 LINKS
http://www.eda.europa.eu/projects/projects-search/effective-procurement-methods
http://www.eda.europa.eu/info-hub/defence-data-portal
http://www.eda.europa.eu/info-hub/news/2013/safety-and-regulations-for-european-unmanned-maritime-systems-(sarums)
http://www.eda.europa.eu/procurement-gateway/opportunites/eda-procurement/procurement-view/13.r-t.op.624
http://www.defense-unmanned.com/article/1022/asv-wins-contract-for-unmanned-boat.html
http://rpdefense.over-blog.com/tag/LEMUSV/
http://www.science.mod.uk/Engagement/the_portal.aspx
http://www.science.mod.uk/Engagement/enterprise.aspx
https://www.dstl.gov.uk/centrefordefenceenterprise
http://www.maritimejournal.com/news101/industry-news/ukho-appoints-new-national-hydrographer
http://en.wikipedia.org/wiki/United_Kingdom_Hydrographic_Office
http://www.spri.cam.ac.uk/friends/committee/
http://www.thefutureofnavigation.com/ten_steps.aspx
http://www.quaynote.com/ankiti/www/?code=ecdis13&f=programme
Wiki United_Kingdom_Hydrographic_Office
https://www.dstl.gov.uk/insight
US Department of Navy Research, development & Acquisition - http://acquisition.navy.mil/
US Fleet Forces Command - http://www.cffc.navy.mil/
http://en.wikipedia.org/wiki/Naval_Oceanographic_Office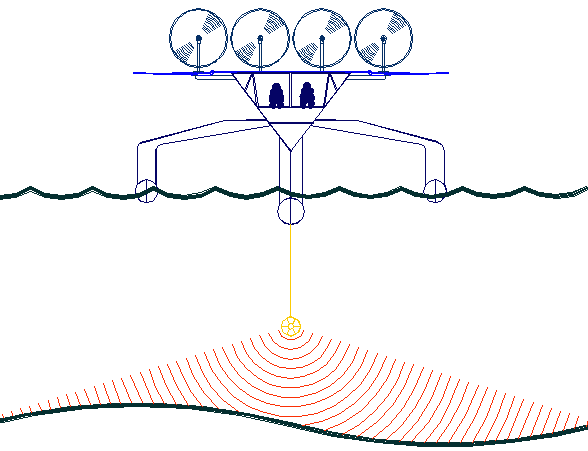 The Bluefish SNAV platform, presently under development, is a robotic ocean workhorse. Based on a stable SWASH hull that can achieve high speeds for long duration. This robot ship uses no diesel fuel to monitor the oceans autonomously (COLREGS compliant) at 6-7 knots continuously 24/7 and 365 days a year - only possible with the revolutionary (patent) energy harvesting system. The vessel may also sprint from one location to another covering distances in excess of 100 nautical mile at speeds of over 10 knots - Thus may reach a target area within a relatively short response time. The hullform is ideal for automatic release and recovery of ROVs or towed arrays, alternating between drone and fully autonomous modes. Calculations suggest that this vessel would pay for itself in fuel saved every ten years. Any agency employing solar energy for transport will lower their carbon footprint.
Bluebird Marine Systems are looking for international development collaboration partners and/or agents for sales, servicing and licensing deals.