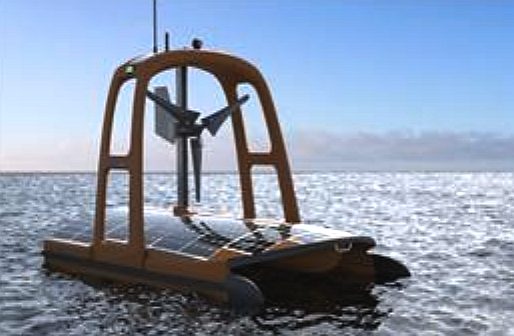 The C-Enduro is a Long Endurance Maritime Unmanned Surface Vehicle, ideal for any application where long-term remote data collection is required up to mission lengths of 3 months. The vehicle's power system can be tailored to suit different climatic conditions by using diesel or methanol power and/or harvesting energy using wind turbines and solar panels.
DEFENSE UNMANNED.COM JULY 1 2013

Autonomous Surface Vehicles (ASV) Wins Research Contract to Design and Build A Long Endurance Marine Unmanned Surface Vehicle.

C-Enduro USV

The hull features a rugged carbon-fibre construction with a self-righting design. A wide range of sensors can be fitted to the C-Enduro, including sonar, Electronic Warfare, wave measurement, and cameras.

This advanced USV can serve a multitude of roles, from security to oceanographic data collection to environmental monitoring.

Autonomous Surface Vehicles (ASV) is leading a team having successfully won the second phase of the recent SBRI competition to develop a Long Endurance Marine Unmanned Surface Vehicle (LEMUSV). Run by the Natural Environment Research Council (NERC) and the Defence, Science and Technology Laboratories (Dstl) the competition brief sought to develop an autonomous vehicle to gather data from the ocean over several months.

The team includes Cosworth, who are looking at generator systems, Hyperdrive Ltd who will investigate motor options and power management systems and Cranfield University who will be considering collision avoidance technologies.

ASV will undertake the detailed production design, build, commissioning and sea trials of a fully operational, open ocean going "C-Enduro 4" vessel. This second phase work will build on research and development from the phase one of the LEMUSV project. The robust vehicle design will utilise state of the art technologies from the consortium and be designed specifically capable of being deployed at sea for periods of up to three months in all weather conditions and sea states.

The C-Enduro concept centres on a 'three pillar' energy system providing a flexible and fault tolerant solution to energy supply. Having researched and trialled various energy sources as part of the phase one work the team has selected solar panels, a wind generator and a lightweight diesel generator as energy sources. Detailed calculations and tests show that this selection, combined with efficient power management and command and control systems packaged in a rugged self-righting vehicle, provides the greatest likelihood of meeting the performance requirements of this project.

ASV will work closely with the NERC and Dstl teams to ensure that their requirements and ideas are captured and incorporated in the detail design.

ASV has a proven track record in Unmanned Systems over 10 years and has delivered systems to a range of military and commercial customers with all having passed rigorous acceptance testing in accordance with ISO 9001 accreditation. This puts them in an excellent position to meet the challenges of this project. "This is a very exciting project for ASV and the companies involved and a fantastic opportunity to work closely with the NERC and Dstl," commented Dan Hook, ASV Managing Director.

Formed in 1998 ASV provides rugged, reliable and effective unmanned systems using cutting edge marine technology. ASV is based near Portsmouth in the United Kingdom.
LINKS
http://www.asvglobal.com/latest-news-and-publications/latest-news/asv-to-build-usv-under-sbri-funding
http://www.defense-unmanned.com/article/1022/asv-wins-contract-for-unmanned-boat.html
http://rpdefense.over-blog.com/tag/LEMUSV/
http://rpdefense.over-blog.com/tag/Naval/4
http://www.science.mod.uk/Engagement/the_portal.aspx
http://www.science.mod.uk/Engagement/enterprise.aspx
https://www.dstl.gov.uk/centrefordefenceenterprise
http://www.maritimejournal.com/news101/industry-news/ukho-appoints-new-national-hydrographer
http://en.wikipedia.org/wiki/United_Kingdom_Hydrographic_Office
http://www.spri.cam.ac.uk/friends/committee/
http://www.thefutureofnavigation.com/ten_steps.aspx
http://www.quaynote.com/ankiti/www/?code=ecdis13&f=programme
Wiki United_Kingdom_Hydrographic_Office
https://www.dstl.gov.uk/insight
http://acquisition.navy.mil/
http://en.wikipedia.org/wiki/Naval_Oceanographic_Office
ASV to build USV under SBRI grant funding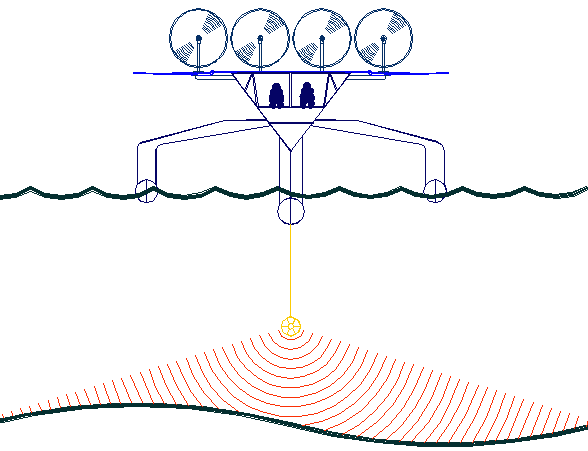 PATENT PENDING - The Bluefish SNAV platform, presently under development in 1/20th scale, is a robotic ocean workhorse. Based on a stable SWASH hull that can achieve high speeds for long duration. This robot ship uses no diesel fuel to monitor the oceans autonomously (COLREGS compliant) at 8-10 knots continuously 24/7 and 365 days a year - only possible with the revolutionary (patent) energy harvesting system. The vessel may also sprint from one location to another covering distances in excess of 100 nautical mile at speeds of over 10 knots, with a maximum speed of 18 knots - Thus may reach a target area with a relatively short response time. The hullform is ideal for automatic release and recovery of ROVs or towed arrays, alternating between drone and fully autonomous modes. International development partners and agents are welcome. This vessel pays for itself in fuel saved every ten years.