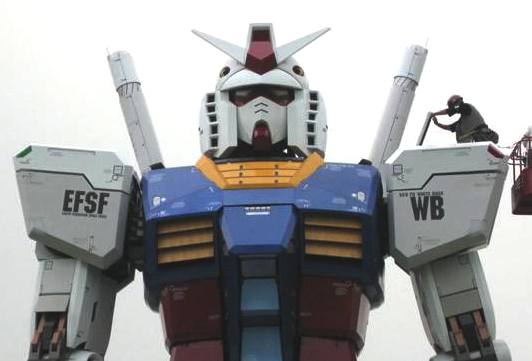 Fastest in class, robot feline
TOKYO'S LIFE SIZE RX78 GUNDAM June 11 2009

Gundam fans all over the world had cause to celebrate when the life-sized RX78 Gundam robot was completed in Tokyo and opened to visitors.
Like the 'Hello Kitty Castle' in Shanghai, China, might become a pilgrimage site for pink-loving girls, Tokyo's RX78 could turn into the same thing for robot-anime enthusiasts. Announced in March 2009, as a way of celebrating 30 years since the debut of the Mobile Suit Gundam anime series, the 1:1 sale Gundam was completed in June 2009.
The RX78 Gundam towers 18 meters, features a movable head, 50 light-radiating points on his body, and shoots smoke from various fiberglass-reinforced plastic parts. The popular mech watced over Odaiba's Shiokaze Park until August 31st 2009. Hopefully they'll just move it somewhere else after that, because depriving Gundam fans of such a symbol would be a crime.
Some might think the RX78 Gundam looks a bit too retro for 2009, but it's a regular icon in Japanese culture, so choosing what model to build was never in question. It is easily the coolest thing you'll ever seen in your entire life. But it will be dismantled on the 31st of August.
Most visitors pray that they are just moving it and not dismantling it because this could be a modern wonder of the world, as with the Eiffel Tower or Statue of Liberty. Seriously, it is that compelling.

The amount of detail is incredible. I read somewhere that they are making a model/figure to sell of this Odaiba Gundam. If it has the same quality as the real thing, many will be buying one.

Taking these photographs was a bit awkward because the construction workers were looking at the photographer and taking pics all the while he was doing his photo shoot. This involved an insane amount of photographs.

More photos and information by Punynari are to be found at:

http://punynari.wordpress.com/2009/06/09/assembled-life-sized-rx78-gundam-part-1/


TRANSFORMER - GIGANTOR GIANT STATUE UNVEILED IN JAPAN October 6 2009
Two weeks after the Tokyo Gundam statue was dismantled, a new robot statue was unveiled in Kobe, Japan. This time it's the Tetsujin 28-go aka Gigantor.

This mean looking machine was set up in Wakamatsu Park, Kobe and unlike the RX78 Gundam statue it will remain here permanently. The funds for the construction of Gigantor were not supplied by big-time corporations either. The approximately 1.5 million dollars were raised by local shop owners, in hope that it will bring commerce and people to Kobe.

The city of Kobe was seriously damaged by an earthquake, in 1995, and its population has decreased to around 80% of what it was before the cataclysm. Mitsuteru Yokoyama, a legendary manga artists, was born in Kobe and helped design Tetsujin 28-go.




LINKS & REFERENCE
MSN kabutom-rx-03-is-a-giant-rhinoceros-beetle-robot-built-by-hitoshi-takahashi
Rocketnews24 2013/09/04 67-year-old-man-singlehandedly-builds-giant-robot-inspires-terrifies-us
Odditycentral giant-gigantor-unveiled-in-japan
Oddity Central Tokyos-real-life-rx78-gundam
http://theawesomer.com/kabutom-rx-03/12071/
http://now.msn.com/kabutom-rx-03-is-a-giant-rhinoceros-beetle-robot-built-by-hitoshi-takahashi
http://en.rocketnews24.com/2013/09/04/67-year-old-man-singlehandedly-builds-giant-robot-inspiresterrifies-us/
http://www.dpaonthenet.net/article/59076/Robot-mimics-the-articulation-of-a-running-cat.aspx
http://www.odditycentral.com/pics/giant-gigantor-unveiled-in-japan.html
http://www.odditycentral.com/pics/tokyos-real-life-rx78-gundam.html
Global warming has unexpected consequences for competing groups of scientists each wanting to take credit themselves for the find of the century. This short story is being developed for release as graphic and full length novels (e-book) for 2015 with storyboards for a film in 2016 of ASAP thereafter.