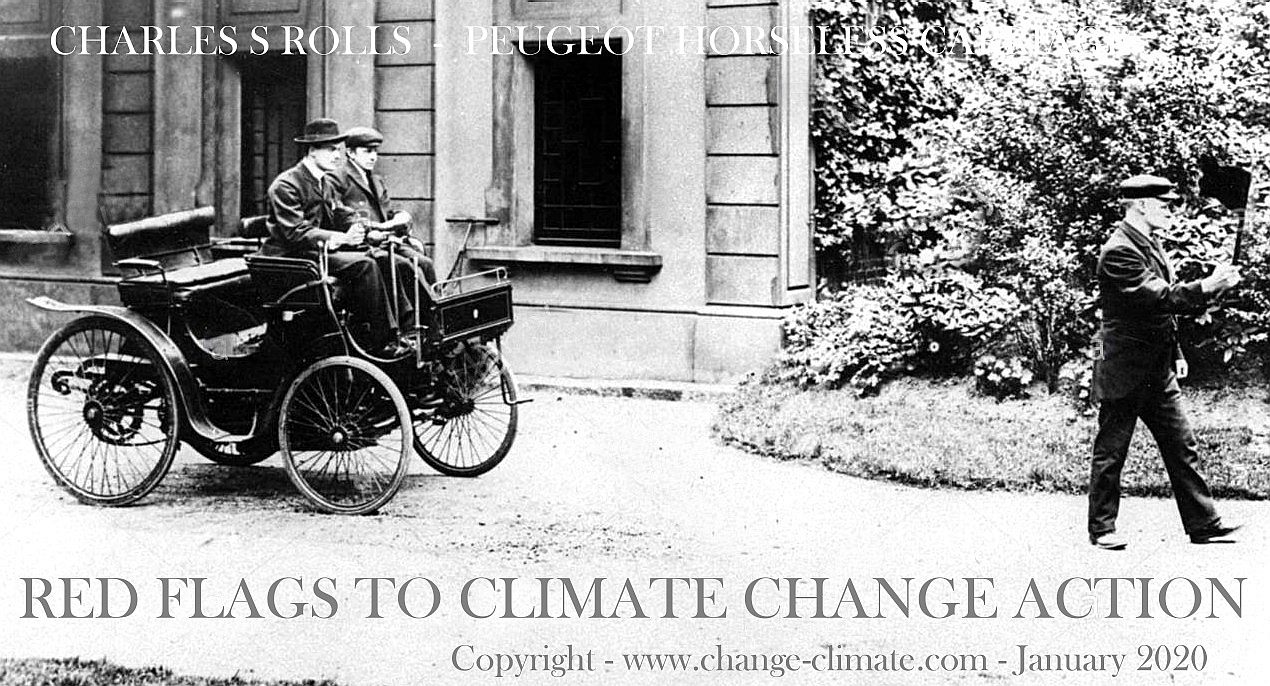 RED FLAG POLITICS - There will always be vested interests doing all they can to halt progress. In this case the blame rests with pussy politicians who were bought by the ICE car makers and oil giants. Policy makers were persuaded to allow the use of fossil fuels to continue, despite carcinogenic smog's causing lung cancer in California, Beijing and Europe on sunny days. What are they like! Money before health. Should that not be the other way around? It has taken 50 years since the 1970s petrol rationing, before climate considerations finally got the attention the subject deserves.
FROM HAY & DUNG TO PETROL & DIESEL
The infrastructure for modern motor cars built up from 1888 to 1923, by which time motorists had drive-in petrol/diesel service stations.
It was a great improvement to horses, stabling and cleaning up all those droppings on the streets.
It took 35 years for this to happen with just two oil distillates catering for all modes of transport, trucks, buses and cars, providing commonality and convenient refuelling in around 5-10 minutes after payment. No more nose bags and grain. We went from solids to liquids in one of the first disruptive transport technology transitions in history, after sails to steamships.
Electric vehicles were even cleaner, but suffered from long delays while they plugged in to charge from generated electricity, a situation devoid of speedy convenience, presently unresolved: the range limitation. Petrol cars were noisy and smelly, but unlimited range was the winning selling feature.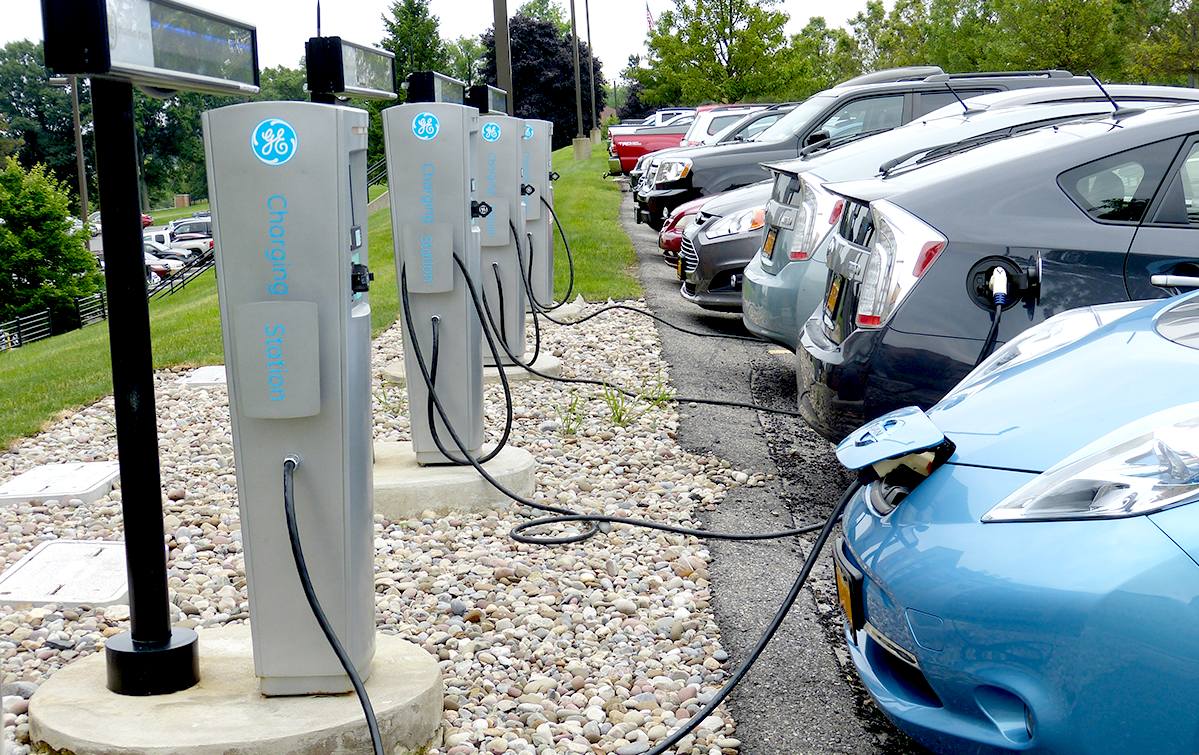 THE SLOW LANE - We all live fast lifestyles. Waiting 30 minutes for rapid charging not only strains the grid, but also damages batteries, and nobody has thirty minutes to waste - best case - worst case 4-8 hours. A truck size battery would take hours to (so-called) rapid charge. It is just not practical. Ignoring for now that there are no charging points along the streets in towns and cities, or at supermarkets. The solution is SMARTNET instant recharging. One size fits all. With such a system we can kiss goodbye to petrol and diesel carcinogens. Electric Vehicles with broken down batteries, may be services at the roadside with SMARTNET, rather than towed to a garage. Most OEMs, don't appear to have thought that far ahead!
FIRST DRIVE IN BATTERY SWAP STATIONS
Better Place came along in 2009 to try and compete with fossil fueled cars, but Shai Agassi's company made the mistake of not standardizing his product for wider acceptance. The company folded in 2013.
Tesla made a half hearted attempt at battery swapping, but gave up in 2013. The Chinese NIO is taking up the challenge, but has gone down the same road as Shai Agassi, in that there has been no attempt at universal acceptance.
In China in 2019 NIO introduced battery swap drive in stations for their cars. PowerSwap and BattSwap also have cartridge systems in the US. Each system uses a different format battery pack reducing the choice of vehicles.
There is no standard battery cartridge as of 2020, and no cartridge system at all for buses or trucks. Bluebird Energy and associates aim to rectify that.
There are few charging points on the streets in the UK: 11,300 locations (31,500 plugs) for 32.5 million passenger cars in the UK - hence the Automated & Electric Vehicles Act 2018 (A&EVA18).
With such political support, we may stand a chance of seeing trials, either along motorways or in city centers in the UK. In turn that may spur Europe to action.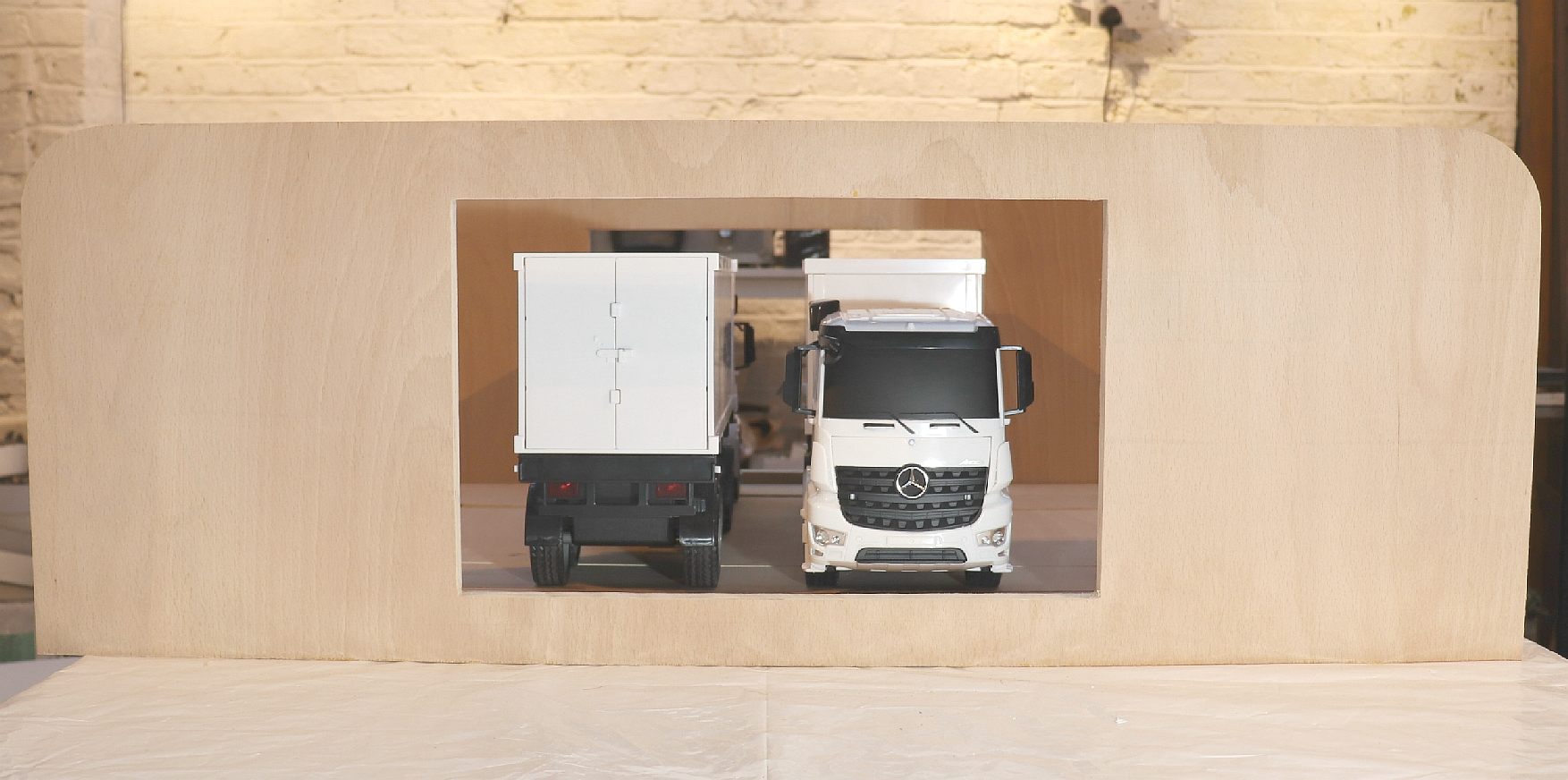 MODEL 1:20 - April 6 2020, a model of a service station is under construction, shown here with two Mercedes articulated container trucks inside. We are using plywood for the building and some of the working parts - that cannot be shown due to patent law prohibiting prior publication. The Automated & Electric Vehicle Act 2018, makes it law in England that provision must be made for charging and refuelling of electric vehicles at service stops. This system would more accurately be described as a refuelling point - since the energy exchanges for trucks and cars are virtually instant. The building can be a quarter this size for city locations where space is limited. But for load levelling purposes, the larger the capacity of stored electricity, the more efficient the grid. Copyright photograph © 6 April 2020, Cleaner Ocean Foundation.
SETTING THE BENCH MARK
Catering for the wider audience means formulating a standard compatible with something in the region of 90% of motor vehicles, including buses and trucks. Indeed, we might want to start with the difficult vehicles and work backwards to the ordinary hatchbacks.
That way we stand a fighting chance of tempting motor manufacturers to produce at least one compatible model in their range.

TRUCKS & BUSES - One size battery cartridge fits all. These low cost flatpack stations also service vans and cars, while they provide load leveling mobility security. As an aid to the electrification of cities for bus based public transport, stations like these would avoid the need to install thousands of individual charging points, meaning that 2030 climate change targets might be met. The Better Place system focused on one make of vehicle, missing out on the opportunity to recharge buses and trucks, where diesel exhausts in cities are killers - a powerful selling feature.
INFRASTRUCTURE LOGISTICS
The logistical challenge transitioning from fossil fuels to generated electricity (aiming at renewable solar and wind) within the next 10-20 years - is staggering.
Why?
Because of the number of vehicles on the road that need energy.
How many vehicles are there?
According to the European Automobile Manufacturers Association (ECEA) There are some 308.3 million motor vehicles in circulation on the EU's roads, that is more than one for every two Europeans. The European Union's motor vehicle fleet counts 268 million passenger cars and more than 40 million commercial vehicles. In the city of London alone, there are 8,000 diesel buses.
Of these around 5.39% (16,617,370) are electric or hybrid, leaving 291,682,630 vehicles either petrol or diesel powered. Both fuels cause global warming and respiratory diseases.
There are around 1 billion cars in the world or which only 3 million are clean electrics.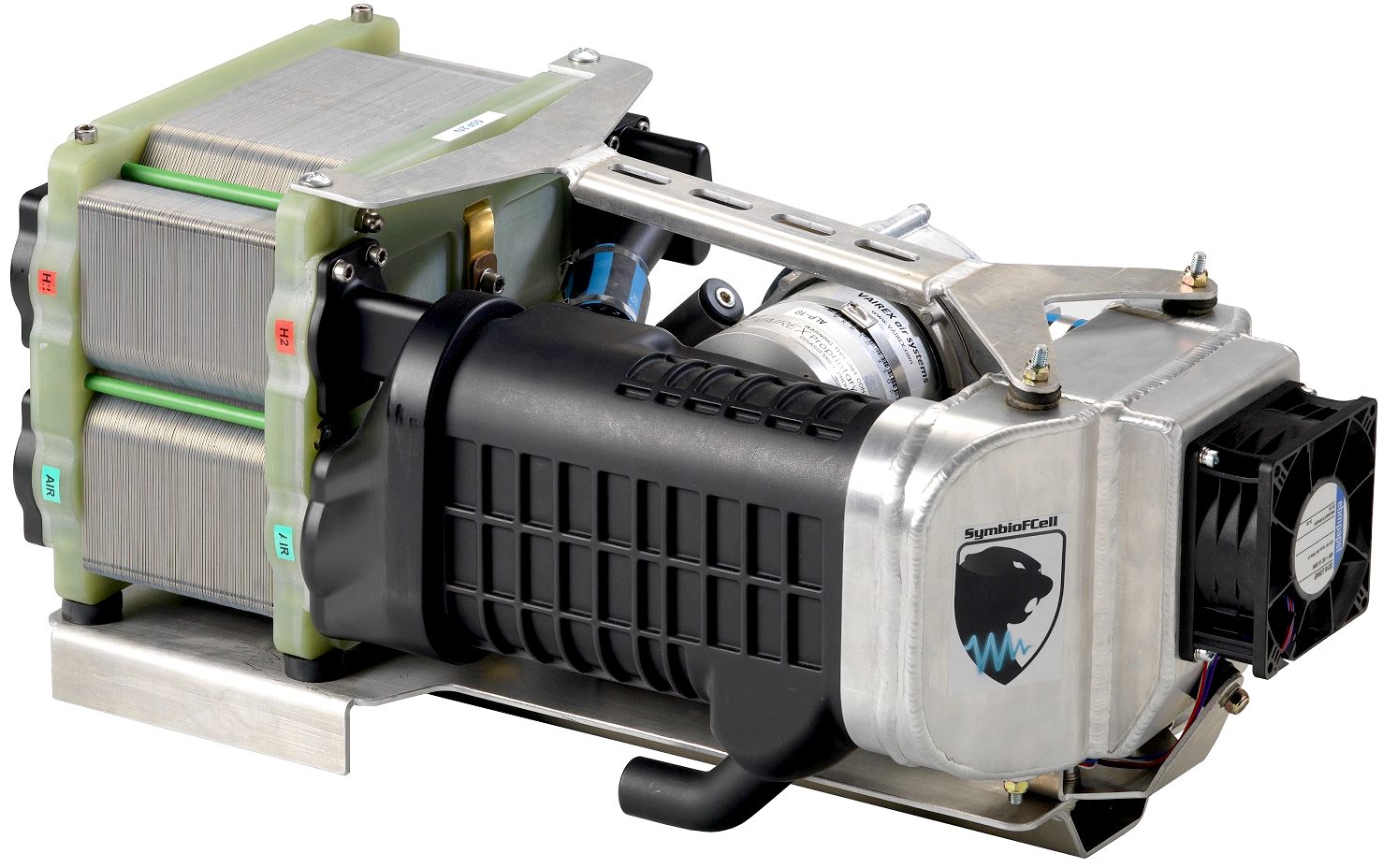 RANGE EXTENDER - FEASIBILITY STUDY 2021
The Symbio FCell fuel cell stack (above), was used as a hydrogen-powered range extender, based on a system of 5-kW stacks. These can be arranged (sized) to provide outputs from 5 kW to 20 kW by using one to four modules. In one experiment a 5kW unit was allied to a reinforced 1.3-cubic-foot (38-liter) tank holding 3.8 pounds (1.72 kg) of hydrogen compressed at 5000 psi (35 mPa). When used by La Poste on a Renault Kangoo ZE driven by a 44-kilowatt (70-horsepower) electric motor, and a 22-kilowatt-hour lithium-ion battery pack, the increase is range was claimed to be a further 100 miles. At full power, roughly 0.7 lb 0.1 lb (0.3 kg) of hydrogen is consumed per hour.
We are proposing a feasibility study to see how many current production vans could be easily retro fitted with a range extending kit, using our special loaders and connecting system, and a hydrogen battery cartridge.
AIMING FOR A SUSTAINABLE FUTURE
We are inviting Governments, motor manufacturers and generating utilities to consider supporting this project for eventual incorporation in existing ranges of vehicles - at first as range extending conversions and as sales take off - as production items.
Looking toward a simplified electric vehicle refueling forecourt - with Pay As You Drive (PAYD).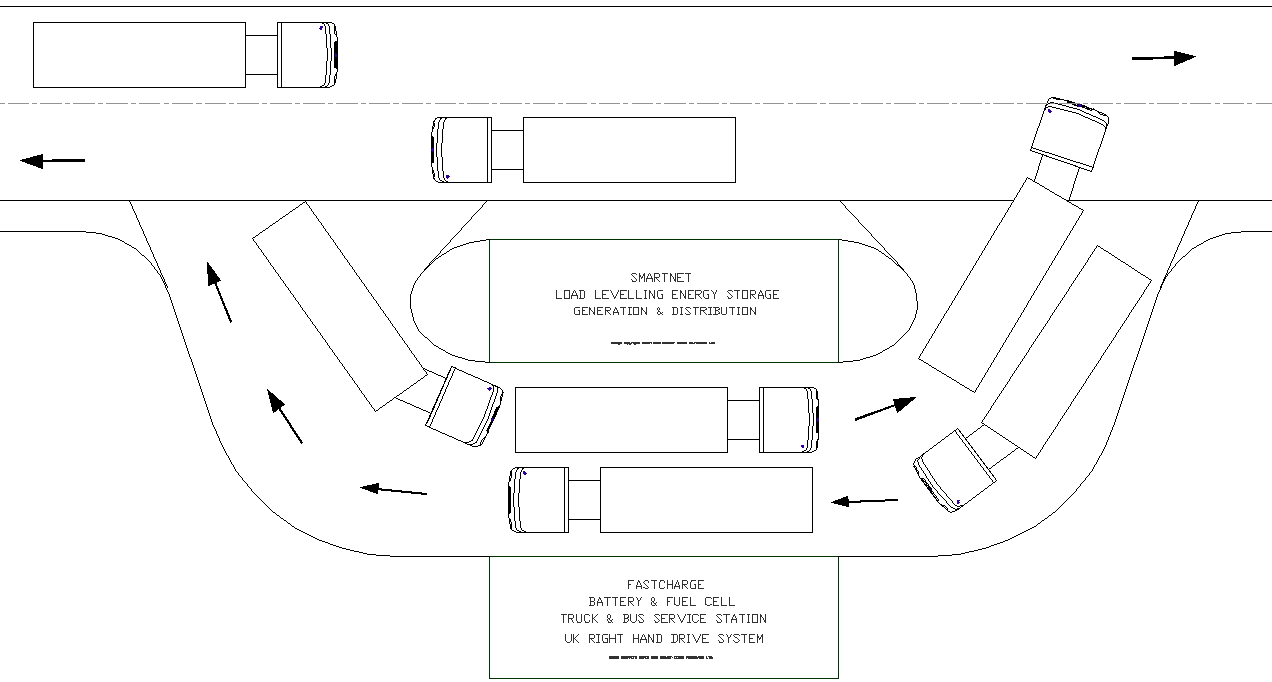 LOAD LEVELLING STATIONS - Not only do we have climate change and cancerous smogs, but we have solar and wind electricity generation - as reasons to change to ultra fast electric vehicle charging stations. Storing energy in batteries allows us to make the best of renewable energy.
HISTORY OF PETROLEUM BASED VEHICLE SERVICING
The first Motorists' Filling Station was the city pharmacy in Wiesloch, Germany, where Bertha Benz refilled the tank of the first automobile on its maiden trip from Mannheim to Pforzheim in 1888. Soon after other pharmacies sold gasoline as a side line to their businesses.

The world's first purpose-built gas station was constructed in St. Louis, Missouri in 1905 at 420 South Theresa Avenue. The second gas station was constructed in 1907 by Standard Oil of California (now Chevron) in Seattle, Washington, at what is now Pier 32. Reighard's Gas Station in Altoona, Pennsylvania, claims that it dates from 1909 and is the oldest 'existing' gas station in the United States.
In Russia, the first filling stations appeared in 1911, when the Imperial Automobile Society signed an agreement with the partnership "Br. Nobel".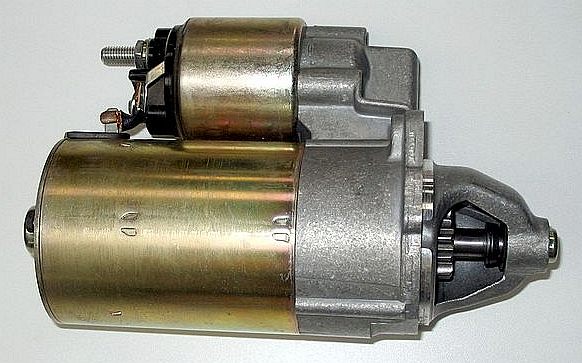 The humble starter motor was the death knell for electric vehicles. That, together with petrol and diesel filling stations, meant battery exchange would need a monumental effort to compete. The reasons for change are global warming and lung cancer.
STARTER MOTORS FOR IC ENGINES
Finally, Porsche gave up on electric cars when the starter motor was invented, meaning that anyone could start the internal combustion engine (ICE). Where, before that, only strong men could swing a starter handle without dislocating a shoulder. Not something for ladies in white dresses. Try it. You'll see what we mean. The writer once owned a Land Rover with that feature, so knows how strenuous starting with a crank handle can be.
In 1903, Clyde J. Coleman invented and patented the first electric starter in America U.S. Patent 0,745,157, it did not catch on.

In 1911, the Dayton Engineering Laboratories Company (DELCO) was granted a patent for an electric starter motor. This starter was developed by Charles Kettering and Henry Leland. The starter motor appeared on the 1912 Cadillac, which also had the first complete electrical system for charging and lighting. Other automakers were slow to adopt the new technology, but electric starter motors caught on within the next decade.
From that point on the electric car died, as charging batteries took too long and there was no infrastructure for EVs to equal the convenience of gasoline. Nobody knew about exhaust fumes being a cancerous health risk at that time, and cities had very few automobiles to begin with.
1913 DRIVE IN FILLING STATION
The first "drive-in" filling station, Gulf Refining Company, opened to the motoring public in Pittsburgh on December 1, 1913, at Baum Boulevard and St Clair's Street. Prior to this, automobile drivers pulled into almost any general or hardware store, even blacksmith shops to fill their tanks.

By 1914 about 440 filling stations functioned in major cities across the Russia.

The first filling station in England was opened in November 1919 at Aldermaston, Berkshire by the Automobile Association (AA), a single hand-operated pump, where motorists were served by patrolmen in full uniform. 7,000 pumps were in use in the UK by 1923.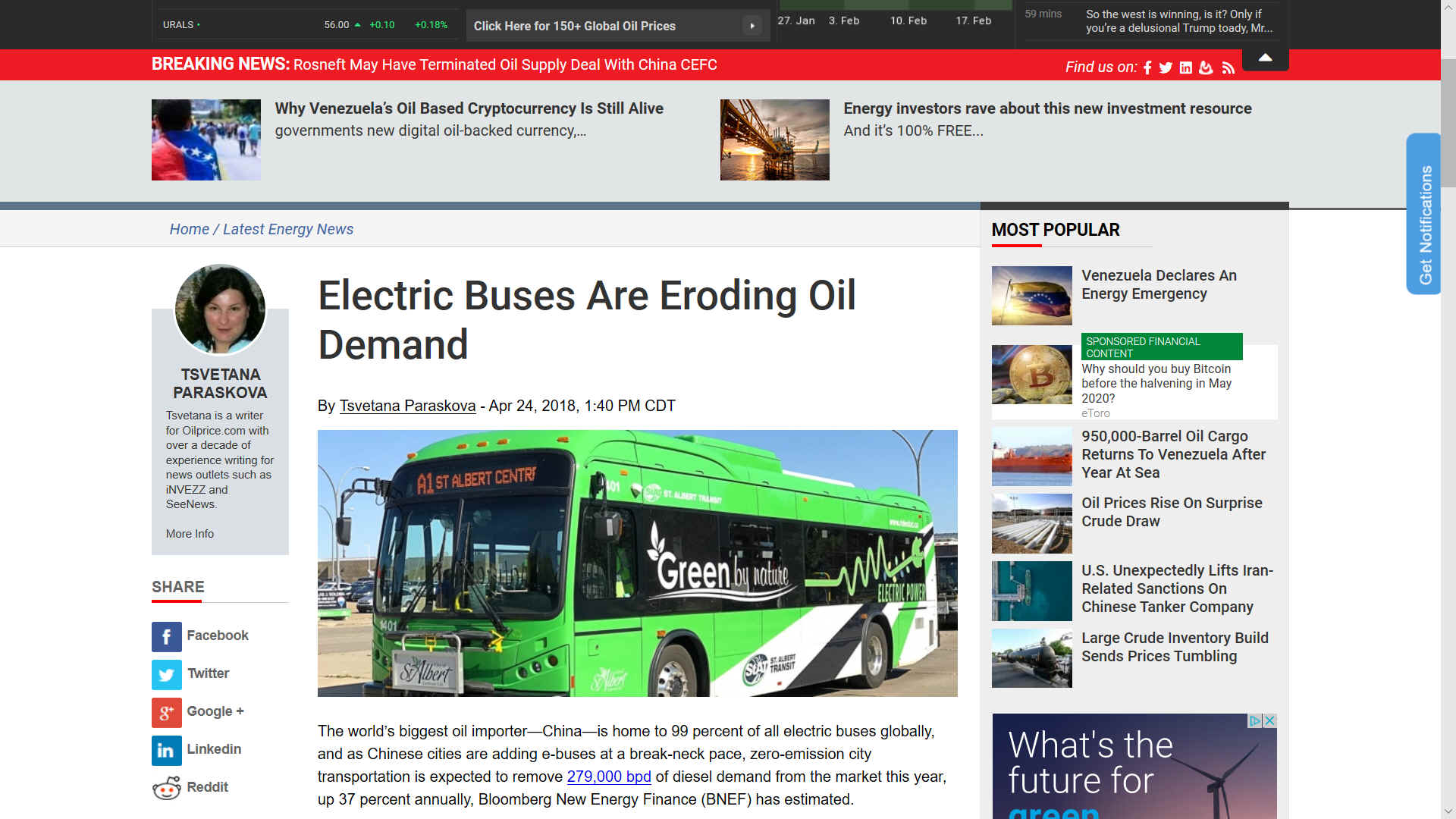 BLOOMBERG EXTRACT 2018 - Electric buses were seen as a joke at an industry conference in Belgium nine years ago when the Chinese manufacturer BYD showed an early model. Suddenly, buses with battery-powered motors are a serious matter with the potential to revolutionize city transport - and add to the forces reshaping the energy industry.
With China leading the way, making the traditional smog-belching diesel behemoth run on electricity is starting to eat away at fossil fuel demand. The numbers are staggering. China had about 99 percent of the 385,000 electric buses on the roads worldwide in 2017, accounting for 17 percent of the country's entire fleet. Every five weeks, Chinese cities add 9,500 of the zero-emissions transporters - the equivalent of London's entire working fleet, according Bloomberg New Energy Finance.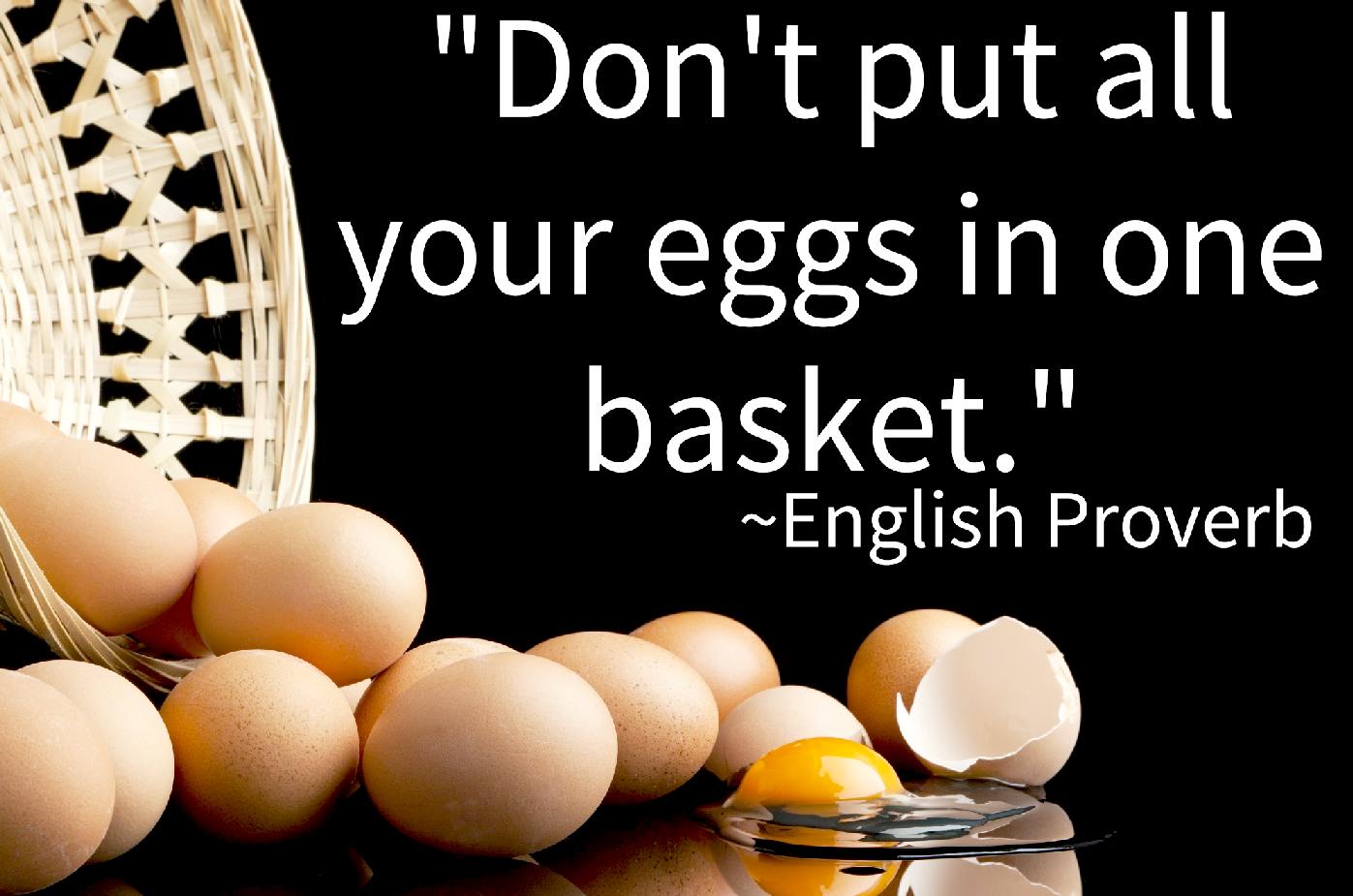 TECHNOLOGICAL COMPASS - It is the part of a wise man to keep himself today for tomorrow, and not to venture all his eggs in one basket. SMARTNET allows for change in technology. You don't have to bet on batteries or fuel cells. Include both in a diverse asset portfolio - and watch you egg hatch into a solution.
EUROPEAN AUTO MANUFACTURERS INCLUDE:
- Audi
- BMW
- Citroen
- Fiat
- Ford
- Lotus
- Mercedes
- Peugeot
- Renault
- Seat
- Smart
MAKES OF ELECTRIC TRUCKS
- DAF
- MAN
- Renault
- Volvo
MAKES OF ELECTRIC BUSES & COACHES
- BDY
CANCER - Many of the compounds released during burning of hydrocarbons are associated with cancer and often cause short irritation of the respiratory tract and eyes.

Motor vehicle emissions contribute to air pollution and are a major ingredient in the creation of smog in some large cities. A 2013 study by MIT indicates that 53,000 early deaths occur per year in the United States alone because of vehicle emissions. According to another study from the same university, traffic fumes alone cause the death of 5,000 people every year just in the United Kingdom.
SOME OF THE BIGGEST ELECTRICITY POWER COMPANIES A - Z
Duke Energy Corporation, DUK, N. Carolina, USA
Dominion Energy Inc., Richmond, Virginia
Exelon Corporation EXC, Chicago, USA
KEPCO Korean Electric Power Corporation
National Electric Grid & Central Electricity Authority (India)
National Energy Board (Canada)
National Grid plc (formerly Central Electricity Generating Board UK)
Next Era Energy Inc. Florida, USA
Scottish & Southern Energy
Southern Company, Atlanta, Alabama, Georgia, Mississippi, USA
State Grid Corporation of China
TEPCO Tokyo Electric Power Company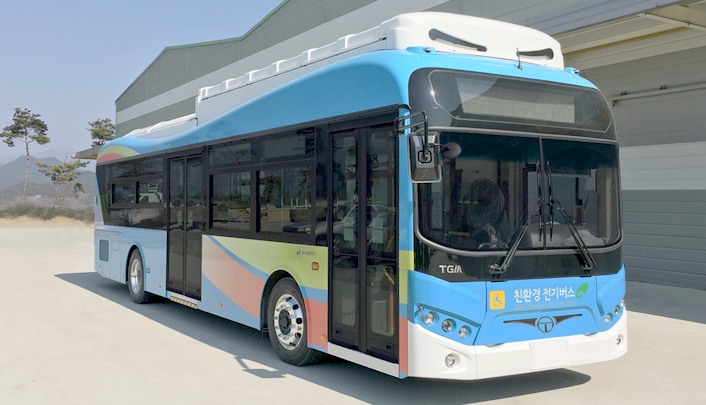 ENERGY GENERATING-DISTRIBUTION UTILITIES ARCHIVE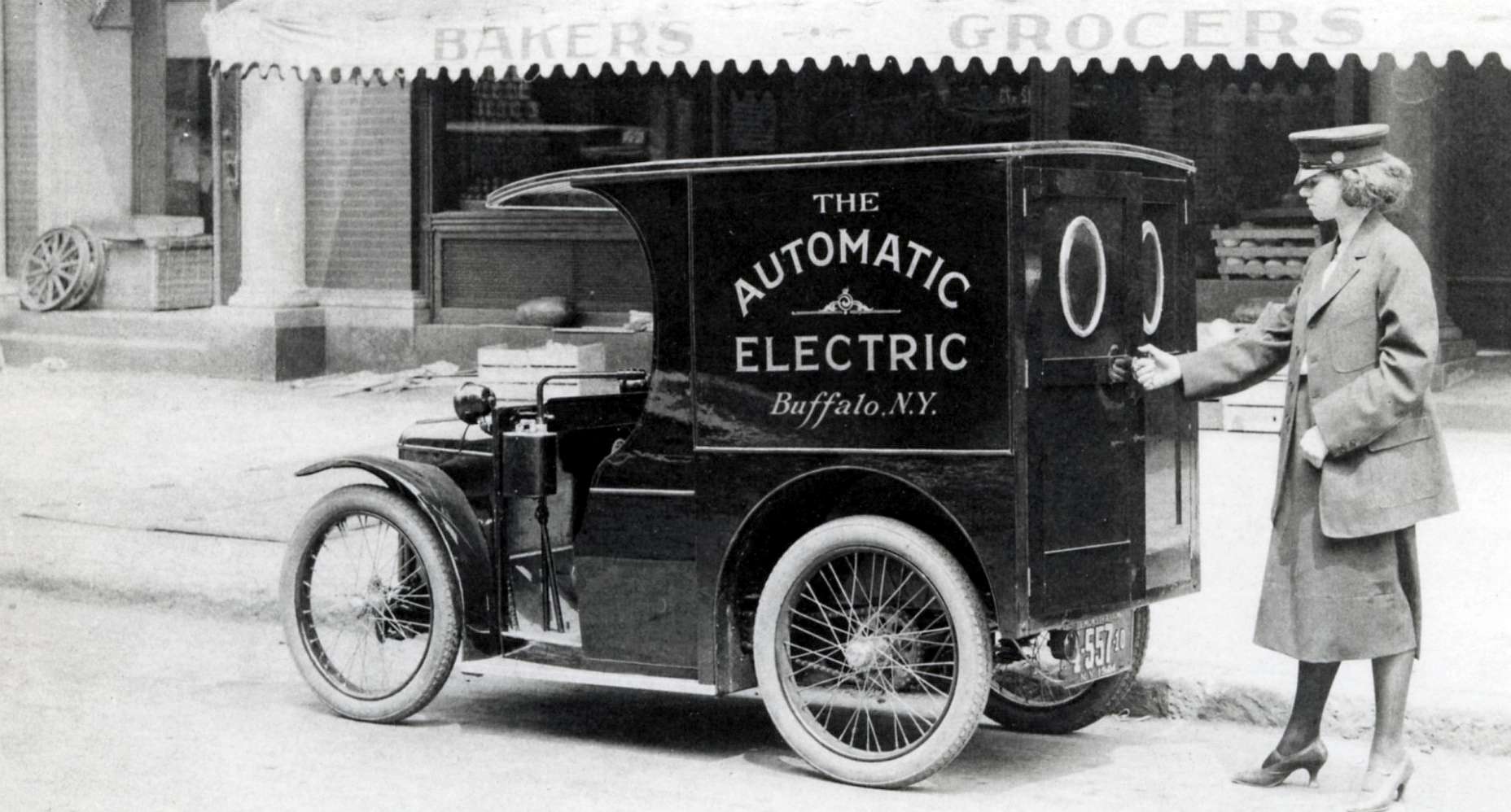 1921 - A chain driven electrically powered van in Buffalo, N.Y. It was called an automatic, because there was no gearbox. They were easier to drive and did not need starter handles that most women could not manage, hence this picture advertising a lady operator.
Professor Ferdinand Porsche invented battery cartridge exchange in the early 1900s. This was for his electric cars. He also even invented the hybrid, where a petrol generator charged the onboard batteries that powered electric hub motors.
A - Z of CARS and MOTORCYCLES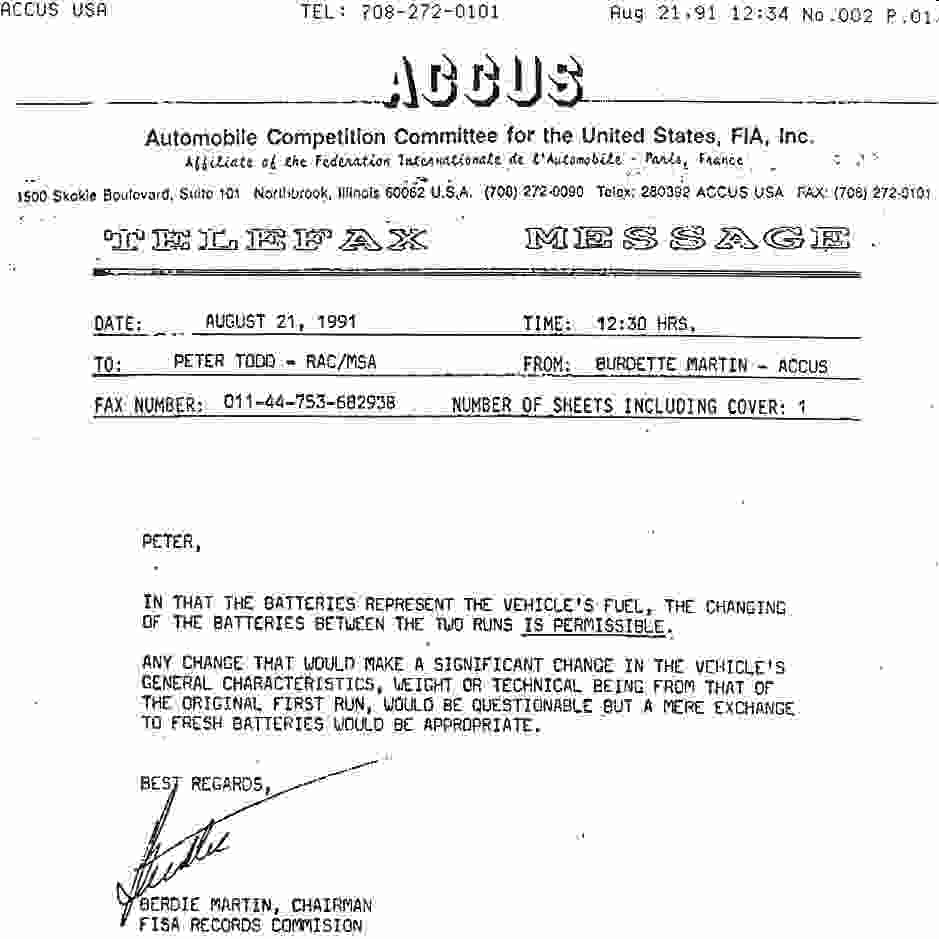 FRESH BATTERIES - The fax shown above dating from 1991 from ACCUS (FIA) confirmed that a cartridge based system was competition compatible as a means to refuel a vehicle - or fast charge an EV. The system was ignored by the UK and California, USA in 1991, where the were looking for something else. Meantime, while the solution was just sitting there staring them in the face, they allowed oil giants to fuel cars to pump greenhouse gases into the air so that now we have serious global warming issues. This is what happens with committees and politicians that can be bought.
BLUEPRINTS - These were the outline drawings for the small sports car, as produced by Bluebird Marine Systems' volunteer students in 2014. The vehicle was mothballed in case it might be useful for events and the like. But now it might see the light of day as a hydrogen fuelled car. The roof, boot and bonnet of this car will feature solar panels, by way of capturing more free energy. We feel that all new cars and trucks should feature onboard solar assistance.