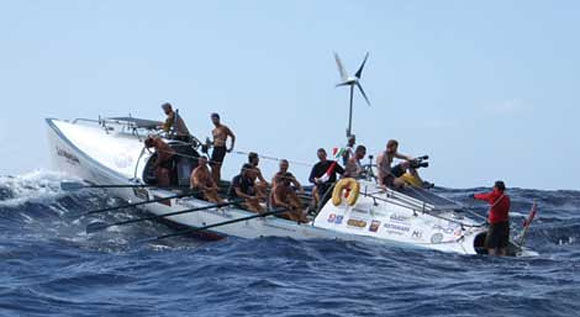 Artists impression o
The Blue Riband "Trade Winds" event started from Puerta de Mogan, Gran Canaria on 16th December 2007 and berthed at Port St Charles, Barbados on 17th January 2008 - distance 3050 miles.

La Mondiale was the fastest Rowing Boat to cross the Atlantic Ocean until the 'Sara G' set a new 'speed' record in 2010. This record is now calculated on average speed for the crossing.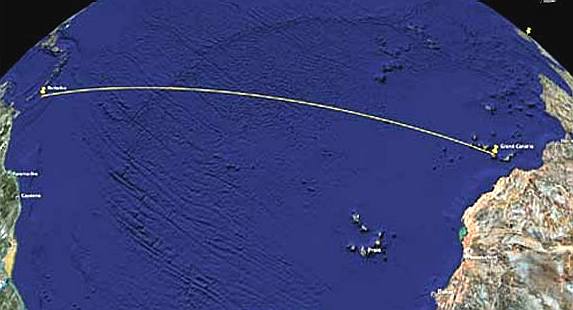 La Mondiale's first Record was achieved in 1992 by a French Crew who had commissioned her build. Many attempts were made for this Record but it remained unbroken for 16 years until January 17th 2008 when the La Mondiale broke her own record by 2 days with her British & Irish crew namely:
* Leven Brown (skipper),
* Ray Carroll,
* Charlie Taylor,
* Peter Donaldson,
* Don Lennox,
* Mike Tooth,
* Stuart Kershaw,
* Julian Barnwell,
* Reinhardt Von Hof,
* Oliver Dudley,
* PJ Luard,
* Rob Loder-Symonds,
* Jamie Walker,
* Liam Hughes.
The Record set then was 33 days 7 hours and 30 mins and during that expedition three further Records were achieved.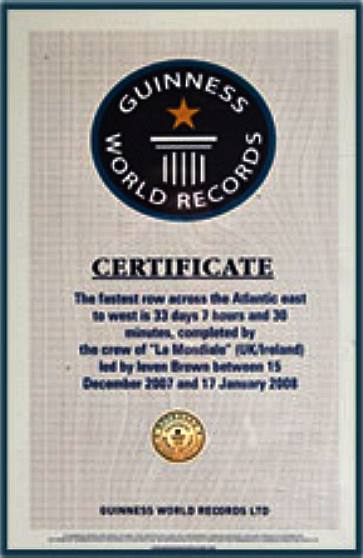 ATLANTIC TRADE WINDS 2013

Ocean Row Events Avalon and her crew left Mogan at 19.10hrs 17 January 2013 and completed the expedition on 22 February 2013, a total rowing time of 35 days 12 hours 41 minutes. Detailed progress charts and other interesting bits of information regarding this expedition are available on the Ocean Rowing Society Website.
ATLANTIC 2014/15
In January 2014/15 Ocean Row Events are looking for both crew and supporters for an expedition set up specifically to try to beat the 30 day barrier for rowing across the Atlantic.
Our new boat, a 8 person monohull, made of carbon kevlar with design features which aide self righting and reduce drag significantly. These are unique to our boat and we are quietly confident that she is indeed a very special craft with blistering pace.
We shall set off from Puerto Mogan on Gran Canaria and arrive in Port St Charles on Barbados a route which will see us covering 3000 miles of open ocean on our quest.
CONTACTS
Email: info@oceanrowevents.com
Phone: 01835 870 895
Mobile: 07503 073922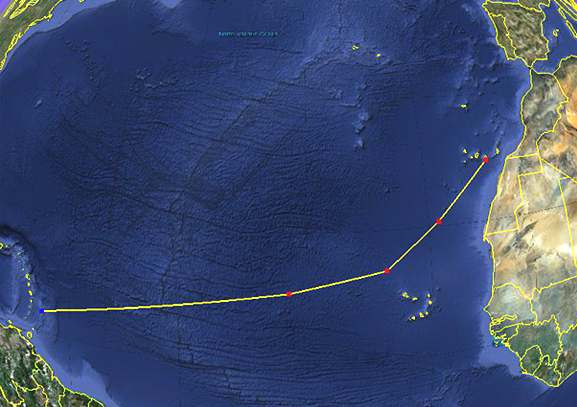 LINKS
http://www.oceanrowevents.com/news/10/23/Atlantic-2014-15/d,Expeditions
http://www.oceanrowevents.com/news/7/23/Blue-Riband-Trade-Winds-Record-Row-2007-08/d,Expeditions
Blue-Riband-Trade-Winds-Record-Row-2007-08
Atlantic Trade Winds 2013
Round Britain Grand Tour
Iceland to Svalbard 2015
Indian Ocean
Atlantic 2014/15
North West Passage
The 'North Atlantic Challenge' 2010
'Trade Winds' Row 2009
Blue Riband 'Trade Winds' Record Row 2007/08
The 'Columbus Run' Solo Unsupported Atlantic Row 2005/06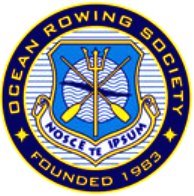 Ocean Rowing Society logo