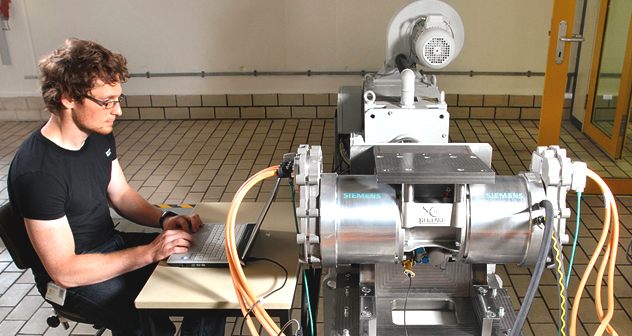 Siemens researchers are working with French company Segula Matra Technologies to developa drive system for an electric car designed for Formules, a new world racing series. Testing the prototype under racing conditions wil provide insights that will help promote the development of electric cars for everyday use.

Hockenheimring, Circuit de Monaco, and Silverstone are names that evoke images of the fascinating and glamorous world of motor sports. On the other hand, a small production hall at Siemens' research center in the south of Munich, is quite another matter.

At first glance, all you see are a few computers and a pallet holding several metal boxes. Nonetheless, the researchers who work here on a test rig run by Siemens Corporate Technology (CT), might one day end up thoroughly transforming auto racing worldwide.

The researchers are developing a drive system for an electric race car named Electric Formula EF01 that is to take part in the new Formulec race series scheduled to start in 2011. Formulec is comparable to the GP2 race series, which is considered to be the last step before Formula 1. Drivers such as Nico Rosberg and Lewis Hamilton had their first successes in this series.

The concept for the new series was developed by the Alternative Energies Commission of the International Automobile Association (FIA) and was drawn up in close contact with advisors to FIA's President. Formulec is planning the new electric car racing series and French company Segula Matra Technologies has commissioned several firms to develop the required components.

As part of this Electric Formula EF01 project, Siemens CT is responsible for the powertrain, which encompasses the electric motor; the inverter, which converts the direct current from the battery into three-phase alternating current; and associated control units. "We had basically already developed electric motor building blocks for different applications such as trains, machine tools, and cars," says Prof. Gernot Spiegelberg, who is responsible for electric mobility at Siemens CT. "However, this race car needs a motor that is not only powerful, but light and compact."

Excellent Efficiency. And that's exactly what Spiegelberg's team is developing. CT researchers are optimizing existing drives and designing a twin-motor drive system for the EF01 project. "We coupled two engines to achieve twice the output," says Spiegelberg, pointing at one of several metal boxes. The box contains the two motors, each of which has a peak output of 125 kW. However, the power input is limited by the battery, which is why a total of 180 kW (the equivalent of 245 hp) is actually available for driving purposes. With that level of output, the two-motor drive system can propel the race car at speeds of up to 250 km/h.

Karl-Josef Kuhn, a member of Spiegelberg's team and the manager of the electric mobility projects at the test rigs, adds, "What's crucial, however, is of course the mechanical output power, and by that I mean what actually makes it to the wheels after subtracting any losses along the way." The Electric Formula EF01 system has an output power of 176 kW, corresponding to an efficiency of 98 %.

"That is an extremely good value," says Kuhn. Normally, electric cars have an efficiency of 95 % at best. By contrast, conventional combustion engines have a thermodynamic efficiency of only about 30 %the remaining energy is lost as waste heat. If you examine the entire functional chain from the source of energy to its consumption (the "well-to-wheel" value), electric cars using renewable energies achieve a value of over 70 %, whereas the value for combustion engines just barely exceeds 20 %.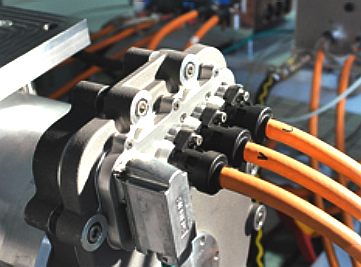 100 km/h in 3 SECONDS

Pioneering feats were also achieved for another powertrain parameter, in that the gears for the twin motor are changed by means of a central two-speed transmission. This is unusual because electric cars have a high torque across the entire rpm range. As a result, electric vehicles designed for road use can generally get moving and accelerate to their top speeds without needing gear changes or even a transmission.

"In principle, the Electric Formula EF01 car could also take part in most races in second gear," says Kuhn. However, on racetracks with very tight curves, such as the Circuit de Monaco, drivers have to temporarily reduce the vehicle's speed so much that it is advisable to change gears by means of a rocker switch in order to achieve optimum racing conditions.

In first gear, the EF01 twin motor accelerates the car from 0 to 100 km/h in three seconds, while in second gear it can achieve speeds of up to 250 km/h. To keep the interruption of the tractive force at the wheels as short as possible, the car's specifications stipulated that gear changes must take place particularly quickly. And indeed, shifting takes place in an eye-popping 150 ms in the Electric Formula car. Dr. Tilo Moser, manager of the Segula Matra project and its research team are especially proud of this parameter. "A highly precise control system is needed in order to achieve this value for our clutchless transmission," says Kuhn. "This, in turn, required us to optimize the control software." No other manufacturer that has tried to develop transmissions for electric motors has achieved a similarly effective solution so far.
The vehicle's switchable transmission, which was developed by Hewland Engineering Ltd., also makes it possible to enhance the twin motor for a smaller rpm range and thus saves weight. Each of the two motors weighs 52 kg. Since each motor has an output of 125 kW, the power density is 2.4 kW/kg — a world record, according to CT.

Kuhn walks over to a glassed-in room situated at the production hall's back wall. "Now let's switch on the motor," he says while operating the control computer. A loud whirring noise is heard. "That's just the cooling system for the back load machine, which simulates the load on the drive in the vehicle. The electric motor itself is very quiet." Although the researchers don't yet know how much noise the completed race car will produce, they are certain that it won't be anything like the ear-splitting roar heard at today's auto races. And because the cars won't produce any smelly exhaust gases, races with electric vehicles might one day even take place on inner-city circuits, such as the AVUS in Berlin or the Champs-Élysées in Paris. Auto races were banned from such venues long ago because of their emissions. The team originally didn't set out to develop a race car drive system. "When Siemens began addressing electric mobility issues, all we wanted to do was create a world-class drive system with which we could explore all the technological possibilities," says Kuhn.

Experts are currently using their test rig to determine the motor's output curve and the control system's switching behavior. The drive system will subsequently be sent to France, where it will be assembled using components from other manufacturers. The result will be the first Electric Formula EF01 race car, which Segula Matra will subject to additional trials and test drives. If the prototype is a success, Spiegelberg's team will deliver the drives for a series of race cars. All of the teams taking part in Formulec's electric vehicle races will use the same car model for the first two years — the EF01. If the results of the races are promising, they might then be followed by open FIA races, in which each team would take part with its own model electric vehicle.

Short but Fast. "The first few races will still be organized in line with the technological capabilities of the Electric Formula EF01 prototype," says Kuhn. But the limiting factor is still the battery. Even though the car's braking energy is fed back into the battery, the latter's capacity of 35 kWh only suffices for a race lasting 20 minutes at most. And recharging such a high-performance car during a race with today's technology would still take too long. Spiegelberg's team is therefore investigating a number of possible solutions (see article "High-Speed Insight"), but even the most advanced systems take at least 15 minutes for a recharge.

It's not just their fascination with auto racing that gets Spiegelberg and Kuhn excited about the project. "Here, at the boundary of what is technologically feasible, we are learning things about the construction of high-power-density electric motors that could be of crucial importance for the development of market-ready road vehicles," says Spiegelberg. "Countries such as China and Israel that don't have a well-established automotive industry, are particularly interested in these technologies," he adds.

The smaller and lighter electric motors become, the more freedom vehicle designers will have. They might even eventually be able to incorporate the motors into the wheels (Pictures of the Future, Spring 2009, Mobility). The research and development work now being performed at CT in Munich could therefore have a significant impact not only on race cars, but also on the road to defining the electric cars we will all be driving.
www.siemens.com/innovation/high-speed-insight.html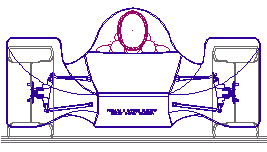 Head on view of a prototype Formula E design with the Bluebird™ instant
refueling system incorporated. (see plan and side views below)
INSTANT PIT STOP RECHARGING FOR FORMULA E CARS
Okay, so we now have very powerful motors that need a lot of energy. So how is the fuel source going to hold up in the face of limited battery storage capacity? The Bluebird™ instant recharging system may be the answer that race organizers are looking for.
A high speed development of patent GB2253379 has yielded a chassis design for Formula E cars that does not radically change the aerodynamics, seating or weight distribution of a Formula E racing car. In fact the weight distribution can be improved over Formula 1.
CURRENT PRODUCTION BATTERY CAPACITY EXAMPLES

.

.

.

.

.

MAKE

MODEL

ENERGY kW

TYPE

MASS Kg

.

.

.

.

BYD

e6

48.00

LiFePO4

- -

Ford

Focus

23.00

Li-ion

272.00

Mitsubishi

MiEV

16.00

Li-ion

- -

Nissan

Leaf

24.00

Li-ion

300.00

Renault

Fluence

22.00

Li-ion

250.00

.

.

.

.

.

.

.

.

.

.
Li-ion SPECIFICS Ref: Wikipedia
Formula E teams and motor manufacturers may avail themselves of a free developer License from Bluebird Marine Systems Ltd, for the purpose of evaluating the technology.

Side view of a prototype Formula E design with the Bluebird™ instant
refueling system incorporated.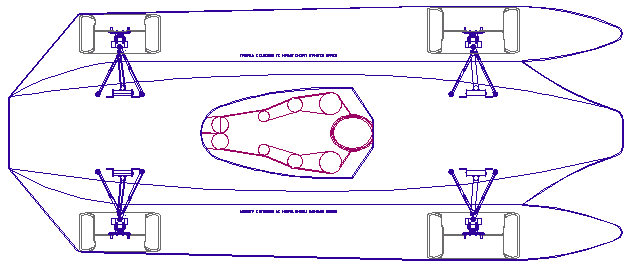 Plan view of a prototype Formula E design with the Bluebird™ instant refueling system
incorporated. Please note that these designs are © Bluebird Marine Systems Ltd 2013.
UTILITIES
Bluebird Marine Systems (BMS) is looking to conduct a feasibility study on high speed cartridge refueling in cities, side by side with a distribution supply network. BMS is looking for collaborative risk share partners and academic institutions interested in reducing pollution. Enquiries from energy generation companies are particularly welcomed, with a view to increasing profitability via load-leveling.

Contact BMS Design:

or phone UK:

Contact Licensing:

+44 (0) 1323 831727
+44 (0) 7842 607865

Intelligent Battery Support System
ENERGY LINKS:
| | | | | |
| --- | --- | --- | --- | --- |
| AFRICA | AMERICAS | AUSTRALIA | CHINA | EUROPE |
| | | | | |
| | NextEra LLC | | | |
| | | | | |
| | | | | |
| | | | | |
FORMULA E LINKS:

Birmingham Super Prix return and the Formula E series

Bluebird™ FE instant pit stop recharging system for Formula E cars*

Pit Stops - servicing and history of the sport

*

Note, there is no connection between the Bluebird™ FE system and the Bluebird GTL team

The world's fastest electric circuit racers need a system to recharge batteries instantly during pit stops. The Formula E concept design above incorporates the patent Bluebird™ instant energy transfer system - allowing EV refuelling in around 10 seconds. Get your free developer License from Bluebird Marine Systems Ltd.