Tom Daniel first met Gary Gabelich when he was driving 'Diggers' - early Sling Shot Dragsters - at the fabled "Lion's Drag Strip", located in Wilmington, California, back in the late 1960's. That was some time before before Gary drove the "Blue Flame" Rocket Powered Vehicle to a new "World Land Speed Record", of 622.407 MPH, set at the legendary 'Bonneville Salt Flats'; just East of Wendover, Utah, on October 23, 1970. Gary's record Run stood for almost 13 years!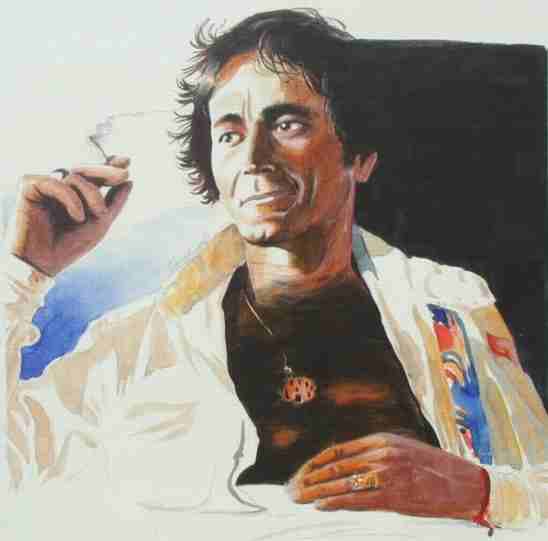 Gary Gabelich
Gary Gabelich and Tom Daniel became close friends and business partners and established the "Rocketman Corporation" in the early 1980's, the goal of which was to design, build (with the help of sponsors), and run an 'Advanced' Design "Land Speed Record Vehicle ", capable reaching speeds in the 800 MPH range. Their hopes and dreams were prematurely shattered with the tragic death of Gary in January, 1984.
The Silver Model you see here, is the 'final' version of a Design that Gary and Tom collaborated on for the best part of a decade. Though completed in 1983, it still looks like it would "do the trick" even today. TD Career Page TD Home Page
The accompanying "Cut Away Views" of the Vehicle that Tom drew - way back then - represents (to him), the pinnacle of his 'career' in Industrial Design; a design that represents the utmost 'seriousness'; and one that is still on the "cutting edge" of LSR Vehicle Technology.

Supersonic Rocket design
The Blue Flame was the high-performing, ultra high-speed, rocket-powered vehicle which achieved the world speed record on Bonneville Salt Flats in Utah on October 28, 1970. The record 1065.8 km/h lasted for 13 years and was set as an average of achieved speed in both ways (617.601 + 627.207= 617.602 miles/h). The driver, Gary Gabelich, was of Croatian origin and native of San Pedro, California.
| | |
| --- | --- |
| GENERAL SPECIFICATIONS: | PROPULSION SPECIFICATIONS: |
| Over all Length: 41' 9" | Type: Pressure Fed Bipropellant Liquid Rocket |
| Wheelbase: 342" | Thrust: Step Throttling from 4,000 to 50,000 Lbs. |
| Estimated Weight (fueled): 7,700 LB | Propellants: H2O2 and an Alternative Energy Fuel |
| Fuselage Width vs Height: 30 X 36" | Burn Time: One Minute - (depending on thrust) |
| Tail Fin Height: 7' 6" | Steering Ratio: 91: 1 |
This website is Copyright © 2013 Bluebird Marine Systems Limited. The names Bluebird, Solar Navigator™,Blueplanet Ecostar BE3™, Utopia Tristar™ and the blue bird in flight

logo are trademarks. All other trademarks are hereby acknowledged.