Originally from Auckland Heather Spurle learned to drive on race tracks around New Zealand. Heather's motorsport career spans back 22 years having driven a variety of race cars from Formula Vee, Sports cars, Formula Ford, Formula Atlantic, 2.0 litre and V8 Touring Cars and American Transam cars. She is a marketable, versatile and competitive sportperson with an impressive portfolio as seen below.

Various levels of success have been achieved within this time against competitive opposition and in some instances, against teams with substantially higher budgets and superior machinery. Heather competed in Formula Vee, Formula Ford & Sports Cars before graduating to the premier Formula Atlantic class in 1985. She has proven to be a consistent driver regularly attracting high profile media exposure by way of her results and self generated promotions. Numerous podium places throughout the five round series culminating in a 6th place in the 1992 New Zealand Grand Prix.

In April 1989 Heather claimed two UIM Women's World Water Speed records in both the Grand Prix Hydroplane and Unlimited classes earning the title as the fastest woman in the world on water. In March 1990, Gina Campbell (England) successfully challenged both records with a speed of 234kph (146mph). Heather was only weeks away from her new challenge date at Lake Ruataniwha and on May 26 1990 was successful in raising Campbell's record's by nearly 50kph to set two new World Records of 271kph (169mph). With sponsorship from the world's largest vehicle manufacturer General Motors, under their product brand AC Delco, Heather received a dedicated 1 hour of National television coverage via documentaries and news items, plus extensive radio and media exposure.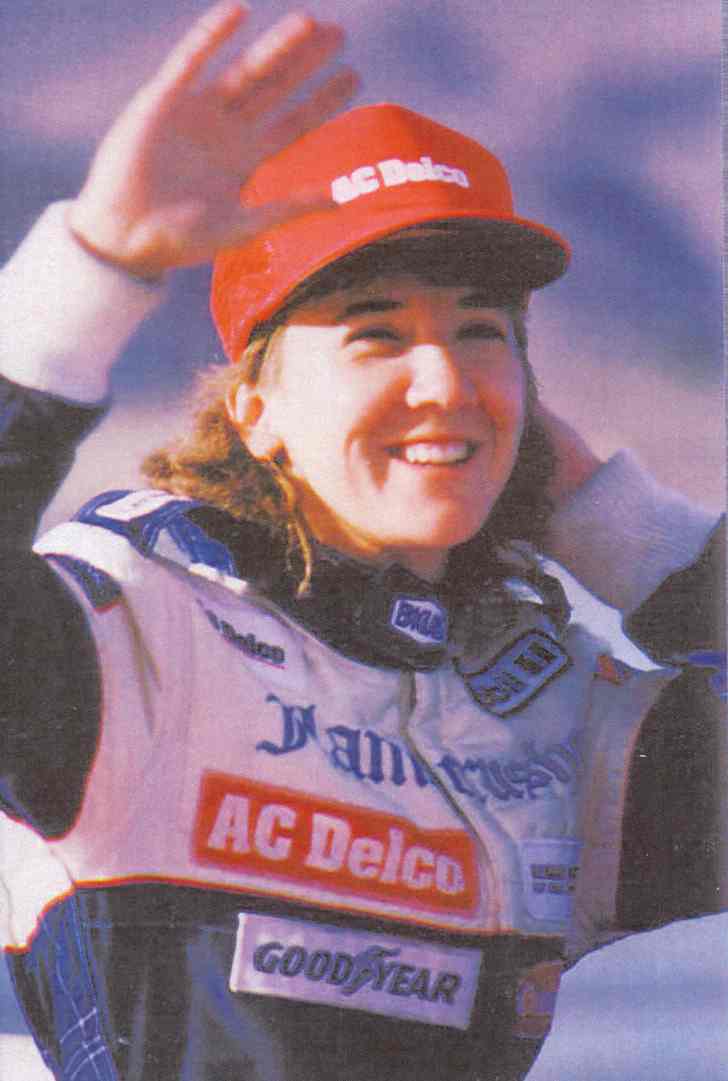 Heather Spurle - World Record Holder
WORLD RECORDS

4 Women's World Water Speed Records
'Women's Grand Prix'
'Women's Unlimited' World Water Speed Records
April 1989 at Lake Karapiro, Cambridge, New Zealand
Speed attained 212kph (132mph)

Regained

'Women's Grand Prix'
'Women's Unlimited' World Water Speed Records
(from Gina Campbell, England)
May 1990 at Lake Ruataniwha, Twizel, New Zealand.
Speed attained 271kph (169mph) Current World Record


NEW ZEALAND RECORDS

3 Outright Land Speed Records
Diesel powered land speed records (2) driving a
Peugeot 306 XRdt production saloon, September 1994
Speeds attained
Flying mile 118mph
Flying Kilometre 191kph

FIA class E land speed record driving a Peugeot 106 Rallye, September 1994
Speed attained Flying mile 116mph

6 Endurance Records

12, 18 & 24 hour Diesel powered endurance records driving a Peugeot 306 XRdt, April 1996 (member of a team of 5 drivers)

12, 18 & 24 hour Outright endurance records driving a Peugeot 306 XRdt, April 1996
(member of a team of 5 drivers)

AWARDS RECEIVED

Motorsport Sportsperson of the Year Awards, 'Outstanding Female', 1996 / 97 / 98.

M.B.E. medal, Queens New Year Honours list, 1991

New Zealand Commemoration Medal, 1990 (Outstanding services to motorsport)

Dunlop Achiever Award of Merit for motorsport, 1990

SPORTS HISTORY (New Zealand)

Represented Waitemata City National League Indoor Basketball 1974-76

1st Junior Women's Division - inaugural Auckland 'Round the Bays' race, 1973

Represented Auckland - Long distance running 1972-75 6th NZ GRAND PRIX
HEATHER SPURLE M.B.E.

An invitation was accepted to drive for one of the top privateer Group A Touring Car teams for the 1990 Australian Endurance Championship. Driving a Holden Commodore the team ran as high as 6th place before engine problems saw them drop to 10th at the Sandown Park 500 km's and achieved a credible 23rd in the Bathurst 1000 km's despite the car suffering persistent electrical problems during the race.


HEATHER SPURLE

Heather was awarded the Member of the Order of the British Empire Medal (M.B.E.) by Her Majesty the Queen and the New Zealand Commemoration Medal for her outstanding
motorsport achievements and services to sport, on and off the circuits.


A break was taken from active competition to further her business career returning
to the circuits in 1994 to compete in the newly established Peugeot Touring Car Series. After achieving regular podium finishes throughout the ten race series Heather was employed by Peugeot Concessionaires New Zealand (Peugeot importers) to head up their factory supported driving team for the following two years.

Through Peugeot Concessionaires New Zealand Heather drove a Peugeot 306 XRdt to break the New Zealand outright diesel land speed record. This project, managed by husband and motorsport promoter Brian Lawrence, culminated in securing both the flying mile (118.894mph) and flying kilometre (191.448kph) records in very adverse weather
conditions. She also claimed a new flying mile sprint record (116.354mph) for the Peugeot 106 Club Sport on the same day.

Heather was invited to contest the 1995 Nurburgring 24 hour driving an Opel Astra Group N touring car. The team qualified 3rd in class against factory backed teams and raced as high as 47th out of 156, leading their class, before gearbox problems caused a lengthy pit stop. Their final placing was 10th in class and 67th overall.


TRANSAM CHEVROLET CAMARO

The same year an invitation was received from the American based team of Bruce Jenner Racing for Heather to drive the team's Camaro for the final two rounds of the New Zealand Transam Championship. Their regular driver, American Chris Kneifel, had to return to the USA early and could only compete in 3 of the 5 rounds. Despite having
never driven a Transam car and with minimal time to acclimatise herself, her debut exceeded everyone's expectations netting a 4th, 5th and 4 x 6th placings from 6 races.


OPEL ASTRA

In July 1996 Heather returned to Europe to compete with Schirra Motoring in a 24hr Super Touring Car Challenge at Spa Franchorchamps in Belgium. Engine problems curtailed their progress early in the race whilst placed 3rd in class.

Heather headed up Peugeot Concessionaires driving team to challenge the New Zealand 12, 18 & 24hr diesel endurance records in a Peugeot 306 XRdt at Manfeild Autocourse. Again the project was managed by husband Brian Lawrence and was successful in establishing 3 New Zealand Diesel Endurance records and exceeded the Outright National Endurance records at the same time thus being rewarded with a total of 6 National records during the 24 hours challenge.

The 1999/2000 season saw Heather again step into the Bruce Jenner Racing Camaro for the final two rounds of the New Zealand Transam Championship. Heather impressed with excellent qualifying and race results claiming an 8th, 6th and 2 x 4th's in 4 starts in a season which proved to be one the most competitive in the history of the class.

In 2000/01 Heather campaigned a Porsche 911 3.8 RSR in the New Zealand Super GT Championship achieving regular pole positions and podium finishes.

A move to Australia in 2001 curtailed Heather's New Zealand racing activities, however she continued to pursue her driver coaching and training programs.


MOSLER MT900R – 5TH BATHURST 24 HOURMOSLER MT900R – 5TH BATHURST 24 HOUR

In February 2003 Heather and Martin Short, boss of the top British GT team Rollcentre
Racing were in discussion to team up for the Bathurst 24 Hour event scheduled in
November. Short had finished 3rd in the 2002 event and was keen to get Heather on board for the 2003 assault. However just weeks later in March Heather was diagnosed with Ovarian cancer.


NZ LAND SPEED RECORD

Immediate major surgery was followed with chemotherapy & radiotherapy over the next 6 months with the terrible accompanying side effects. However, in September just days after the radiotherapy program finished, Heather flew to England to test the V8 engined Mosler and stunned the team with her performance at Donnington Park.

A tortuous training schedule whilst still recuperating saw Heathers tenacity at its best.

Come race weekend in November and Heather acquitted herself well and was given more driving duties than first planned due to her competitive pace. At the finish, the Rollcentre Racing Mosler placed 5th outright & 4th in class.

This was Heather's toughest challenge yet but she showed her determination to succeed – the highest ever placed finish for a woman at an International event at the world-renowned Bathurst circuit.

Heather has worked in a variety of driver education, advanced driving and dedicated race schools throughout her career as well as providing driving and technical assistance to other teams. She has undertaken various public speaking engagements from Marque car clubs to Charity Dinners and Corporate events. She also regularly participates in charity 'Drive a Dream' and 'Fast lap' events whilst maintaining a very active involvement in both the competition and administrative levels of the sport.


CONTACTS
HEATHER VICTORIA SPURLE M.B.E.
54 / 76 Bayview Street
Runaway Bay
Queensland 4216

Telephone +61 (07) 5563-8922
Mobile +61 (0409) 960-689
Email: heather@heatherspurle.com