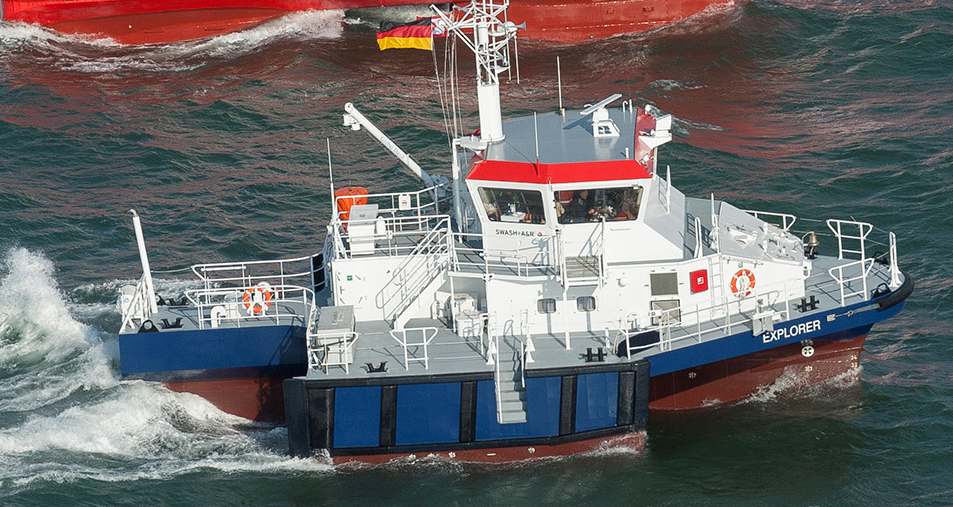 As an example of a SWASH hull, the Explorer from Abeking & Rasmussen is an interesting concept. It uses a single submerged hull with foils front and rear, and two thin, almost wing like section port and starboard, as the stabilizing element of the design. See SWASH theory here.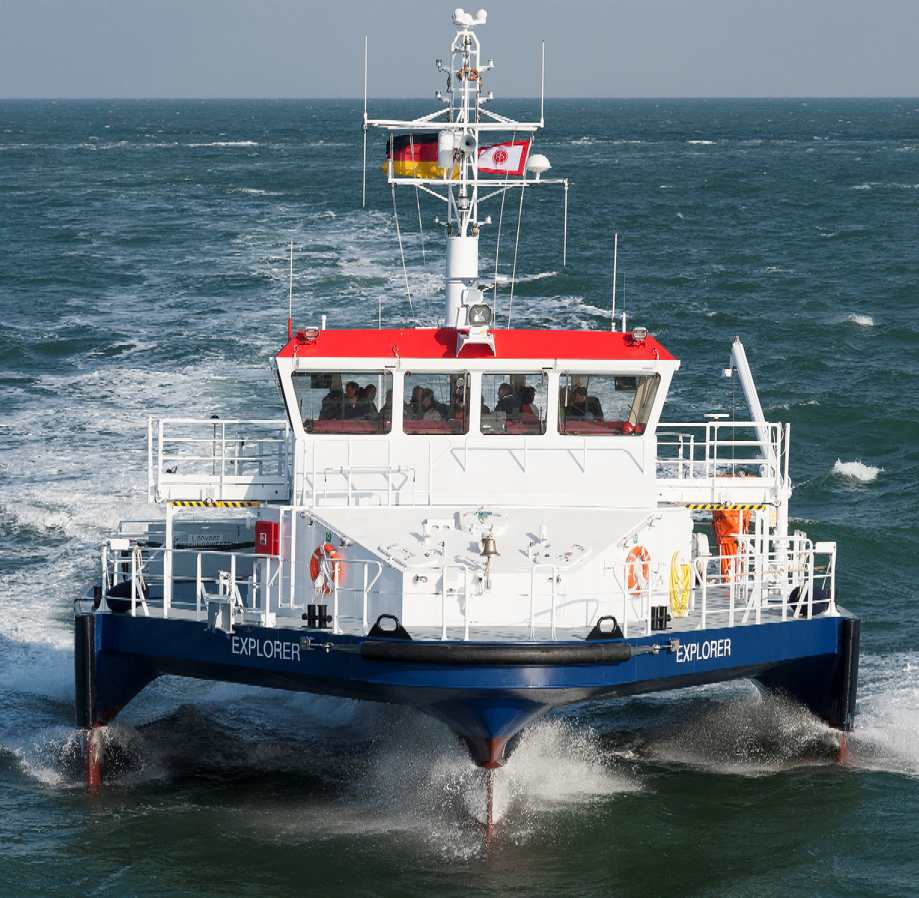 18 FEBRUARY 2013

German shipyard Abeking & Rasmussen is the world's most prolific builder of Swath vessels that are in use as patrol and pilot vessels, writes Dag Pike.

A Swath has a very level ride in waves because of its small water plane area which means that it is not affected by waves like conventional vessels. Because of the constraints of the design A & R felt that Swath designs could not be viable in sizes under 22m and so the company looked for a new solution that would combine the stability and sea-going of the Swath but which could be viable in smaller sizes. The solution found was the Mono-Swath.

"One of the main restrictions on building smaller Swaths was the difficulty of access and the space available for the engines that are located in the underwater torpedo shaped hulls," said Nils Olschner of A & R, "So with this new concept we have taken one of the underwater Swath hull units and added slim side hulls or stabilisers. The result is a design that we hope will have all the benefits of the Swath and allow smaller sizes for which we see a considerable demand".

The Mono-Swath is currently under construction at the A & R shipyard in Germany with completion expected later this year. "We are building this prototype in order to test the concept and if it works then we will offer it onto the market". The prototype is 20.5m long with a beam of 12.5m, which creates a large deck area which could create a large working deck area for fishing or underwater operations, or on which accommodation could be built for a yacht.

"We have chosen this size for our prototype because it means that we can use one of our standard Swath hulls," says Mr Olschner. The vessel will be propelled by a single diesel engine coupled to a variable pitch Servogear propeller. The side hulls or stabilisers are about 0.5m wide so they offer little resistance but there is enough volume to help maintain the vessel on an even keel, even in rough seas.

A & R is hoping that if the trials with this new concept are successful, a new generation of very stable working craft can be offered to the market, with probable applications in pilot boats and maybe the fishing industry.
JULY 2012
Germany's specialist Abeking and Rasmussen Shipyard is building a small new type of workboat tender based on its proven SWATH boats but with a single hull and says the new design will be tested in autumn.
A&R in Lemwerder was the first German facility to enter the SWATH (Small Waterplane Area Twin Hull) technology sector. Its new type is called SWASH (Small Waterplane Area Single Hull).

The yard claims to be the first to have marketed a reliable and commercially successful SWATH and has been a leader in the development and marketing of SWATH boats in the 25m to 60m range. All have been pioneers in their fields. However, because of their stability in rough weather and good sea holding, many have found service as pilot tenders and mother ships and as Coast Guard patrol boats in Germany and neighbouring countries. Others are in offshore service and one was built as a private yacht.

The new smaller SWASH type looks a bit like a Praying Mantis on land and like a trimaran on water but is a stabilised single hull vessel whose displacement is in its central hull tube.

A&R marketing and sales manager Silke Thape told Maritime Journal, "This is a very extravagant new development, which we are very consciously financing ourselves." She revealed that it was planned to begin testing the new type in September and that A&R hoped to provide more technical details about it at that time.
The SWASH prototype, already being built to GL classifications at A&R as Hull No 6496, will reportedly be 20m long and operate in principle just like a SWATH boat.

The deck and superstructure of the vessel are of aluminium and closely resemble that of the standard SWATHs. They rest on two central struts welded onto a single cigar shaped tube suspended below the centre of the vessel and three metres below the surface.
To meet class requirements, designers have also mounted two vertical outriggers on either side of the superstructure which work in combination with a fin stabiliser system to balance the 12.16m wide vessel. They also provide flat sides for convenient berthing.

The single hull tube contains all the ship's systems technology including gears, shaft, generators and bow thruster plant along with the main engine, which unconfirmed reports said would be a diesel unit from MTU of 900 kW providing up to 18 knots with a variable pitch propeller. A&R believes the concentration and hull location not only means equipment is less noisy but also that there is more space for a maximum of ten people on the tender's superstructure.

A&R experts are said to believe that the new small SWASH design will interest pilot groups, wind parks, police, customs and local authorities.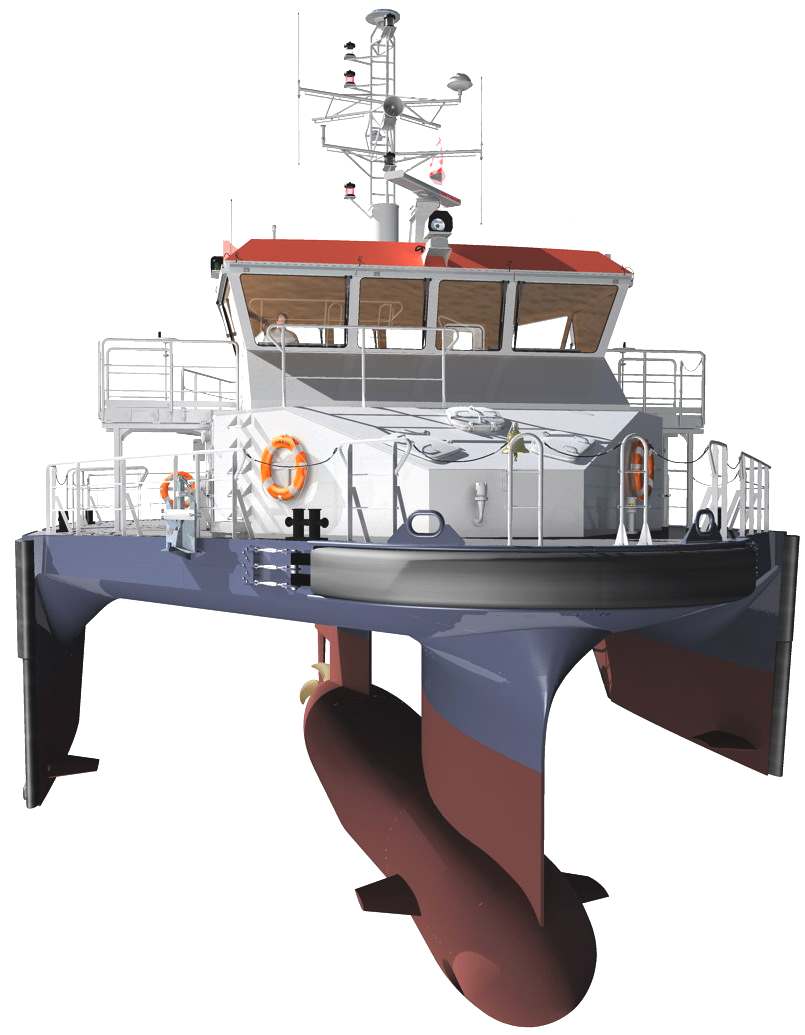 AUGUST 2012
Designers of Germany's shipyard Abeking&Rasmussen made a further development of their very succesful SWATH-concept and named the result "SWASH®A&R" (Small Waterplane Area Single Hull): a 20m boat with only one of the proven hulls from the "SWATH®A&R"-line. In this the drive motor is placed. To give the "SWASH®A&R" more stability it receives two outriggers on each side, similar to a trimaran. With this further development starts a new chapter of the success story of the "SWATH@A&R" technology. These special ships with lengths of 25, 40, 50, and 60m are in worldwide service as pilot station ships, pilot tenders, wind farm tenders as well as private motor yachts. Meanwhile more than 25 of this up to 60m long double-hull form ships have been delivered or, for the time being, are under construction.

Now, the shipyard looks for new applications and a smaller variant for service at police, custom, pilots or offshore wind farms in coastal areas, as well as for private use will be build. At the same time further reductions regarding water resistance, drive power and combined thereby is fuel and CO2 in focus. Double hull ships with length of 20m A&R says will not be build. "It doesn't figure anymore" says board member Karsten Fach. "It would be too heavy for this size. And not to forget: we will optimize the required safety and seaworthiness".

"SWASH®A&R" ships exist so far only on paper. But results of computer simulations as well as extensive tests in the tow basin have been very promising according to Fach and they started to realize it. "We are convinced that this principle works". This ship, with the serial number 6496, will be build for Abeking&Rasmussen's own account. In autumn 2012 the first test trials will be conducted and interested parties can have a closer look at the finished boat.

"From principle the SWASH-type works as well as a SWATH-boat", explains Karsten Fach. As opposed to the SWATH- ships the new development SWASH-boat features only one mono-hull - in this the complete propulsion technology with diesel engine, generator, gear-box, propeller shaft and thruster is located. Thus, more space for accommodation on the deck area, up to ten persons, is available. The lifting hull is placed appr. 3m under the water surface and is combined with the deck area via so called "struts". "For us, the SWASH-development is a stabilized single-hull, were the lifting comes from the middle tube", says Fach.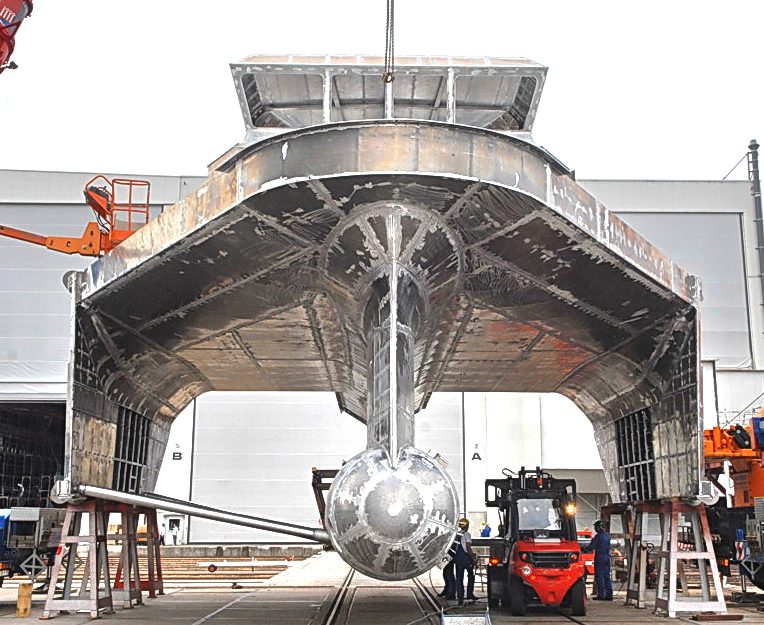 SPECIFICATIONS
Type of Vessel: SWASH ( Small Waterplane Area Single Hull )
Concept: Vessel for rough waters and safe personnel transfer
Classification: GL ? 100 A5 HSDE RSA (200), "Transfer Vessel"
GL ? MC AUT
Principal Particulars:
Length over all LOA 20.42 m Number of Technicians 8
Breadth Hull B 12.16 m Number of Crew 2
Draught dmax 3.10 m
Speed Vmax 16.5 kts Range @ 15kts approx. 320 nm
Propulsion Power Pabt. 900 kW Range @ 12kts approx. 400 nm
Deadweight:
Fuel 5 t Fresh Water 0.5 t
Propulsion Concept:
1 High Speed Diesel, 900 kW Type MTU
1 Reduction Gear Box Type Servogear
1 Auxiliary Generator
Controllable Pitch Propeller (CPP)
PTI driven by Auxiliary Generator as redundant Propulsion
PTO as redundant Generator
Individual Particulars:
Superior seakeeping and manoeuvring capabilities Low motion parameters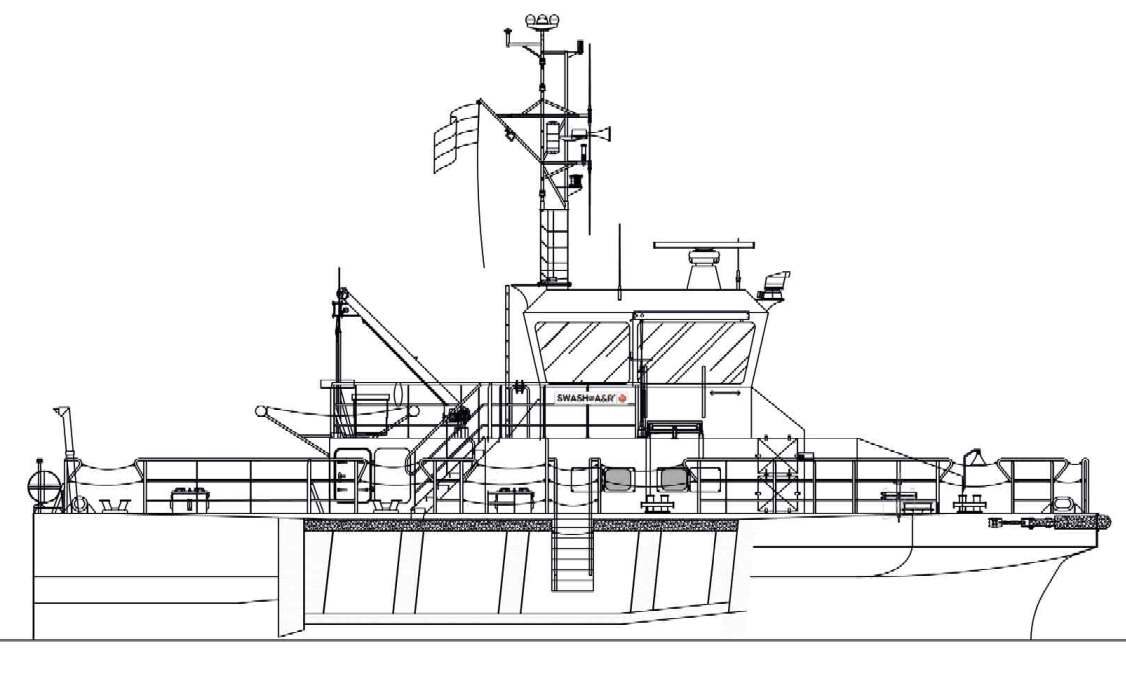 CONTACTS

ABEKING & RASMUSSEN Schiffs- und Yachtwerft Aktiengesellschaft
An der Faehre 2
27809 Lemwerder
Germany
Phone: +49 (0) 421 / 6733 - 0
Fax: +49 (0) 421 / 6733 - 112
E-Mail: info@abeking.com
LINKS & REFERENCE
SOLAS'1974
www.maritimejournal.com/ship-and-boatbuilding/a-and-r-makes-waves-with-new-swash-design
http://www.motorship.com/news101/ships-and-shipyards/mono-swath-from-abeking-and-rasmussen
http://en.wikipedia.org/wiki/International_Convention_for_the_Safety_of_Life_at_Sea
Types of Automatic Identification Systems". U.S. Coast Guard Navigation Center.
Maritime Navigation and Radiocommunication Equipment and Systems IEC.
Tron AIS-SART - AIS-SART / Radar SART JOTRON.
http://www.cmlmicro.com/Press/briefs/index.asp?/Press/briefs/ais.htm
Circular 289: Guidance On the Use of AIS Application-Specific Messages
Establishing an IALA AIS Binary Message Register: Recommended Process IALA Conference
AIS Application Specific Messags IALA-AISM.
http://www.maritimejournal.com/ship-and-boatbuilding/specialist-german-yard-makes-swath-history
http://www.maritimejournal.com/ship-and-boatbuilding/first-swath-patrol-boat-for-latvian-navy
http://articles.maritimepropulsion.com/From-SWATH-to-SWASH-Further-development-at-AbekingRasmussen