MARITIME AUTONOMOUS SYSTEMS WORKSHOP - Wednesday 17 July 2013

The Royal Academy of Engineering
Prince Philip House | 3 Carlton House Terrace
London | SW1Y 5DG

The Marine Industries Alliance, supported by the Transport KTN and RAS SIG, held a workshop that outlined how and why UK industry, government & academia should collaborate, as a community, in a Maritime Autonomous Systems development programme.


Maritime Autonomous SystemsWorkshop
Defining the UK opportunity
Building knowledge, community & capability
Wednesday 17th July 2013 10:00-16:00

The Marine Industries Alliance, supported by the Transport KTN, Robotics and Autonomous Systems Special Interest Group and UK NEST, plans to hold a workshop that will outline how and why UK industry, government & academia should collaborate, as a community, in a Maritime Autonomous Systems development programme.

Background: The UK Government and UK marine industries both want to build economic growth. In the Marine Industries Leadership Council, they have together identified Maritime Autonomous Systems (MAS) as a significant enabler for this. If properly defined, a joint industry & government funded MAS development Programme would introduce new competitive advantage to the UK, delivering clear growth potential beyond the investment potential of individual companies.

The Global market demand for autonomous underwater systems is predicted to grow to $2.3bn (£1.4bn) by 2022, with autonomous aerial and surface systems likely to add to that total. George Osborne and David Willets say "Robotics and Autonomous Systems" is one of the Eight Great Technologies underpinning Government's Industrial Strategy.
The market needs and development needs are also well matched to existing UK MAS capability. The whole product & service lifecycle is already provided by large and small UK companies, and academia - including BAE Systems, Thales UK, Atlas Elektronik UK, MSubs, ASV, Saab Seaeye, WFS Technologies, Seebyte, Southampton's NERC National Oceanography Centre, Plymouth Marine centre, and Heriot-Watt Ocean Systems Lab.
UK MAS SECTOR STAKEHOLDERS

Science & academia : RCUK | TSB | EPSRC | NERC | dstl | Royal Navy | Hydrographic Office | NOC DEFRA
Universities: Heriot Watt | Plymouth

Suppliers:

Seebyte |WFS | Atlas Elektronik | BAE Systems | Rolls Royce | Thales UK | MSubs | ASV Global | SMD
Saab Seaeye | Tritech | Babcock AC-CESS | Oceanscan | NOC |

Users:
Shell | BP | James Fisher | Gardline | KTNs | Universities | RAS SIG | Fugro | Oceaneering | NCS Survey

Other stakeholders:
Treasury | Ministerial Maritime | Round Table | MMO | FCO

Commercial users:

MOST AV | Insurers
IMarEST | MoD BIS | DECC | SUT | Hydrographic Society UK | Subsea UK
SMI | Crown Estate | Oil & Gas UK | ADS A | Renewable UK

Regulators/Assurance:
MCA | HSE | LR

IMPACT OF GLOBAL TRENDS
We are seeing a new, multi-polar, world economic configuration emerging. This will have profound impacts on commercial shipping requirements and natural resource exploitation; an emerging shift of geopolitical configurations where future competitions and conflicts between nations is more likely to involve future competition at sea. This will pose threats to peace and stability. Coupled with these threats, new business opportunities are opening up for naval
suppliers as a result of the increased demand for naval systems of all sorts. Navies require increasingly complex, integrated, secure information networks, with the potential for self repair and autonomy. Navies want to put fewer personnel in harms way.
TOP 10 SUPPLIERS
Teledyne Webb Research (USA)

Kongsberg Hydroid Inc. (USA)

OceanServer Technology Inc. (USA)

Kongsberg Defence Systems (Norway)

iRobot Corporation (USA)

Kongsberg Maritme AS (Norway)

ECA SA (France)

Teledyne Gavia ehf (Iceland)

International Submarine Engineering Ltd. (Canada)

Bluefin Robotics (USA)
LINKS

http://maritimeautonomoussystems.eventbrite.co.uk/
http://www.maritimeindustries.org/Events/-Maritime-Autonomous-Systems-Workshop/13321
http://www.maritimeindustries.org/Annual-Conference-2014
http://www.wplgroup.com/aci/conferences/eu-eop1.asp
http://www.maritimeindustries.org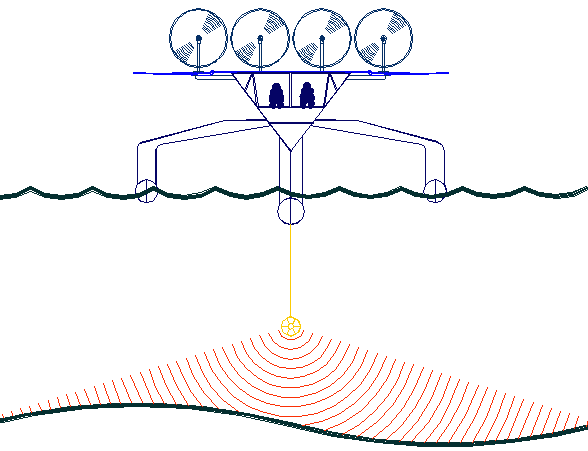 The key to accurate hydrographic mapping is continuous monitoring, for which the SNAV platform, presently under development, is a robotic ocean workhorse. Based on a stable SWASH hull. This design is under development by a consortium of British engineers. The robot ship uses no diesel fuel to monitor the oceans autonomously (COLREGS compliant) at relatively high speed 24/7 and 365 days a year - only possible with the revolutionary (patent) energy harvesting system. The hullform is ideal for automatic release and recovery of ROVs or towed arrays, alternating between drone and fully autonomous modes. UK and international development partners are welcome. This vessel pays for itself in fuel saved every ten years.