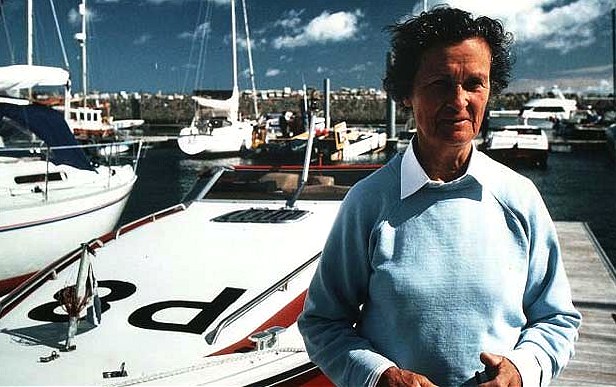 The Countess Lady Fiona Arran - Speed ace powerboat racer. Born: 20 July, 1918, in Argyllshire. Died 16 May, 2013 at Castle Hill, north Devon, aged 94.

The Countess of Arran was born on July 20th 1918. She died on the 16th of May 2013 at the age of 94.
The Countess was reckoned to be the "fastest woman on water" and subsequently the "fastest granny on water" when, in 1980, she reached 103mph on Lake Windermere in a rocket-like craft called Skean-Dhu, an achievement that earned her the highest accolade in powerboating, the Segrave Trophy.

Although an unlikely champion powerboater, in October 1971, at the age of 53, Lady Arran followed in the wake of her hero Donald Campbell, racing her speedboat Highland Fling across Windermere in a hailstorm to lift the Class 1 record to 85.63mph. In her next 12 races, contending against all comers, she won three times and was never placed lower than third. In 1979, at the helm of her 26ft powerboat Skean-Dhu, she set a new Class II world record of 93mph.

Described by Harold Macmillan as the prettiest girl he had ever seen, she had married Sir Arthur (Kattendyke Strange David Archibald) "Boofy" Gore in 1937. In 1958 he succeeded his brother to become the 8th Earl of Arran and became an active member of the House of Lords. A passionate advocate of homosexual rights, he thrice introduced a Sexual Offences Bill, and also campaigned for the protection of badgers.

But "Boofy" Arran became best known in the 1960s for his weekly column in the London Evening News (where he was sometimes billed as "The Earl You Love To Hate"). This ran until 1978, when he suffered a stroke, a misfortune he blamed on his daily intake of a half-bottle of champagne before lunch.

While Fiona Arran pursued her powerboat interests, "Boofy" escaped in a car sent by the newspaper to write his column in peace, often musing about the wildlife in and around their remarkable home, Pimlico, near Hemel Hempstead in Hertfordshire.

For few would have guessed that Lady Arran, invariably arriving on any maritime scene in a Colquhoun tartan cap set at a jaunty angle, kept a sizeable menagerie there. Wallabies bounced around the pinewoods, while pot-bellied pigs, llamas and alpacas, caged birds (including a macaw which volunteered rude comments on proceedings, and others that uttered further expletives), horses, a fox and assorted dogs completed a bustling scene. The family wore gumboots in the house to fend off their cete (brood) of ankle-nipping badgers.

Lady Arran always called her current favourite badger Rosie. A succession of these creatures visited, and left a mark on, the smartest houses in England. "Nobody but Fiona would have carried this off," remarked a friend.

Drawn as ever to the lochside, she kept a small house on the Isle of Inchconnachan on Loch Lomond. She boated the loch while her badgers lived beneath the veranda, chasing people hurrying to the jetty.

Meanwhile, Fiona Arran continued to win competitions, eventually completing the Round Britain offshore race, a demanding event even for the fit young men who made up the other contestants.

She often disembarked black and blue, after she and her navigator had been flung around like dice in a cup. One exclaimed: "The Lady only has two speeds — flat out, and stop!" Asked why she did it, she said simply: "For Scotland".

Fiona Arran was also a painter. Her pictures were rich in atmosphere and feeling, and in due course there was an exhibition in St James's. It was almost as if she could do anything she set her mind to: from the water she took to dry land and phaeton-racing. Prince Philip was said to be amazed by his latest hell-for-leather competitor, and Fiona Arran was described as driving like Boadicea.
She made a late comeback on water, helping to design and construct a revolutionary electrically-propelled 15ft hydroplane, An Stradag (The Spark). On November 22 1989 she piloted the tiny craft to another record, achieving a silent and environmentally-friendly 50.825mph. She was then 71.

Fiona Bryde Colquhoun was born on July 20 1918, the daughter of Sir Iain Colquhoun, 7th Bt of Luss, a war hero and explorer. Her mother, Dinah Tennant, was a champion golfer. Brought up on the banks of Loch Lomond, and educated locally, Fiona recalled her first thrill in a powerboat in 1932 when, aged 13, she rode in Miss England III, a hydroplane powered by Rolls-Royce aero-engines, during its trial run on the loch.

On a summer's evening just before the war, she was aboard her husband's supercharged Mercedes car when it achieved 100mph down Oxford Street ("That was rather fun!"). During the war she was a driver with the Wrens, and subsequently put her mettle to the test on the newly-built M1. When a policeman stopped her — yet again — she said: "Fast? Get in, officer, and I'll show you what fast is."

In 1965, having witnessed the Paris Six Hours circuit marathon on the Seine from the yacht of the British naval architect, Commander Peter du Cane, she bet a friend that the following year she would be one of the starters. True to her word, in 1966 she was the sole woman competitor and finished 14th out of 90, in a monohulled boat named Badger I.

The name was significant. With her husband, Lady Arran had campaigned for the protection of badgers, and eventually helped to pilot the Badger Protection Bill through both Houses of Parliament. They even had a badger motif attached to the radiator of their Rolls-Royce.

Bored by circuit racing, Lady Arran soon progressed offshore. In Badger II, a 20ft Don Shead design, she quickly set a new speed record of 55mph for Class III offshore powerboats. For the 1970 season she was at the helm of Badger III, a Cougar catamaran.

She then turned to a young naval architect, Lorne Campbell, who designed a series of three-point hydroplanes in which Lady Arran competed in offshore races. Having broken the Class I record on Windermere in 1971, she lifted the Class D championship in 1976 in the 26ft Skean-Dhu (Gaelic for "dagger").

Campbell next came up with Cael-na-Mara ("Song of the Sea"), a 30ft reverse three-pointer with three Mercury outboard engines on the back. But the craft's performance disappointed, and Lady Arran reverted to Skean-Dhu, in which, in 1979, she set a new Class II world record of 93mph. On August 11 the following year she piloted the vessel, with its twin 225hp Mercury outboards, to 102.45mph on Windermere. She announced her retirement in 1981.

Her husband died in 1983. The elder of their two sons, the 9th Earl of Arran, survives her.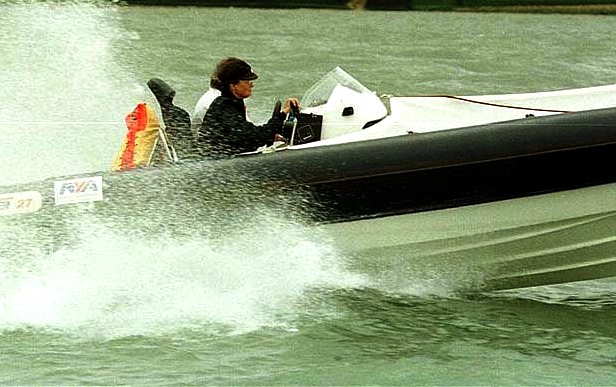 A RACING CAREER
Fiona Bryde Colquhoun later Countess of Arran, sped into the record books in 1980 as the fastest woman on water when she reached 102 mph in a power boat on Lake Windermere. She became the first person to go over 100 mph in an offshore boat, instigated the Badger Protection Bill and was a friend of Ian Fleming, the creator of James Bond.

One July morning in 1932 a 14 year old Fiona Bryde Colquhoun stowed aboard Kaye Don's RR Merlin powered Miss England 3 during a practice run he made prior to his setting his 119mph record at Loch Lomond……

That 14 year old went on to become through marriage at the age of 19 the wife of the future Lord Arran, Boofy to his friends. The couple lived in an age of excitement, fast cars, fast living and many changes in the world, with more to come.

Lady A as she was affectionately known was to later comment that "speed relaxes me" it is in my blood, maybe that illicit ride was the start of that particular craving ….But until 1963 the craving was confined to horses and fast cars then as guest of Vosper designer Peter Du Cane she witnessed the Paris 6 Hour race and asked the organisers if she could race her (Boston) Whaler only to be accused of being mad! 3 years later at the age of 48, a member of the British team in the Du Cane designed Badger 1 she finished the race, the only Briton to do so! from then on there was no stopping Fiona Lady Arran…

1965 Badger 1 designed by Peter Du Cane raced at Iver

1966 the Paris 6 hours finishing 14th out 90 entrants

1969 An Avenger 21 Badger IV and the first record 55mph in the Cornish 100.

1970 Badger V a Cougar cat raced jointly with Alf Bullen and the Fairey Huntsman Fiducia with John Frost in the C-T-C

1971 Lorne Campbell and Graham Stevens design the "Highland Fling"

1972 Highland Fling takes Class 1 record at Lake Windermere 82 mph

1971 Lorne Campbell designs Skean Dhu

1977 Cael Na Mara another Lorne Campbell multi hull, fast but unsuccessful.

1978 Skean Dhu takes Class 2 World Record at 92 mph Then another WR 102MPH AT THE AGE OF 62 and first woman to break the 100mph barrier beating American Betty Cook. The UIM record for electric boats in the minute An Stradag 50.8mph.

Lady Arran raced with Lady Aitken in the London Monte Carlo in Ford Express, entered the Cowes Torquay with the boats Laura Lucy and Hell's Angels Then another Lorne Campbell "The Granny Arran"……

Her records speak for themselves. Lady Aran was born in an age when life was lived to the full. When she started racing boats there were no health and safety laws, just the pure pleasure of speed on water. She also experimented with hull shapes and through Lorne Campbell's designs set off on a path away from the then present trends of the world and succeeded. Lady Arran was the product of an age we now surely miss.

Fiona Bryde Colquhoun, better known to powerboat aficionados as Lady Arran, was a magnificent character. In addition to being an MP, she was a great fan of power-driven speed in all its forms, a forward thinking advocate of new hull shapes and a personal friend of 007 creator, Ian Fleming. That in itself is enough to recommend her as a woman worth knowing – but in addition to all of that, she was also a successful powerboat racer from 1965 to 1980, completing her 15-year stint at the age of 71 by becoming the fastest woman on the water with a figure of 102mph on Lake Windermere in her famous Lorne Campbell designed craft, Skean Dhu.

Famous for her love of speed, which she claimed helped her relax, this extraordinarily colourful woman (who also happened to be a breeder of badgers and wallabies) remained throughout her life a staunch champion of the beautiful Loch Lomond region where she first fell in love with the thrill of fast boats.

On Wednesday the 22nd November 1989, Fiona, the Countess of Arran set a new World Record of 50.825 mph (81.793kph) in an electric boat named "An Stradag". This beat the previous record set by Miss Nickel Eagle in 1978, by a clear 5mph. The name is derived from Gaelic meaning "the spark."
The seed for this record attempt was planted three years earlier by a group of men keen to sweep away the prejudices against electric motor boating as being anything other than a sedate 6mph for a limited distance. So it was that in September 1986 Rupert Latham (Steam & Electric Launch Company of Wroxham, Norfolk) and Kevin Desmond steered the 21ft "Frolic 998" out onto the Norfolk Broads and cruised continuously for 23 hours, covering 101 miles without recharging. Then in December 1987 at Regents Canal, Little Venice, West London, five skiffs fitted with electric outboard motors and one standard 12v Oldham battery, cruised around a 3/4 mile course (1320 yards) until their batteries were exhausted. The winner of this event organised by Lucas, was Andrew Wolstenholme in his 15 foot boat "Chippendale-Sprite." This boat was powered by a prototype radial armature, permanent magnet built by Cedric Lynch.
"An Stradag" was designed by Lorne Campbell. It was built by Nick Barlow of Mayday Marine, Woolston, Southampton, of gabon plywood bonded together with epoxy resin to form a 3 point hydroplane 15 feet long and weighing in at just 210 lbs. She used four packs of SB40 aircarft starter batteries and four Lynch motors driving through chains to two three bladed surface piercing propellers.
The record set by Miss Nickel Eagle remains a national one simply because before 1988 the UIM had no official category for electric powerboats. However, this deficiency was brought to the attention of the RYA and the UIM by the efforts of Kevin Desmond and others and finally the Rules written to bring the sport up to date with current events.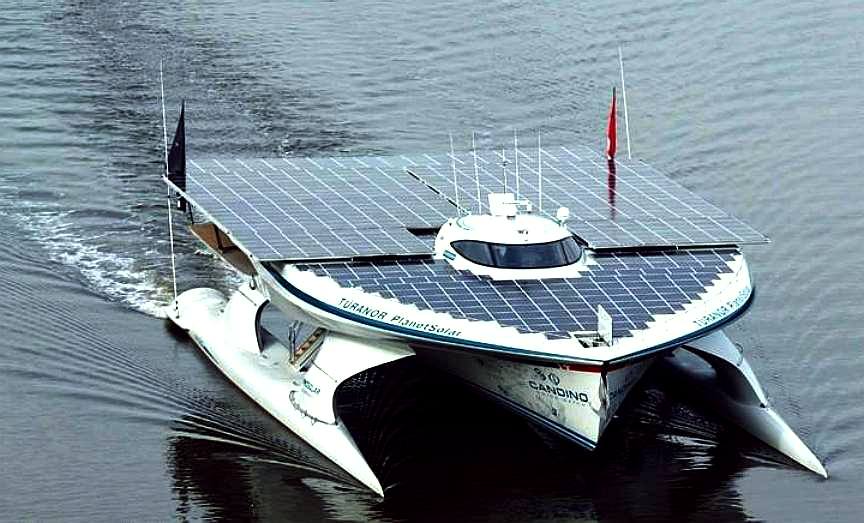 SOLAR ELECTRIC - The Countess lived long enough to see the PlanetSolar set the first solar electric circumnavigation record in May of 2012. In 2019 solar powered hydrofoils are set to race offshore near Monaco in the Mediterranean sea. One team from Holland are set to challenge the English Channel in their solar powered boat.
LINKS & REFERENCE
http://classicoffshore.com/blog/2013/05/28/
https://www.telegraph.co.uk/news/obituaries/10106930/The-Countess-of-Arran.html
https://www.scotsman.com/news/obituaries/obituary-countess-arran-power-boat-champion-1-2960776
https://www.planetsolar.swiss/en/world-premiere/boat/