UK NAVAL ARCHITECTS MEETING -SHIPBUILDING & FINANCE AUGUST 2013
The third technical session of the Institution of Naval Architect held on 24th August 2013 brought into focus three key issues – "Shipping, Ship Building and Finance". The topic on 'Shipbuilding scenario - Present and Future Prospects" presented by Arun K Gupta, Director (Technical & Offshore), the Shipping Corporation of India (SCI), turned out to be the main highlight of the session as his realistic forecast about the industry caught the attention of the large number of naval architects present resulting in lengthy discussions.

According to Mr. Gupta ship building in India which saw it sunshine days from 2004 to 2008 started feeling the pinch from 2011 onwards. By then the indiscriminate ordering of vessels almost came to a standstill around this time with the shipping having dropped to the lowest level. Orders for tanker dropped drastically so also with the case with bulkers. While orders for ships slowed down, the recycling of ships began to soar spectacularly.

He pointed out that China became the largest ship builder having overtaken Korea. Today it has over 1000 ship yards holding around 50% of the global share. South Korea is 34%; Japan holds 17% of the world share of ship building and India lags very much behind at 0.3% with only 27 ship yards; yet India ranks 8th in the world. India held the initiatives for several decades from the beginning of the last century but because of several factor the ship building industry ended up missing the bus.

It is commonly observed that when it comes to ship building India is better placed than most others. For one it has good resources, manpower and professional availability and besides enjoys a long coast line that extends to 7517 km. But the ship building history is depressing. Unfortunately, not a single dredger has been built in the country nor have they been able to build a container vessel. It is any ones guess when the first LPG carrier will ever get built.

"But our costing is high besides lacking capacity," points out Mr. Gupta. "The Shipping Corporation of India decided on giving a leg up to the Indian ship builders and so planned to place orders with them on nomination basis. But it turned out that the cost was $ 20 million for the vessel whereas at other overseas ship building facilities the cost came to $15 million. Quality has never been an issue with Indian shipyards.

Shipping being a capital intensive industry is drastically in need of loans and unless they get the required soft loans it cannot be possible to compete with others worldwide. What is also important, besides finance, is relaxation on the taxation front to some extent. Mr. Gupta observed that there is plenty of labor but productivity is lacking and advocated the need for importing raw material. For shipyards to be successful it is essential to operate on a system which ensures that deliveries are made on time.

Arun K Gupta, Director (T & OS) SCI contended that prices have been falling since 2010 but the perception is that the vessels have bottomed out and now it is time to place orders for new buildings. "Buy vessels now and sell them in the next two years" he advocates. He contended that challenges will have to be faced by all stakeholders. "Since energy plays an important role, LPG would likely to benefit the most. But then nothing drastic is going to happen until 2017."

Sumathi Sundarajan, Vice President of SCI gave an insight into how one can go about getting ship finance, the prerequisites, the liabilities and the best way to go about procuring this finance. Capt K P Rajagopal spoke about Project development and Finance. He gave an analytical presentation on port development, the various business models that are popularly preferred and their advantages.
CONTACT THE RINA:
RINA
8 - 9 Northumberland Street
London, WC2N 5DA, UK
Telephone: +44 (0)20 7235 4622
Fax: +44 (0)20 7259 5912
Chief Executive

Trevor Blakeley

Executive Officer

Sally Charity

Receptionist/Secretary

Louisa Uyi Abiori

IT/Information Services

Graeme Mitchell

Professional Affairs Director

Giuseppe Gigantesco

Professional Affairs Manager

Lisa Staples

Membership (Student and Associate Members)

Yuen Yee Pang

Technical Director & Publisher

Mark Staunton-Lambert

Technical Manager

Morgan Griffiths

Conference Organiser

Jade Whitelaw

Editor - The Naval Architect

Assistant Editor - The Naval Architect

Nick Savvides

Samantha Fisk

Editor - Ship & Boat International

Assistant Editor - Ship & Boat International

Martin Conway

Nicola Stuart

Editor - ShipRepair & Conversion Technology

Clive Woodbridge

Editor - Warship Technology

David Foxwell

Editor - Offshore Marine Technology

Assistant Editor - Offshore Marine Technology

Martin Conway

Nicola Stuart

Production Manager

Sandy Defraine

Advertisement Production Manager

Stephen Bell

Subscriptions and Publications Manager

Josie Pearlson

Bookshop Assistant/Publication Sales

Billy Allen

Group Sales Director/Advertisement Manager - The Naval Architect

John Payten

Assistant Advertisement Manager - The Naval Architect

Valder Gates

Advertisement Manager - Ship Repair & Conversion Technology

Advertisement Manager - Offshore Marine Technology

Advertisement Manager - Warship Technology

John Payten

Advertisement Manager - Ship & Boat International

Aftab Perwaiz

Director of Finance and Administration

Ian Blackwood

Finance Manager

Karen Everest

Assistant to the Finance Manager

Karen Cox
LINKS:
http://www.rina.org.uk/
http://www.britishmarine.co.uk/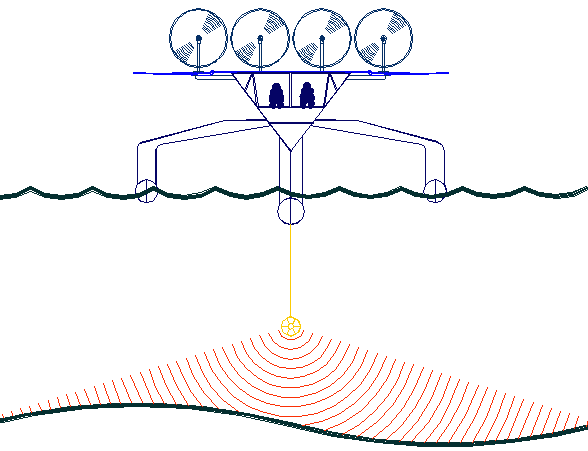 The key to accurate hydrographic mapping is continuous monitoring, for which the SNAV platform, presently under development, is a robotic ocean workhorse. Based on a stable SWASH hull this design is under development by a consortium of British engineers. The robot ship uses no diesel fuel to monitor the oceans autonomously (COLREGS compliant) at relatively high speed 24/7 and 365 days a year - only possible with the revolutionary (patent) energy harvesting system. The hullform is ideal for automatic release and recovery of ROVs or towed arrays, alternating between drone and fully autonomous modes. International development partners are welcome. This vessel pays for itself in fuel saved every ten years.