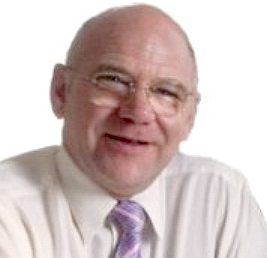 Wolfgang Flatow is an inventor and champion of sustainable development. In December of 2014 he came up with the idea to build solar powered barges to collect plastic waste from our oceans.
WOLFGANG FLATOW - CERTAINEDGE PTY LTD & UNIDAP SOLUTIONS PTY LTD

The concerned citizen who came up with the idea of using solar energy to power barges to recover plastic waste is Wolfgang Flatow, from Queensland, Australia. Not only did he have the idea, but he is championing the concept and is actively seeking to raise the profile of the plastic waste problem in our oceans.
Once you've seen the credentials of Mr Flatow (see below), you may care to agree that he is most suitably qualified to head a project of this kind.

The above is a diagram of the SBR1, a solar powered barge designed to scoop up ocean plastic waste and deliver it to land cost effectively. A patent has been filed in Australia and is pending at this time. Please note that the above picture is Copyright © Wolfgang Flatow. Unless for personal study or review, you will need permission from the author to copy or publish this picture.
On his website: OceanPlasticReceovery, he is quoted as saying:
"It has occurred to me (12-Dec-2014) that Solar Robotic Barges are a solution." "
The concept is simple and makes economic sense:
* Construct a global fleet of Solar Robotic Barges (SRBs).
* Program SRBs to travel between the Oceanic Plastic Garbage Gyres and nearby ports.
* SRBs scoop up Plastic Garbage at the Oceanic Plastic Gyres.
* SRBs unload it at processing stations in ports around the World.
* SRBs are remotely monitored and controlled via satellite.

Fuel costs and pollution are eliminated and salaries kept to an absolute minimum.

The costs are focused on the construction of the SRBs and a centralised control and monitoring system.

Each sequential SRB is built using the learnings of the previous SRBs to improve efficiency, scooping methods, compaction systems, unloading etc.

As each SRB runs to its own schedule, does not require high performance and does not transport people (captain or crew), they can be built relatively cheaply.

The SRBs location can be verified against GPS at all times, all shipping can easily see them on radar and a current chart of locations always available over the internet."

Wolfgang is an Inventor by profession with many patents to his name. He began his commercial software design and development career in 1985. He has been employed as Senior Systems Analyst and Software Development Manager over 12 years. Wolfgang is the inventor of the patent at the core of uniDap and continues the task of researching the infinite potential and applications of uniDap's genetic architecture. His knowledge stemming from this experience could prove to be invaluable in the development of fleet management software.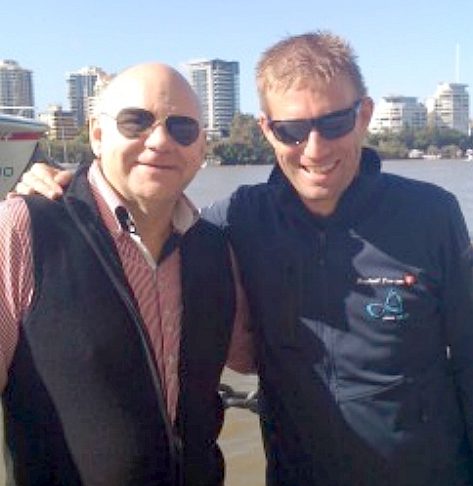 Wolfgang Flatow with Raphael Domjan, the original champion and skipper of the PlanetSolar world record navigation boat. No doubt Wolfgang drew his inspiration from projects like that.
WOLFGANG's INVENTIONS

• Granted a patent for his Solar Energy Simulator.

• Granted a patent for his Universal Database Architecture.

• Inventor of the uniDap Web Application Platform.

• Senior Systems Analyst for Rio Tinto developing their first intranet with Safety Notice and Knowledge Management applications.
• Designed and delivered Rio Tinto World Wide Y2K response intranet/extranet.

• Developer of Client Queuing Software for Q Systems

• Inventor in the fields of Solar and Hydrogen Technology, granted a patent for high efficiency Black Fluid Solar Collector

• Designed, built and operated solar powered boat - 1994 – 1997 Sunship 1, a 6x3m catamaran, Perth.

• Successful computer games developer and marketer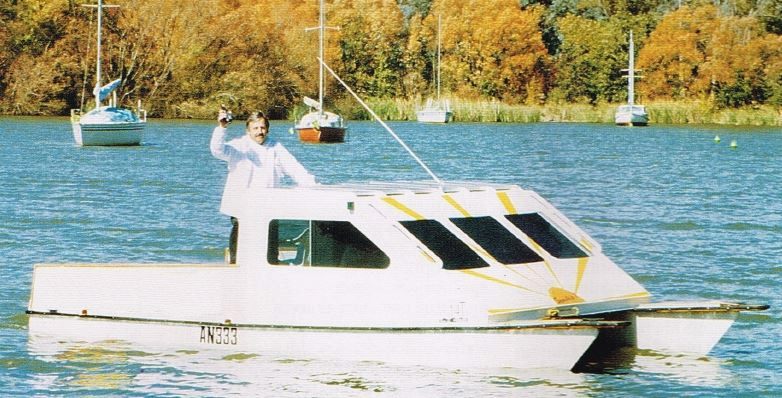 Wolfgang's solar powered catamaran 'Sunship 1' during the Canberra Solar Boat Race, 17 October 1995 at Lake Burley Griffin.

CERTAIN EDGE CONTACTS
Suite 110 / 166 Wickham Terrace
Spring Hill, Brisbane
Queensland 4000

Tel: 1300 765 385
Email: info@certainedge.com
HYBRID SUNSHINE CONTACTS
Sunshine Coast Queensland
P: 07 5435 0435
M:0409 309 901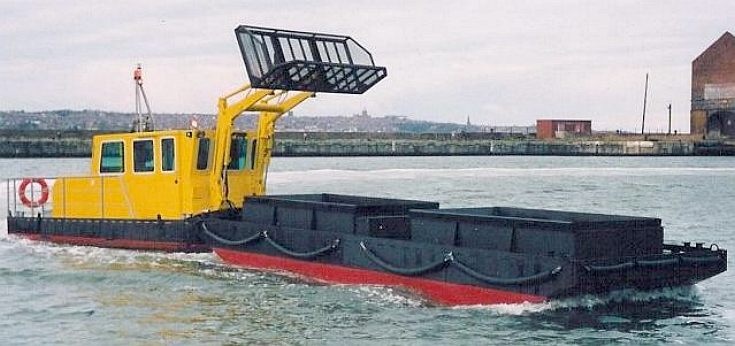 A mini-barge with skips to unload at the dockside using conventional waste disposal trucks - as used in rivers for clearing waste.

BARGES

A barge is a flat-bottomed boat, built mainly for river and canal transport of heavy goods. Some barges are not self-propelled and need to be towed or pushed by towboats. Canal barges, towed by draft animals on an adjacent towpath, contended with the railway in the early industrial revolution, but were out-competed in the carriage of high-value items due to the higher speed, falling costs, and route flexibility of rail, and now trucks.
MODERN USES
Barges are used today for low-value bulk items, as the cost of hauling goods by this method is low - and that is the bottom line. Barges are also used for very heavy or bulky items; a typical barge measures 195 by 35 feet (59.4 m × 10.6 m), and can carry up to about 1500 tons of cargo. They are thus suitable for plastic waste, but not seaworthy - and not solar powered.
Self-propelled barges may be used as such when traveling downstream or upstream in placid waters; they are operated as an un-powered barge, with the assistance of a tugboat, when traveling upstream in faster waters. Canal barges are usually made for the particular canal in which they will operate.

Many barges, (Dutch Barges) which were originally designed for carrying cargo along the canals of Europe, are no longer large enough to compete in this industry with larger newer vessels. Many of these barges have been renovated and are now used as luxury Hotel Barges carrying holiday makers along the same canals on which they once carried grain or coal.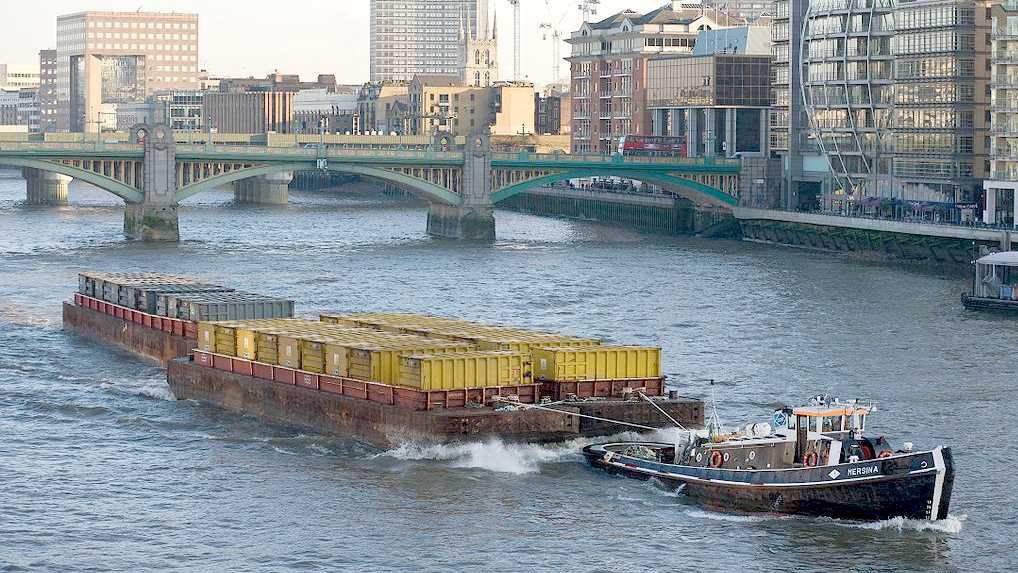 Three barges being towed by a single tugboat on the River Thames, London, England. This is a common sight in many harbors around the world.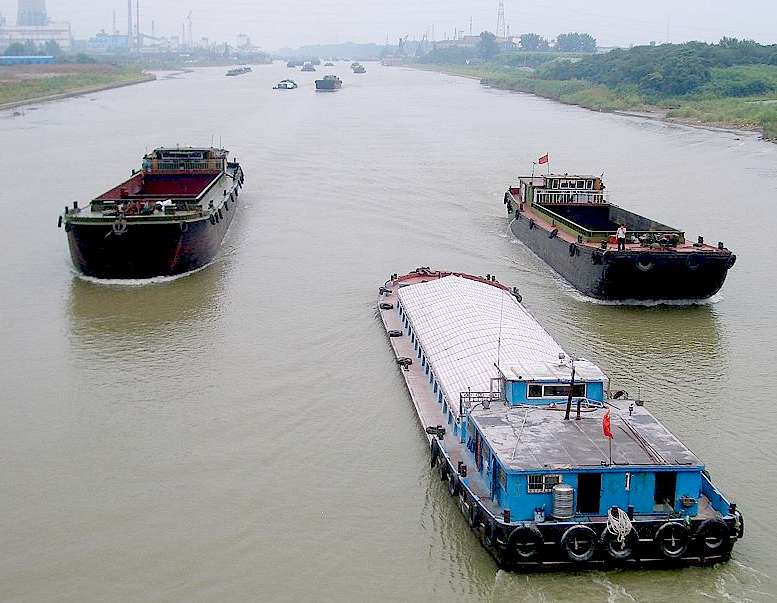 Self-propelled barges on the Grand Canal of China near Yangzhou, Jiangsu, China. Note that the pilots use the river, passing on both sides of craft coming the other way.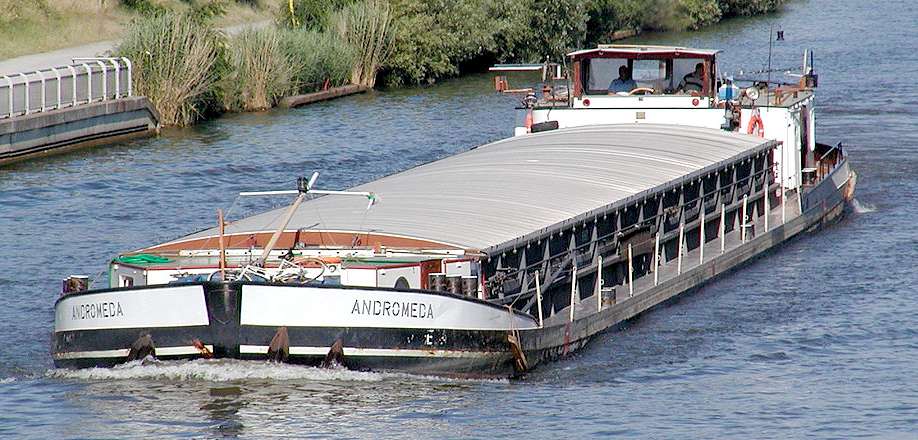 A self-propelled barge, 'Andromeda' in a canal at Hanover, Germany.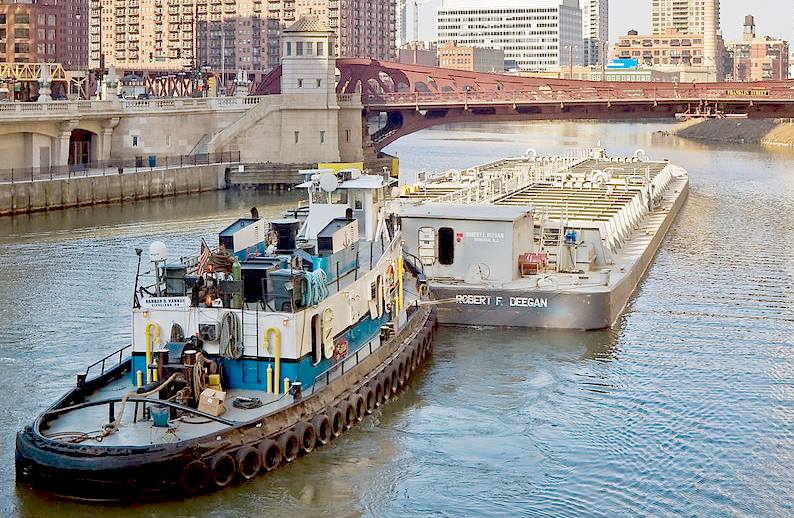 A towboat pushing a barge on the Chicago River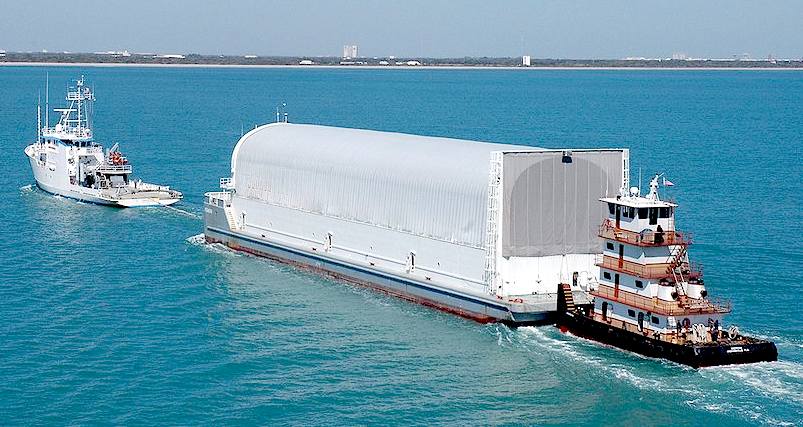 A barge carrying the Space Shuttle external tank for STS-119 under tow to Port Canaveral, Florida, United States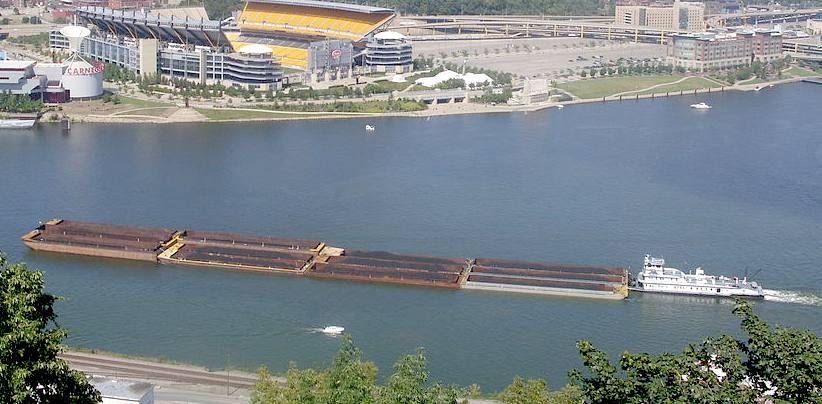 A number of coal barges being pushed to their destination, Ohio River, Pittsburgh, USA.

As an example of using barges to carry heavy loads, on June 26, 2006, a 565-ton catalytic cracking unit reactor was shipped by barge from the Tulsa Port of Catoosa in Oklahoma to a refinery in Pascagoula, Mississippi. Extremely large objects are normally shipped in sections and assembled onsite, but shipping an assembled unit reduced costs and avoided reliance on construction labor at the delivery site (which in this case was still recovering from Hurricane Katrina). Of the reactor's 700-mile (1,100 km) journey, only about 40 miles were traveled overland, from the final port to the refinery. See the picture above of the barge carrying one of the Space Shuttle's external fuel tanks, as another example.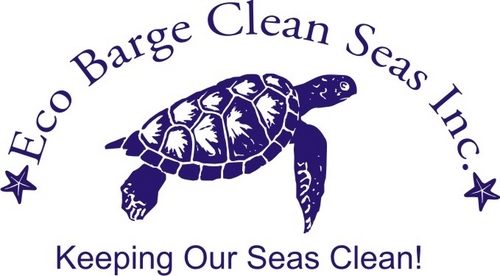 ECO BARGE CLEAN SEAS INC.
Libby Edge founded Eco Barge Clean Seas Inc. (EBCS), is an Australian organisation that is dedicated to protecting and preserving the ocean for the future generations, with the name coming from their trusty barge - and presumably the connotation of a large organizational movement - which it is. EBCS, the Whitsunday Marine Debris Removal Program and the Whitsunday Turtle Rescue Centre have come about through Libby's passion for the aquatic environment and the realization of the devastating effects that marine debris is inflicting on local marine life.
The company was established to protect marine animals and the ocean environment in the Whitsunday Region of Australia, with the aim of removing existing marine debris and seeking to reduce the amount of debris that enters their waterways.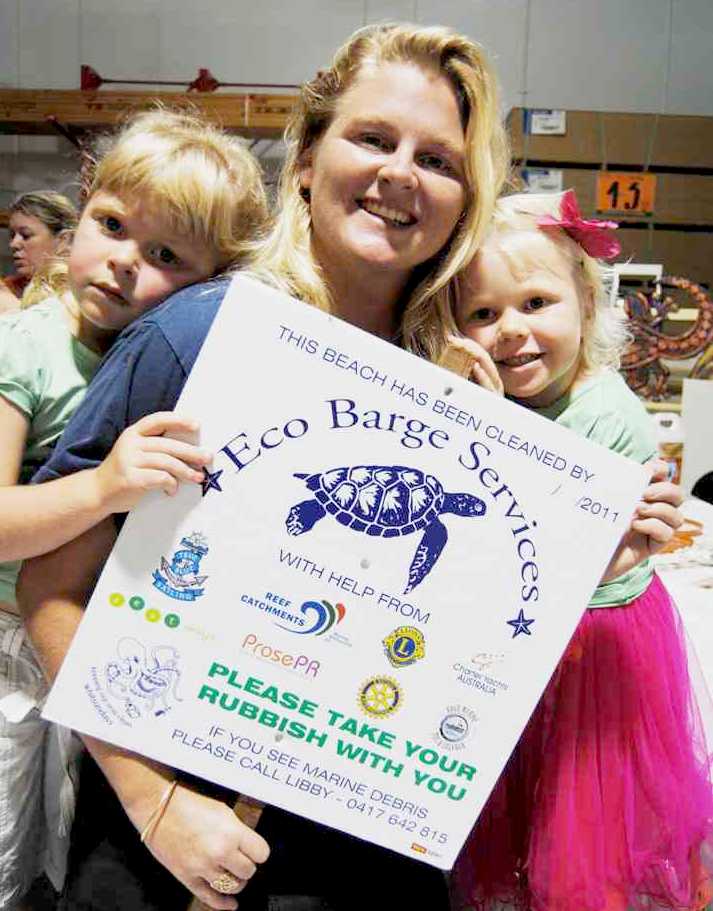 One of the Whitsundays' own was in the running to take home a Queensland wide award. Libby Edge, director of Eco Barge Services is one of just three finalists in the Peabody Environment and Landcare Award, through the state-wide Regional Achievement and Community Awards.
Upon hearing the news, Libby said she was lost for words, though she has put the achievement down to a combined effort. Although this is an individual award, by no means would I have this opportunity without the support from my precious sponsors, the 200 volunteers who have donned the gloves to help collect marine debris from our coastline, and the support from my husband and kids. Libby is quoted as saying: "I really want to thank the community for embracing our Marine Debris Removal Program. We are hoping this award will help promote our program and help us find the funding our program needs to continue protecting our islands and marine life from the threats of marine debris."
EBCS achieve cleaner beaches and seas through the Whitsunday Marine Debris Removal Program which encourages members of the community to become proactive in collecting marine debris from our beaches and coastline. This initiative is coupled with educational and awareness activities within the community and the importance of thoughtful waste disposal.

A recent expansion in focus has also seen the launch of the Whitsunday Turtle Rescue Centre and response program to ensure that all sick and injured marine turtles in the region are able to receive the care that they need.

Eco Barge Clean Seas Inc. is a not-for-profit organisation with a passionate and dedicated committee, 55 members and a register of over 500 volunteers. Marine debris removed from the Whitsunday islands by the group since July 2009 = 119,626 kilograms. Impressive!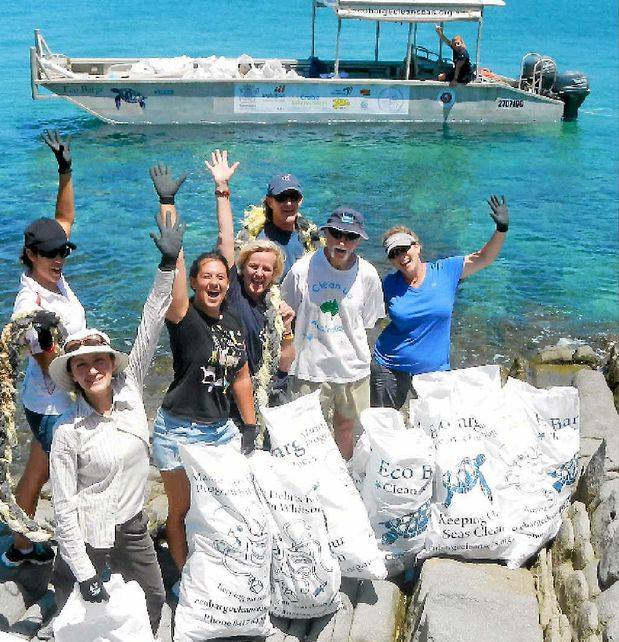 TEAM PICTURE - Andrea Scharneck, Simona Paganetto, Savina Cornacchia, Ninni Tarrant, David Young, Tony Dunn, Skye Briggs and Libby Edge on the Eco Barge.
ECO Barge Clean Seas reached a milestone this week, running its 150th clean-up trip since the launch of the Whitsunday Marine Debris Removal Program in July 2009.

Eco Barge founder Libby Edge said the 150 clean-up trips had resulted in the removal of 115,542kg of marine debris, thanks to the support of the community, volunteers, partners, sponsors and supporters.

"To see how much our volunteer register has grown over the years has been remarkable," she said.

"It gives me tremendous pride how our community has embraced Eco Barge and [how] all our volunteers are so dedicated to helping protect our islands and turtles from marine debris."

Skye Briggs, a volunteer on Monday's trip, said it was amazing that "no matter how many times we go out to the south-east facing beaches there is still so much marine debris to collect".

"Imagine the state of our islands if there was not an on-going marine debris removal program in the region," she said.

This latest trip was thanks to a partnership with the Department of National Parks, Recreation, Sport and Racing, which has provided support for the Marine Debris Removal Program and the Whitsunday Turtle Rescue Centre.
AUSTRALIAN MARINE DEBRIS INITIATIVE
The Tangaroa Blue Foundation coordinates the Australian Marine Debris Initiative, which is a network of volunteers, organisations, industry groups and government agencies who are focused on the removal of marine debris from our marine environments, as well as the tracking of marine debris sources and the implementation of practical solutions to keep our oceans healthier.

The Australian Marine Debris Database (AMDD) was established by Tangaroa Blue Foundation to record marine debris data that is collected by Eco Barge Clean Seas Inc., and other similar groups and organisations around Australia. The Database contains information about collected marine debris, including the most community found items, as well as details about derelict nets found at sea and records instances of wildlife entanglement. The data has been used by the Department of Environment, Water, Heritage and the Arts in their Threat Abatement Plan for the impacts of Marine Debris on Vertebrate Marine Life, as well as strategies for local and state Governments.

EBCS have provided 7,330 kilos of collected marine waste to the AMDD as of August 2012.
Tangaroa Blue Foundation is a not-for-profit organisation focused on the health of our marine environment, and coordinates the Australian Marine Debris Initiative, an on-ground network of volunteers, communities, organisations and agencies around the country monitoring the impacts of marine debris along their stretch of coastline.

In Maori and Polynesian mythology, Tangaroa is one of the great gods, the god of the ocean. He is the son of Ranginui and Papatuanuku, Sky and Earth. Tangaroa is the father of many sea creatures and his breaths are the tides. Tangaroa made laws to protect the ocean and its sea creatures "Tiaki mai i ahau, maku ano koe e tiaki" ... If you look after me, then I will look after you..."
According to the Tangaroa Foundation, 18,000 pieces of plastic are estimated to float in every square kilometre of ocean, and 276 species worldwide including 77 Australian species are impacted by marine debris.
ECO BARGE CLEAN SEAS CONTACTS

Phone 07 4946 5198
Mobile 0417 642 815
Email info@ecobargecleanseas.org.au
Web http://www.ecobargecleanseas.org.au
Twitter https://twitter.com/ecobarge
Street address:
Eco Barge HQ
Boatyard Road
Jubilee Pocket QLD 4802
Postal address:
P.O Box 804
Airlie Beach QLD 4802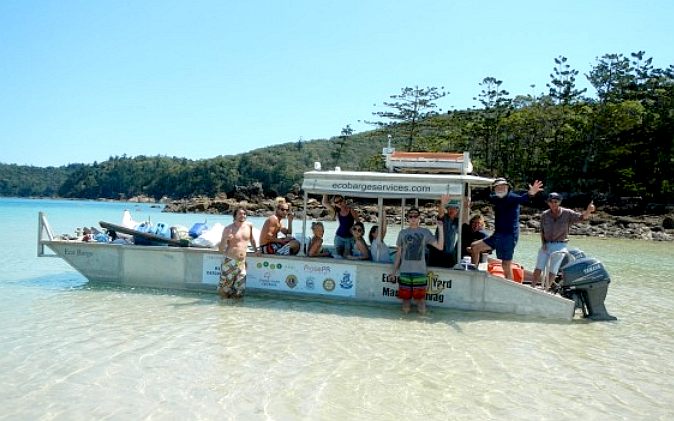 The barge that makes the eco clean up activities possible - and of course the volunteers, without which the work vessel would be useless - unless it was robotic, and that is where the SBR1 (top of page) in Australia, and SeaVax in the UK may get a look in.
LINKS
http://www.whitsundaytimes.com.au/news/eco-barge-makes-150th-trip/2436271/
http://www.tangaroablue.org/
http://www.ecobargecleanseas.org.au/
http://en.wikipedia.org/wiki/Barge
http://www.barges.org/
http://barges.apolloduck.co.uk/
Treehugger solar water wheel could be solution plastic ocean debris
http://www.alphaboats.com/tsk_MC202Series.html
http://www.lowtechmagazine.com/2009/06/fighting-marine-debris-the-dustcarts-of-the-sea.html
http://www.lastnightsgarbage.com/?cat=56
http://news.bbc.co.uk/1/hi/england/london/6990610.stm
http://www.treehugger.com/clean-technology/solar-water-wheel-could-be-solution-plastic-ocean-debris.html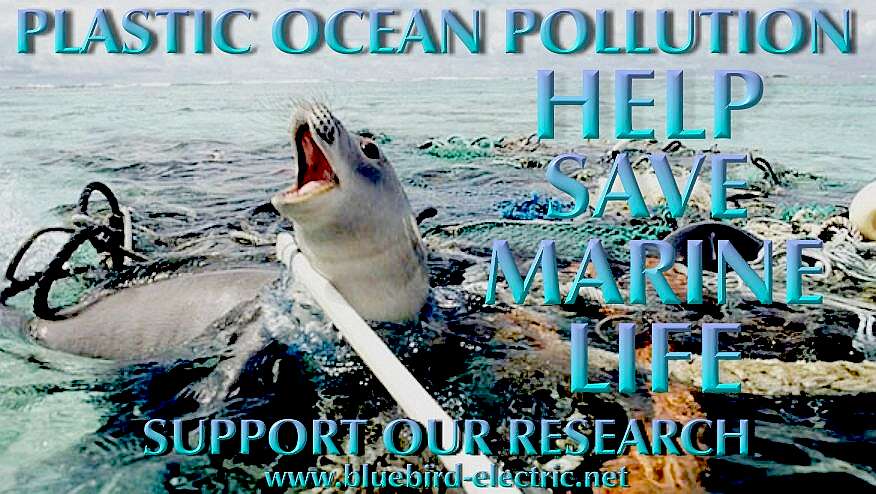 Our love affair with plastic is choking the oceans. Once people know about it, they want to stop it. But how? The next question is who? Obviously, if any of the researchers involved so far had come up with a solution, they would have sorted it years ago. We are a practical think-tank fresh to the issue and without a budget. We hope to be able to collaborate with other marine organisations that are funded for this work, or who have funds to investigate viable projects. You cannot donate to us directly on this site, but we hope to identify partner sites shortly where you can support a project much like that proposed herein, or better still, our own practical experiments with the SeaVax concept.
ACIDIFICATION - ADRIATIC - ARCTIC - ATLANTIC - BALTIC - BAY BENGAL - BERING - CARIBBEAN - CORAL - EAST CHINA
ENGLISH CH - GOC - GUANABARA - GULF GUINEA - GULF MEXICO - INDIAN - IRC - MEDITERRANEAN - NORTH SEA - PACIFIC - PERSIAN GULF - SEA JAPAN
STH CHINA - PLASTIC - PLANKTON - PLASTIC OCEANS - SEA LEVEL RISE - UNCLOS - UNEP WOC - WWF

AMAZON - BURIGANGA - CITARUM - CONGO - CUYAHOGA - GANGES - IRTYSH - JORDAN - LENA - MANTANZA-RIACHUELO
MARILAO - MEKONG - MISSISSIPPI - NIGER - NILE - PARANA - PASIG - SARNO - THAMES - YANGTZE - YAMUNA - YELLOW

The above is a diagram of the SBR1, seen from overhead. This solar powered barge is designed to scoop up ocean plastic waste and deliver it to land cost effectively. Please note that the above picture is Copyright © Wolfgang Flatow. Unless for personal study or review, you will need permission from the author to copy or publish this picture.