Richard Noble was born 6th March 1946. Against a background of today's low risk culture, Richard specialises in developing high risk ventures, not all of which were successful, but spectacularly, the Thrust 2 programme which brought the World Land Speed Record back to Britain in 1983 and the Thrust SSC first ever supersonic land speed record programme are the best known.
Other projects include the ARV Super 2 light aircraft, the Atlantic Sprinter Blue Riband contender, Programme Funding, an original television funding company, and the last, Farnborough Aircraft, which is creating the first point to point taxi aircraft.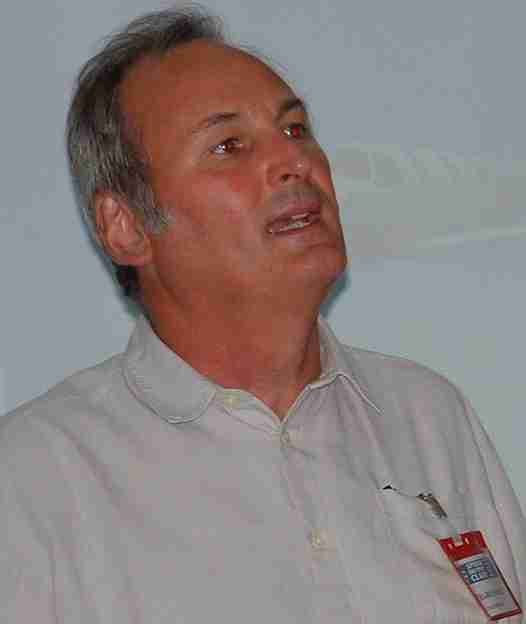 Richard Noble - an inspiration
CV
| | |
| --- | --- |
| 1959-64 | Winchester College |
| 1966 | Army Outward Bound School, Towyn |
| 1966-68 | ICI Paints Division - selling paints and wallpapers |
| 1968-71 | ICI Fibres Division - responsible for £20m man-made fibre sales |
| 1971-73 | Overland Expeditions - London to Capetown, Capetown to Bombay to London |
| 1973-74 | Management Centre Europe - AMA Management training programmes |
| 1974-80 | GKN Group - Selling building technology overseas, including the Far East and Africa |
| 1974-83 | Thrust Cars Ltd - Director - Thrust 2 programme |
| 1983-88 | ARV Aviation Ltd - Director - ARV Super2 programme |
| 1988-92 | Atlantic Sprinter Ltd - Director |
| 1993 | Alpine 93 - re-run of 1914 Alpenfahrt race in Austria, Switzerland and Croatia |
| 1993-94 | Programme Funding Ltd - television programme funding company |
| 1994-97 | SSC Programme Ltd - Director - ThrustSSC programme |
| 1998-2002 | Farnborough-aircraft.com Ltd - Director Farnborough F1 project |
| 2002-2005 | New projects extensive research programmes. |
| 2005-2006 | JCB DieselMax and other start up programmes. |
| 2007-2013 | Bloodhoud SSC. |
Richard Noble has been a regular speaker at corporate conferences and events all over the World with 550 appearances in the last 25 years. Because of the wide range of activities involved in the projects and the extraordinary approaches needed to overcome the sceptics and cynics, Richard is able to speak on a very wide range of business related topics. Key to the presentations are the essential will to win through to success and the extraordinary levels of risk, stress pressure and struggle of the latest counter culture programmes.
ENGINEERING
Thrust SSC is the result of 2½ years of research into the shape of a supersonic vehicle, followed by another 2 years and some 100,000 man-hours of build. Not only is the research and design fascinating of itself, but the story of that research makes compelling reading. Please check our Engineering page for more information. We would add that funding the project was no less fascinating, and part of the project that, without Richard's incredible talent for enthusing others and obtaining backing, this project could never have succeeded. That is not to belittle the original concept - which was also Richard's.
EQUIPMENT
The equipment used to support Thrust SSC is no less fascinating. Never before in an attempt on the World Land Speed Record has so much specialised technology been gathered together, not just to make it possible and safe. From a 155mph firechase, to a 6-ton capacity fork-lift capable of use over the roughest terrain; from car-to-pits telemetry to satellite communications; this is the story of that equipment. Please check their Equipment section for more information.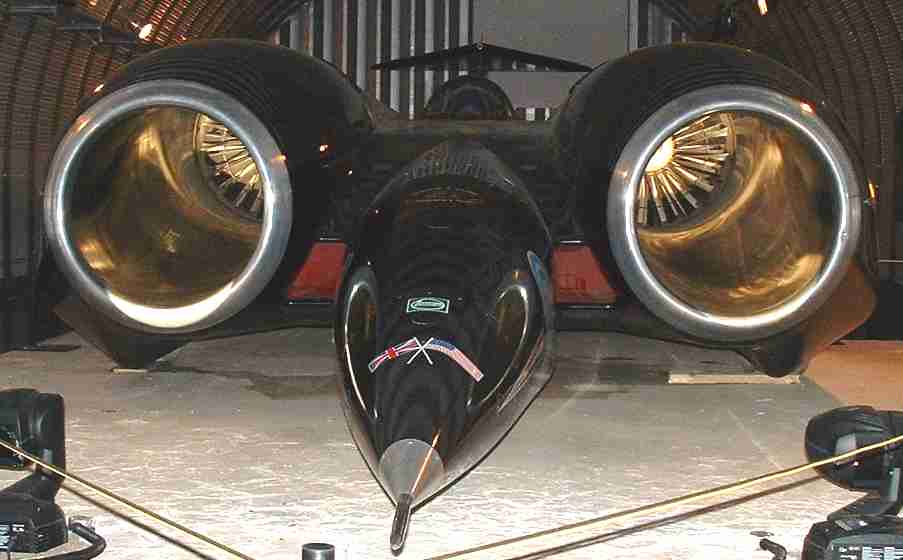 Thrust SSC - Coventry Motor Museum
COMMUNICATION
Much of the communication within the team, who are spread geographically over most of the UK, is done by email. Its ability to pass information quickly and cheaply, as well as transfer files between team members (for example, design drawings of Thrust SSC itself) has been incredibly useful to them.
It is a privilege of Mach 1 Club membership to be able to write in directly to the team members. Email Ids for team members are published in the Question Time section of the Club Members-only pages.
CONTACTS
Richard Noble
Southfields
Greywell
Hook
Hants RG29 1BZ
United Kingdom
Richard@richard-noble.com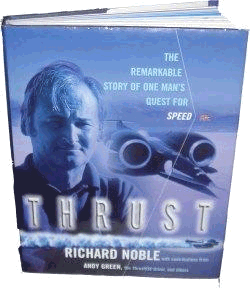 Price £20.00 plus £5 postage and packing
Please fax your order to +44-1256-704340
Book Description: The story of the fastest car ever built, and of the man who worked to get it built.
Ever since Dr Johnson declared 200 years ago that no man traveling at 20mph in a coach could possibly "continue to draw breath", there has been no shortage of nay-sayers. They said it over and over to Richard Noble and his team, but they went ahead anyway and in October 1997 Thrust SSC, driven by RAF Squadron leader Andy Green, smashed through the sound barrier to set the first supersonic land speed record of 763mph.
This absorbing and richly illustrated book tells of Noble's obsessive quest for speed, beginning as a six-year-old watching John Cobb's 200mph jet boat Crusader and ending in triumph in the Nevada desert. There is as much financial as technical detail--Noble imaginatively and profitably stalked the Internet for donations as corporate sponsors fell by the wayside - and a jingoistic subplot as the Brits and Yanks vied with each other to achieve the sonic boom first.
But mostly this is a human story of struggle, achievement and the peculiar meanings of success. "We'd got through this", says Noble, "we'd succeeded. But success can be very sad once you've got over the initial elation. Suddenly it's all over and it can never be savoured again."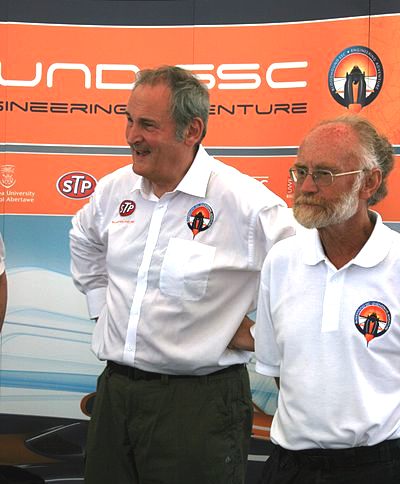 Honorary degrees for Thrust SSC Design Team
On 15 October 1997 in the Black Rock Desert of Nevada, the Thrust SSC Design Team fired the public imagination both in this country and abroad with their dramatic success in setting a new supersonic land speed record of 763.035 mph. This major feat of UK engineering involved four years of research and testing, and drew on the skills of a dedicated and experienced team. The discovery of Black Rock Desert saved the attempt from near disaster after runs at the Bonneville Salt Flats proved disappointing.
To emphasize the collaboration and teamwork involved, the University of Southampton has honoured the whole of the Thrust SSC project by awarding honorary degrees to the design team. Honorary degrees of Doctor of Science were awarded to Ron Ayres, Chief Aerodynamicist; Glynne Bowsher, Chief Mechanical Designer; Andy Green, Driver; Jerry Bliss, Systems Designer; Mike Horne, Composites; Chris Cowell, Engines; and in absentia Nick Dove, Workshop Manager.
They received their honorary degrees on Thursday 9 July at the University's Highfield Campus.
For further information: Sarah Watts, Public Affairs, University of Southampton (01703) 593807
Major Speed Records
| | | |
| --- | --- | --- |
| 1 Mile Flying - British Land Speed Record | 248.87 mph | 25th September 1980 |
| 1 Kilo Flying - British National | 251.190mph | 25th September 1980 |
| 1 Mile Flying World and US Unlimited record | 633.468 mph | 4th October 1983 |
A - Z DIRECTORY of MOTOR MANUFACTURERS