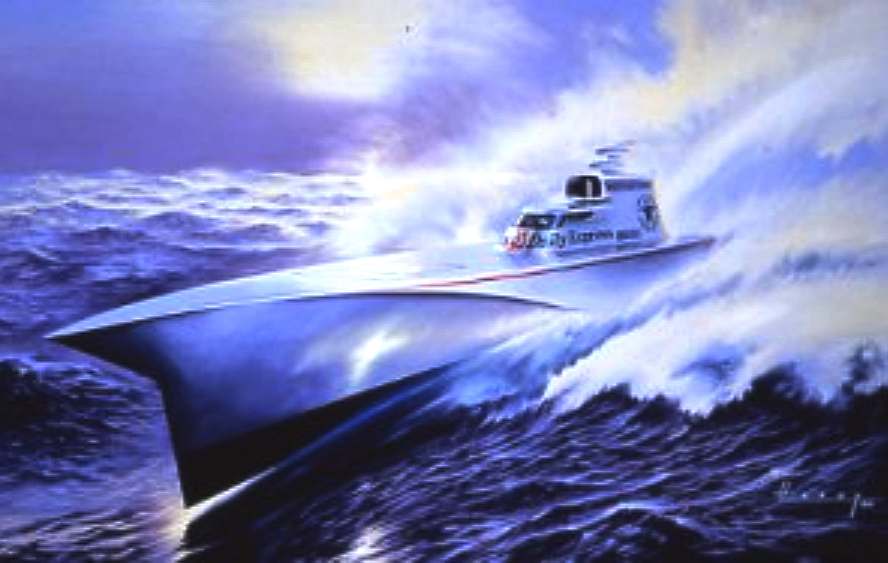 Artists impression of the Atlantic Sprinter
This was an attempt to develop a high speed research vessel to achieve the Blue Riband - the un-refuelled record track from New York to the Scilly Isles. The project set out to develop the ship from the Breguet Range Equation, the all important aviation equation which defines the range of an aircraft taking into account all the major variables. An advanced Serter deep-vee semi-displacement hull-form was created and developed in the HSVA tank in Hamburg: the hull would carry the heavy fuel load and maintain 60 kts in sea state 4.
The aerodynamics were proven in the British Aerospace wind tunnel in Hatfield. Power was from the project's own Rolls-Royce RB-211 jumbo jet engine which had been acquired from a scrap dealer and then successfully run up on test. The potential for the 134ft craft was a 60 kt un-refuelled record which would stand for a very long time, representing a major lead in marine engineering.

Despite efforts in Newcastle and Bremen the Atlantic Sprinter, which featured a unique monocoque hull construction using extruded Hydro-aluminium planking designed by Ove Arup, was never built.

Neither the UK Government, nor any of the famous UK shipyards at the time, showed the faintest interest in developing the advanced hull or its construction. Even though the new hull-form would revolutionise high performance sea vessels by enabling high speed in rough seas with minimal slamming and high levels of stability - claims similar to that for the Cable and Wireless Adventurer (Nigel Irons) and Sea Shepherd wave piercing designs.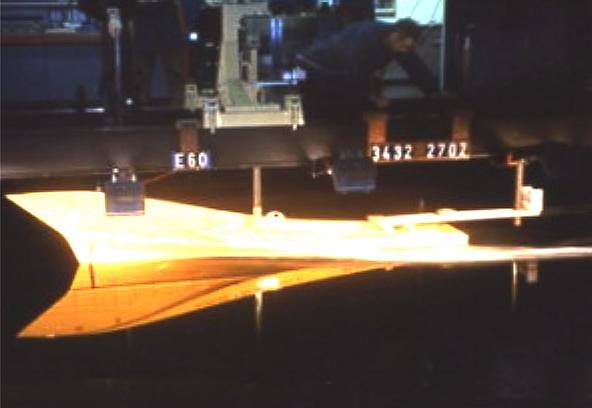 Atlantic Sprinter - tank test model
Richard Noble was born 6th March 1946. Against a background of today's low risk culture, he specialises in developing high risk ventures, not all of which were successful, but spectacularly, the Thrust 2 programme which brought the World Land Speed Record back to Britain in 1983 and the Thrust SSC first ever supersonic land speed record programme are the best known. He is now heading up the Bloodhound project, the aim being to beat the SSC's record.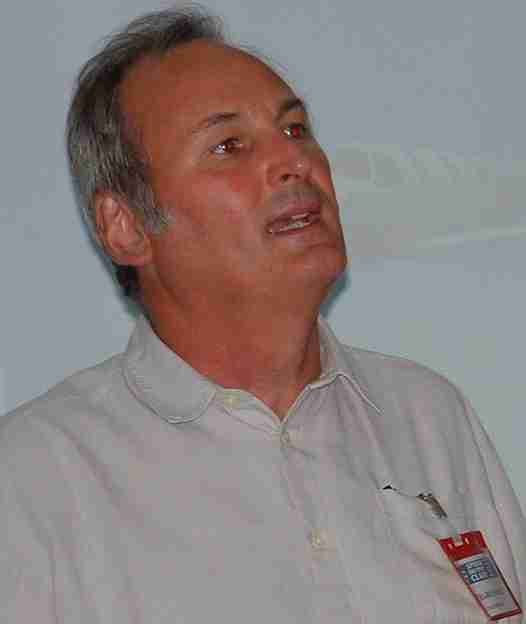 Richard Noble - Inspirational speaker
RICHARD'S CV
| | |
| --- | --- |
| 1959-64 | Winchester College |
| 1966 | Army Outward Bound School, Towyn |
| 1966-68 | ICI Paints Division - selling paints and wallpapers |
| 1968-71 | ICI Fibres Division - responsible for £20m man-made fibre sales |
| 1971-73 | Overland Expeditions - London to Capetown, Capetown to Bombay to London |
| 1973-74 | Management Centre Europe - AMA Management training programmes |
| 1974-80 | GKN Group - Selling building technology overseas, including the Far East and Africa |
| 1974-83 | Thrust Cars Ltd - Director - Thrust 2 programme |
| 1983-88 | ARV Aviation Ltd - Director - ARV Super2 programme |
| 1988-92 | Atlantic Sprinter Ltd - Director |
| 1993 | Alpine 93 - re-run of 1914 Alpenfahrt race in Austria, Switzerland and Croatia |
| 1993-94 | Programme Funding Ltd - television programme funding company |
| 1994-97 | SSC Programme Ltd - Director - ThrustSSC programme |
| 1998-2002 | Farnborough-aircraft.com Ltd - Director Farnborough F1 project |
| 2002-2005 | New projects extensive research programmes. |
| 2005-2006 | JCB DieselMax and other start up programmes. |
| 2007-2013 | Bloodhoud SSC. |