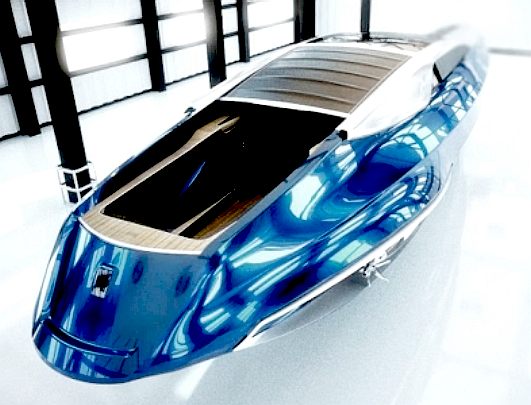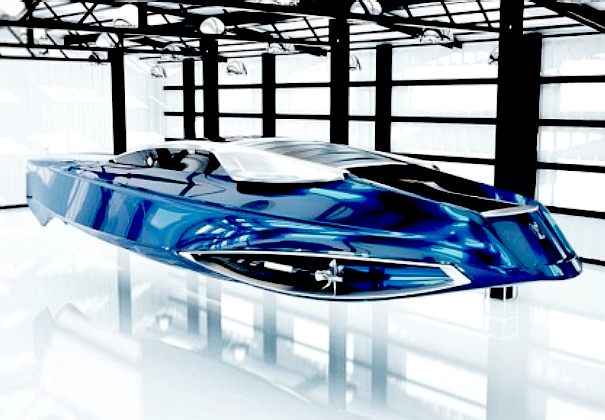 Very Riva like, in a modern sort of way. We love the blue chrome look. Is it stretched vinyl or anodized aluminium. Mercedes achieved the same look on one of their new gull wing cars. Imagine this beast with the growl of twin Merlin engines. Oh joy. That would bring a smile to Sir Malcolm's face.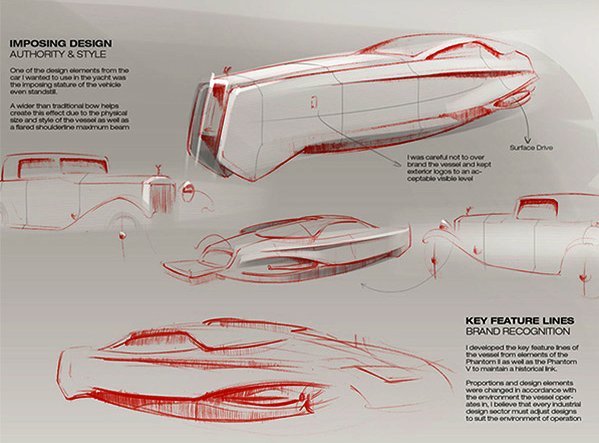 Rolls-Royce has been making some serious metaphorical waves in the shipping world lately, or that would be the case if this was an official RR project - it is not. With designs for autonomous cargo ships and Star Trek inspired tug boats, it looks like the luxury automaker has no qualms rolling up its sleeves with the blue-collar set. But that doesn't mean Rolls-Royce has forgotten its luxurious heritage or the fact it is the maker of some of the world's most famous engines, such as the Merlin. Let us not forget the Rolls Royce to commemorate Malcolm Campbell's water speed record achievements earlier in 2014, a design theme that is not that far removed.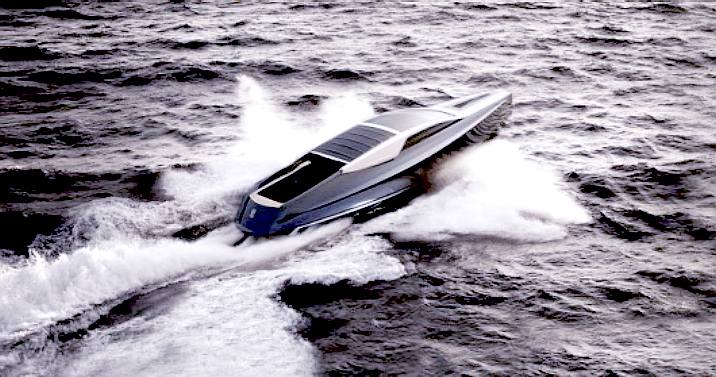 Designer Stefan Monro, who recently completed an internship at Rolls-Royce, has drafted a yacht concept that brings the automaker's high-class looks to the waves. At a length just over 47 feet, the Rolls-Royce 450EX yacht is designed as a day cruiser.

Modeled after the Rolls-Royce Phantom, the yacht sports an oversized grill, complete with "spirit of ecstasy" hood ornament. Of course boats don't have radiators at the front, but we like the hint of Lady Penelope so much we'll overlook that. Inside, there's seating for six, along with a wood-lined rear deck which sports a sort of tailgate from which you can dive into the open water. There's no word yet if Rolls-Royce will pick up the design, but if you're looking to get your hands on it, be prepared to dish out some serious coin for a bespoke model.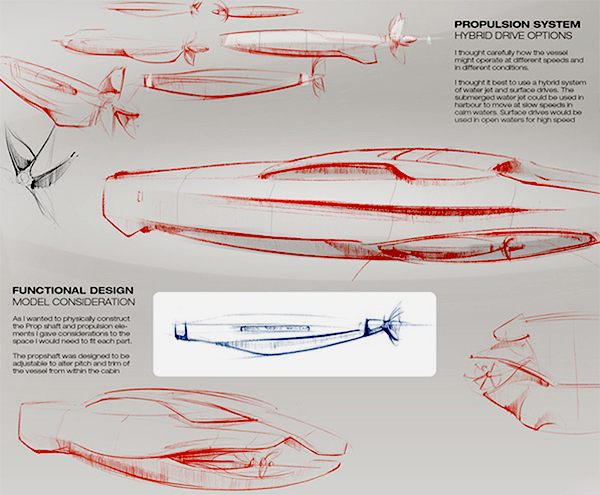 Less than a year ago, when Stefan Monro was just a Transport Design student at Coventry Institute, he decided to take what he had learned from his internship at Rolls Royce- and implement it into a final year project. What he came up with is a sport cruiser/luxury yacht hybrid that was so breathtaking; it ultimately got him a full time job at the illustrious luxury auto group.
Don't forget though that the Rolls-Royce 450EX superyacht is a student project and in no way officially associated with the Rolls-Royce Motor Cars brand although design direction and assistance has been given in areas to help support the project.

The '450' numerals denote the vessel's length in feet (45.0) while the EX denoted the vessel as an 'experimental' concept. The project also recently won the Contechs Steve Olney Award for Design and will be displayed at Contechs Headquarters.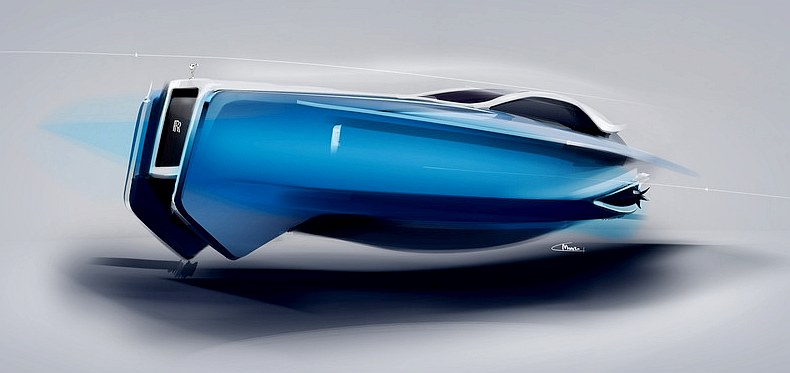 Stefan Monro is quoted as saying:
"After completing an internship at Rolls-Royce Motor Cars, I wanted to use the company's brand to evidence the potential and allure this well established and unique automotive brand, already synonymous with luxury in its own sector, could bring to the yacht industry. I made it a priority to avoid a literal translation of car features into a marine environment as previous automotive styled yachts have often appeared forced, simply transposing car features onto an existing hull. Instead I wanted to take the design DNA and key principles of the Rolls-Royce brand and apply these gracefully to a marine product that projects a confident aesthetic in the surrounding environment."

The exposed surface drives denote the potential power and nature of the vessel. An extended tunnel hull coupled with a suspended interior deck are in the interests of ride comfort for which the brand is noted. A floating waterline when at rest helps enforce the ethereal nature of the brand and benefits lifting forces to help achieve planing speeds. The forward 'prongs' help maintain a visual connection with the water surface when planing and increase airflow into the tunnel hull.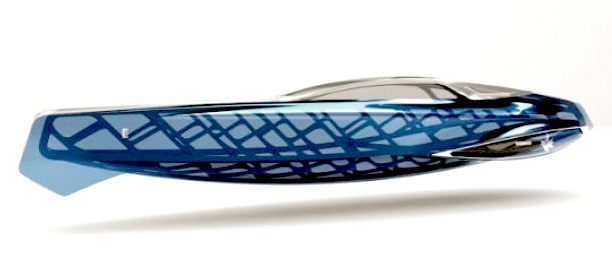 Is it a boat or a submarine. Troy Tempest would love it. What of the forward planing shoes, do they work like the K7s in conjunction with the surface piercing props at the rear, or is it all show. If so the narrow track is an area of interest for engineers. It looks like a walrus. The acute angle of the forward screen may give restricted vision from reflections due to the angle of incidence. The inset props may be problematic. One way to find out is to build a large scale model and test it. Pick me!
PRICE
Don't be silly.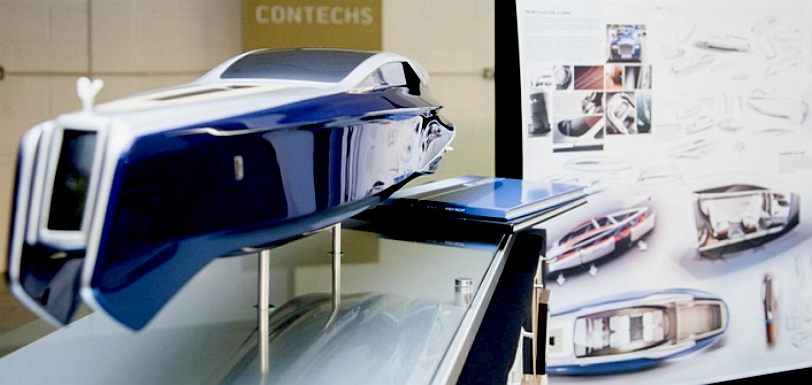 CONTACTS
There is no point contacting RR about this project, other than to urge them to consider getting into the small boat market. Who knows what the future will bring.
Bristol (Marine gas turbine support)
Tel +44 117 974 8500
Fax +44 117 979 2607
Dartford (Marine Equipment Sales and Service)
Tel: +44 1322 312028
Fax: +44 1322 312054
Portsmouth (Marine Electrical Systems)
Tel: +44 23 9231 0000
Fax: +44 23 9231 0001
Email: marineinfo@rolls-royce.com

Autonomous cargo concept. All that is missing is the energy harvesting devices that could make such as vision, a sustainable dream come true.
LINKS
Fast Life Luxury Rolls-Royce-450-ex-sport-cruiser-boat-concept
Nautica student-ontwerpt-luxe-boot-voor-rolls-royce
Wovow Student-created-rolls-royce-yacht
Trend Hunter Rolls-Royce-450ex-yacht
Industry Tap Rolls-Royce-yachts-rolls-royce-yacht
Diseno Art rolls-royce-450ex-luxury-yacht/
Yanko Design Phantom-of-the-marina-rolls-royce-inspired-yacht
Charterworld Rolls-Royce-450ex-superyacht-tender-project-stefan-monro
Rolls Royce yacht concept marina styling
http://www.dvice.com/2014-3-21/yacht-concept-brings-rolls-royce-styling-marina
http://www.wovow.org/student-created-rolls-royce-yacht/
http://fastlifeluxury.com/rolls-royce-450-ex-sport-cruiser-boat-concept/
http://www.nautica.nl/bootnieuws/8035/student-ontwerpt-luxe-boot-voor-rolls-royce/
http://www.wovow.org/student-created-rolls-royce-yacht/
http://www.trendhunter.com/trends/rolls-royce-450ex-yacht
https://www.facebook.com/rrecltd/posts/10151881942431116
http://www.industrytap.com/rolls-royce-yachts-rolls-royce-yacht/19077
http://www.diseno-art.com/news_content/2014/03/rolls-royce-450ex-luxury-yacht/
http://www.yankodesign.com/2014/03/20/phantom-of-the-marina-rolls-royce-inspired-yacht/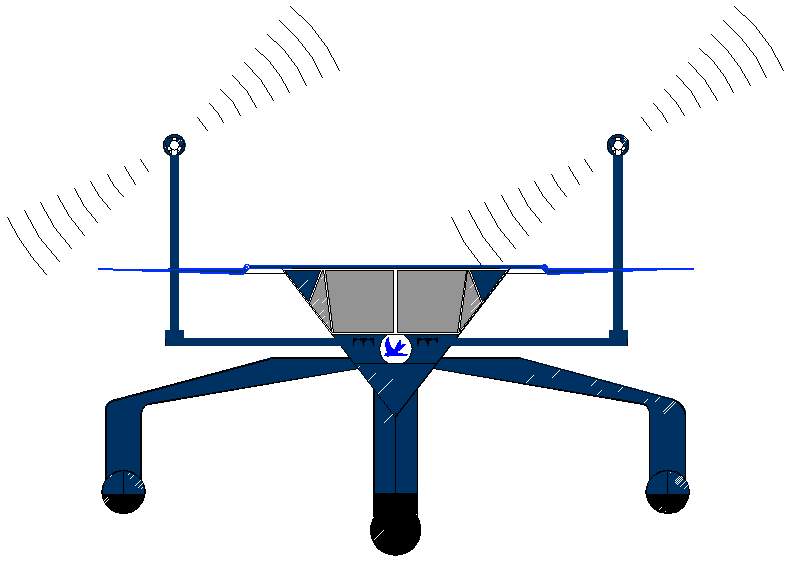 The Bluebird™ ZCC could be the world's first blue water yacht to offer true zero carbon cruising, keeping the blue bird pioneering legend alive - in the search for happiness. The Bluebird will be a one off bespoke design, built to the highest standards with white leather and gold trim, oak paneling and tasteful diamond and sapphire encrustations in stylish technical and artistic ornamentations. The Bluebird™ yacht will also feature a 2 meter 'Solar Spirit' in gold at the prow of the ship - as the figure head leading the way for your eco adventures.