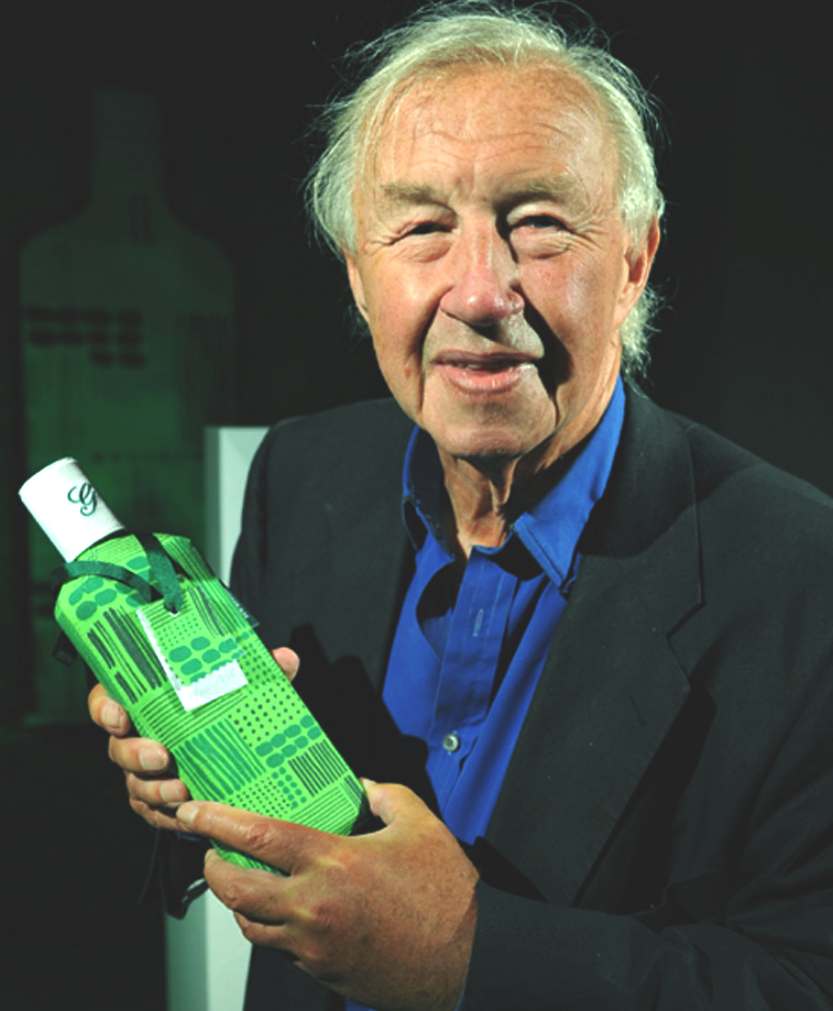 81st BIRTHDAY OCTOBER 2013
It's restauranteur, designer, writer and philanthropist Sir Terence Conran's 81st birthday (4 October 2013). Last year, to commemorate his 80th, among other things, he donated £17.5m to the Design Museum, which he founded more than 30 years ago in the basement of the Victoria & Albert museum. Last week, the relocation of the Design Museum from Shad Thames to the former Commonwealth Institute on Kensington High Street began. The ambitious project will offer the museum three times the amount of floorspace of the old building and cement it's position as an international centre for design.
Blogs@independent spoke to the father of modern British design about his rather important project.

You are relocating the Design Museum to Kensington and you've commemorated the move with a time capsule. What did you put in it?

I personally suggested a tin of anchovies – one reason is I hate this business of sell-by-dates because I believe things don't really go off by the sell-by-date; anchovies can last 100 years. I remember recently having a fairly expensive tin of some by a french manufacturer, the sell-by-date was something like nine months before and it was perfectly good. So tinned anchovies and a bottle of red Burgundy 2012, I have no idea whether this year is going to be a good year, but it's a nice idea.

If you could put in any food – tinned or otherwise, what would it be?

I find myself enjoying sweetcorn, mainly because you can go in, break off half a dozen pieces of sweetcorn, peel the shroud off, throw them in a pot of water for 15 minutes and eat them very easily without too much washing up. My favourite dish is a sort of gesture that my vegetable garden is really getting going and had plenty of rain… so we've got our peas and radishes and baby artichokes. I'm very keen on vegetable gardening, we grow a lot of flowers, too, in the vegetable garden, I like that mixture of flowers and rows of vegetables.

What's the most important kitchen utensil for your home-grown veg?

A sharp knife is, in my opinion, singularly the most important tool in a kitchen, you'd be amazed how many struggle with blunt knives. I like a traditional carbon steel Sabatier, myself.

Would you consider founding the Design Museum to be your greatest achievement?

Well, obviously opening the new Design Museum at the commonwealth institute will have national and international importance – we've said by 2015 but we aim to open in 2014. Yes, I think probably founding the Design Museum … although everybody would say "oh, Habitat" [Conran opened the first Habitat shop in Chelsea, In 1964], but to me the Conran shops — and what we are able to do there in a very specialised way in trying to demonstrate innovation, originality and beauty — are my real passion. I really do believe intelligent design has a big influence on the quality of people's lives, and if you live in a badly-designed space it doesn't keep you very cheerful.

What's most important to you – affordability, functionality or attractiveness?

Functionality is the most important thing. Curiously, I am writing a book about luxury at the moment, which is obviously about just having things around and demonstrating how much money you've got. To me, just having plain simple and useful things is a sort of Fabian or quaker-like attitude. I'm doing the book with Steven Bailey and I sort of keep playing ping-pong with him over the title, but its about luxury. One of our big things is to look at how people in the luxury industry think about luxury.

Affordability is very important too, although I suspect as you go into the Conran shop you wouldn't think so… in my Habitat days it was enormously important. That's why I am lucky enough to have M&S as a client, and, in the USA, JC Penny. All my democratic urges are taken care of by the work that we do for them.
SPENDING ALL THAT CASH IN BERKSHIRE 2011
The following is a typical weekend in the life of one of the UK's best known designers: "Saturday usually starts around 8am with fresh orange juice, muesli and tea at my home near Kintbury, west Berkshire. My mood varies with the weather.

I like to sit outside drawing or writing in the morning but retreat to the conservatory or my study if it's too cool. I don't consider this as working because it's not office work or figures: designing and writing is a pleasure, not a chore, for me.

At 10am I have coffee and the day's first cigar – something I find very soothing. My favourite is Hoyo de Monterrey Epicure No 2, which I buy direct from Hunters & Frankau. I'm writing a book with Stephen Bayley called Luxury by Design and we're finding that luxury usually means simplicity, or easy living, rather than things that cost a lot of money. Cigars come into this category.

My home is a manor house, built in 1782, which I bought around 35 years ago. It was derelict but had every quality I wanted, with plenty of land, a walled garden and a river running through it.

I recently made a new study in a sunny corner of the house where I do a lot of drawing – mainly furniture, as I'm designing ranges for Marks & Spencer, Benchmark, the Conran Shop and Content by Conran. Benchmark's factory and showroom occupy some of our old farm buildings and I'm currently giving my stepdaughter, Hattie, a hand with an upholstery and curtain-making workshop she has set up here.

Kintbury is a quarter of a mile away so I pop into Bastable Brothers, a very good butcher, to buy local beef and lamb or homemade sausages, free-range poultry and eggs. They also have terrific cheeses. My wife, Vicki, makes lunch using herbs and vegetables from the garden, and Sean Sutcliffe, Benchmark's co-founder, and Hattie usually come over to eat. I'm passionate about burgundy so we have a bottle from our cellar where Vicki, who is a letterpress printer, keeps her press.

In the afternoon we go into Hungerford and browse around a wonderful junk shop called Below Stairs. I've bought an amazing 1930s fan heater with louvred sides, a book press, garden tubs and ceramic pots here. Later, I go and sit by the river in our grounds. We recently had a rill put in to make the river flow faster – the trout like that – and the sound of rushing water is incredibly peaceful.

Around 6.30pm I watch the Channel 4 news and listen to jazz or classical music. Vicki makes supper, sometimes using fresh trout and crayfish from our river, and the evening winds down gently to bedtime at around 11pm.

On Sunday morning I listen with pleasure to the bells from Kintbury but don't go to church. If the weather is good we have breakfast outside, and I read the papers there or by the wood-fired stove in my study. Then I look round the vegetable garden and greenhouses to inspect the planting and progress of seedlings.

Sunday is a children and grandchildren day and we usually have some of the family over for lunch. Depending on how much wine we drink I may have a nap or do some drawing in the afternoon. I get enormous pleasure from creating a design, tackling the huge complexities of getting it made, then seeing it in its final form. It's the same with the restaurants:

I love seeing what I've conceived being used. One of my greatest pleasures is going to the Boundary and seeing it packed with people enjoying themselves.

Sunday evening starts with a whisky and soda. I get The Conran Shop sales figures by phone at around 6.30pm, and this either puts me in a good mood or not. We're doing a certain amount of entertaining in connection with fund-raising for the new Design Museum so we may have guests for dinner. If not, I usually watch a bit of TV. Poirot is a favourite because of the wonderful period detail and I like watching the Grand Prix for the car designs. And so Sunday moves seamlessly into Monday morning when my secretary appears and the working week begins."
SIR TEL'S BACKGROUND
Sir Terence Conran is a designer and entrepreneur whose empire of shops and restaurants includes London's Bluebird restaurant and his eponymous Conran Shop. Conran's career is based on a belief, demonstrated particularly with the setting up of Habitat in the sixties, of the importance of good affordable design in everyday life. Fond of quoting William Morris's dictum: "Have nothing in your houses that you do not know to be useful or believe to be beautiful." He is the recipient of many design awards.
Sir Terence has exerted a powerful influence over the way we prepare and eat our food at home, and the way we eat in public for over 40 years. His first effort at selling food to the masses was the famous Soup Kitchen of the 1950s which was inspired, like much of his work, by French farmhouse cooking. His later mass design and retailing experiments at Habitat changed the way we viewed our kitchens and ushered in the opportunity to use well-designed, affordable and good-looking utensils.

His massive restaurants of the 1990s saw a new revolution in eating out: but while some feel that Conran has democratised eating out, others complain that the popularity of his food has overpowered good traditional fare and that he has inspired a generation obsessed with style over substance.
Sir Terence Conran was born in Esher 4 October 1931 and from an early age he made things, constructing model ships and yachts in a little woodworking shop. Owing to a childhood illness he spent six months away from school, passing the time making doll's house furniture.

He met Don Potter his pottery teacher and pupil of Eric Gill, while he was at boarding school in Bryanston and would stay up all night and drink beer with him whilst firing up the kiln. Sir Terence studied Textile Design at Central School of Arts and Crafts London where he was inspired by Bauhaus' intelligent design.

He would often walk around London at night peering in through peoples' windows and decrying the repetitive style of living. This and his love of Bauhaus helped shape his plain, simple, useful style of design. In 1951 he worked with on projects for the Festival of Britain with Dennis Lennon. The following year he set up a furniture making business in Notting Hill, delivering furniture by the Tube.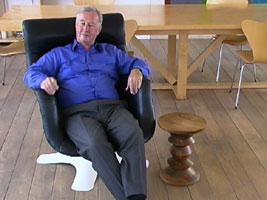 After falling in love with French food whilst on holiday in the country he set about opening his own restaurant, The Soup Kitchen, in 1953, which had the distinction of having the second espresso machine in the capital. He sold the business a few years later but didn't rest on his laurels setting up the Conan Design Group and opening the first open air restaurant, The Orrery in King's Road.

As part of the regeneration of Butlers' Wharf he opened the Blue Print Café on the first floor of the building that now houses the Design Museum. Then in 1964, after becoming disillusioned with retailers who refused to buy his furniture or to sell it with any confidence or imagination, he opened the first Habitat store, in Fulham Road.

Mary Quant designed the staff's outfits and bought whole table settings of linen, crockery and glassware for her dinner parties. His charitable Conran Foundation set up the Boilerhouse Project, a gallery and resource for students, designers and the public to stimulate design awareness and discussion, at the Victoria and Albert Museum.
CHRONOLOGY

1952 - Terence set up his own furniture-making business, which started in a basement studio in London's Notting Hill.
1956 - The Conran Design Group was founded, initially as an ancillary business to the furniture-making group. Over the next 35 years, it grew to be one of the largest design consultancies in Europe.
1964 - Terence's career in retailing began in 1964 when he opened the first Habitat on Fulham Road. Habitat was the first shop to identify its products and its image as part of a wider ethos.
1973 - With 18 branches of Habitat open in the UK and plans for the first Habitat abroad (in France), Terence opened The Conran Shop at 77 Fulham Road, the site of the original Habitat. The first French Habitat. Tour Montparnasse,
1974 - Terence Conran's The House Book was published with huge success. The book began as an in-house training manual for Habitat staff, but quickly grew to become a complete guide to planning and designing the home.
1983 - Habitat/Mothercare embarked on a joint publishing venture with Octopus Books under the name Conran Octopus. The company produces books about interior design, cookery, gardening, crafts and decorative arts, broadly reflecting Terence's design philosophy and style. Terence Conran was awarded a knighthood in the Queen's New Year's Honours.
1986 - Habitat and Mothercare merged with British Home Stores to create a new parent company, Storehouse PLC, of which Terence became Chairman and Chief Executive.
1989 - As part of the regeneration of Butlers Wharf, on the south bank of the Thames, Terence launched the Blue Print Café on the first floor of the building that houses the Design Museum. The Museum was the first in the world to be dedicated to the promotion and examination of design. Terence Conran retires from Storehouse and Habitat is sold. Upon his retirement from Storehouse, he bought back The Conran Shop.

1992 - Since then a number of Conran shops have been opened all over the world from Paris in October to the most recent in New York in 1999. From one of the earliest such as Le Pont de la Tour, which opened in 1991, through to the late 1990s opening of Coq d'Argent, the 90s saw the opening of more than a dozen Conran restaurants, not only in England, but also in Paris and Stockholm.
1993 - Terence formed a new design consultancy, CD Partnership, by the amalgamation of Conran Roche with a team of interior designers.
1997 - Terence opened the BLUEBIRD RESTAURANT, 350 Kings Road, SW3 5UU (click for map)

The Bluebird Restaurant has a skylit roof running its length. The sleek, contemporary design compliments the steel frame that suspends the restaurant on the first floor overlooking the famous Kings Road. Seating up to 190 people at any one time, the restaurant can accommodate large or small group reservations. Bluebird restaurant serves modern European cuisine and specialises in seafood, some of which is prepared from the crustacea bar.

W: www.conran.com
T: 020 7559 1000
F: 020 7559 1111
E: hello@conran.com
1999 - Early December saw the opening of The Terence Conran Shop in New York as part of the Bridgemarket redevelopment under the 59th Street Bridge.1999 CD Partnership changes its name to Conran & Partners.
2000 - Guastavino's and Club Guastavino opened as part of the group's presence in the renovated Bridgemarket development in Manhattan's Upper East Side. Great Eastern Hotel opened, a joint venture between Conran and Wyndham International. Following the success of the current restaurants in London, Zic Bar & Grill opens in Manchester.
2001 - Conran Restaurants opens a Zinc Bar & Grill in both Birmingham and Edinburgh. Terrence Conran Q&A is published to celebrate his 70th birthday. Almeida restuarant and bar opens, bringing delicious, robust French food to Islington.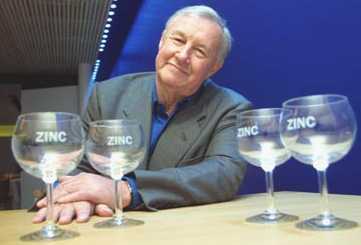 2002 - A new Conran Shop opens in Marunouchi, Japan, reflecting the same passion for elegance, modern furniture and home accessories as the London stores. Senso restaurant opens in Paris. Zinc Bar & Grill opens is Fulham
2003 - Future projects include two new restaurants in London: The Royal Exchange building and Canary Wharf. Also, Zinc Bar & Grill opens in Glasgow.
100 % norske i London
Midt på supertrendy Hoxton Square gir Norge sitt elegante bidrag til Londons internasjonale designuke. - Renhet, integritet og ærlighet beskriver det jeg ser her, sa den britiske designerguruen Sir Terence Conran da han åpnet 100% Norway.
Det er ikke hvem som helst som får legenden Terence Conran til å kaste glans. Briten regnes som en av verdens største nålevende designere, og har skrevet en rekke bøker om design. I tillegg eier han en kjede av møbelforretninger og restauranter.
Det er ingen tilfeldighet at Conran identifiserer seg med norsk design. Han hentet selv mye inspirasjon fra Skandinavia på 1950- og 60-tallet. Akkurat nå føler jeg at det er en innovativ holdning i Skandinavia, og spesielt Norge, sa Conran til Aftenposten etter åpningen.
Jeg ser en renhet i uttrykket, en antikynisk holdning. Jeg kan øyeblikkelig se at dette er norsk, og jeg har et godt nok trenet øye til å se forskjellene på svensk, norsk og dansk design. Den skandinaviske flyten er viktig, den generelle kraften i det dere gjør.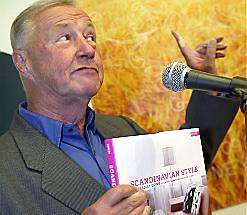 CONRAN HOLDINGS

Conran Holdings is the parent company of the Conran group, the principal activities of which are architecture and design, and the operation of restaurants, shops and hotels in Europe, the USA and Japan.

CONRAN RESTAURANTS

Founded by Terence Conran in 1991, Conran Restaurants Ltd is one of Britain's most dynamic restaurant groups. There are currently 30 restaurants established throughout the UK, London, Paris, Stockholm and New York.

THE CONRAN SHOP

Since opening in 1973 at 77 Fulham Road The Conran Shop has grown to ten international stores located in London, Paris, New York, Tokyo and Fukuoka. The Conran Shop represents a vast selection of all different types of homeware products, traditional as well as contemporary.

CONRAN and PARTNERS

Conran & Partners is a multi-disciplinary architecture and design practice offering expertise in the fields of master planning, architecture, interior design, product design and graphic design.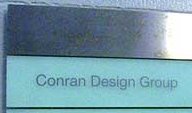 If you require further information and detail on any of the Conran businesses, please contact the relevant people:

Terence Conran Ltd:
Matthew Riches
020 7378 1161 mriches@conran.com
The Conran Shop Press:
David Perez
020 7591 8704 dperez@conran.com


Conran Restaurant Press:
Ros Choate
020 7716 7811 rosc@conran-restaurants.co.uk
LINKS
http://blogs.independent.co.uk/2012/09/21/terence-conran/
http://howtospendit.ft.com/destinations/5237-terence-conrans-berkshire