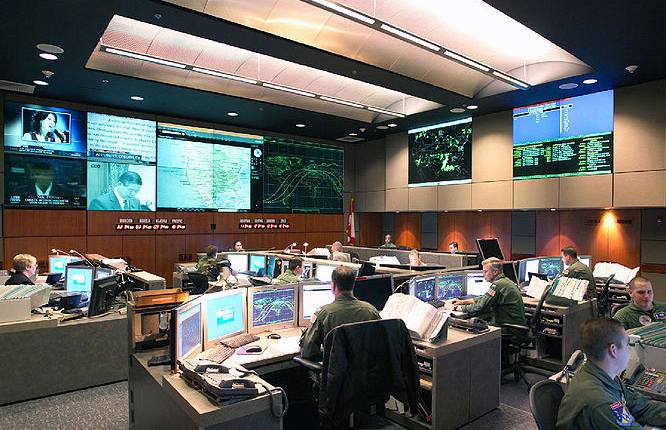 North American Aerospace Defense Command (NORAD) is a combined organization of the United States and Canada that provides aerospace warning, air sovereignty, and defense for North America.
Headquarters for NORAD and the NORAD/USNORTHCOM command center are located at Peterson Air Force Base in El Paso County, near Colorado Springs, Colorado. The nearby Cheyenne Mountain nuclear bunker has the Alternative Command Center.
NORAD (North American Air Defense), was recommended by the Joint Canadian-U.S. Military Group in late 1956, approved by the United States JCS in February 1957, and announced on 1 August 1957; the "establishment of [NORAD] command headquarters" was on 12 September 1957, at Ent Air Force Base's 1954 blockhouse. The 1958 international agreement designated the NORAD commander always be a US officer (Canadian vice commander), and "RCAF officers…agreed the command's primary purpose would be…early warning and defense for SAC's retaliatory forces.":252 In late 1958, Canada and the U.S. started the "Continental Air Defense Integration, North (CADIN)", for the SAGE air defense network.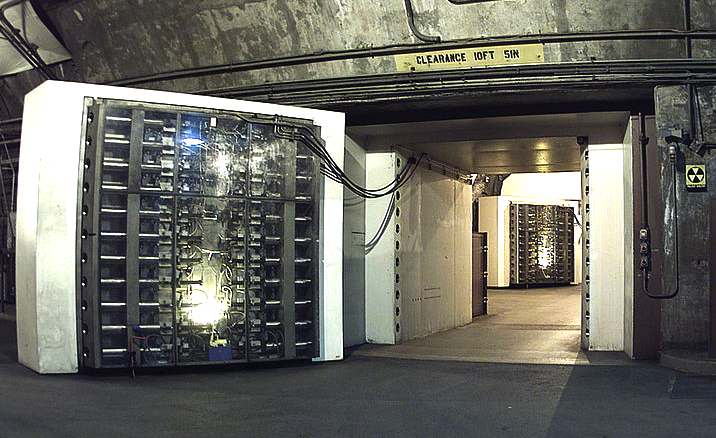 Canada's NORAD bunker with a SAGE AN/FSQ-7 computer was constructed 1959-63, and each of the USAF's eight smaller AN/FSQ-8s provided NORAD with data and could command the entire US air defense. The RCAF's 1950 "ground observer system, the Long Range Air Raid Warning System," was discontinued and on 31 January 1959, the US Ground Observation Corps was deactivated. The Cheyenne Mountain nuclear bunker's planned mission was expanded in August 1960 to "a hardened center from which CINCNORAD would supervise and direct operations against space attack as well as air attack" (NORAD would be renamed North American Aerospace Defense Command in March 1981). The Secretary of Defense assigned on 7 October 1960, "operational command of all space surveillance to Continental Air Defense Command (CONAD) and operational control to North American Air Defense Command (NORAD)".
The JCS placed the Ent AFB Space Detection and Tracking System (496L System with "Philco 2000/Model 212" computer) "under the operational control of CINCNORAD on December 1, 1960"; during Cheyenne Mountain nuclear bunker excavation, and the "joint SAC-NORAD exercise…Sky Shield II" - and on 2 September 1962 - "Sky Shield III" were conducted for mock penetration of NORAD sectors. NORAD command center operations moved from Ent AFB to the 1963 partially underground "Combined Operations Center" for Aerospace Defense Command and NORAD at the Chidlaw Building. NORAD had an exhibit at the 1964 World's Fair, and on 30 October 1964, "NORAD began manning" the Cheynne Mountain Combat Operations Center and by 1965, about 250,000 US and Canadian personnel were involved in the operation of NORAD, On 1 January 1966, Air Force Systems Command turned the COC over to NORAD (the NORAD Cheyenne Mountain Complex was accepted on 8 February.)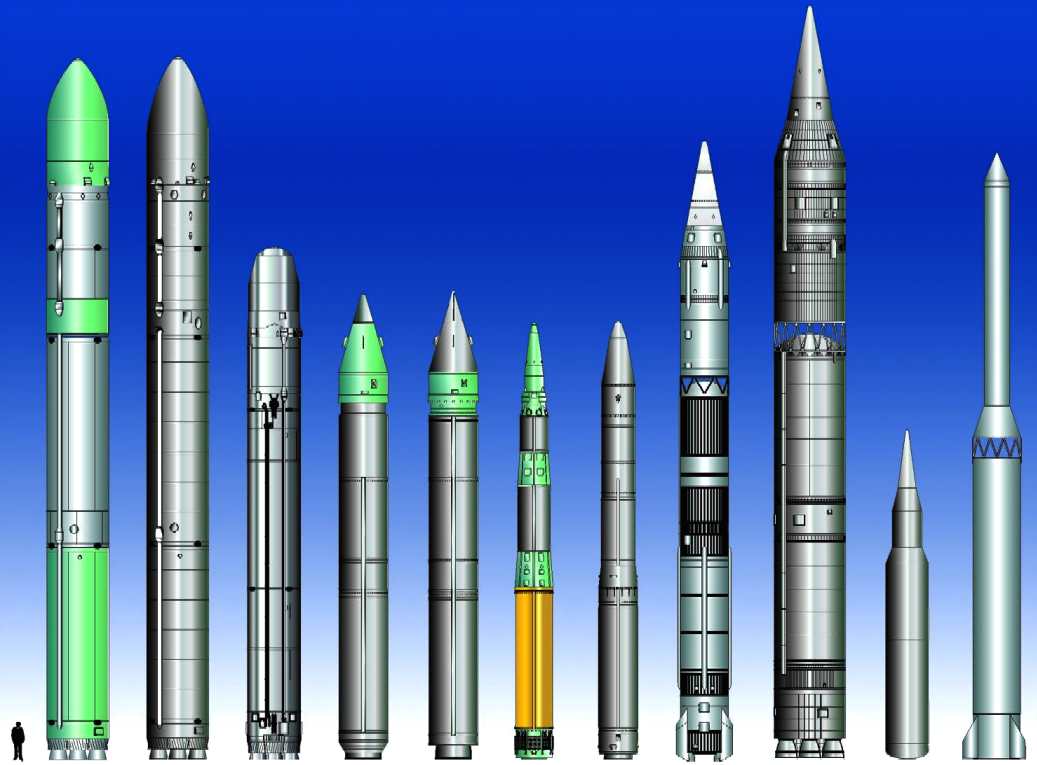 ICBM - INTERCONTINENTAL BALLISTIC MISSILES
An Intercontinental Ballistic Missile (ICBM) is a ballistic missile with a maximum range of more than 5,500 kilometres (3,400 mi) typically designed for nuclear weapons delivery (delivering one or more nuclear warheads). Most modern designs support multiple independently targetable reentry vehicles (MIRVs), allowing a single missile to carry several warheads, each of which can strike a different target.

Early ICBMs had limited accuracy and that allowed them to be used only against the largest targets such as cities. They were seen as a "safe" basing option, one that would keep the deterrent force close to home where it would be difficult to attack. Attacks against military targets, if desired, still demanded the use of a manned bomber. Second and third generation designs dramatically improved accuracy to the point where even the smallest point targets can be successfully attacked. Similar evolution in size has allowed similar missiles to be placed on submarines, where they are known as submarine-launched ballistic missiles, or SLBMs. Submarines are an even safer basing option than land-based missiles, able to move about the ocean at will. This evolution in capability has pushed the manned bomber from the front-line deterrent forces, and land-based ICBMs have similarly given way largely to SLBMs.

ICBMs are differentiated by having greater range and speed than other ballistic missiles: intermediate-range ballistic missiles (IRBMs), medium-range ballistic missiles (MRBMs), short-range ballistic missiles (SRBMs)—these shorter range ballistic missiles are known collectively as theatre ballistic missiles. There is no single, standardized definition of what ranges would be categorized as intercontinental, intermediate, medium, or short.

Modern ICBMs typically carry multiple independently targetable reentry vehicles (MIRVs), each of which carries a separate nuclear warhead, allowing a single missile to hit multiple targets. MIRV was an outgrowth of the rapidly shrinking size and weight of modern warheads and the Strategic Arms Limitation Treaties which imposed limitations on the number of launch vehicles (SALT I and SALT II). It has also proved to be an "easy answer" to proposed deployments of ABM systems—it is far less expensive to add more warheads to an existing missile system than to build an ABM system capable of shooting down the additional warheads; hence, most ABM system proposals have been judged to be impractical. The first operational ABM systems were deployed in the U.S. during 1970s. Safeguard ABM facility was located in North Dakota and was operational from 1975 to 1976. The USSR deployed its Galosh ABM system around Moscow in the 1970s, which remains in service. Israel deployed a national ABM system based on the Arrow missile in 1998, but it is mainly designed to intercept shorter-ranged theater ballistic missiles, not ICBMs. The US Alaska-based National missile defense system attained initial operational capability in 2004.

Accuracy is crucial, because doubling the accuracy decreases the needed warhead energy by a factor of four. Accuracy is limited by the accuracy of the navigation system and the available geophysical information.

Strategic missile systems are thought to use custom integrated circuits designed to calculate navigational differential equations thousands to millions of times per second in order to reduce navigational errors caused by calculation alone. These circuits are usually a network of binary addition circuits that continually recalculate the missile's position. The inputs to the navigation circuit are set by a general purpose computer according to a navigational input schedule loaded into the missile before launch.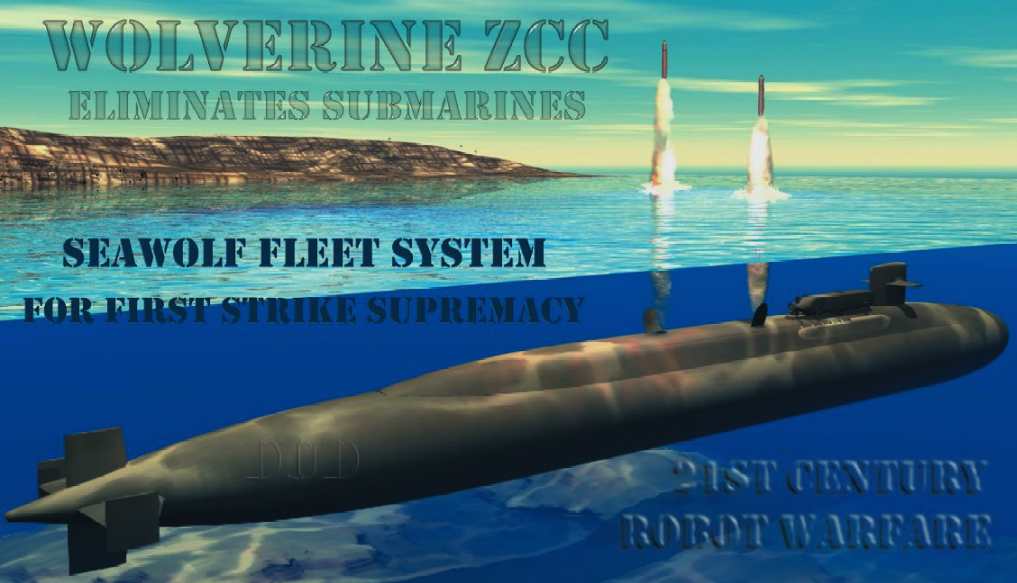 WOLVERINE ZCC
The Wolverine ZCC™ scenario eliminates the need for ICBMs on land and in submarines. Where accuracy is important and specific targets, these can all be reached by the Seawolf fleet using Tomahawk nuclear tipped missiles. It may no longer be practical in economic terms to build stocks of stationary or submarine based countermeasures where wolf pack tactics offer a massive strategic advantage in a first strike scenario.
DEPLOYMENT ZONES - Wolverine ZCC operations as a basic deployment to give a robotic navy the ability to sink every nuclear submarine and every aircraft carrier that is afloat on the oceans today + 4 x cruise missiles per vessel. Total projected cost for such capability is under $12 billion US dollars.
| | | | |
| --- | --- | --- | --- |
| ZONE | DESCRIPTION | OPERATIONAL ZCCs | $ COST |
| . | . | . | . |
| A | Pacific Ocean | 100 @ $31m | 3100,000,000 |
| B | Indian Ocean | 20 | 620,000,000 |
| C | North Atlantic | 30 | 930,000,000 |
| D | South Atlantic | 20 | 620,000,000 |
| E | Norwegian, Barents & Kara Seas | 12 | 372,000,000 |
| F | Mediterranean Sea | 6 | 186,000,000 |
| G | East Siberian & Beaufort Seas | 10 | 310,000,000 |
| H | Sea of Japan & East China Sea | 4 | 124,000,000 |
| I | Arabian Sea | 10 | 310,000,000 |
| J | Bay of Bengal | 4 | 124,000,000 |
| K | Caribbean Sea & Gulf of Mexico | 6 | 186,000,000 |
| . | . | . | . |
| ALL | Cruise missiles | 888 | 1,287,600,000. |
| . | . | . | . |
| . | TOTAL ZCCs | 222 | $ 6,882,000,000 |
| . | . | . | . |
| . | TOTAL ZCCs + Cruise | . | $ 8,169,600,000 |
| . | . | . | . |
| . | . | . | . |
LINKS & REFERENCE
HMS Astute 1st of Class BAE Systems
http://en.wikipedia.org/wiki/North_American_Aerospace_Defense_Command
List of sunken nuclear submarines
http://www.military-today.com/navy/seawolf_class.htm
http://battlepirates.wikia.com/wiki/Hulls
HMS Astute 1st of Class
HMS Vanguard- Trident
INS Sindhurakshak - explosion & sinking
Lusitania - Torpedo attack
Predator - Covert submarine hunter/killer
Seawolf - Autonomous wolf pack deployment of Predator mini-subs
U20 - Kapitan Leutnant Walther Schwieger
USS Bluefish WWI submarine
USS Bluefish - Nuclear submarine
USS Nautilus - 1st nuclear submarine & subsea north pole passage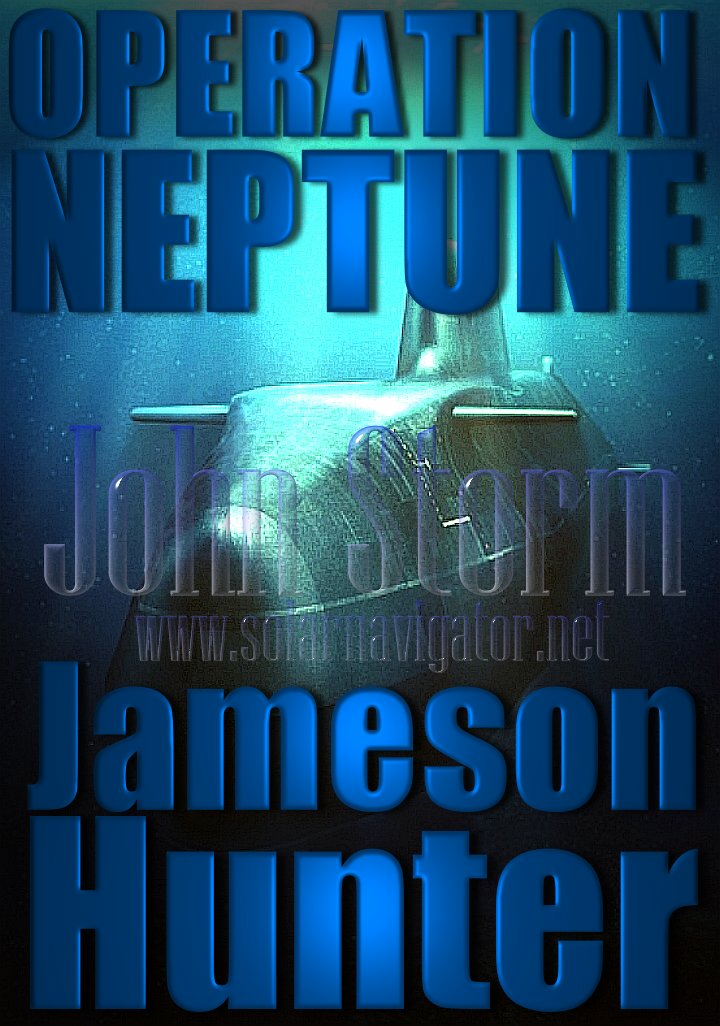 FICTION Operation Neptune - An advanced nuclear submarine is hijacked by environmental extremists intent on stopping pollution from the burning of fossil fuels. The extremists torpedo a number of oil wells as part of a campaign to cause energy chaos, with bigger plans to come. If you enjoyed Under Siege or The Hunt for Red October, this is a must for you.