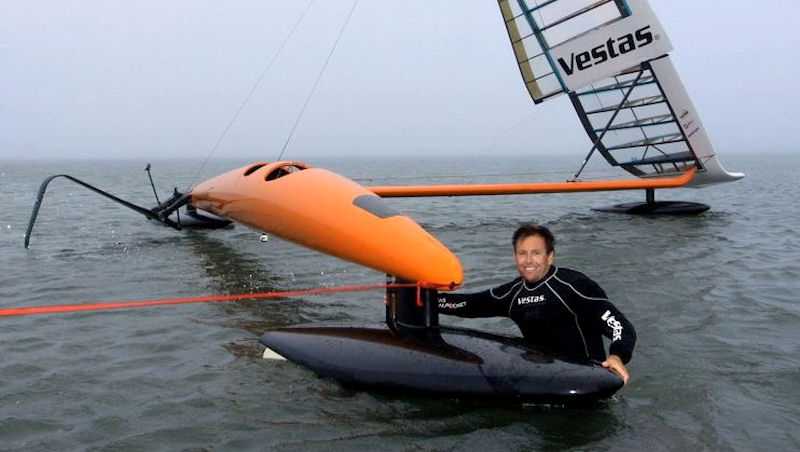 Vetas Sailrocket 2

The Vestas Sailrocket was built to capture the sailing speed record competing in the B-class for 150 to 235 square feet of sail. It is piloted by the project leader Paul Larsen and sponsored by Danish wind turbines manufacturer Vestas. In 2008 the first version reached a reported unofficial speed of 52.22 knots (60.09 mph), before crashing.

After being upgraded to a second version, the Vestas Sailrocket 2 began a campaign to break speed records in November 2012 off Walvis Bay, Namibia. On the 12th of November, it made a 54.08 knots (62.23 mph) run over a 500 metres (1,600 ft) distance, then 59.23 knots (68.16 mph) on the 16th. It attained 55.32 knots (63.66 mph) on a one mile run on the 18th and simultaneously 59.38 knots (68.33 mph) on 500m.[5] On 24 November, with wind speeds at roughly 25 knots (29 mph), it ran the 500m course at 65.45 knots (75.32 mph) with a 68.01 knots (78.26 mph) peak. Both records are ratified by the WSSRC for the 500m and the mile.
VESTAS
Vestas Wind Systems A/S is a Danish manufacturer, seller, installer, and servicer of wind turbines. It is the largest in the world, but due to very rapid growth of its competitors its market share decreased from 28% in 2007 to 12.5% in 2009.[needs update] The company operates manufacturing plants in Denmark, Germany, India, Italy, Romania, Britain, Spain, Sweden, Norway, Australia, China, and the United States, and employs more than 17,000 people globally.

After a sales slump in 2005, Vestas recovered and was voted Top Green Company of 2006. In late 2008 the company announced a manufacturing expansion in Colorado. In August 2010, Vestas also announced a significant expansion of its North American headquarters in Portland, Oregon. In October 2010, the company announced it was closing some of its factories in Scandinavia, with the loss of 3000 jobs.

As of 2011, Vestas wind turbines generate enough electricity to provide for 21 million people. In January 2011, Vestas won the $1.5m (£940,000) Zayed Future Energy Prize in Abu Dhabi.

Vestas spent €92 million ($128 million), or 1.4% of revenue, on research and development in 2009. It has filed 787 wind turbine patents (227 in 2010) according to United Kingdom Intellectual Property Office (UK-IPO), while General Electric has 666 and Siemens Wind Power has 242.

In October 2009, Vestas and QinetiQ claimed a successful test of a stealth wind turbine blade mitigating radar reflection problems for aviation.

In December 2010 Vestas were developing of a 7 MW offshore turbine, with a 164 m rotor diameter. Prototypes of it will be manufactured at Lindø due to size, crane and port access requirements, but series production will occur in England. DONG Energy will test a prototype in the sea off Frederikshavn in 2013, at a cost of DKK 240 million.

In June 2011, the Vestas supercomputer Firestorm was number 53 on the TOP500-list of the world's most powerful computers calculating worldwide weather in a 3x3 km grid, and it delivers daily weather reports to the newspaper Ekstra Bladet and similar purposes. In 2012, Vestas donated the older 1344-core supercomputer from 2008 to Aalborg University.
In October 2011, Vestas participated in the deployment of a floating wind turbine offshore of Portugal. Vestas supplied a v80 2.0 MW offshore turbine to Windplus, S.A. (a joint-venture company including Energias de Portugal, Repsol, Principle Power, A. Silva Matos, Inovcapital and Portugal Ventures). The system, known as the WindFloat, consists of a semi-submerssible type floating foundation, a conventional catenary mooring, and the wind turbine. The successful deployment represents the first offshore multi-megawatt wind turbine to be installed without the use of any heavy-lift or specialized offshore construction equipment.

In 2012, Vestas scaled back and closed some of its R&D offices in Houston, Marlborough, Louisville, China, Singapore and Denmark.

In August 2013, Vestas started operating its 20 MW test bench for nacelles in Aarhus


Walvis Bay location map and the Vestas Windfloat experimental turbine off the Portuguese coast

WALVIS BAY

Walvis Bay (Afrikaans Walvisbaai, German Walfischbucht or Walfischbai, all meaning "Whale Bay") is a city in Namibia and the name of the bay on which it lies. The town has 85,000 inhabitants and owns 29 square kilometres (11 sq mi) of land.

The bay has been a haven for sea vessels because of its natural deepwater harbour, protected by the Pelican Point sand spit, being the only natural harbour of any size along the country's coast. Being rich in plankton and marine life, these waters also drew large numbers of whales, attracting whalers and fishing vessels. The Dutch referred to it as Walvisch Baye and the English as Whale Bay. In its eventual proclamation, it came to be called Walfish Bay, then Walvish Bay, and ultimately Walvis Bay.

A succession of colonists developed the location and resources of this strategic harbour settlement. The harbour's value in relation to the sea route around the Cape of Good Hope had caught the attention of world powers since it was discovered. This explains the complicated political status of Walvis Bay down the years.

The 2 km sand spit allows the adjacent water to remain smooth in very strong winds, ideal for record attempting vessels like Vestas Sailrocket.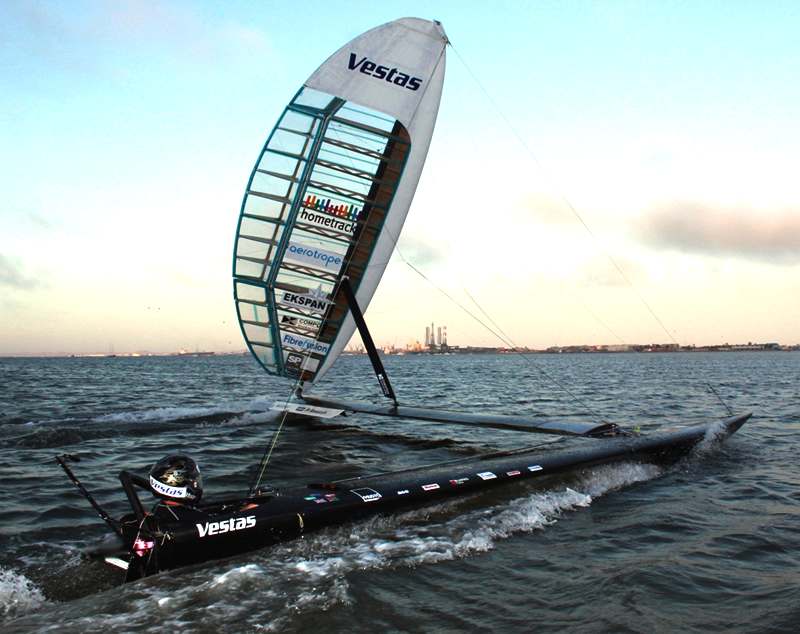 SPEED SAILING RECORD

Speed sailing records are sanctioned, since 1972, by the World Sailing Speed Record Council (WSSRC). Records are measured either by average speed over a specified distance or by total distance traveled during a specified time interval. The three most sought after records are the:

500 meter (or "outright") record is held by Paul Larsen. On 24 November 2012 he sailed the Vestas Sailrocket 2 at 65.45 knots in Walvis Bay, Namibia.

Nautical mile record is held by Paul Larsen. On 18 November 2012 he sailed the Vestas Sailrocket 2 at 55.32 knots in Walvis Bay, Namibia.

24 Hour distance record is held by Pascal Bidégorry. On 1 August 2009 he sailed the Banque Populaire V 908nmi (at 37.84kt). This was while he was breaking the northern Atlantic record.

UNOFFICIAL SPEED RECORDS

The idea of an instantaneous speed record is not officially sanctioned by the WSSRC and is, therefore, not officially measured or documented. The highest speed ever reported is from the crew of Vestas Sailrocket 2 : on 24 November 2012 they recorded a top speed of 67.74 knots in a 27-29 knots wind.

Previously, the highest speed ever reported was from the crew of l'Hydroptère. During an attempt on 21 December 2008 at Port-Saint-Louis-du-Rhône, they recorded a top speed of approximately 61 knots during a 45 knot gust of wind. This heavy gust of wind overpowered the sailboat, causing it to capsize at high speed. The crew sustained only minor injuries.


WORLD SAILING SPEED RECORD COUNCIL

The World Sailing Speed Record Council, founded in 1972, is the body authorized by the International Sailing Federation (formerly International Yacht Racing Union) to confirm speed records of sailing crafts (boats or sailboards) on water (not on ice or land). In the early years the council only dealt with claims of speed records on a one-way leg of 500 metres. Since 1988 the WSSRC is also responsible for offshore sailing records, because there were several controversial claims about the times of long voyages.

One or more meetings were held every year and since 2001 the council has had a permanent secretariat. The members of the expert council from Australia, France, Great Britain and the U.S. assess record claims. Record holders and their times are listed. WSSRC also issues Performance Certificates to sailors who wish to be officially timed over accepted courses without breaking records.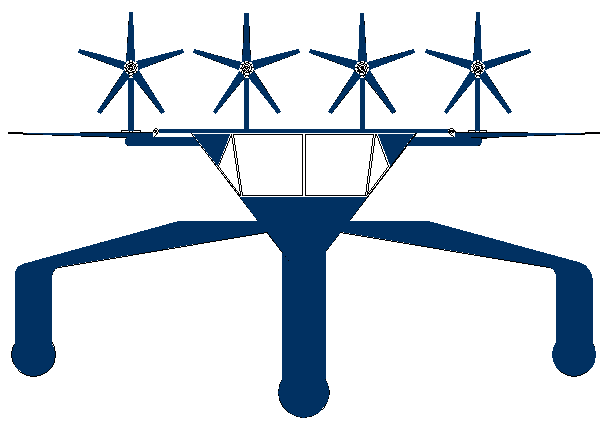 DEVELOPMENT: A hybrid, wind and solar powered vessel with computer controlled harvesting and a modular SWASH hull design that provides development platforms for both civil and military applications without having to redesign the whole vessel each time.
LINKS
http://atlantic-power-cluster.eu/index.php/en/
http://www.leow.de/boatbarn/jrwindm.htm
http://www.freepatentsonline.com/6902447.html
http://blog.modernmechanix.com/wind-propeller-sails-proposed-for-liners/
http://en.wikipedia.org/wiki/Rotor_ship
http://www.sailwings.net/art.html
http://www.sailwings.net/rotaryhome.html
Worlds-first-fuel-cell-ship-e2809eFCS-ALSTERWASSERe2809c-proves-ist-reliability-1780
http://www.ecomarinepower.com/wind-and-solar-ships
http://www.maritimejournal.com/news101/marine-renewable-energy/eu-funding-for-renewables-research-facilities
http://www.seaspeed.co.uk/Trials-and-Testing-Projects/south-boats
https://www.amc.edu.au/
https://www.amc.edu.au/model-test-basin-towing-tank
http://www.mshipco.com/rei.html
http://www.cyberiad.net/leo.htm
DESIGN YOUR OWN SOLAR POWER MODELS
Blackcurrant 1 | Blackcurrant 2 | Catamaran | SWASH | SWATH | Trimaran