It will take us a bit longer, but we will be fitting wind making machines inside our test tank, to be able to create storm and even hurricane conditions for our SeaVax testing program. Eight industrial, high-velocity fans (seen below) from China were purchased last week (17-6-16) at a total cost of £240. Collectively, even in standard form they are rated as supplied to provide 1.16 horsepower (880w) of power @ 1,350rpm and around 31,251 CFM (885 m3/min) of air movement.
That is 14.75 cubic meters of air per second (520 cubic feet of air per second) in a sealed tank with an internal airspace volume of around 50 cubic meters. Hence, the air in the chamber will rotate completely every 3.4 seconds, simulating a 100- 140mph revolving storm in 1/20th scale. The challenge will be to configure our fans for rear, side and head on winds, and to change configuration for a revolving storm. The fans offer various speeds that may be fine tuned with a little electronic wizardry.
The performance of our fans may be improved (we doubt if necessary) by changing the triple-bladed pressed aluminium fan blades for twin-bladed wooden or composite model aircraft propellers - that are far more efficient, but this is likely to require faster spinning motors or very high pitch props.
WHY BOTHER ?
SeaVax is solar and wind powered. Our solar wings track the sun and so move a large flat panel surface upwards into prevailing winds. This panel acts like a crude sail, and this in turn will affect the heel of the vessel at some compass headings. We need to know what the heel effects will be on the hull as it affects stability.
The same applies to our wind turbines. When they are hoisted in high winds the vessel will heel in proportion to the wind speed. We need to measure the heel to find the safe parameters for our robot engineers to be able to program SeaVax to furl the turbines when conditions are deemed to be hostile.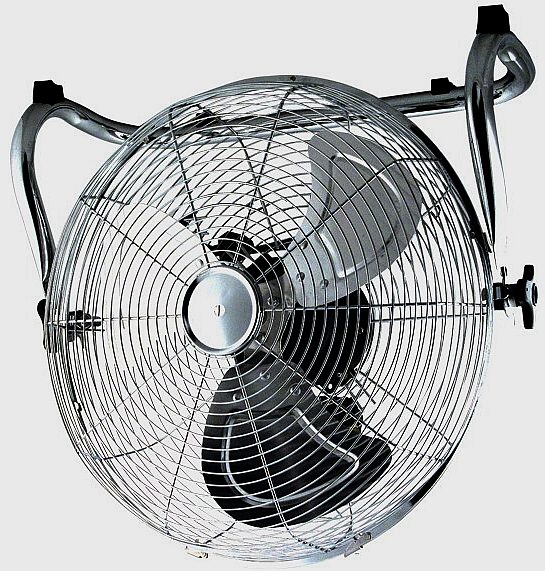 INDUSTRIAL FANS - Made of steel and chrome plated, the guard of these fans is 20" inches in diameter. We will be able to pan and tilt these fans to aim them to create authentic storm conditions.
Aircraft propellers are designated by two numbers: Diameter and Pitch. Thus an 18-6 propeller is 18" in diameter and has 6" of pitch. Pitch is the distance a propeller will move forward in one revolution in a perfect fluid (which air is not).
You can imagine this as a screw in wood. The pitch determines how far the screw will penetrate the wood for each revolution of the screw-driver. Thus, a 6" pitch will move forward 6" with each 360° revolution of the propeller. If you multiply the swept area by the pitch, by the number of revolutions per minute, by the efficiency - this will give you the theoretical movement of air - hence, the ability to calculate thrust, where air density (ρ) = 1.225 kilograms per cubic meter.
For our setup, available thrust should be in the region of 116lbs using aircraft profile propellers. We will be providing more information on this as our experiments take place.
CLOSED LOOP RECIRCULATION - Both water and air will be moving in our test tank. Two propellers in the water will drive the water, while four propellers in the air will circulate the air.
LINKS & REFERENCE
http://www.airfieldmodels.com/information_source/math_and_science_of_model_aircraft/formulas/index.htm#propeller_efficiency
https://avaaz.org/
BRICKS & MORTAR - FILTRATION - GLASS & PAINT - GANTRY - HYDRODYNAMICS HISTORY - INSTRUMENTS - OUR TEST TANK - SEAVAX TEST VIDEOS - SLUICE GATE - WAVE MAKING - WIND MACHINE