CLEANER OCEAN FOUNDATION'S SOLUTION
The Elizabeth Swann has a unique trimaran configuration that lends itself to the storage of considerable quantities of hydrogen as a gas or a liquid. As a gas, the hull-form provides sufficient storage to cross that Atlantic on one fill up of 24 special (integrated) cylinders, to give an approximate range of 4,000nm, in one configuration. The vessel has large solar wing and deck areas, and sports a wind turbine generator, the combination able to drive the yacht directly, with a battery store for bursts of speed. All of which helps endurance and swift passages.
In another configuration, using liquid hydrogen, the Swann might complete a circumnavigation, without using solar panels, and all on one fill-up of special cryogenic tanks. The yacht has been designed so that the fuel tanks are a bolt on feature, allowing changes to specification, depending on customers requirements.
Using liquid hydrogen and solar power in tandem, calculations reveal that the Swann might travel Around the World in 80 Days, to equal the record set by Philleas Fogg in Jules Verne's classic adventure.
Rather than view batteries and hydrogen as opposing technologies, they can be energy storage allies and complementary know-how, to cope with solar and wind powered intermittencies in the first instance. Though this might actually reduce range potential and performance if not correctly managed as a range extender.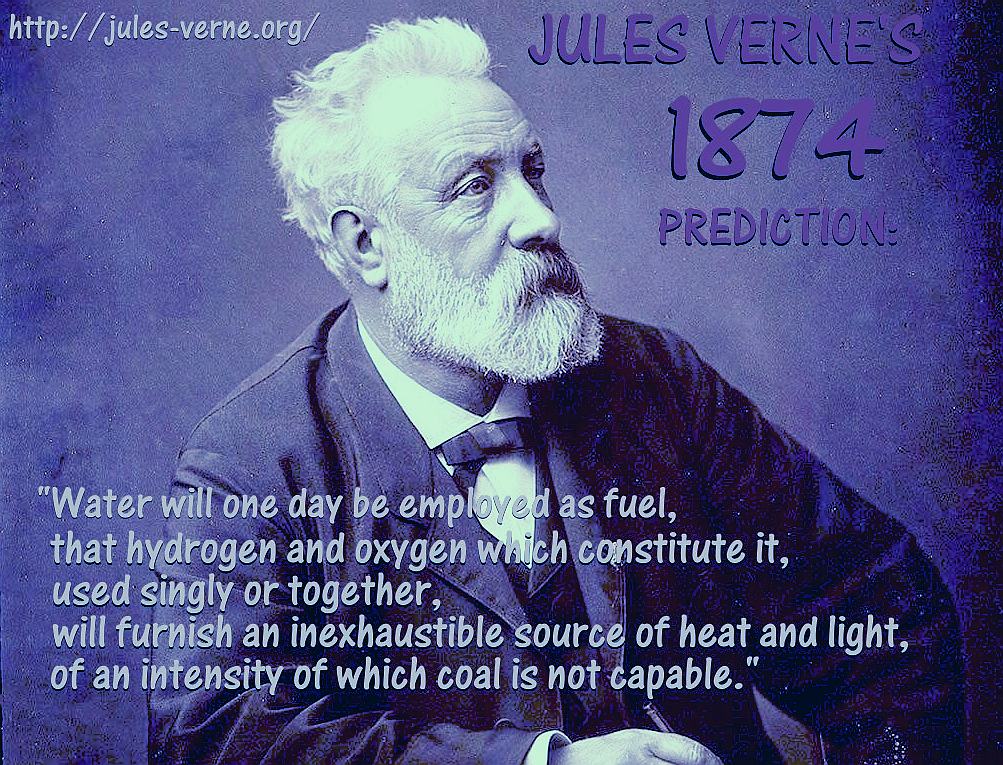 In 1874, Jules Verne set out a prescient vision that has inspired governments and entrepreneurs in the 147 years since. In his book The Mysterious Island, he wrote of a world where:
"Water will one day be employed as fuel, that hydrogen and oxygen which constitute it, used singly or together, will furnish an inexhaustible source of heat and light, of an intensity of which coal is not capable."
The idea came about as a result of looking at hydrogen range extenders for battery vans and trucks. With these vehicles it is possible to bolt on a hydrogen battery cartridge. That is not the case with the Elizabeth Swann, where such cartridges are designed to be swapped at SmartNet™ service stations, for extremely rapid and safe energy exchanges.
Hence, that idea was a non-starter. But then the Swann is likely to be moored in a harbour for longer periods between voyages, it is then probable that the onboard lithium batteries will be fully charged quite quickly (depending on capacity), leaving energy that could be harvested from nature, with nowhere to go. After that time, any energy generated by the wind turbine or solar panels will be wasted unless we can store it onboard effectively, as a reserve for use at sea.
Instead of using commercially available Type IV storage cylinders, we are considering modifications to the hull to allow us to use stored hydrogen more efficiently than, for example, Energy Observer, and the New Era seen below - both worthy projects, incorporating leading edge technology, as an inspiration to us at the Foundation.
The green hydrogen generated at anchor, would go to improving vessel performance when a ship is back at sea again. Ideal as a reserve, or for short hop vessels, to increase performance. It is cleaner than using a diesel backup generator, as on the IBM Mayflower trimaran.
The special tanks may hold sufficient volumes of hydrogen for trans-Atlantic or even trans-Pacific voyages.
In the short term, and most immediately, this may mean extremely fast crossing of the English Channel for the Elizabeth Swann. But for larger craft designed along the same principles, and scaled up, it could mean cargo and passenger ships being powered by sustainable hydrogen, with a mix of solar and wind energy harvesting from nature, by way of a helping hand.
HYDROGEN LIQUID & GAS PROJECTS A - Z
2000 - The 22-person Hydra ship was demonstrated.
2003 - Duffy-Herreshoff watertaxi went into service.
2003 - Saw the debut of Yacht No. 1, and Hydroxy3000.
2004 - The AUV DeepC, and Yacht XV 1 were shown.
2005 - The Type 212 fuel cells submarine went into service with the German navy.
2006 - The 12-person Xperiance was debuted, as well as the Zebotec.
2007 - The 8-person Tuckerboot and the Canal boat Ross Barlow debuted.
2008 - The 100-passenger Zemships project FCS Alsterwasser went into service in Hamburg.
2009 - The Nemo H2 and the Frauscher 600 Riviera HP went into service.
2013 - The Hydrogenesis Passenger Ferry project went into service.

2018 - HySeas III project, for the Orkney Islands: to build the world's first sea-going car and passenger ferry fuelled by hydrogen fuel cell propulsion, secured EU funding, aiming for 2021, led by Ferguson Marine Engineering Ltd and St. Andrews University.
2018 - Jules Verne 2, hydrogen-powered passenger riverboat, running on fuel cells supply, with a hydrogen station temporarily installed in Port Boyer fueled byAir Liquide.
2021 - The Kawasaki New Sunshine Project, Suiso Frontier, received classification Approval in Principle in August.
2021 - The liquid hydrogen powered car ferry MF Hydra was delivered to Norled in April.
2023 - Fjord cruise ship Havilla, Havyard, NES, LH2 fuel cell & battery powered liner is under development.
You may care to conclude from the above, that we are well and truly on the way. At least that is how it appears to us, as advocates of hydrogen, so long as it is deployed safely. Hopefully, with statute on its way to help Port authorities decide to engage proactively, rather than retrospectively. Of course, many already are. Bully for them!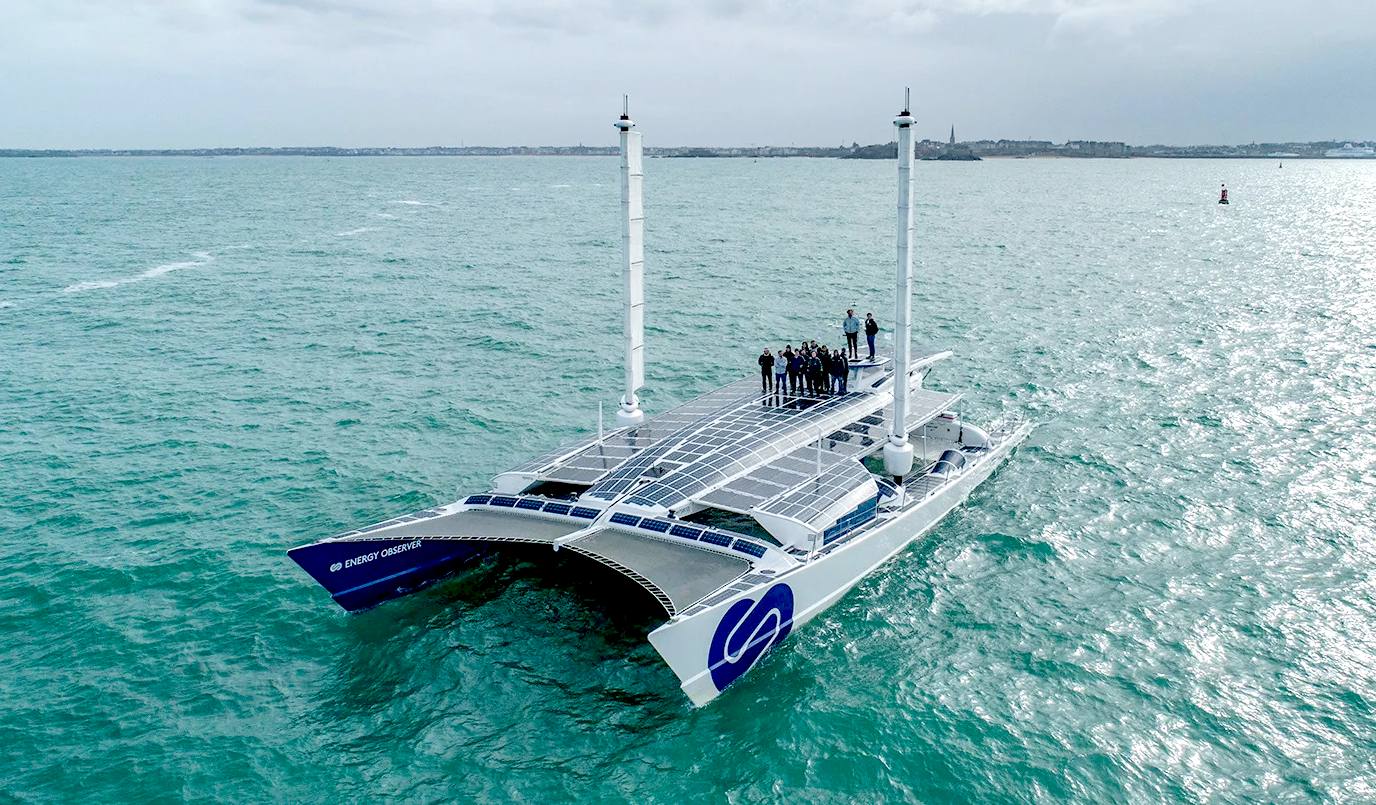 ENERGY OBSERVER - She started out with 21kW of solar panels, seen here with 34kW of sun packing power, but still has a power to hull displacement ratio of 1.14 kW/ton. That is an improvement on PlanetSolar's 1.05kW/ton, but nowhere near the 3kW/ton of the Elizabeth Swann. Oddly enough, PlanetSolar managed a higher average speed across the Atlantic, over the Observer. Suggesting that the energy conversion chain of the French yacht, is not as efficient as the large Swiss boat. Not wanting to be greedy, but we think we can improve on both of these magnificent achievements. For that is what they are; trail-blazing pioneers.
ENERGY OBSERVER - SUN, WIND & HYDROPOWER
Another vessel that is presently developing this theme as a range extending energy-storage solution, is the Energy Observer, a vessel that has an on board hydrolyzer, compressor and high pressure storage tanks that feed gas into a fuel cell, to make electricity for the electric motors. In 2020 Energy Observer crossed the Atlantic at an average of 4.4 knots, somewhat slower than PlanetSolar's 5.3 knots, but they are constantly experimenting and improving their technology, staying with the same GRP hulls. As the ENZA, skipered by Peter Blake and Robin Knox-Johnson, the catamaran took the Jules Verne Trophée in 1994.
The Energy Observer is using Toyota's REXH2 fuel cell - compressor – inverter set, boasting a maximum power of 60 kW, operated at around 50% of its potential to optimize its output. The problem being, that the hydrogen conversion chain is working against all of us, if generation is onboard, compared to battery storage alone. We have our fingers crossed for the crew of the Observer that we may we all learn together, building on each other's achievements.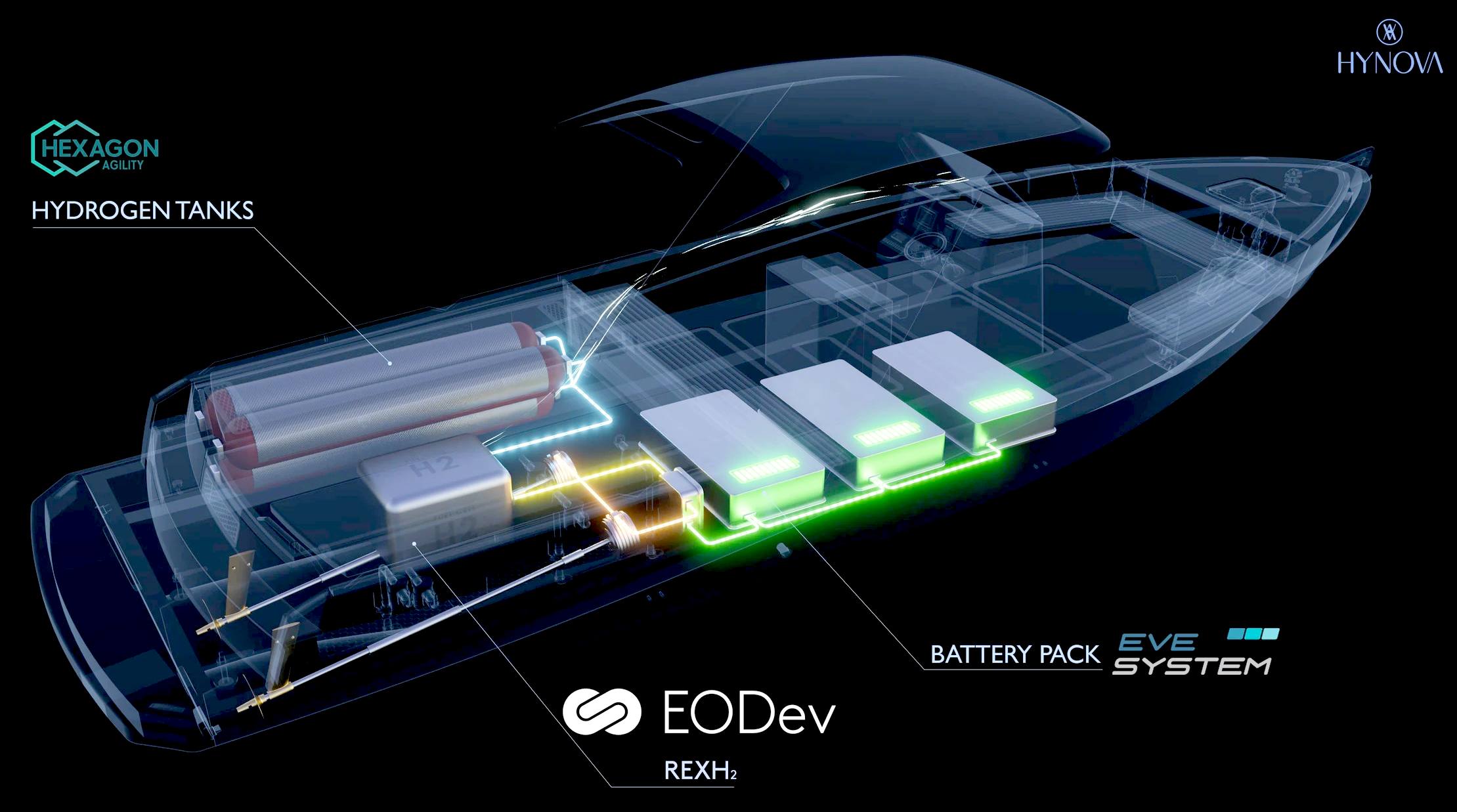 HYNOVA, NEW ERA - You cannot get around battery or fuel cell mass (at the moment), but the space and weight of the hydrogen cylinders seen in the picture above, can be avoided if the hull is used to advantage. Unfortunately, most conventional designs are not adaptable, hence, ship hulls that are proposed as suitable for hydrogen power, by the majority of naval architects, may not benefit from the proposed hydrogen range extending innovation.
Electro-hydrogen hybridization is at the heart of the propulsion system of The New Era by HYNOVA Yachts, the first day-boat equipped with a REXH2® running on hydrogen and currently in approval phase. This is the brainchild of Frédéric Ménière, President of EVE System, Chloé Zaied, Managing Director of HYNOVA Yachts, and Romain Jallon, Director of Operations at EODev.