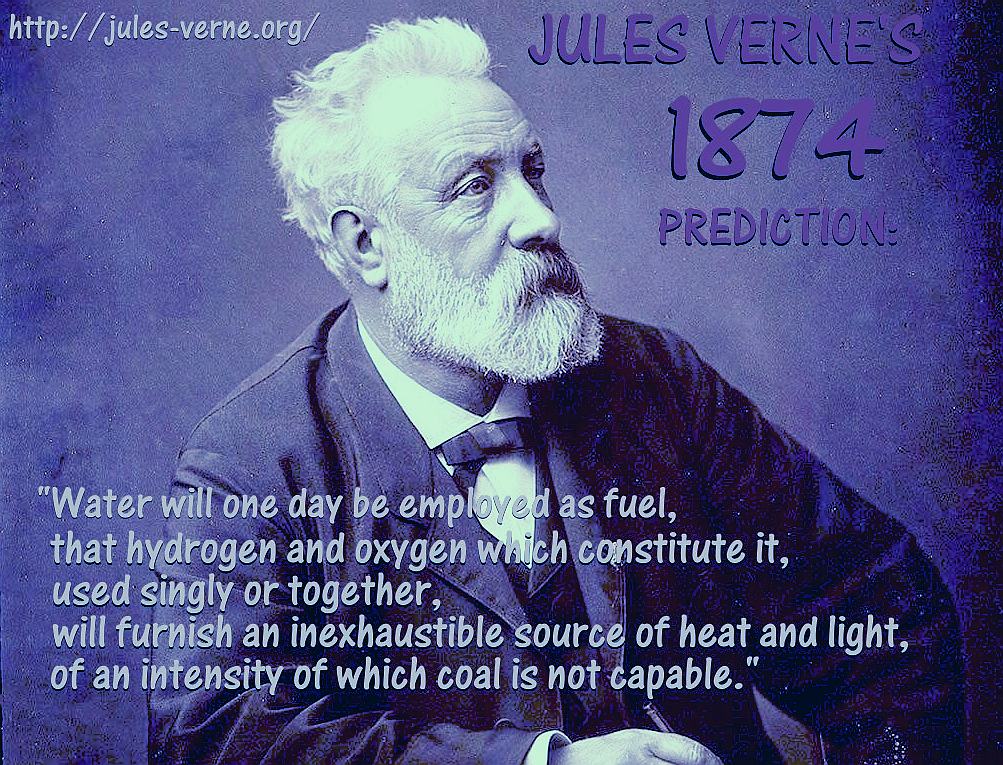 In 1874, Jules Verne set out a prescient vision that has inspired governments and entrepreneurs in the 147 years since. In his book The Mysterious Island, he wrote of a world where:
"Water will one day be employed as fuel, that hydrogen and oxygen which constitute it, used singly or together, will furnish an inexhaustible source of heat and light, of an intensity of which coal is not capable."
Jules Verne is considered to be the father of science fiction, along with Herbert George Wells, these two writers envisioned exploits of man well ahead of their time.
If we had acted on his foretelling fifty years sooner, we'd most likely not be in the middle of a climate crisis, that looks to be almost irreversible.
The emergency situation mankind is now facing gives rise to the World Hydrogen Challenges, and the Jules Verne Trophy. 2024 will be the 150th anniversary of his prediction.
Only by all pushing together, as an international community, putting our political and geographical aspirations to one side, might we stand a chance of saving what is left of the species on planet earth.
Adrift in the Pacific: Two Years Holiday (Extraordinary Voyages, #32)
An Antarctic Mystery 1897
Around the World hydrogen navigation in 80 days (Hydrogen Challenge)
Around the World in Eighty Days - Chapters Index
Association Tour Du Monde En 80 Jours, Musée de la Marine, Paris
BBC TV, 1989 7 part travel series: Around the World in 80 Days, starring Michael Palin
BBC TV, 2021 8 part series: Around the World in 80 Days, starring David Tennant
Bruno Peyron Orange II (36.8m) – 50:16:20:04 days 2010 - 2005
Dona Bertarelli - Spindrift 2 maxi trimaran, Jules Verne Trophy attempt 2015
Eight Hundred Leagues on the Amazon
El Testamento de un excentrico (The Testament of an eccentric)
Facing the Flag (Extraordinary Voyages, #42)
Phileas Fogg - A gentleman who lives in London & member of the Reform Club
Facing the Flag (Extraordinary Voyages, #42)
Francis Joyon - IDEC Sport, Jules Verne Trophée, record holder 2017 - 2021
Franck Cammas, Groupama 3 (31.5m) – 48:07:44:52 days 2010 - 2012
From the Earth to the Moon 1865
In Search of the Castaways; or the Children of Captain Grant (Extraordinary Voyages, #5) 1867-1868
Journey to the Center of the Earth 1864
Jules Verne - Early Life - Parisian Studies - Literary Debut - Family Life - Pierre-Jules Hetzel
- Literacy Reception - Prophetic Science Faction - Passing & Posthumous Publications - Legacy
Jules Verne Hydrogen Trophy - Established in July of 2021, in celebration of the 1874 prediction
JVH2 Rules - Rules for entry in as a Jules Verne Hydrogen Trophy competitor
Les Tribulations d'un Chinois en Chine; The Tribulations of a Chinese in China (Extraordinary Voyages, #19)
Links Page - Links to other Jules Verne websites
Loïck Peyron - Banque Populaire, Jules Verne Trophée, record holder 2012 - 2017
Los quinientos millones de la Begún (The five hundred million of the Begún)
Mathias Sandorf (Extraordinary Voyages, #27)
Michael Strogoff (Extraordinary Voyages, #14) 1876
Off On A Comet (Extraordinary Voyages, #15) 1877
Olivier De Kersauson / Geronimo (33.8m) – 63:13:59:46 days 2004 – 2005
Passepartout, Jean - Valet to Phileas Fogg in Around the World in 80 Days
Reform Club - Formerly a gentleman's only club in London's Pall Mall, founded in 1836
Robur the Conqueror 1886
Round the Moon (Extraordinary Voyages, #7) 1870
The Adventures of Captain Hatteras
The Adventures of a Special Correspondent
The Blockade Runners
The Field of Ice
The Fur Country 1873
The Guardian - Media review 21 August 2021, Around the World in Eighty Days - Animation (Vertigo, Studio Canal)
The Lighthouse at the End of the World
The Master of the World (Extraordinary Voyages, #53) 1904
The Mysterious Island (Extraordinary Voyages #12) 1874
The Survivors of the Chancellor 1875
The Underground City 1877
The World Hydrogen Challenge -
Thomas Colville - Sodebo Ultim 3, Jules Verne Trophée attempt 2020
Topsy Turvy
Trophy - Sailing yachts circumnavigation records, Jules Verne Trophee, Rules
Twenty Thousand Leagues Under the Sea 1870 - First Part index, Second Part index (full text)
Un capitán de quince años (A fifteen year old captain) 1878
LINKS & REFERENCE
http://jules-verne.org/
Contemporary, great classic writers & kindred spirits: Jules Verne and Herman Melville.