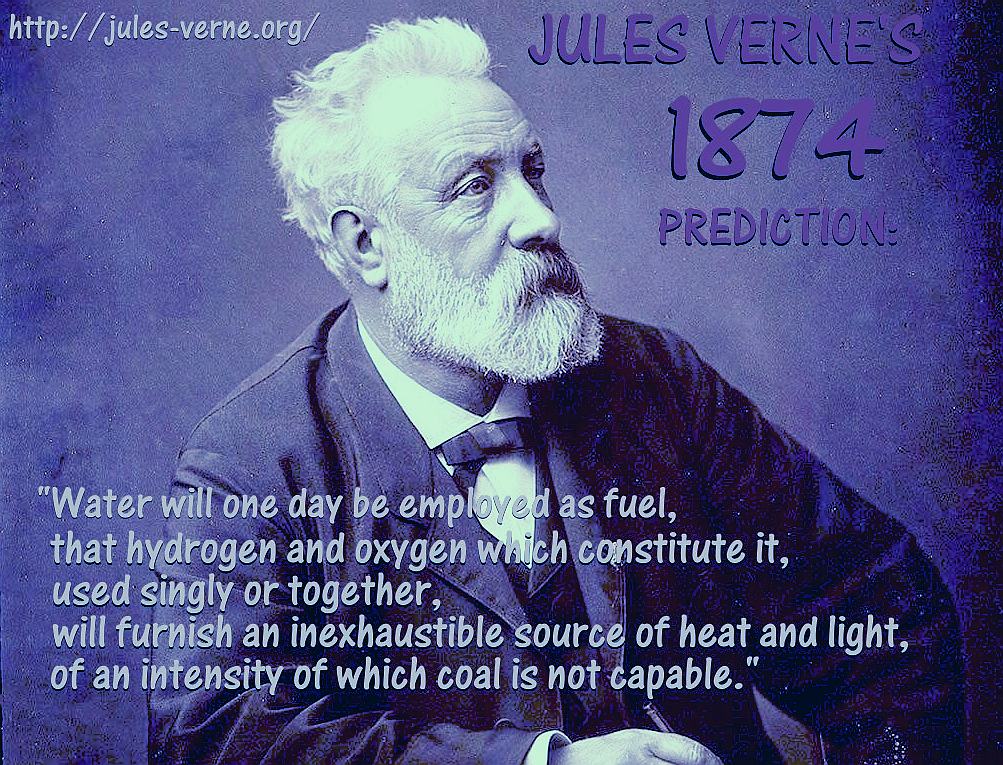 In 1874, Jules Verne set out a prescient vision that has inspired governments and entrepreneurs in the 147 years since. In his book The Mysterious Island, he wrote of a world where:
"Water will one day be employed as fuel, that hydrogen and oxygen which constitute it, used singly or together, will furnish an inexhaustible source of heat and light, of an intensity of which coal is not capable."
Jules Verne is considered to be the father of science fiction, along with Herbert George Wells, these two writers envisioned exploits of man well ahead of their time.
If we had acted on his foretelling fifty years sooner, we'd most likely not be in the middle of an energy, or climate crisis, that looks to be almost irreversible, given the UN 1.5 degree targets from COP21, in Paris 2015.
The emergency situation mankind is now facing gives rise to the World Hydrogen Challenges, and the Jules Verne Trophy. 2024 will be the 150th anniversary of his prediction.
Only by all pushing together, as an international community, putting our political and geographical aspirations to one side, might we stand a chance of saving what is left of the species on planet earth.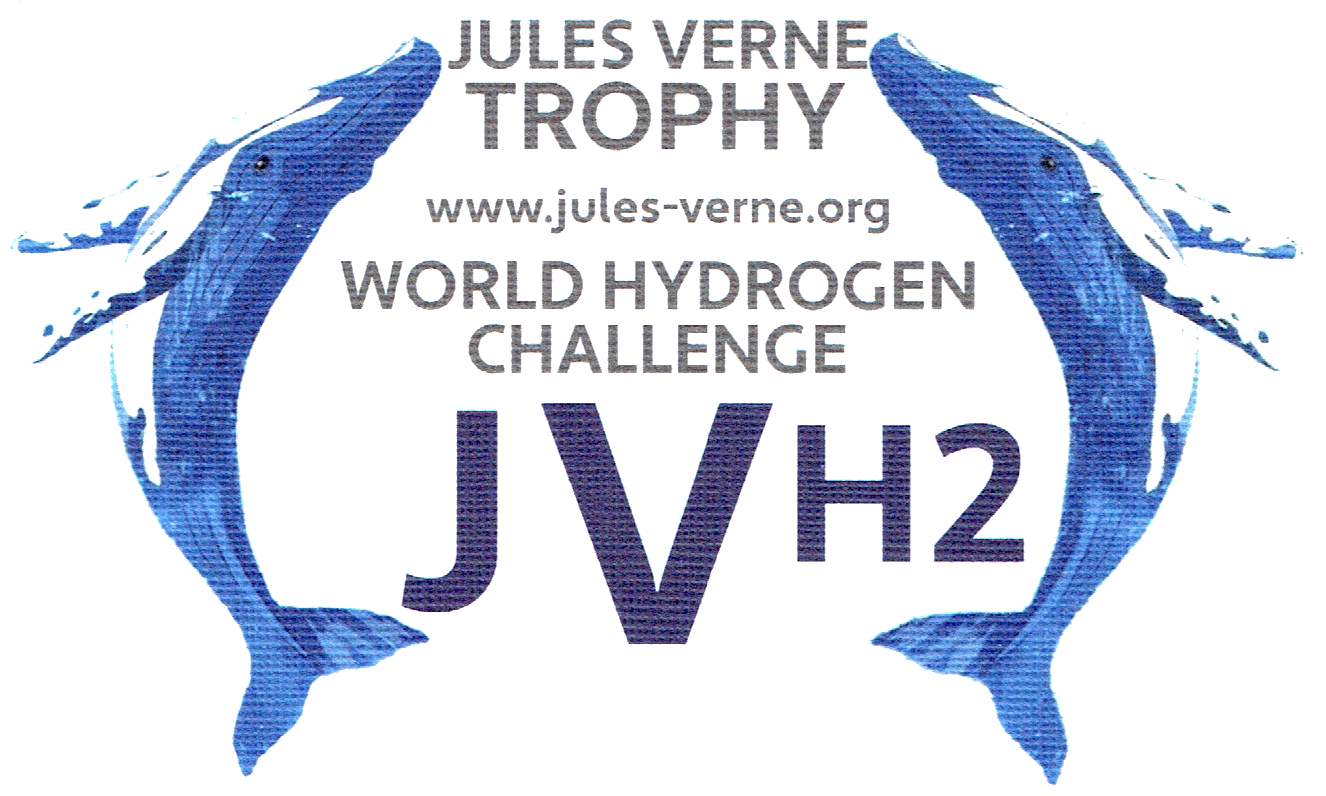 To commemorate the prediction by Jules Verne, that hydrogen would become the fuel of the future, the Cleaner Ocean Foundation is promoting a zero emission racing formula, where competing teams attempt to power around the world in a boat, without any restrictions as to design or size, provided that the vessels use a renewable form of hydrogen, such as: compressed gas, cryogenic liquid hydrogen, methanol, ammonia or peroxide. Renewable means derived from solar, wind or wave power, or net zero, by way of a sustainable form of carbon offsetting.
1.5 - 2.0 degrees Celsius temperature increases are likely to cause species extinctions according to the IPCC
Adrift in the Pacific: Two Years Holiday (Extraordinary Voyages, #32)
Alexandria - Egypt, Thonis (Heracleion, Ancient Greek)
America's Cup - Sailing trophy and event locations
An Antarctic Mystery 1897
Aouda - Indian Princess - Around the World in 80 Days
Arnold Bennett - Book and film about Harold Hales MP (Trophy)
Around the World hydrogen navigation in 80 days (Hydrogen Challenge)
Around the World in Eighty Days - Chapters Index
Association Tour Du Monde En 80 Jours, Musée de la Marine, Paris
Atlantis - The lost city that sank beneath the waves, according to Plato
BBC TV, 1989 7 part travel series: Around the World in 80 Days, starring Michael Palin
Awareness - Ocean literacy as part of a built in educational series
BBC TV, 2021 8 part series: Around the World in 80 Days, starring David Tennant
Bruno Peyron Orange II (36.8m) – 50:16:20:04 days 2010 - 2005
Captain Nemo - Commander of the Nautilus submarine
Catapult - TRIG, Transport Research Innovation Grants 2022
Circular Economy - United Nations' Sustainability Development Goals (SDGs)
Climate Change - Jules Verne's guide to global warming
Contacts - Jules Verne Trophy - World Hydrogen Challenges
Crystal Ball Predictions - Sustainable transport
Designs - Multi or mono hulls, boats, ships, yachts
Dona Bertarelli - Spindrift 2 maxi trimaran, Jules Verne Trophy attempt 2015
Eight Hundred Leagues on the Amazon
El Testamento de un excentrico (The Testament of an eccentric)
Electricity - The flow of electrons that makes the world go around
Facing the Flag (Extraordinary Voyages, #42)
Phileas Fogg - A gentleman who lives in London & member of the Reform Club
F1 Formula Hydrogen ocean racing -
Fix - Scotland Yard Inspector - Around the World in 80 Days
Francis Joyon - IDEC Sport, Jules Verne Trophée, record holder 2017 - 2021
Franck Cammas, Groupama 3 (31.5m) – 48:07:44:52 days 2010 - 2012
From the Earth to the Moon 1865
Fuel Cells - Are modern batteries
Guinness Book World Records - Duke University & Galot Motorsports, Benson, N. Carolina 15,200 mpg Imp 2018
Guinness Book World Records - PAC Car II Swiss, ETH Zurich, Switzerland 14,573 Imp mpg 2005
Hales Trophy - The Blue Ribband, for the fastest passenger ship across the Atlantic
ICE - Internal Combustion Engines, motors that run on Ammonia, Hydrogen or Methanol
IMO - International Maritime Organization & MARPOL clean air zero pollution targets 2030 - 2100
In Search of the Castaways; or the Children of Captain Grant (Extraordinary Voyages, #5) 1867-1868
InnerSpace - Is the opposite of outer space, regions on either side of terrestrial life inhospitable to humans
Journey to the Center of the Earth 1864 - Full text Index
Jules Verne - Early Life - Parisian Studies - Literary Debut - Family Life - Pierre-Jules Hetzel
- Literacy Reception - Prophetic Science Faction - Passing & Posthumous Publications - Legacy
Jules Verne Hydrogen Trophy - Established in July of 2021, in celebration of the 1874 prediction
JVH2 - First transatlantic crossing by a hydrogen powered aircraft
JVH2 - World's most economical hydrogen fuel cell automobile - conversion, or custom road vehicles
JVH2 Rules - Rules for entry in as a Jules Verne Hydrogen Trophy competitor
Les Tribulations d'un Chinois en Chine; The Tribulations of a Chinese in China (Extraordinary Voyages, #19)
Lhyfe - Wins Hydrogen Trophy in France, 21 March 2022
Links Page - Links to other Jules Verne websites
Literacy - Awareness of ocean importance and conservation issues
Loïck Peyron - Banque Populaire, Jules Verne Trophée, record holder 2012 - 2017
Los quinientos millones de la Begún (The five hundred million of the Begún)
Mathias Sandorf (Extraordinary Voyages, #27)
MCA - Maritime and Coastguard Agency UKRI KTN clean shipping demonstrations
Michael Strogoff (Extraordinary Voyages, #14) 1876
Molecules - Hydrogen combinations
Off On A Comet (Extraordinary Voyages, #15) 1877
Olivier De Kersauson / Geronimo (33.8m) – 63:13:59:46 days 2004 – 2005
Passepartout, Jean - Valet to Phileas Fogg in Around the World in 80 Days
Planet Earth - How big is the 3rd rock from the Sun and where are we in the Solar System?
Port Royal - Caribbean Sea, submerged city
Reform Acts - 1832 (first), 1867 (second), Representation of the People Act 1884 (third Reform Act)
Reform Club - Formerly a gentleman's only club in London's Pall Mall, founded in 1836
Renewables - Solar, wave and wind power is affordable clean energy for all, UN SDG 7
Representation of the People Act 1867 (second Reform Act)
Representation of the People Act 1981 (fourth Reform Act)
Robur the Conqueror 1886
Round the Moon (Extraordinary Voyages, #7) 1870
SDG Champions - Advocates & Allies of the UN's Sustainability Development Goals
Sign - Gate heraldry, JVH2 humpback whales broaching
The Adventures of Captain Hatteras
The Adventures of a Special Correspondent
The Blockade Runners
The Field of Ice
The Fur Country 1873
The Guardian - Media review 21 August 2021, Around the World in Eighty Days - Animation (Vertigo, Studio Canal)
The Lighthouse at the End of the World
The Master of the World (Extraordinary Voyages, #53) 1904
The Mysterious Island (Extraordinary Voyages #12) 1874 - Part 1 - Part 2 - Part 3
The Steam House - La maison à vapeur - 'The End of Nana Sahib' - 'Tigers and Traitors': Part 1 - Part 2
The Survivors of the Chancellor 1875
The Underground City 1877
The World Hydrogen Challenge -
Thomas Colville - Sodebo Ultim 3, Jules Verne Trophée attempt 2020
Topsy Turvy
Trademarks - Application 3808853 13th July 2022
TransAtlantic Flight - Drone HES Dynamics & ISAE SUPAERO, hydrogen fuel cell project 2020
TransAtlantic Flight - ATI FlyZero - long range commercial zero emission hydrogen powered flight 2021
Trophée Jules Verne - artwork
Trophy - JVH2 study, design, artwork
Trophy - Sailing yachts circumnavigation records, Jules Verne Trophee, Rules
Twenty Thousand Leagues Under the Sea 1870 - First Part index, Second Part index (full text)
UK KTN - Clean Maritime Demonstration Competition - Strands 1 and 2 - Registration ends November 2022
Un capitán de quince años (A fifteen year old captain) 1878
VJV - Jules Verne holidays, travel guides, bookings
Water - H2O and sustainable world economics - Aqua Pura, Agua - Aquanauts & Aquarians
World's fastest hydrogen powered yacht - speed aces
World's most economical cars - Duke University & Galot Motorsports, Benson, N. Carolina 15,200 mpg
- PAC Car II Swiss, ETH Zurich, Switzerland 14,573 Imp mpg 2005
Zero (net) emissions - sustainable blue economics or growth
ZEWT - Zero Emission Waterbourne Transport
LINKS & REFERENCE
http://jules-verne.org/
Contemporary, great classic writers & kindred spirits: Robert Louis Stevenson, Jules Verne and Herman Melville.