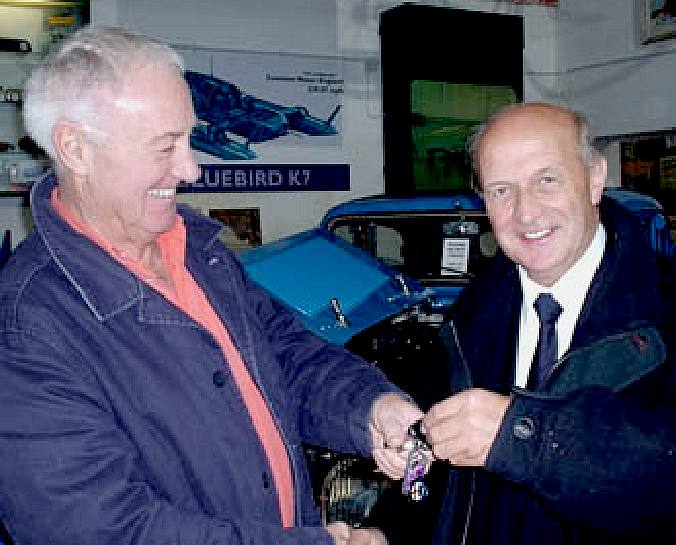 11 DECEMBER 2006 - Lakeland Motor Museum is to be relocated. Entrepreneur Donald Sidebottom has sold the Lakeland Motor Museum at Holker Hall in the Lake District to Winander Leisure. Winander proposes to relocate the museum's collection of unusual vehicles and rare automobilia to new premises at an unused industrial site – also owned by Sidebottom – in Backbarrow.

Sidebottom is quoted as saying: "The collection has outgrown the available space and the timing of an already agreed amicable separation from Holker Hall has been finalised." The existing premises will close at the end of October 2007. Photograph: Donald Sidebottom and Winander director Les Micklethwaite Reporter: Helen Patenall
27 APRIL 2008 - THE SUNDAY TIMES RICH LIST - DONALD SIDEBOTTOM

Ranking: 1446
Worth: £50m
Source of wealth: Street furniture

This Blackpool entrepreneur's £40m company makes everything from bollards to litter bins and toll booths. He started the Glasdon Group more than 40 years ago. Sidebottom, 71, also collected more than 20,000 objects, such as bonnet mascots and petrol cans, which formed the basis of the Lakeland Motor Museum in Cumbria. The Glasdon Group is owned by Sidebottom's trusts and made £3.2m profit on £30.3m sales in the year to October 2006. He also owns Zonex, a property company with £5.2m of net assets, and has other business interests.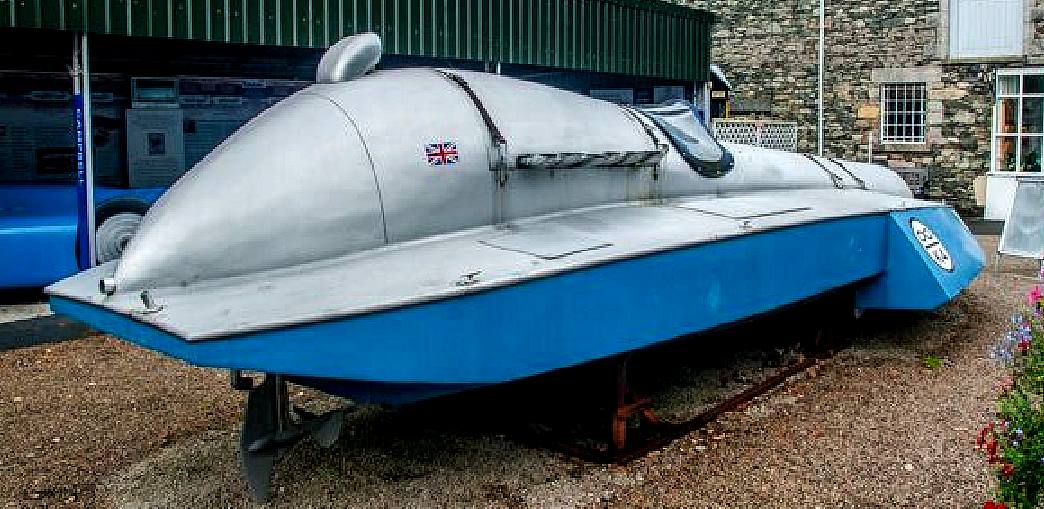 K4 - Replica of Donald Campbell's Bluebird hydroplane. The original was built by Sir Malcolm Campbell, with a stipulation that Donald should not inherit the machine. To that end Sir Malcolm's will said that his boats should be auctioned to prevent Donald continuing with water speed records. Donald was then forced to bid for his father's steeds to be able to build on the achievements of his diamond dealing dad.
CONTACTS

Museum of Lakeland Life & Industry
Abbot Hall, Kendal
Cumbria, LA9 5AL
Tel 01539 722464
015395 30400
Fax 01539 722494
email info@lakelandmuseum.org.uk

Old Blue Mill, Backbarrow,
Ulverston, LA12 8TA.

Tel 01539 530400

Location : Newby Bridge / Haverthwaite
Grid Ref : SD 356854


Lakeland Arts is a company limited by guarantee which is registered in England and Wales with company number 8162578. Registered office Abbot Hall, Kendal, Cumbria, LA9 5AL. Lakeland Arts is also a registered charity, registration number 1153001.
Blackwell, The Arts & Crafts House
Bowness-on-Windermere
Cumbria
LA23 3JT

Tel 015394 46139
Fax 015394 88486
email info@blackwell.org.uk

Abbot Hall Art Gallery & Museum of Lakeland Life & Industry
Kendal
Cumbria
LA9 5AL

Tel 01539 722464
Fax 01539 722494
email info@abbothall.org.uk

Windermere Steamboat Museum
Rayrigg Road
Windermere
Cumbria
LA23 1BN

Tel 015394 45565
Fax 015394 88486
email info@steamboats.org.uk

Lakeland Arts is a company limited by guarantee which is registered in England and Wales with company number 8162578. Our registered office is at Abbot Hall, Kendal, Cumbria, LA9 5AL. Lakeland Arts is a registered charity, registration number 1153001.

South Lakeland District Council

Tel: 0845 050 4434
info@southlakeland.gov.uk
South Lakeland House
Lowther Street
Kendal
Cumbria LA9 4DQ

Ulverston Local Link

Tel: 0845 050 4434
info@southlakeland.gov.uk
Town Hall, Ulverston
Cumbria
LA12 7AR
GEOGRAPHICAL LOCATION - GETTING TO THE MUSEUM

Leave the M6 at junction 36 and follow the A590 signed 'South Lakes' (dual carriageway) for six miles. Take the exit signed 'South Kendal (A6)' and follow the signs for 'Town Centre'. Once in the one-way system get into the right hand lane. Pass the parish church, on your right, then take the first right into the public car park signed 'Abbot Hall'. Pass through the gate at the end of the South Lakeland District Council car park (Peppercorn Lane) into the Abbot Hall car park. Revenue from Abbot Hall car park goes towards the upkeep of the Gallery and Museum.
The museum was established in 1978, based on the collection of motoring enthusiast Donald Sidebottom. For many years the collection was housed next to the stately home of Holker Hall. In 2010 the museum moved from Holker Hall to new premises at Backbarrow, on the shore of Coniston Water, occupying the old premises of the Reckitt's Blue Dye Works.

ELECTRIC BLUEBIRD

A relatively recent display at this museum is the converted Formula-Ford that was built by Bluebird Electric Limited, a now defunct company that was begun by Nelson Kruschandl and Donald Wales - relating to the signing of an Agreement as to development of Kruschandl's designs for the BE1 and BE2 electric land speed record cars. Sadly, Bluebird Electric Limited, company number 3145717, is alleged to have breached contract with Mr Kruschandl, not paying for agreed services and then most deliberately transferring company assets out of the reach of creditors who were at the time litigating for financial relief, with Mr Wales (apparently) then driving for a competing company in breach of his fiduciary duty to company number 3145717.
We have seen and retain a copy of a transcript of a recording of Kruschandl and Wales discussing non-payment of his consultancy fees, and the subject of poor performance of the car BEL built, at a company board meeting. The poor performance of this car reflected badly on Kruschandl's (then) patented system - because Wales insisted on using a confusingly similar name (Bluebird) for an electric car without cartridge exchange. When, it was Kruschandl's designs that were the original electrically powered Bluebirds - and these cars featured instant cartridge refueling, which the car seen below most certainly did not. Of course the public would not know, because it was not in plain sight, which car had battery cartridge exchange and which did not.
Passing-Off was then a feature of the litigation that ensued, with an Injunction being granted in favour of the Applicant: Nelson Kruschandl, against the Respondents: Donald Wales and Bluebird Electric Limited.
To cap it all the car that was spawned from what looks like oppressive behavior on the part of this company's sole director, Don Wales, turned out to be a complete waste of sponsor's money - in that it was incapable of taking a world record - as per contracts signed with Bourne Leisure and possibly others. This is also captured on the recording of the boardroom meeting - a very interesting conversation that reveals quite a bit about Don Wales' thinking. A copy of the (Copyright) transcript is available on request for a small administration fee, provided that it is not published in any way shape or form. A copy of the recording is also available at a cost of £1,000 - also the subject of restricted rights. Publishing rights are available subject to negotiation.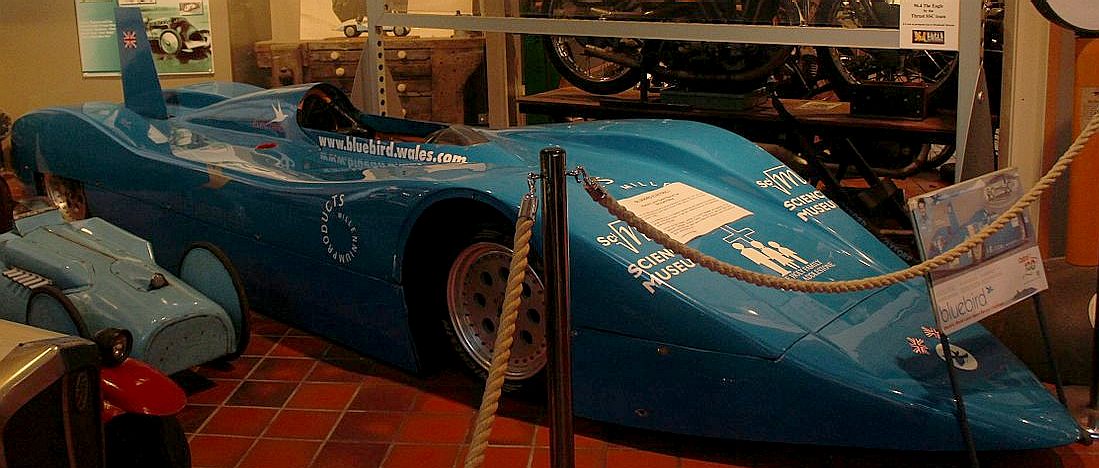 BLUEBIRD ELECTRIC LTD - This was the company that built the fated electric Humberstone/Sheffield car that is incorrectly stated on the Lakeland website as being built by: "Don Wales Developments. It is unclear how such a glaring error could have come to be published and we will draw the attention of the proprietors to the historic inaccuracy that at the moment paints a different picture to that between 1996 - 1998. We understand that Mr Wales bought the car from the above company for around £6,000. A bit of a bargain you might think, considering that more than £300,000 of sponsor's money went into the making.
On September the 20th 1998, the Formula Ford conversion above had to be towed back to the other end of Pendine beach after it ran out of battery power on the outward run. The car was simply too heavy to be in the running to get anywhere near the then land speed record. It was a hasty conversion following a legal dispute where all of the money that had been raised for the BE2, was channeled by Don Wales to building this technological dinosaur. Kruschandl had raised significant sums from Sir Terence Conran and Bluebird Holiday Homes (Bourne Leisure), giving presentations that netted first £110,000 and then £45,000 - yet he claims that he never saw a penny of these money contributions that his cars and his promotions were instrumental in raising. The only sums that were paid across (for motors, controllers and batteries) were from London Electricity for the BE1 to be motorized and under-lit for appearances at the London Arena and Olympia.
Chris Humberstone converted the Formula Ford for Bluebird Electric Limited, under the directorship of Don Wales. Sheffield University provided the motors and Michelin the rather wide tyres that increased rolling resistance, with batteries coming from Hawker.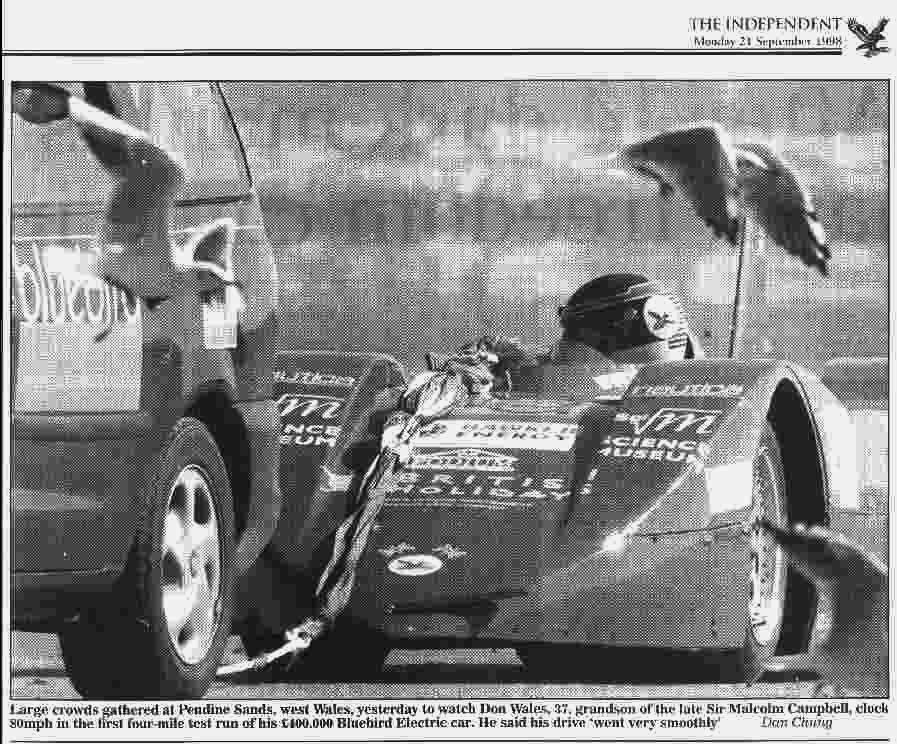 SAD SAND SAGA - Towed back using what looks like bed-sheets tied together. Obviously Don's engineers had their sums wrong, so much so that they never even thought to bring a tow rope. The team's website reported the car running out of power as it happened. Later, the official line was that there were technical difficulties. Some years later Joe Wales crashed the next electric car in the series that Don Wales drove, this one built by Martin Reece by another company to bear the Bluebird name. We think that that company is also now defunct. Pendine Sands appears no longer friendly to descendents of Sir Malcolm. Year of manufacture: 1996, Engine: Sheffield electric engine v2, Body: Carbon fibre, Built by: Bluebird Electric Limited, Location in museum Campbell 'speed kings' exhibition
LINKS & REFERENCE
info@lakelandmotormuseum.co.uk
http://www.thesundaytimes.co.uk/sto/business/BusinessRichList/article88179.ece
https://www.facebook.com/pages/Lakeland-Motor-Museum/385214028200836
http://www.britainexpress.com/attractions.htm?attraction=886
https://twitter.com/LakeMotorMuseum
https://uk.glasdon.com/
http://www.visitcumbria.com/sl/lakeland-motor-museum/
http://www.lakelandmuseum.org.uk/
http://www.attractionsmanagement.com/detail.cfm?pagetype=detail&subject=news&codeID=18760