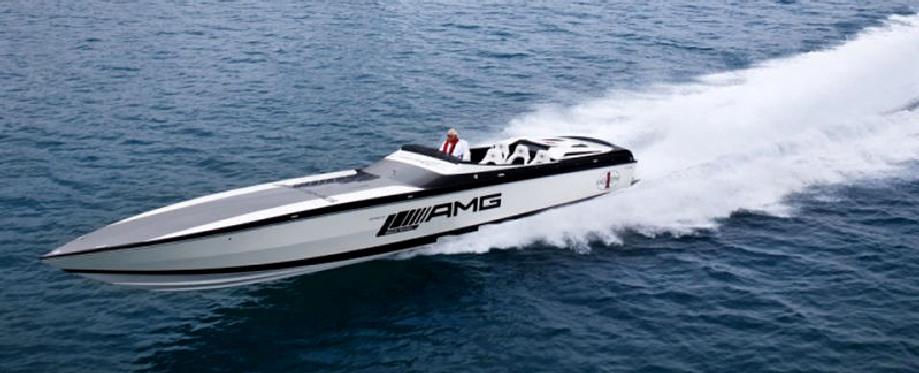 AMG - At speed offshore testing, this Mercedes deep V powerboat is undeniably fast. 86 knots on batteries and electric motors. Not that fast in reality compared to other powerboats, but then this is offshore.
NEW ATLAS FEBRUARY 19 2013

Mercedes-AMG and Cigarette Racing (AMGCR) have launched their latest collaboration at the Miami International Boat Show. The 38-foot Top Gun Cigarette Racing hull is powered by an AMG electric drive pumping out 2,220 horsepower (1,656 kW) and 2,210 ft-lb (3,000 Nm) of torque for a top speed in excess of 100 mph (160 km/h or over 86 knots). The electrics are taken nearly whole from the SLS AMG Coupé Electric Drive – the world's fastest and most powerful production electric car.

The Mercedes-Benz SLS AMG Coupé Electric Drive was introduced last September at the Paris Motor Show. This gullwing coupé is pushed along by a set of four electric motors, one at each wheel, together providing a total of 740 hp (552 kW) and 727 ft-lb (985 Nm) of torque. Despite hauling along an extra 1,208 lbs (548 kg) of lithium-ion batteries, the Coupé Electric Drive does 0 to 62 mph (100 km/h) in under four seconds and can reach a top speed of 155 mph (250 km/h).

Having chosen the Coupé Electric Drive as the inspiration for the AMGCR collaborative project, the design team selected the Cigarette Racing Top Gun as the platform upon which to build an insane electric racing boat – the Cigarette AMG Electric Drive Concept. The Top Gun is a classic cigarette boat that's been a staple of the Cigarette Racing Team for over 25 years. With a length of 37.5-feet, an 8-foot beam, and a static draft of 27-inches, your classic Top Gun is available with a pair of Mercury Racing 600 SCi inboard engines providing a total of 1,200 hp (894 kW) of pure power, easily pushing the boat into triple-digit speed.

Apparently deciding that anything worth doing is worth overdoing, AMGCR put not four, not eight, but twelve of the AMG electric motors into the new Top Gun. The boat's drive is organized around a pair of prop shafts, so AMGCR tied the motors into two clusters of six motors each, as shown above. Each cluster weighs some 600 lbs (272 kg), which saves some weight by replacing a gasoline engine weighing 1,267 lbs (575 kg). Each of the two electric motor clusters generates 1,110 hp (828 kW), putting the gasoline-powered Top Gun to shame.

This saving of weight, however, is quickly overridden by the 240 kWh lithium-ion battery packs that tip the scales at 4,840 lbs (2,200 kg). Containing a total of 3,456 lithium-ion cells, the packs store power at 400 volts so that, given normal efficiency for an electric motor, the maximum driving current is about 6,000 amperes. The boat has two chargers providing a total charging rate of 44 kW, taking about seven hours for a full charge.

The mounting of the motors and battery packs lowers the center of gravity of the Electric Top Gun, which results in a very well-behaved go-fast boat.

When running full-tilt, the two electric motor clusters eat a prodigious 2.4 megawatts of electric power – roughly the power requirements of a small town. This means that the batteries can only provide full power for about ten minutes. When corrected for the energy efficiency difference between electric motors and gasoline engines, the full energy capacity of the Electric Top Gun's battery pack is equivalent to about 15 gallons (56 l) of gasoline.

The AMGCR Top Gun Electric Drive is a remarkably successful design effort, which is perhaps as impressive a technology demonstrator as has appeared in boating in recent years. Ultimately, however, the design shatters on the hard rocks of inadequate batteries.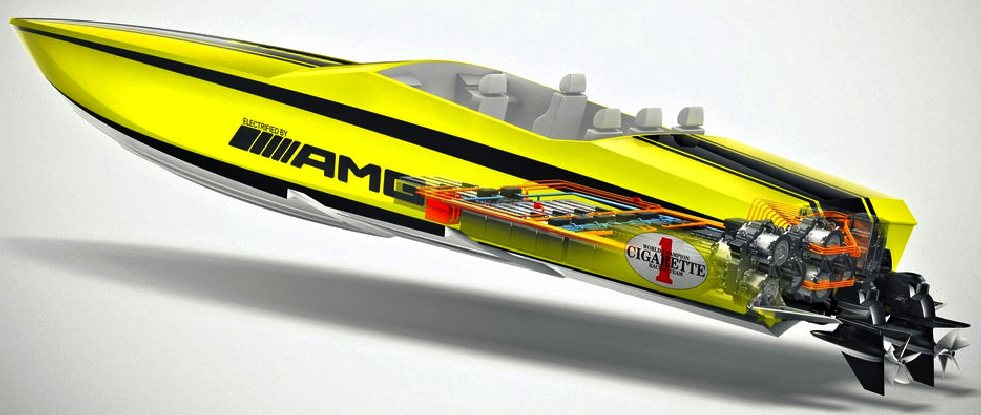 GUINNESS RECORDS - The layout is logical and works well, but has this boat got an entry in the Guinness Book of World Records?
GIZMODO 19 FEBRUARY 2013

The World's Fastest Electric Boat Skims Over the Sea at 86 Knots.

What happens when you transfuse the 2,200 HP electric drive train from the world's fastest and most powerful production electric car, the Mercedes SLS AMG Coupé Electric Drive, into a 38-foot racing hull? You get the world's fastest and most powerful production electric speed boat. Duh.

Dubbed the Cigarette AMG Electric Drive, this luxury racer was developed by Mercedes-AMG in collaboration with Cigarette Racing (together forming the AMGCR group) and recently debuted at the Miami International Boat Show. It's based on Cigarette Racing's marquee Top Gun cigarette boat model and measures 38 feet long with an 8-foot beam, a 27-inch static draft, and dual 600 HP Mercury Racing 600 SCi inboard engines. Cigarette boats are small, fast ships with a long narrow platform, low center of gravity, and a planing hull. They were originally known as "rum runners" in reference to their favored use during Prohibition.

The power train, however, is all Mercedes. The Top Gun's main electronic components including the electric motors, power electronics, high voltage batteries, and AMG Powertrain Controller (APC) were ported wholesale from the AMG SLS Coupe. On land, the AMG SLS is powered by a quartet of electric motors with a combined output of 740 HP and 727 foot-pounds of torque. The Top Gun, however, packs triple the number of engines under its hood. A total of twelve 185 HP compact permanent-magnet synchronous electric motors are arranged into a pair of 6-engine clusters, each driving one of the boat's propeller shaft.

And even though the Top Gun's 240 kWh lithium-ion battery packs add an extra 4,840 lbs, they are situated low in the rear of the hull and the ship hardly seems to notice. With 2,210 foot-pounds of torque, it launches from 0 to 60 in less than four seconds and tops out at a blazing 155 KPH (86 knots).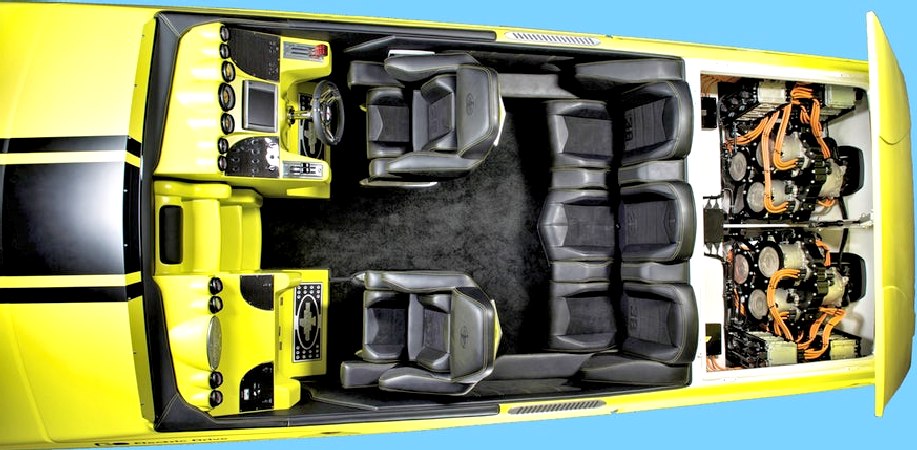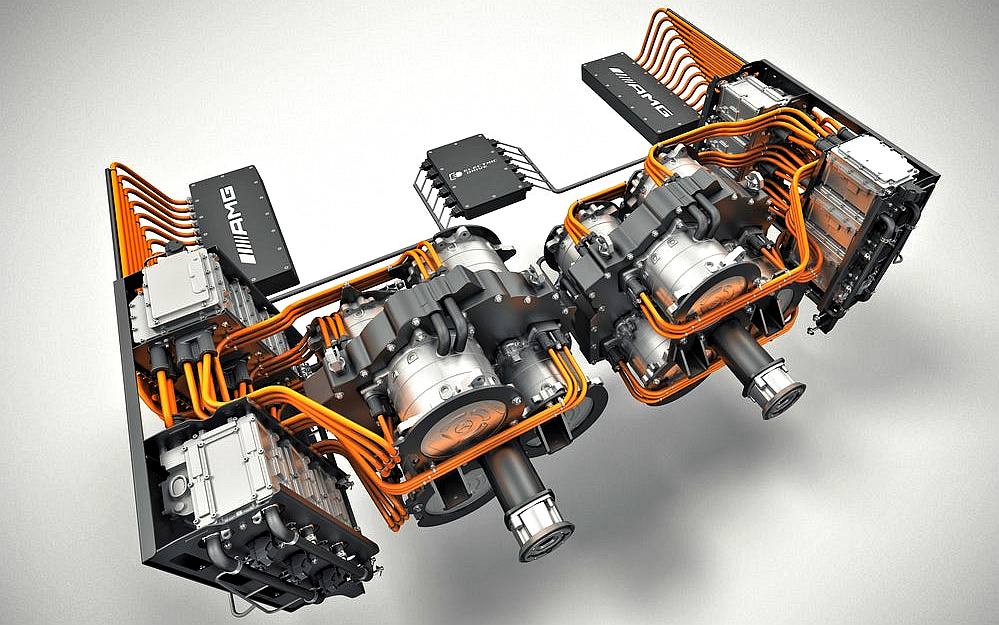 MOTOR MULTIPLES - This is similar to the coupling of motors that was to be used in the BE2, but could still be used in the Blueplanet Ecostar. It is possible that the land speed record theatre is now focusing on solar powered cars. One day powertrains like this will see EVs topping 400 mph with ease on land. With climate change hotting up as we near the critical temperatures from which recovery would be extremely difficult, it is likely the game changers and game changing solutions will be supported more readily.
LONGEST JOURNEY

The longest jour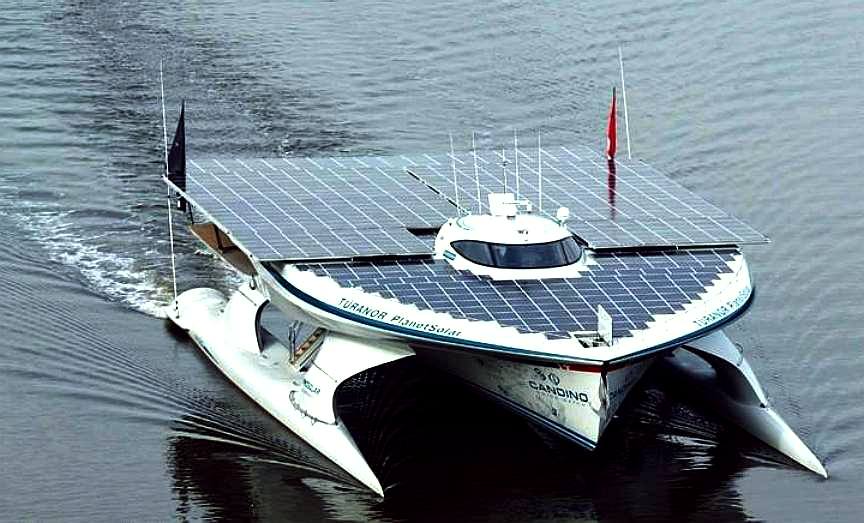 2013 - The Planet Solar Turanor, the world's largest solar powered ship, stopped at the International Monaco Yacht Show before embarking on a record setting circumnavigation of Planet Earth. On Friday, September 24, Prince Albert II of Monaco toured this unique vessel, seen here with Raphael Domjan and Immo Stroeher. Note distinctive wave pattern.
LINKS & REFERENCE
http://www.cigaretteracing.com/eng/SP_amgelec.php
https://gizmodo.com/the-worlds-fastest-electric-boat-skims-over-the-sea-at-5985339
https://newatlas.com/mercedes-amg-cigarette-racing-fastest-electric-boat/26301/
https://www.planetsolar.swiss/en/world-premiere/boat/