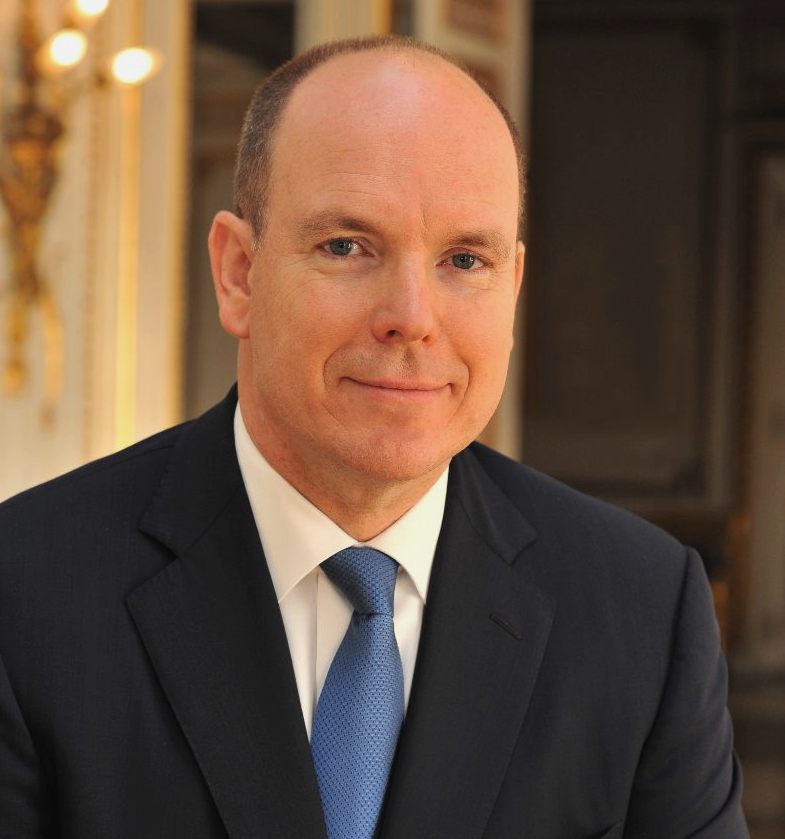 Prince Albert II of Monaco
PUBLISHED DECEMBER 2014
MONACO - Prince Albert II of Monaco has pledged his support for the Global Ocean Commission, with the Prince Albert II Foundation on 2 December 2014 at the Musée Océanographique of Monaco.

Co-Chair José María Figueres provided a detailed overview of the Commission's final report and the eight proposals that the Commission has proposed, which if fully implemented will restore and protect not only the high seas but the global ocean as well.

The purpose of this event was to present and discuss the Commission's report and proposals that were released earlier this year as a road map for protecting and sustainably managing the global ocean.

This was followed by a roundtable meeting with key government representatives involved in ocean-related UN negotiations from over 20 countries, and was organized jointly by the Global Ocean Commission, Prince Albert II Foundation, and the Pew Charitable Trusts.

Prince Albert II of Monaco was joined by Global Ocean Commission Co-chair José María Figueres and Commissioner Robert Hill.

José María Figueres provided a detailed overview of the Commission's final report commenting on the series of factors which has lead us to the current health of the ocean (i.e. the Global Ocean Commission's narrative of ocean decline) and the eight proposals that the Commission has proposed, and which if fully implemented will restore and protect not only the high seas but the global ocean as well.

Following his presentation, José María Figueres joined a panel to discuss the proposals, and the issues he raised, in greater detail and to allow for participants to engage and discuss these further. The panel was moderated by Wendy Watson-Wright (Assistant Director General and Executive Secretary of the Intergovernmental Oceanographic Commission of UNESCO), with the additional panel members of Global Ocean Commissioner Robert Hill, Guido Schmidt-Traub (Executive Director of the UN Sustainable Development Solution Network) and Amir Dossal (Chairman, Global Partnerships Forum). There was a lively discussion with great interest from the assembled participants with clear and vocal support for the Commission's proposals.

This event served to inform and enthuse participants on the issues of the high seas particularly in light of the importance of 2015 when the United Nations will decide on whether to launch negotiations for a new implementing agreement for the conservation and sustainable use of high seas biodiversity (if you have not done so yet, please sign the Global Ocean petition at Mission Ocean).

The UN will also adopt new Sustainable Development Goals (SDGs) that will hopefully include a stand alone ocean goal with associated targets and indicators. The ocean SDG and a new implementing agreement are both actively being sought and promoted by the Global Ocean Commission as well as by the Prince Albert II of Monaco Foundation.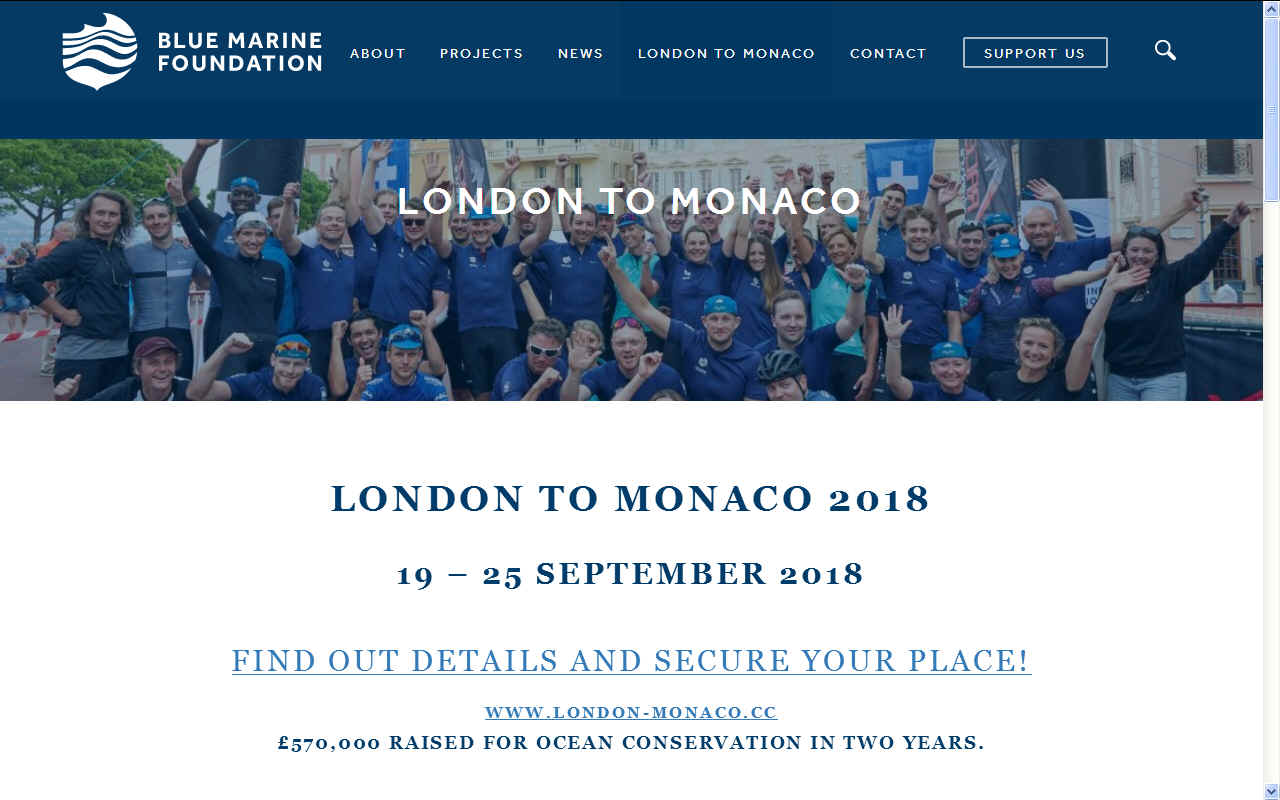 LONDON TO MONACO - It's back in the saddles for our ocean enthusiasts as they show how much they care by pedaling all the way from London to Monaco in September 2018.
Founded in 2016 with long-standing Blue Marine Foundation (BLUE) partner Winch Design, London to Monaco was launched to help BLUE raise awareness and funds to support its conservation efforts around the world.

This year's ride, organised by Just Pedal, will run over 7 days, departing from London with a celebrity send-off before carving its way through 8 countries and celebrating with a champagne finish at the Prince's Palace in Monaco.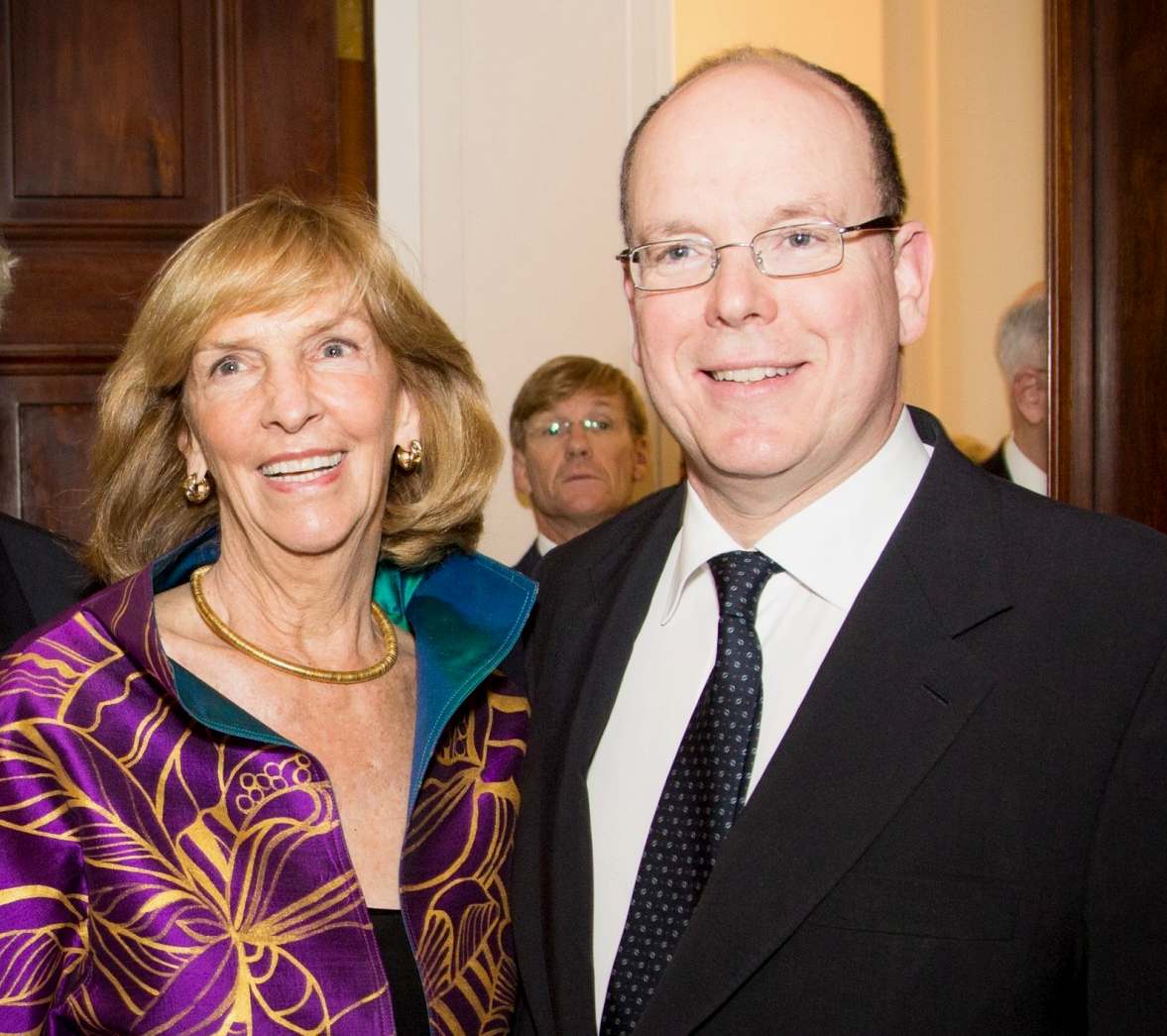 WASHINGTON POST, MAY 2015 - PRINCE ALBERT II HONORED FOR OCEAN WORK

Even in a town full of titles (how many deputy undersecretaries does one government really need?), a moniker like "his serene highness" gets attention.

And so on Thursday night, the audience — which included a smattering of senators and other bigwigs — listened as Monaco's Prince Albert II spoke after accepting a top honor at the annual Peter Benchley Ocean Awards, named after the creator of "Jaws."

The one-time bad boy bachelor has morphed into a downright proper royal, complete with a pair of just christened twins who've ensured his family's line of succession in his bite-sized nation, devotion to environmental causes, and a knack for sweeping but soft-spoken oratory. "Oceans, in their beauty and mystery, unite human beings whatever their situation, nationality, or faith," he said in his acceptance speech.

We caught up with HSH briefly at the dinner following the awards at the Carnegie Institute for Science, where he munched on herbed risotto (definitely no Chilean sea bass for this bunch) and huddled with Benchley's widow, Wendy Benchley. One question for the prince: What's the obsession with royal babies about?

"For us, I think the people are reassured, because they mean my family will continue its role in our country," he is quoted as saying. "And in some ways, I think people feel like we are part of their families, too."

The Monaco Blue Initiative is a platform for discussion co-organized by the Oceanographic Institute, Foundation Albert I, Prince of Monaco and the Prince Albert II of Monaco Foundation, presided over by H.S.H. Prince Albert II of Monaco. Its members meet annually to discuss the most current global challenges for ocean protection and preservation. It is an effective platform for communication and exchange between the different sectors of activity and stakeholders concerned with the utilization of the ocean and its resources. The aim is to create synergies between stakeholders concerned with the protection of marine ecosystems and socio-economic development.

During these last months, and notably the 3rd International marine protected Areas Congress in Marseille (IMPAC3) in 2013, the value of bringing together economic, political, scientific and environmental experts to discuss common issues towards improved ocean protection and governance is particularly clear. This fifth edition of the Monaco Blue Initiative in Chile will pursue this effort and draw attention to the local expertise and experience in these fields. Placing a focus on aquaculture and the involvement of local community is particularly important considering the geographical region and case studies discussed in the previous editions. The MBI will also focus on the wider question of financing mechanisms for MPAs and the management of high seas.
The discussions will also provide an opportunity to prepare and develop content for the next IMPAC4 meeting, currently scheduled in Chile in 2017.

25th June 2015
18:00 - 21:00 Welcome cocktail Screening of the film "Mission Blue" by Sylvia Earle
Cocktail and reception
26th June 2015
09:00 - 09:15 Opening speeches
09:15 - 11:00 Aquaculture to feed the world?
11:00 - 11:15 Coffee break
11:15 - 12:45 New frontiers for aquaculture
12:45 - 14:00 Lunch
14:00 - 15:30 The struggle between quantity and quality, the path to sustainable aquaculture
15:30 - 16:00 Coffee break
16:00 - 17:30 MPAs and Blue Carbon - Towards Ocean & Climate
17:30 - 18:00 Conclusions and closing adress by HSH Prince Albert II of Monaco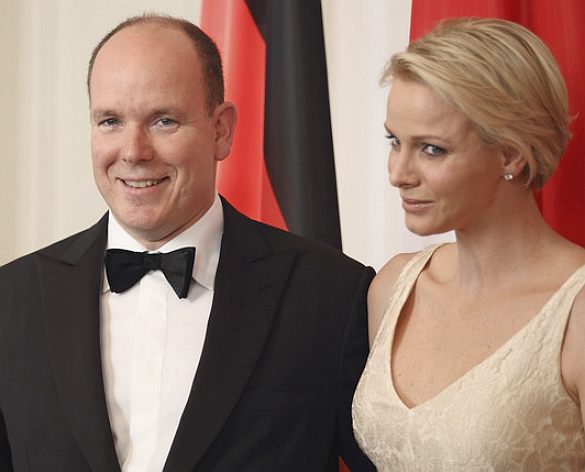 Albert II (Albert Alexandre Louis Pierre Grimaldi; born 14 March 1958) is the reigning monarch of the Principality of Monaco, and head of the Princely House of Grimaldi. He is the son of Rainier III, Prince of Monaco, and the American actress Grace Kelly. His sisters are Caroline, Princess of Hanover and Princess Stéphanie. In July 2011, Prince Albert married Charlene Wittstock, now Princess Charlene.

Prince Albert II is one of the wealthiest royals in the world, with assets valued at more than $1 billion, which includes land in both Monaco and France. While his real estate does not include the Prince's Palace, it does include holdings in the Société des bains de mer de Monaco, which operates Monaco's casino and other entertainment properties in the principality.

Prince Albert married former South African swimmer Charlene Wittstock on 1 July 2011. They announced their engagement on 23 June 2010. They had been seen together since 10 February 2006, when Prince Albert was accompanied by Wittstock to the opening ceremony of the Torino Olympics. They were seen again together at the Monaco Grand Prix. The Prince and Wittstock attended the opening ceremony of the Beijing Olympics in 2008, and both the "Bal de la Rose", and Princess Grace Awards Gala in 2009. They also attended the opening ceremony of the Vancouver Olympics. As a couple, they also attended the weddings of Crown Princess Victoria of Sweden and Daniel Westling in Stockholm four days before their own engagement was announced and the wedding of Prince William, Duke of Cambridge, and Catherine Middleton on 29 April 2011. The wedding took place over two days: the civil marriage ceremony took place on 1 July 2011, followed by the religious ceremony on 2 July 2011.

On 30 May 2014, it was announced by the Prince's Palace of Monaco that Princess Charlene was pregnant, with the couple later announcing Charlene was expecting twins. The twins, Gabriella Thérèse Marie, Countess of Carladès and Jacques Honoré Rainier, Hereditary Prince of Monaco were born on December 10, 2014.
FOUNDATION PRINCE ALBERT II de MONACO CONTACTS
Fondation Prince Albert II de Monaco
Villa Girasole
16, Boulevard de Suisse
98000 MONACO
Tel : +377 98.98.44.44
Fax : +377 98.98.44.45
Web: http://www.fpa2.com/
https://twitter.com/FPA2
https://www.youtube.com/user/FPA2deMonaco
http://www.facebook.com/FondationPrinceAlbertIIdeMonaco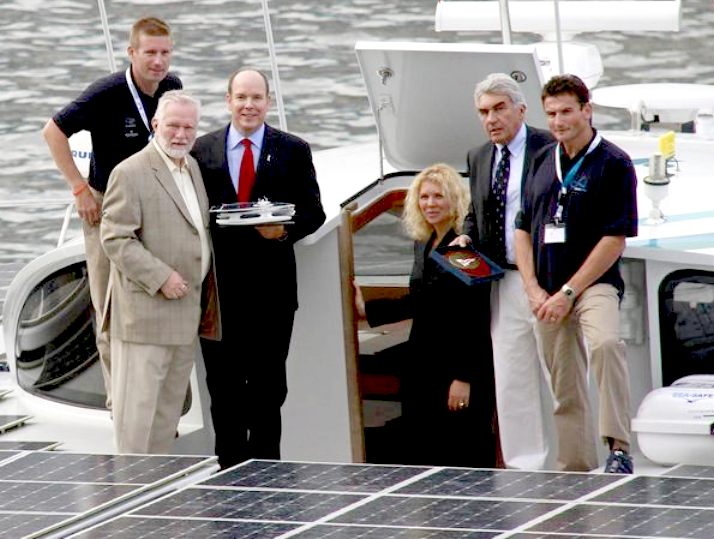 2010 - The Planet Solar Turanor, the world's largest solar powered ship, stopped at the International Monaco Yacht Show before embarking on a record setting circumnavigation of Planet Earth. On Friday, September 24, Prince Albert II of Monaco toured this unique vessel, seen here with Raphael Domjan (left) and Immo Stroeher.
THE GLOBAL OCEAN COMMISSION & INTERNATIONAL RESCUE

The Global Ocean Commission is an international organization that was launched in February 2013, with the first meeting in March 2013. The Commission is working towards reversing degradation of the ocean and restoring it to full health and productivity. Its focus is on the high seas, the areas that lie outside the jurisdiction of individual governments.
The Global Ocean Commission
Somerville College
Woodstock Road
Oxford, OX2 6HD
Tel: UK+44 (0) 1865 280747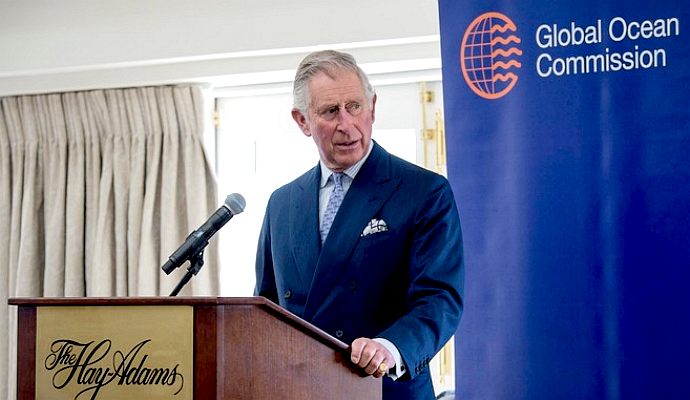 PRINCE CHARLES gives a speech to a meeting of the Global Ocean Commission in Washington. The Ocean Elders had put the formation of such an organisation on their agenda, some years ago. Entrepreneur, Richard Branson is an Ocean Elder.

LINKS
Facebook Fondation Prince Albert II de Monaco
http://www.fpa2.com/article.php
Wikipedia Global_Ocean_Commission
ITV 2015-03-18 prince-charles-makes-impassioned-plea-for-oceans-clean-up
http://en.wikipedia.org/wiki/Albert_II,_Prince_of_Monaco
Express Prince-Albert-II-and-Princess-Charlene-christen-twins-in-Monaco
Washington Post May 2015 monacos-prince-albert-ii-honored-for-ocean-work
World rowing events 2015 challenge prince albert ii information
http://www.kismetgirls.com/celebrities/Princess_Charlene_Wittstock_Her_Serene_Highness.htm
http://www.worldrowing.com/events/2015-challenge-prince-albert-ii/event-information
http://www.hellomagazine.com/royalty/2015022423635/prince-albert-monaco-talks-about-parents/
http://www.express.co.uk/news/royal/576289/Prince-Albert-II-and-Princess-Charlene-christen-twins-in-Monaco
http://en.wikipedia.org/wiki/Albert_II,_Prince_of_Monaco
ACID OCEANS - ARCTIC - ATLANTIC - BALTIC - BERING - CARIBBEAN - CORAL - EAST CHINA - ENGLISH CH
GULF MEXICO - INDIAN - MEDITERRANEAN - NORTH SEA - PACIFIC - PERSIAN GULF - SEA JAPAN - STH CHINA
PLANKTON - PLASTIC - PLASTIC OCEANS - UNEP - WWF - WOC