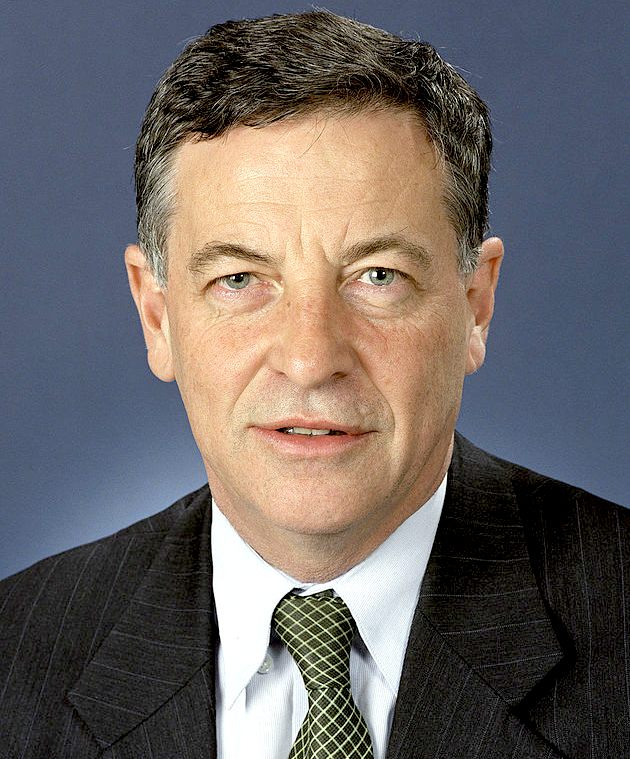 ROBERT HILL - was a member of the Australian Senate from 1981 to 2006, representing South Australia. Between 1996 and 2001 he served as Minister for the Environment and then Minister for Environment and Heritage, before being appointed Minister for Defence, a post that he held until his resignation in 2006. From 1996 to 2006 he was also the government's Leader in the Senate.

After leaving parliament, Professor Hill became Australia's Ambassador to the United Nations, a post that he held for three years. In 2010, he was appointed as Chancellor of Adelaide University. He is also Adjunct Professor in Sustainability with the United States Centre at the University of Sydney, and a board member of the Global Change Institute at the University of Queensland. He chaired Low Carbon Australia for two years. Professor Hill studied and practised law before entering politics. He was recently made a Companion of the Order of Australia, in recognition of his leadership in the fields of defence, environment and international relations.
Robert Murray Hill AC was born on the 25th of September 1946. He is a retired Australian politician. He is also an Adjunct Professor in Sustainability and Co-Director of the Alliance 21 project at the United States Studies Centre at the University of Sydney. He is also a Commissioner of the Global Ocean Commission.
POLITICAL CAREER

Robert Hill was elected as a Senator for the State of South Australia, representing the Liberal Party, at the 1980 Federal election. He took his seat in the Senate on 1 July 1981, and served until 15 March 2006.

After the Liberals' defeat (their fourth consecutive loss) at the 1990 federal election, Hill became Leader of the Opposition in the Senate (1990–96), and held appointments during these years as Shadow Minister for Foreign Affairs, Defence, Public Administration and Education, Science and Training. In 1994 he was Chairman of the Senate's Policy Review Committee. In 1994 he was unsuccessful in seeking Liberal pre-selection for the House of Representatives seat of Boothby for the 1996 election. The pre-selected candidate was instead Andrew Southcott who went on to win the seat at the 1996 election and Hill remained in the Senate until his retirement in 2006.

Following the landslide election victory of the Liberals under John Howard in 1996, Hill became Leader of the Government in the Senate (1996–2006) and Minister for the Environment (1996–98). He was subsequently appointed Minister for the Environment and Heritage (1998–2001) and Minister for Defence (2001–06). On 1 January 2001, Hill was awarded the Centenary Medal for "service as Minister for Defence". In July 2005 the Coalition parties took control of the Senate and Hill became the first Government Leader in the Senate since 1981 to command a majority in the chamber and therefore making him Senate Majority Leader.

In January 2006, Hill announced his resignation from the Ministry and as Leader of the Government in the Senate. Hill did not specify any reason for his resignation, but said it was his decision to retire and he had not been pushed into it by the Prime Minister. However, one of The Age's senior journalists, Michelle Grattan, said on 31 March 2008 "Hill had not really wanted to leave Parliament, but John Howard was anxious to get him out."

On 15 March 2006, Hill resigned from the Senate and, two days later, was appointed Permanent Representative to the United Nations for Australia, replacing Caroline Millar. He served in that position until May 2009.

The diplomatic appointment made upon his retirement from Parliament was arranged by Foreign Minister and former Liberal leader Alexander Downer. Hill and Downer were factional rivals in their home state of South Australia and Downer was keen to see Hill out of Parliament as part of Downer's long-term plan to return to the Liberal Party leadership which never eventuated.

Hill's diplomatic appointment had been criticized by then Shadow Foreign Minister and future Prime Minister Kevin Rudd who had doubts about Hill's diplomatic skills and said that the Howard Government had used the diplomatic service as "a Liberal Party employment agency" and this had left diplomats without the capacity to realize their ambitions.

Prior to Robert Hill's retirement in 2006 he voted for legalizing the abortion drug RU486 which had been banned in Australia up until that point.

As Liberal Government Senate leader Hill had expressed the importance of the transition of the Prime Ministership from Howard to his Liberal deputy and heir apparent Peter Costello be smooth. It was a transition that never eventuated when Howard lost government at the 2007 election and Costello refused to succeed Howard as Liberal leader.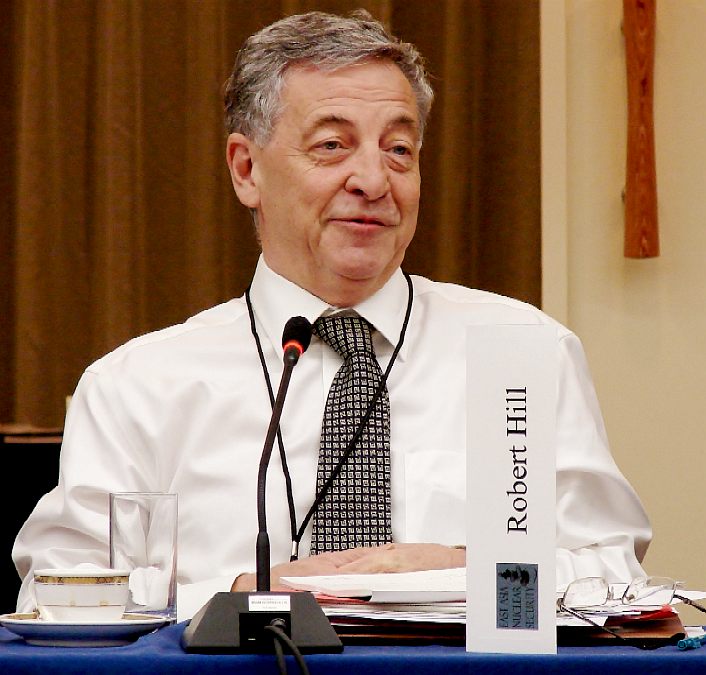 NAUTILUS - Hold that it is possible to build peace, create security, and restore sustainability for all people in our time. To this end, they convene a community of scholars and practitioners who conduct research on strategies to solve interconnected global problems. With networks of partners, we develop and apply these strategies to the linked threats of nuclear war, urban and energy insecurity, and climate change in the Asia Pacific region. We encourage civil society to strengthen regional governance of these common problems and shared solutions.
Strategic Objective I - To use and improve the tools of global problem solving and cooperative engagement focusing on reducing the danger of nuclear war.
Strategic Objective II - To create, use and share the improved tools of cooperative engagement with others engaged in global problem solving. These strategic tools are:
1. Information and Knowledge Systems, 2. Convening/Scenarios Methodology, 3. Collaborative Research and Analysis, 4. Increased Transparency and Accountability, 5. Human Understanding: Networking, Mapping, Training, Partnerships
ACADEMIC CAREER

Following his return to Australia in 2009, Hill accepted an appointment as Adjunct Professor in Sustainability at the US Studies Centre at the University of Sydney where he was involved in the development of the $2 million Dow Sustainability Program, funded by the US-based Dow Chemical Company Foundation, to bring together academic and policy experts from Australia and the US to develop action-oriented solutions to a range of sustainability challenges concerning energy, water, food and biodiversity that are technologically innovative, commercially scalable and politically viable. In July 2009, Hill was appointed by the Australian Government to head the Australian Carbon Trust.

The University of Adelaide announced on 9 April 2010 that Hill had been appointed Chancellor of the University. He completed the second of two two-year terms on 25 July 2014.

On 11 June 2012, Hill was named an Companion of the Order of Australia (AC) for "eminent service to the Parliament of Australia, particularly through the development of policy reform in the portfolios of the environment and defence, and to Australia's international relations through senior diplomatic representation to the United Nations."


FAMILY LIFE

Born in Adelaide, Hill studied at the University of Adelaide where he took degrees in Arts and Law, and later the London School of Economics, where he gained a Masters degree in Law. Robert Hill was a barrister and solicitor before entering politics. He was Vice-President of the Liberal Party in South Australia 1977–79 and President 1985–87. Like many South Australian Liberals, Hill belonged to the liberal or moderate wing of the Liberal Party. He was also a member of the Liberal Party's Federal Executive 1985–87 and 1990–93. Hill came from political family and his father, Murray Hill, was a prominent Liberal member of the South Australian Legislative Council from 1965 to 1988. His daughter, Victoria, is an Australian actress.

THE COMMISSIONERS
| | | | | | | |
| --- | --- | --- | --- | --- | --- | --- |
| | | | | | | |
| Carol Browner | Victor Chu | Obiageli Ezekwesili | Luiz Furlan | Vladimir Golitsyn | Robert Hill | Yoriko Kawaguchi |
| . | . | . | . | . | . | . |
| | | | | | | |
| Pascal Lamy | Paul Martin | Sri Mulyani Indrawati | Cristina Narbona | Ratan Tata | Foua Toloa | Andrés Velasco |
GOC OBJECTIVES
The objective of the Global Ocean Commission is to address the issues herein by formulating 'politically and technically feasible short, medium, and long-term recommendations. The work of the Commission thus focuses on four key tasks:

1. To examine key threats, challenges, and changes to the ocean in the 21st century, and identify priority issues. The Commission will utilise both scientific and economic evidence, drawing on existing reports from world experts, as well as commencing original research in partnership with other organisations.

2. To review the effectiveness of the existing legal framework for the high seas in meeting these challenges. According to the Commission, this means a special focus on the effectiveness of regional fisheries management organisations, particularly with respect to their accountability, transparency, and performance. It also means reviewing the governance gap on biodiversity conservation and analysing options for combatting IUU fishing. The Commission will also assess the suitability of the existing legal regime for regulating emerging uses of the global ocean.

3. To engage with interested parties around the world, as well as the general public. The Commission will connect with fishers, military and merchant navies, recreational sailors, seafood companies, conservation groups and the emergent seabed mining business. The Commission also aims to raise understanding among policymakers, economists and other groups, including the general public, of the implications should high seas issues not be reformed.

4. To make recommendations regarding 'cost-effective, pragmatic and politically feasible reforms of high seas governance, management and enforcement.' While the threat analysis will take account of external issues such as climate change, recommendations will focus on reforms that can be achieved by evolving high seas governance. Some may concern the fundamental legal framework under which the global ocean is governed, whereas others may focus on improving the effectiveness of existing mechanisms.

The Global Ocean Commission
Somerville College
Woodstock Road
Oxford, OX2 6HD
Tel: UK+44 (0) 1865 280747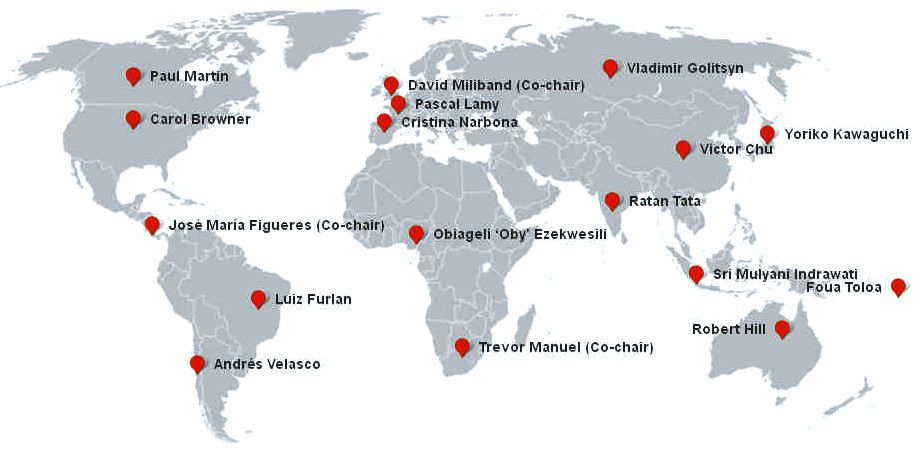 GLOBAL OCEAN COMMISSIONERS - A map of the world showing the location of the GOC's commissioners.
GLOBAL OCEAN COMMISSIONERS - CO-CHAIRS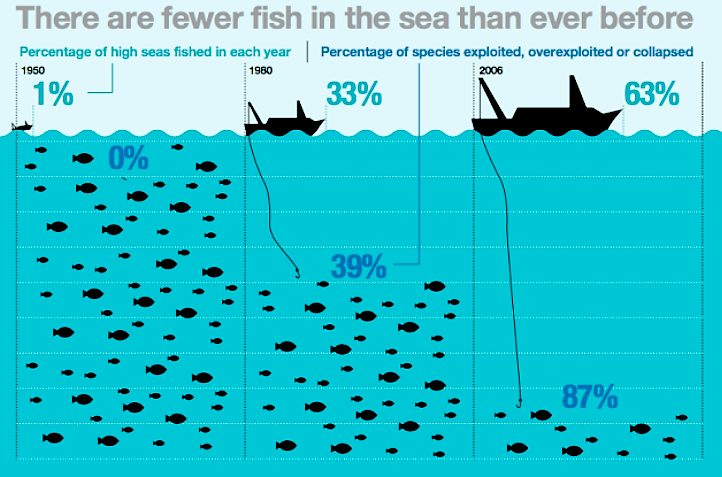 RICH COUNTRIES PAY ZOMBIES $5 BILLION A YEAR IN SUBSIDIES TO PLUNDER THE OCEANS - If industrial fleets weren't subsidized, they'd go out of business. Small-scale fisheries that don't need enormous amounts of fuel to catch huge hauls of fish - i.e. the ones using sustainable fishing practices - would then in theory thrive. Many of these fishermen are in poor countries whose governments can't afford to compete in the industrial looting.

Worse, there's a double-whammy zombie effect going on in the fishing context. Government subsidies to highly destructive industrial fleets don't just deprive small-scale fishermen of finite taxpayer dollars and edge them out of the market with cheap prices; they also rob them of current and long-term fishing stocks.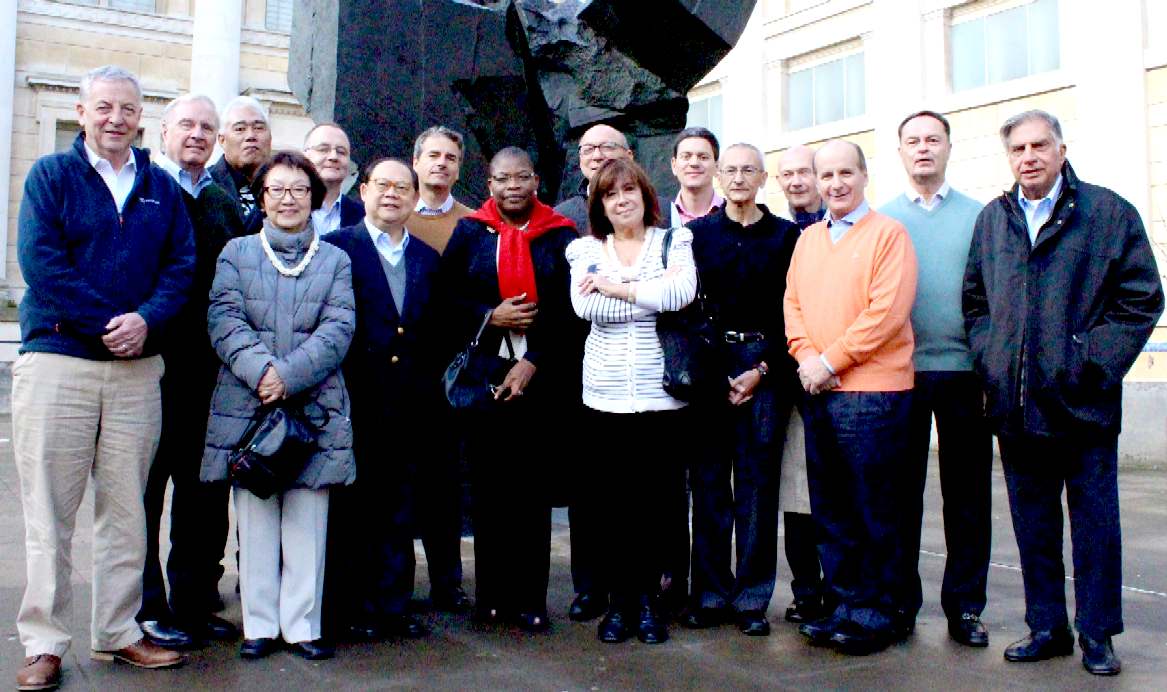 The Global Ocean Commission at its meeting in Oxford, 21st-23rd November 2013 (left to right) Robert Hill, Paul Martin, Foua Toloa, Yoriko Kawaguchi, Simon Reddy (Executive Secretary), Victor Chu, Andrés Velasco, Obiageli Ezekwesili, Trevor Manuel (Co-chair), Cristina Narbona, David Miliband (Co-chair), John Podesta, Pascal Lamy, José María Figueres (Co-chair), Vladimir Golitsyn, Ratan Tata.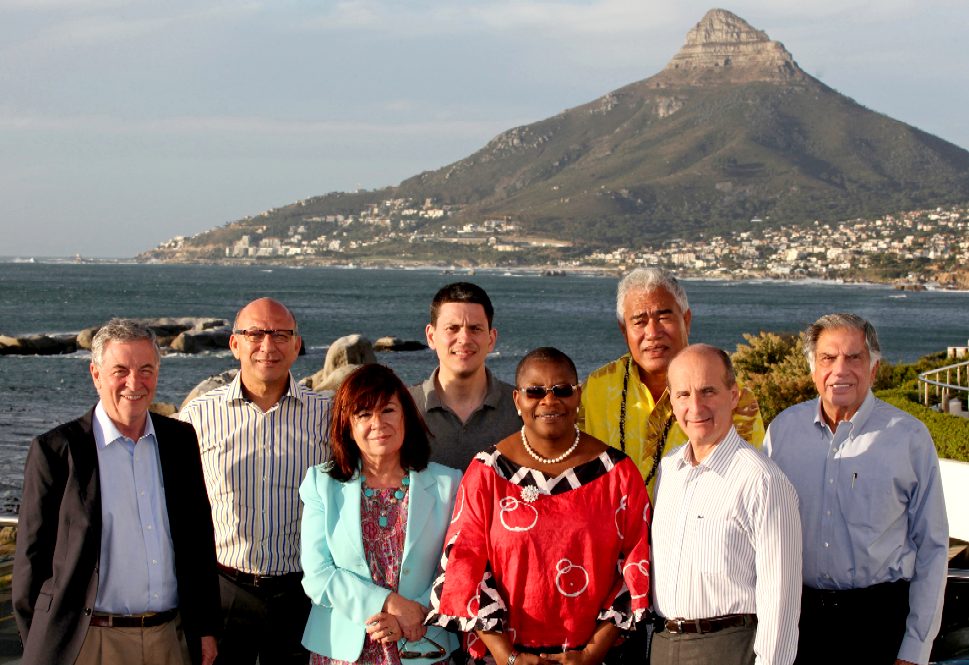 Members of the Global Ocean Commission at their inaugural meeting in Cape
Town, South Africa. Left to right: Robert Hill, Trevor Manuel (Co-chair), Cristina Narbona, David Miliband (Co-chair), Obiageli Ezekwesili, Foua Toloa, José María Figueres (Co-chair), Sir Ratan Tata.

LINKS & REFERENCE
Wikipedia Robert_Hill_Australian_politician
Nautilus projects Korea Japan workshops East Asia nuclear security workshop
Eco Generation news Robert_Hill_to_present_at_ecogen_2010
Telegraph US-royal-tour-Prince-of-Wales-makes-plea-for-cleaner-oceans
Prince-of-Wales-speech-hrh-the-prince-of-wales-event-titled-plastic-the-marine-environment-scaling
Daily Mail Charles-horrified-toll-plastic-dumped-sea-Prince-Wales-plea-solve-issue-sake-future-generations
The Guardian environment 2015 March 19 Prince-charles-calls-for-end-to-dumping-of-plastic-in-worlds-oceans
http://abcnews.go.com/US/wireStory/prince-charles-speaks-dangers-plastic-waste-oceans-29736519
National Geographic news 2014 June Global-ocean-commission-report-high-seas-fishing-environment
Virgin leadership and advocacy introducing global ocean commission
Wikipedia European_Commissioner_for_Maritime_Affairs_and_Fisheries
Reuters 2013 US oceans new global group to clean up
National Geographic 2014 global-ocean-commission-report-high-seas-fishing-environment
http://www.globaloceancommission.org/the-commissioners/robert-hill/
http://nautilus.org/about/vision-and-mission/
http://www.dragomanglobal.com/our-people/
http://ecogeneration.com.au/news/robert_hill_to_present_at_ecogen_2010/042310/
http://en.wikipedia.org/wiki/Robert_Hill_%28Australian_politician%29
http://en.wikipedia.org/wiki/European_Commissioner_for_Maritime_Affairs_and_Fisheries
http://www.virgin.com/unite/leadership-and-advocacy/introducing-global-ocean-commission
http://www.scienceifl.com/ocean-plastic-pollution.htm
http://abcnews.go.com/US/wireStory/prince-charles-speaks-dangers-plastic-waste-oceans-29736519
http://www.globaloceancommission.org/
http://time.com/3750375/environment-prince-charles-oceans/
http://news.nationalgeographic.com/2015/03/150318-prince-charles-oceans-trash-plastic-britain/
http://en.wikipedia.org/wiki/Global_Ocean_Commission
http://www.itv.com/news/2015-03-18/prince-charles-makes-impassioned-plea-for-oceans-clean-up/
ACID OCEANS - ARCTIC - ATLANTIC - BALTIC - BERING - CARIBBEAN - CORAL - EAST CHINA - ENGLISH CH
GULF MEXICO - GOC - INDIAN - MEDITERRANEAN - NORTH SEA - PACIFIC - PERSIAN GULF - SEA JAPAN - STH CHINA
PLANKTON - PLASTIC - PLASTIC OCEANS - UNCLOS - UNEP - WWF