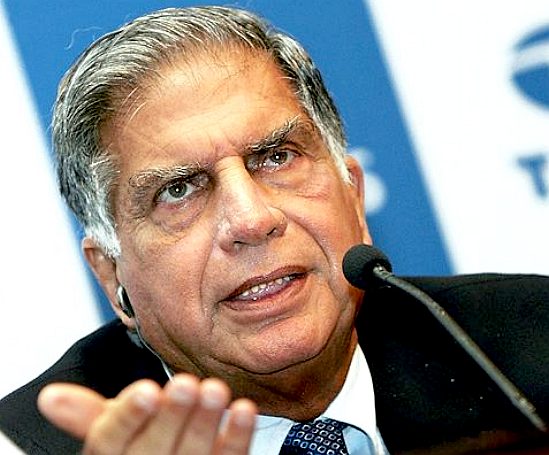 Sir Ratan Tata
Ratan Naval Tata was born on the 28th of December 1937. He is an Indian businessman and chairman Emeritus of Tata Sons. He was the chairman of Tata Group, a Mumbai-based conglomerate from 1991–2012. He stepped down as the chairman of Tata Group, on 28 December 2012 but continues as the chairman of the Group's charitable trusts.

He is currently the chairman Emeritus of Tata Sons. He continues to serve as the chairman of the main two Tata trusts Sir Dorabji Tata Trust and Sir Ratan Tata Trust and their allied Trusts, which together hold 66% of shares in the group holding company Tata Sons.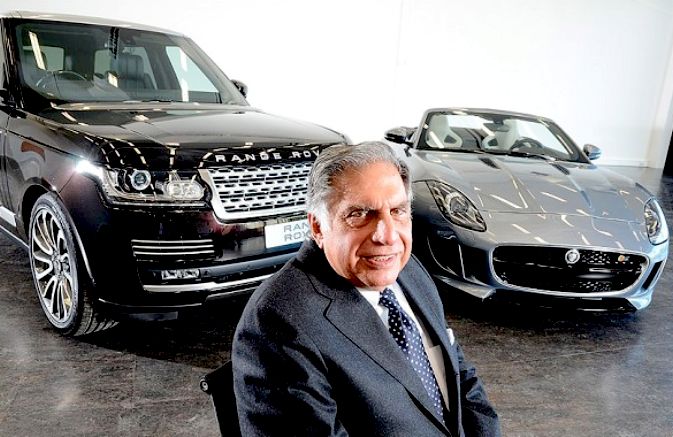 TELEGRAPH DEC 2012 - Since assuming control of the family company in 1991, Tata has transformed Tata Sons from an underperforming Indian conglomerate into a global brand and Britain's biggest manufacturing empire. It has now bought steel maker Corus and the luxury car group Jaguar Land Rover.

"When we came there was a great deal of apprehension that we were going to close down plants, that we were going to move manufacturing to India," says Tata during one of his final visits to Jaguar Land Rover's offices in Gaydon, Warwickshire.

"My first statements to the company were that we were not going to do anything in terms of forcing any kind of fusion towards what we were doing in India and that we wanted Jaguar to be responsible for its own destiny.

"At first, there was almost an inability to deal with their destiny. Somebody else had done it, somebody else had handled the cash flow, somebody else had decided you would have this product, not that product.

"I think the general change that I see in JLR now is that everybody has enthusiasm about what they are doing and has confidence and faith in the direction of the company. We are not the magicians, they are the magicians."

He does, however, have a warning about the attractiveness of the UK for investment. "The economic situation, the high cost of undertaking manufacturing, the supply chain – which is by the way dying out also as manufacturing undergoes hardship – make the UK not the first place you would look at to make a manufacturing investment," he is quoted as saying. From the leading investor in UK manufacturing, that is a sobering assessment of the country's hopes of rebalancing the economy. It is also a view that Tata has impressed on David Cameron, given that the Indian businessman is a member of the Prime Minister's Business Advisory Group.

"There has not been a conscious view of re-energising manufacturing," says Tata. "So, in some form, someone has to wave the Union Jack in the area of manufacturing."

"What I have said to Cyrus and what I have said publicly is that one of the most important things is that as a group we have built ourselves on ethics and values, and that is something that we should cherish," says Tata.

"Other than that, I think Cyrus is going to and should be his own man in terms of what he does and how he structures the organisation. He has certain views on what to do. He is much more finance-orientated than I have been. I have been much more intuitive in that sense, it is technical excitement or something that has perhaps driven me. "So, my advice to Cyrus, is to do the right thing as he sees it."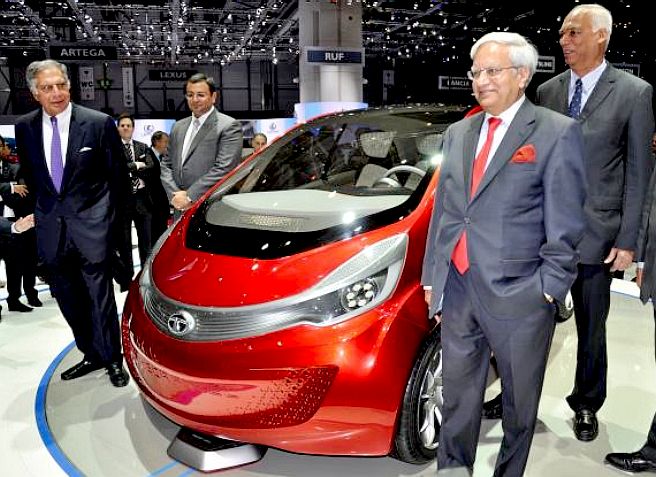 GENEVA 2011 TATA MEGAPIXEL EV - Combines a lithium ion phosphate battery and an on-board petrol engine generator for recharging on the move. The vehicle offers a range of up to 900 km (with a single tank of fuel), path-breaking CO2 emission of just 22 gm/km and fuel economy of 100 km/litre (under battery only power). The Megapixel takes the 'Zero Turn' drive system of Tata Pixel to another level of manoeuvrability. The car's electric drive has four independent electric motors, one at each wheel. When parking, the electric hub motors drive the wheels in opposite directions, while the front wheels are turned at an acute angle, enabling an exceptional 2.8 metre turning radius.

The at-home charging system is an as innovative induction charging system. The charging begins with the car being parked over the induction pad. Tata Megapixel's floating C-pillar and wrap-around belt line finisher integrate perfectly with the body surface. A double-sliding door system and the car's B-pillar less design make entry/exit easy, besides enhancing visibility. The vehicle accommodates four adults with luggage. PHOTO: Tata Motors Chairman - Ratan Tata, Deputy Chairman Cyrus P. Mistry, Vice Chairman Ravi Kant, and Managing Director (India Operations) P. M. Telang at the Geneva Motor Show.
Ratan Tata has served in various capacities in organisations in India and abroad. He is a member of the Prime Minister's Council on Trade and Industry and the National Manufacturing Competitiveness Council. He is on the jury panel of Pritzker Architecture Prize – considered to be one of the world's premier architecture prizes.

Ratan Tata is a director on the boards of Alcoa Inc., Mondelez International and Board of Governors of the East-West Center. He is also a member of the Board of Trustees of University of Southern California, Harvard Business School Board of Dean's Advisors, X Prize and Cornell University.

Ratan Tata is also a member of the Harvard Business School India Advisory Board (IAB) since 2006, and previously a member of the Harvard Business School Asia-Pacific Advisory Board (APAB) 2001-2006.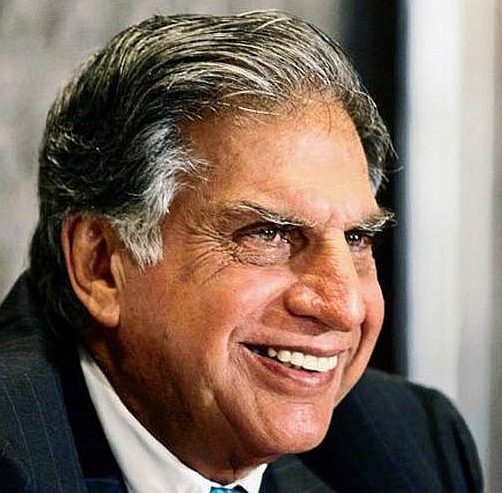 MUMBAI HUMANITARIAN NOVEMBER 2008 - Ratan Tata personally visited the families of all the 80 employees who in some manner – either through injury or getting killed – were affected. The dependents of the employees were flown from outside Mumbai to Mumbai and taken care off in terms of ensuring mental assurance and peace. They were all accommodated in Hotel President for 3 weeks.

Ratan Tata himself asked the families and dependents – as to what they wanted him to do. In a record time of 20 days, a new trust was created by the Tatas for the purpose of relief of employees. A 4 year old granddaughter of a vendor got 4 bullets in her and only one was removed in the Government hospital. She was taken to Bombay hospital by the Tatas until her to fully recover her. On a lesser level, new hand carts were provided to several vendors who lost their carts. Tata then took responsibility of the life education of 46 children of the victims of the terror - and in all this, Ratan kept a low profile.
RATAN TATA HISTORY
Ratan began his career in the Tata group in 1961. He initially started on the shop floor of Tata Steel, shovelling limestone and handling the blast furnace. In 1991, J. R. D. Tata stepped down as Chairman of Tata Sons, naming Ratan as his successor.

Under his stewardship, Tata Tea acquired Tetley, Tata Motors acquired Jaguar Land Rover and Tata Steel acquired Corus, which have turned Tata from a largely India-centric company into a global business, with 65% revenues coming from abroad. He was instrumental in the development of Tata Nano, largely dubbed as the world's cheapest passenger car.

Ratan Tata retired from all executive responsibility in the Tata group on 28 December 2012, his 75th birthday, and he was succeeded by Cyrus Mistry, the 44-year-old son of Pallonji Mistry and managing director of Shapoorji Pallonji Group.

Ratan Tata has retired but he is still seen working. Recently, he invested his personal savings in Snapdeal- one of India's leading e-commerce website. Mr Tata is working closely with Jaguar Land Rover and some of the new models launched by the British marquee have several inputs from Mr Tata. In April 2015, it was reported that Tata had acquired a stake in Chinese smartphone startup Xiaomi, with specific terms undisclosed.
Ratan is the son of Naval Tata, who had been adopted from the family of a distant relative by Navajbai Tata after the death of her husband, Ratanji Tata. Ratan Tata's parents Naval and Sonoo separated in the mid-1940s when Ratan was ten and his younger brother, Jimmy, was seven years old. Both he and his brother were raised by their grandmother Navajbai Tata. Ratan also has a step brother Noel Tata from Naval Tata's second marriage to Simone Tata.

Ratan began his schooling in Mumbai at the Campion School and finished his secondary education at the Cathedral and John Connon School. He completed his B.S. in architecture with structural engineering from Cornell University in 1962, and the Advanced Management Program from Harvard Business School in 1975. Tata is a member of the Alpha Sigma Phi fraternity.
THE COMMISSIONERS
| | | | | | | |
| --- | --- | --- | --- | --- | --- | --- |
| | | | | | | |
| Carol Browner | Victor Chu | Obiageli Ezekwesili | Luiz Furlan | Vladimir Golitsyn | Robert Hill | Yoriko Kawaguchi |
| . | . | . | . | . | . | . |
| | | | | | | |
| Pascal Lamy | Paul Martin | Sri Mulyani Indrawati | Cristina Narbona | Ratan Tata | Foua Toloa | Andrés Velasco |
GOC OBJECTIVES
The objective of the Global Ocean Commission is to address the issues herein by formulating 'politically and technically feasible short, medium, and long-term recommendations. The work of the Commission thus focuses on four key tasks:

1. To examine key threats, challenges, and changes to the ocean in the 21st century, and identify priority issues. The Commission will utilise both scientific and economic evidence, drawing on existing reports from world experts, as well as commencing original research in partnership with other organisations.

2. To review the effectiveness of the existing legal framework for the high seas in meeting these challenges. According to the Commission, this means a special focus on the effectiveness of regional fisheries management organisations, particularly with respect to their accountability, transparency, and performance. It also means reviewing the governance gap on biodiversity conservation and analysing options for combatting IUU fishing. The Commission will also assess the suitability of the existing legal regime for regulating emerging uses of the global ocean.

3. To engage with interested parties around the world, as well as the general public. The Commission will connect with fishers, military and merchant navies, recreational sailors, seafood companies, conservation groups and the emergent seabed mining business. The Commission also aims to raise understanding among policymakers, economists and other groups, including the general public, of the implications should high seas issues not be reformed.

4. To make recommendations regarding 'cost-effective, pragmatic and politically feasible reforms of high seas governance, management and enforcement.' While the threat analysis will take account of external issues such as climate change, recommendations will focus on reforms that can be achieved by evolving high seas governance. Some may concern the fundamental legal framework under which the global ocean is governed, whereas others may focus on improving the effectiveness of existing mechanisms.

The Global Ocean Commission
Somerville College
Woodstock Road
Oxford, OX2 6HD
Tel: UK+44 (0) 1865 280747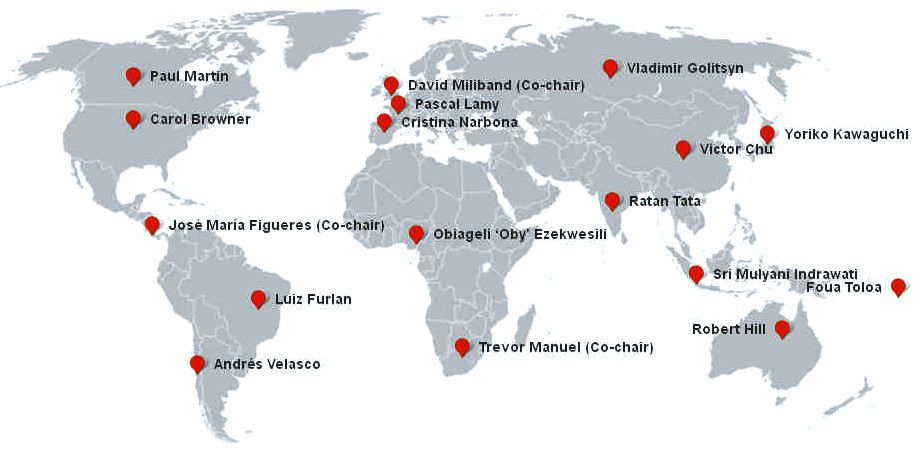 GLOBAL OCEAN COMMISSIONERS - A map of the world showing the location of the GOC's commissioners.
GLOBAL OCEAN COMMISSIONERS - CO-CHAIRS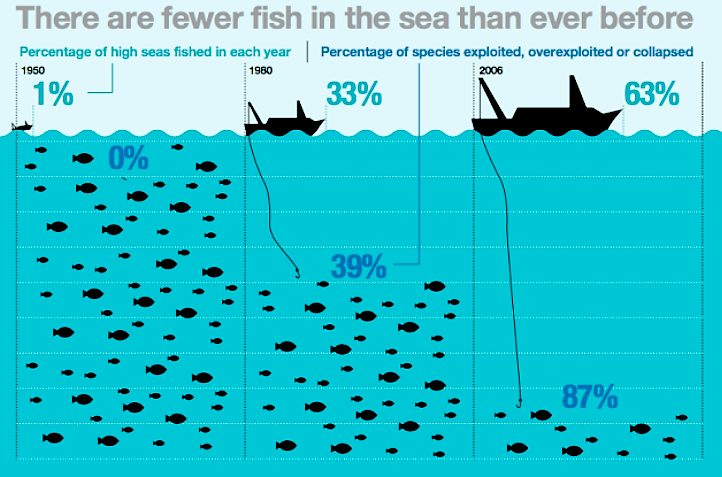 RICH COUNTRIES PAY ZOMBIES $5 BILLION A YEAR IN SUBSIDIES TO PLUNDER THE OCEANS - If industrial fleets weren't subsidized, they'd go out of business. Small-scale fisheries that don't need enormous amounts of fuel to catch huge hauls of fish - i.e. the ones using sustainable fishing practices - would then in theory thrive. Many of these fishermen are in poor countries whose governments can't afford to compete in the industrial looting. Worse, there's a double-whammy zombie effect going on in the fishing context. Government subsidies to highly destructive industrial fleets don't just deprive small-scale fishermen of finite taxpayer dollars and edge them out of the market with cheap prices; they also rob them of current and long-term fishing stocks.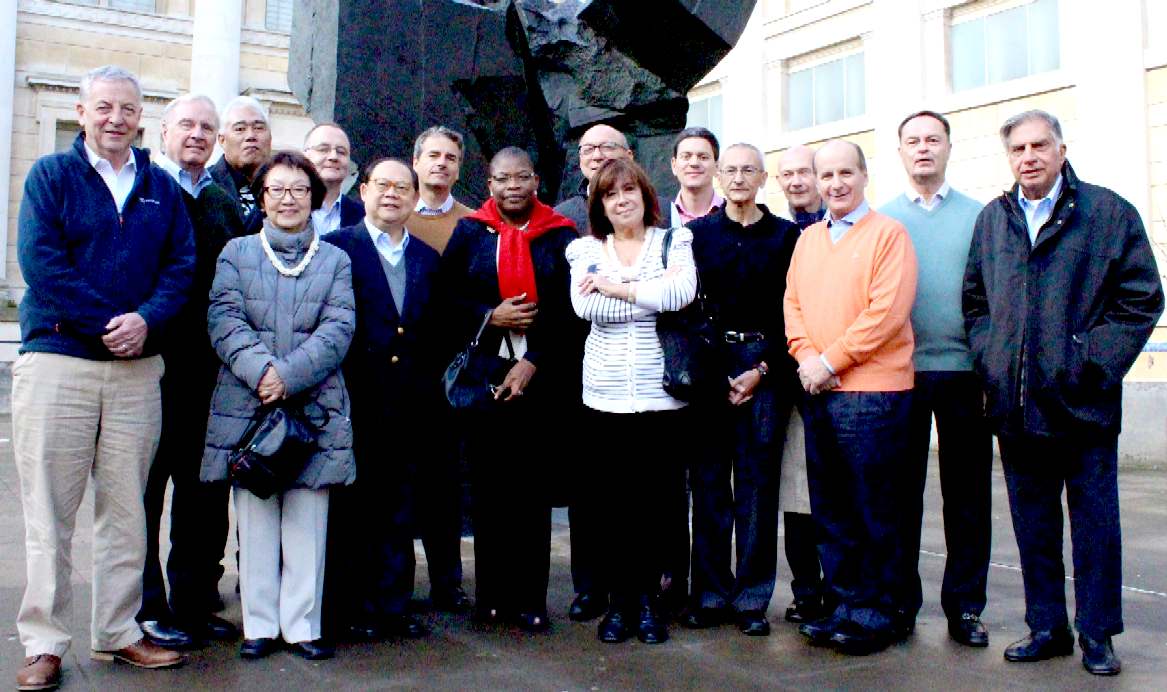 The Global Ocean Commission at its meeting in Oxford, 21st-23rd November 2013 (left to right) Robert Hill, Paul Martin, Foua Toloa, Yoriko Kawaguchi, Simon Reddy (Executive Secretary), Victor Chu, Andrés Velasco, Obiageli Ezekwesili, Trevor Manuel (Co-chair), Cristina Narbona, David Miliband (Co-chair), John Podesta, Pascal Lamy, José María Figueres (Co-chair), Vladimir Golitsyn, Ratan Tata.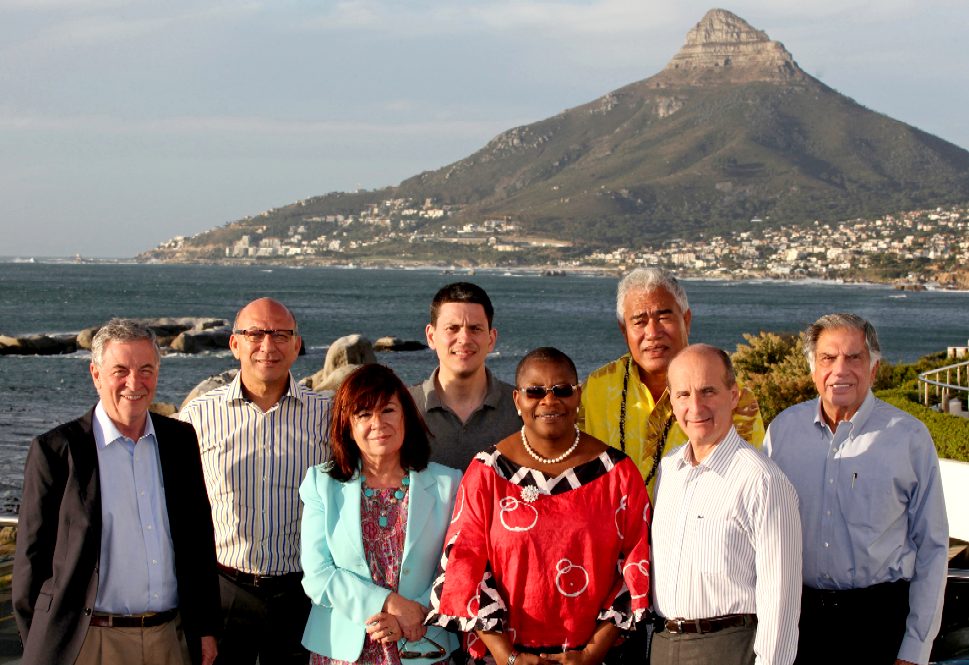 Members of the Global Ocean Commission at their inaugural meeting in Cape
Town, South Africa. Left to right: Robert Hill, Trevor Manuel (Co-chair), Cristina Narbona, David Miliband (Co-chair), Obiageli Ezekwesili, Foua Toloa, José María Figueres (Co-chair), Sir Ratan Tata.

LINKS & REFERENCE
Telegraph Ratan Tata drives ahead with Jaguar Land Rover growth
Edcatiitd wordpress 2010 what-ratan-tata-did-for-the-mumbai-victims
Economic Times Indiatimes Ratan Tata
Bloomberg research stocks people Ratan Tata
Tata about us articles inside Ratan Tata
Telegraph US-royal-tour-Prince-of-Wales-makes-plea-for-cleaner-oceans
Prince-of-Wales-speech-hrh-the-prince-of-wales-event-titled-plastic-the-marine-environment-scaling
Daily Mail Charles-horrified-toll-plastic-dumped-sea-Prince-Wales-plea-solve-issue-sake-future-generations
The Guardian environment 2015 March 19 Prince-charles-calls-for-end-to-dumping-of-plastic-in-worlds-oceans
National Geographic news 2014 June Global-ocean-commission-report-high-seas-fishing-environment
Wikipedia European_Commissioner_for_Maritime_Affairs_and_Fisheries
National Geographic 2014 global-ocean-commission-report-high-seas-fishing-environment
http://en.wikipedia.org/wiki/2008_Mumbai_attacks
https://www.alcoa.com/
http://en.wikipedia.org/wiki/European_Commissioner_for_Maritime_Affairs_and_Fisheries
http://www.virgin.com/unite/leadership-and-advocacy/introducing-global-ocean-commission
http://www.scienceifl.com/ocean-plastic-pollution.htm
http://abcnews.go.com/US/wireStory/prince-charles-speaks-dangers-plastic-waste-oceans-29736519
http://www.globaloceancommission.org/
http://time.com/3750375/environment-prince-charles-oceans/
http://news.nationalgeographic.com/2015/03/150318-prince-charles-oceans-trash-plastic-britain/
http://en.wikipedia.org/wiki/Global_Ocean_Commission
http://www.itv.com/news/2015-03-18/prince-charles-makes-impassioned-plea-for-oceans-clean-up/
https://edcatiitd.wordpress.com/2010/09/17/what-ratan-tata-did-for-the-mumbai-victims/
http://economictimes.indiatimes.com/topic/ratan-tata
http://www.srtt.org/
https://twitter.com/rntata2000
http://www.bloomberg.com/research/stocks/people/person.asp?personId=3734075&ticker=TTM
http://www.tata.com/aboutus/articlesinside/Ratan-N-Tata
http://en.wikipedia.org/wiki/Ratan_Tata
ACID OCEANS - ARCTIC - ATLANTIC - BALTIC - BERING - CARIBBEAN - CORAL - EAST CHINA - ENGLISH CH
GULF MEXICO - GOC - INDIAN - MEDITERRANEAN - NORTH SEA - PACIFIC - PERSIAN GULF - SEA JAPAN - STH CHINA
PLANKTON - PLASTIC - PLASTIC OCEANS - UNCLOS - UNEP - WWF