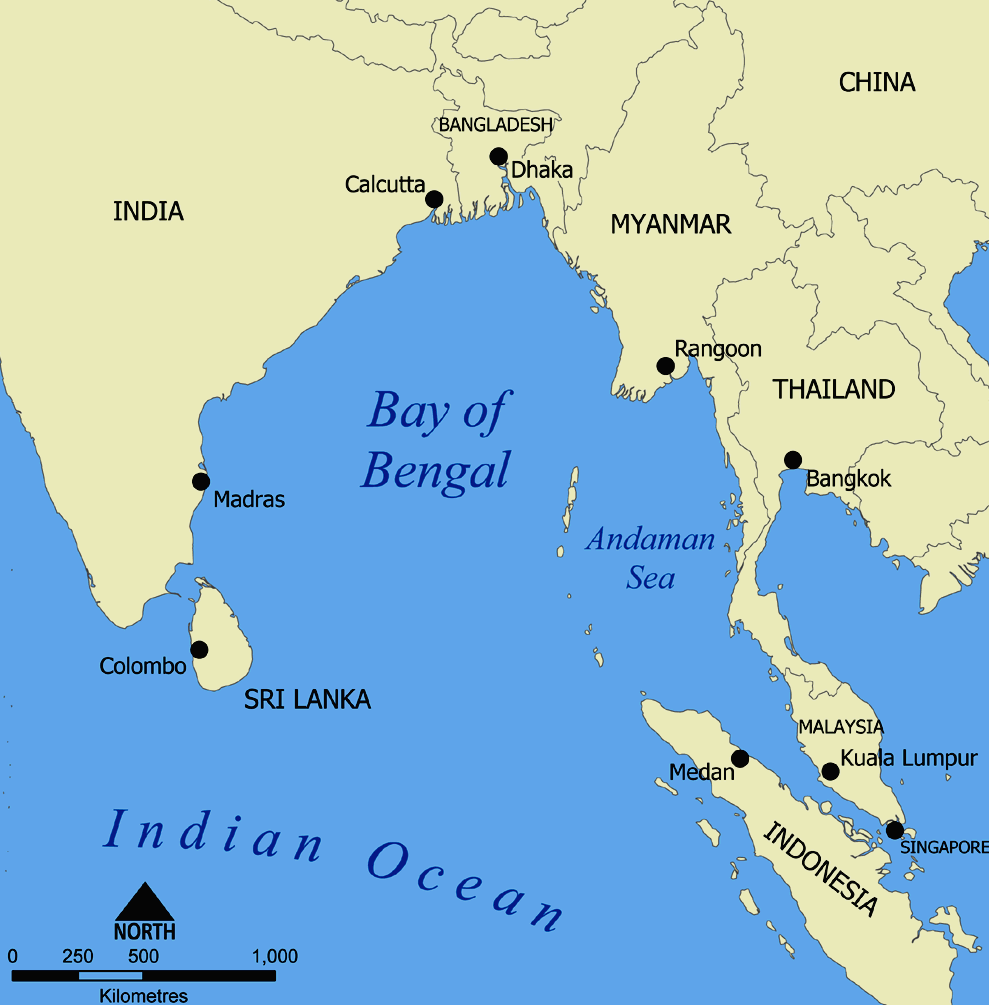 Map of the Bay of Bengal
The Bay of Bengal, the largest bay in the world, forms the northeastern part of the Indian Ocean. Roughly triangular in shape, it is bordered mostly by India and Sri Lanka to the west, Bangladesh to the north, and Burma (Myanmar) and the Andaman and Nicobar Islands to the east.

The Bay of Bengal occupies an area of 2,172,000 km². A number of large rivers – the Ganges and its distributaries such as Padma and Hooghly, the Brahmaputra and its distributaries such as Jamuna and Meghna, other rivers such as Irrawaddy River, Godavari, Mahanadi, Krishna and Kaveri flow into the Bay of Bengal. Among the important ports are Chennai, Chittagong, Kolkata, Mongla, Paradip, Tuticorin, Visakhapatnam and Yangon.
The Bay of Bengal is centrally located in the region from the Middle East to the Philippine Sea. Even from aviations strategic aerial position it lies at the centre. It lies at dead center of two huge economic blocks, the SAARC and ASEAN. China's southern landlocked region in the north, and major sea ports of Bangladesh and India. Both rising economically, though Bangladesh with a chaotic democracy. Bangladesh, China and India has forged naval cooperation agreements with Malaysia, Thailand and Indonesia to increase its cooperation in checking terrorism in the high seas.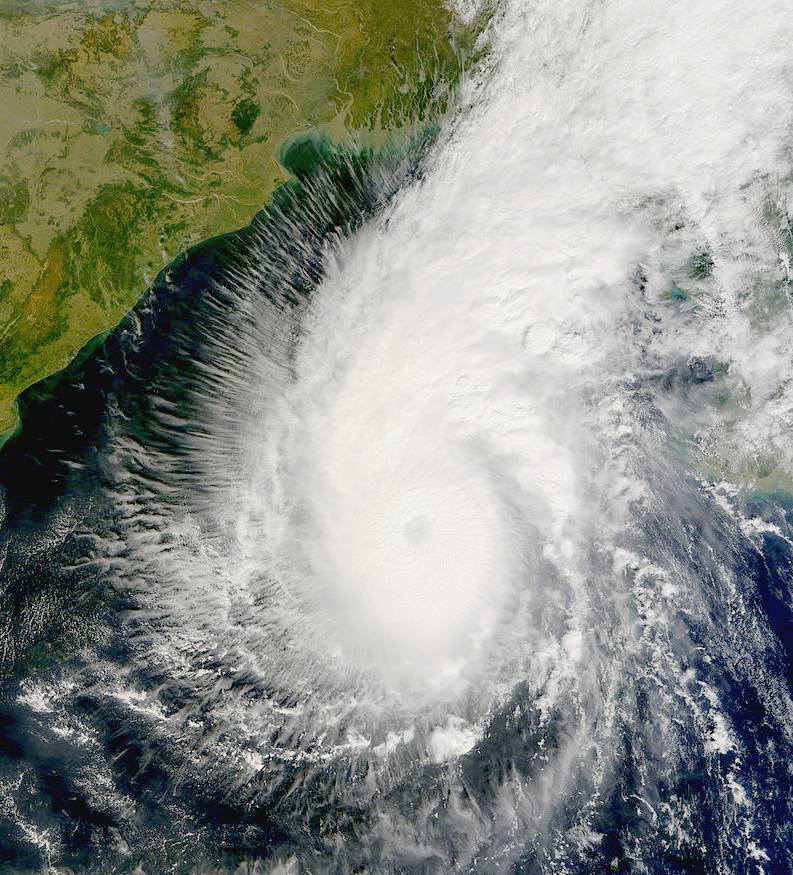 The Bay of Bengal, Cyclone Sidr
The Bay of Bengal is strategically crucial for India since it is a natural extension of its sphere of influence. Secondly because of the presence of outlying islands, namely Andaman islands and Nicobar islands and most importantly several major ports such as Kolkata, Chennai, Visakhapatnam, and Tuticorin along its coast with the Bay of Bengal.

China has recently made some efforts to project influence into the region through tie-ups with Myanmar and Bangladesh. The United States held several major exercises with Bangladesh, India, Malaysia, Singapore and Thailand. The largest ever wargame in Bay of Bengal, known as Malabar 2007, was held in 2007 and naval warships from US, Singapore, Japan and Australia took part in it. India, was also a participant. Large deposits of natural gas also incited a serious up for grabs urgency by India. Disputes over rights of some oil and gas blocks have caused brief diplomatic spats between Myanmar and India with Bangladesh.

The disputed maritime boundary between Bangladesh and Myanmar has twice resulted in military tensions, in 2008 and 2009. Bangladesh is currently pursuing a settlement with Myanmar and India to the boundary dispute through the International Tribunal on the Law of the Sea.

It has been argued that the conceptual division of the Bay of Bengal region between South Asia and Southeast Asia may no longer be appropriate and that the rise of India as a major power may lead to a new mental mapping of the Bay of Bengal as a coherent strategic region.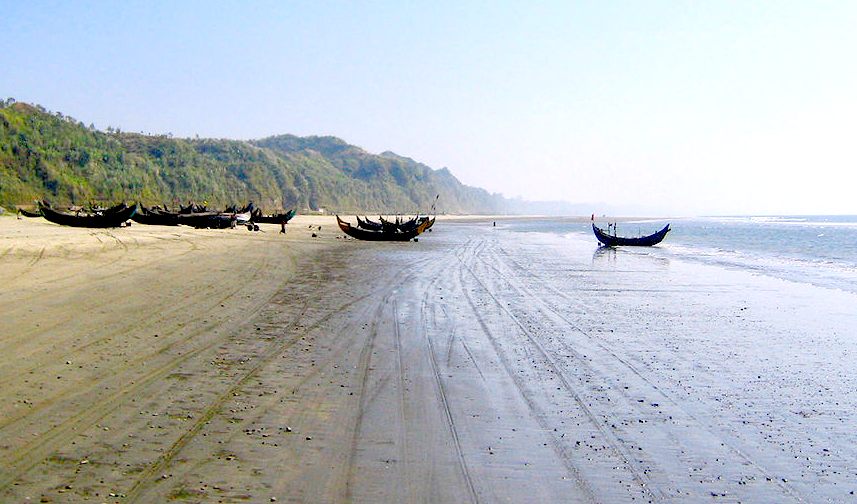 POLLUTION

The Asian brown cloud, a layer of air pollution that covers much of South Asia and the Indian Ocean every year between January and March, and possibly also during earlier and later months, hangs over the Bay of Bengal. It is considered to be a combination of vehicle exhaust, smoke from cooking fires, and industrial discharges.

The major transboundary issues relating to pollution and water quality are: sewage-borne pathogens and organic load; solid waste/marine litter; increasing nutrient inputs; oil pollution; persistent organic pollutants (POPs) and persistent toxic substances (PTSs); sedimentation; and heavy metals. The transboundary nature of these issues are: discharge of untreated/partially treated sewage being a common problem. Sewage and organic discharges from the Ganges-Brahmaputra-Meghna River are likely to be transboundary. Plastics and derelict fishing gear can be transported long distances across national boundaries. High nutrient discharges from rivers could intensify largescale hypoxia. Atmospheric transport of nutrients is inherently transboundary. Differences between countries with regard to regulation and enforcement of shipping discharges may drive discharges across boundaries. Tar balls are transported long distances. POPs/PTSs and mercury, including organo-mercury, undergo long-range transport. Sedimentation and most heavy metal contamination tend to be localized and lack a strong transboundary dimension. The main causes of the issues are: increasing coastal population density and urbanization; higher consumption, resulting in more waste generated per person; insufficient funds allocated to waste management; migration of industry into BOBLME countries; and proliferation of small industries.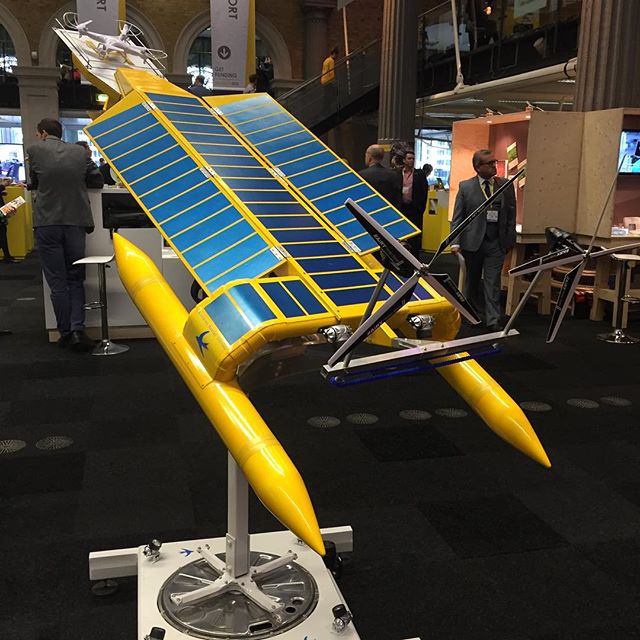 FUTURE OF RIVER CLEANING - A modification of the SeaVax could cleanse river water without adding to climate change. This clean-tech could improve social conditions in India manifold, by targeting hotspots and the mouth of the great river, before the water exits into the Bay of Bengal.
OVER FISHING

Fisheries production in the Bay of Bengal is six million tonnes per year, more than seven percent of the world's catch. The major transboundary issues relating to shared fisheries are: a decline in the overall availability of fish resources; changes in species composition of catches; the high proportion of juvenile fish in the catch; and changes in marine biodiversity, especially through loss of vulnerable and endangered species. The transboundary nature of these issues are: that many fish stocks are shared between BOBLME countries through the transboundary migration of fish, or larvae. Fishing overlaps national jurisdictions, both legally and illegally – overcapacity and overfishing in one location forces a migration of fishers and vessels to other locations. All countries (to a greater or lesser degree) are experiencing difficulties in implementing fisheries management, especially the ecosystem approach to fisheries. Bay of Bengal countries contribute significantly to the global problem of loss of vulnerable and endangered species. The main causes of the issues are: open access to fishing grounds; Government emphasis on increasing fish catches; inappropriate government subsidies provided to fishers; increasing fishing effort, especially from trawlers and purse seiners; high consumer demand for fish, including for seed and fishmeal for aquaculture; ineffective fisheries management; and illegal and destructive fishing.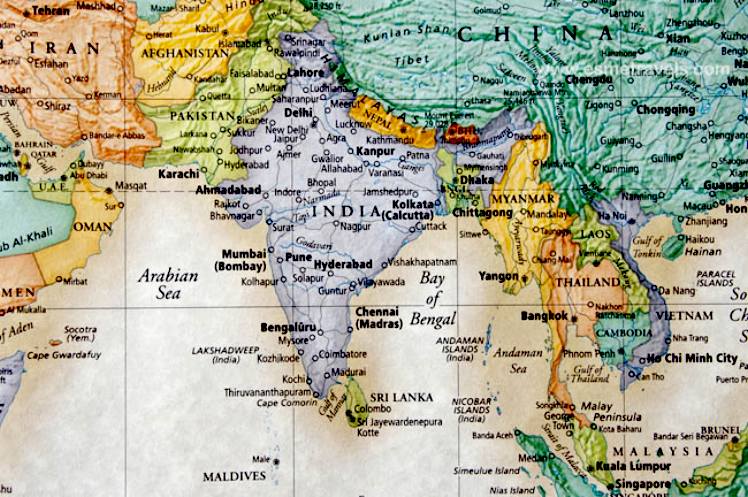 TRADITIONAL MAP - Showing the Arabian Sea and Bay of Bengal, both of which lead to the Indian Ocean.
JULY 2015 - OIL PRODUCTION BG INDIA BOMBAY MUKTA B PLATFORM
BG India achieved first oil production from Mukta-B (MB), a four-legged wellhead unmanned platform in the offshore Bombay basin, on July 1.

BG has a 30% interest in the Panna-Mukta oil and gas fields alongside its partners, ONGC and Reliance Industries Ltd.

The MB and MA pipelines have also been successfully completed as part of the project, enabling a restart of production from the MA platform, which had been shut-in due to pipeline integrity issues for the last 2.5 years.

The project clocked more than 2 million "LTI free" man-hours and has several firsts to its credit, including the use of green technology involving hybrid solar panels and wind turbines for self-sufficient power, remote monitoring facilities for process optimization and VOIP protocol for better communication.

Shaleen Sharma, president and managing director of BG India, said, "This is a significant milestone for BG India and the culmination of an integrated team effort by all functions and contract parties."

Incremental development of the existing fields, via well intervention and infill drilling campaigns, as well as evaluating new projects and further development opportunities, is being planned.

BG India has upstream interests in three offshore producing fields, two exploration licenses and has contracted long-term LNG sales into the fast growing Indian gas market.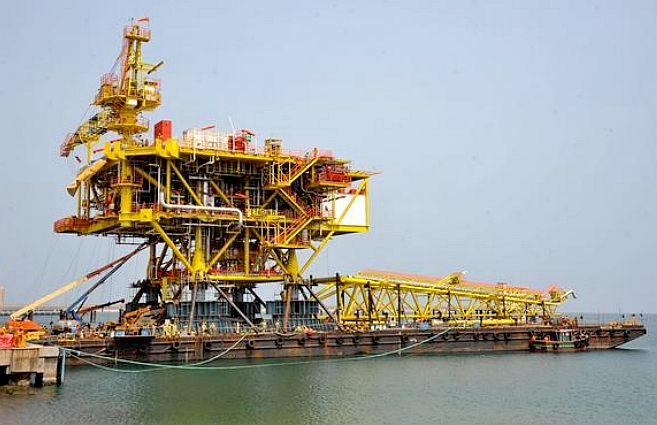 NIKKEI ASIAN REVEIW - MAY 29 2015

Indian companies, though busy with local projects, are starting to aggressively take part in overseas ventures to pave the way for their future growth.

Competition is intensifying between China and India, which are battling over security strategies in the area, to stake a claim to the projects. However, cooperation could end up serving as the diplomatic linchpin between the two powers.

In mid-March, Indian Oil, India's state-owned oil and gas company, agreed to partner with Ceylon Petroleum, the national oil and gas corporation of Sri Lanka, to develop an oil storage facility in Trincomalee in northern Sri Lanka.

The deal was announced in a trumped-up manner not by the companies but by Indian Prime Minister Narendra Modi during his visit to Sri Lanka -- the first by an Indian premier in 28 years on a bilateral basis.

Modi told the Sri Lankan public that the two countries are partners in the Indian Ocean area: "I often say that the course of [the] 21st century would be determined by the currents of the Indian Ocean." He added, "Let us get together to harness the vast potential of the Ocean Economy."

Modi said investment from India will improve and expand infrastructure in Sri Lanka. He also declared that India will commit $318 million to Sri Lanka's railway sector and welcomed progress in joint projects by NPTC, India's state-run thermal power utility, and Sri Lankan companies to build electric generation plants in the northeastern region of the island.

Investment in infrastructure is increasing along with the growth of emerging economies surrounding the Indian Ocean. Investment by private companies totaled $56 billion in 2013, more than trebling over the past 20 years, according to the World Bank.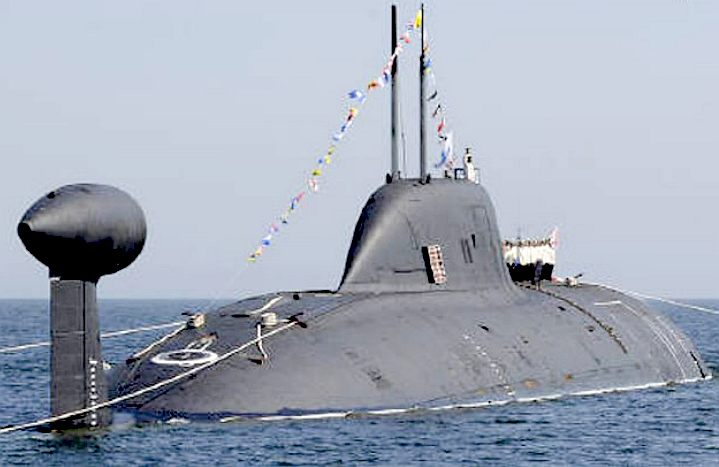 JOINT VENTURE - Indian and American maritime surveillance aircraft along with their frontline warships will take part in the week-long Malabar series war games starting from Wednesday in the Bay of Bengal where they will practice anti-submarine warfare.

India and the US have been holding the Malabar-series exercises for the last several years to strengthen inter- operability between their maritime forces.


"Malabar 2013 will commence tomorrow and the exercise is scheduled to take place from November 5 to 11. It is a regularly scheduled bilateral naval field training exercise matured over the years, the exercise has witnessed a variety a scope and complexity," a Navy release said.

"The exercise will feature both ashore and at-sea training. While ashore training will include subject matter expert and professional exchanges," it said.

The at-sea portions will be conducted in the Bay of Bengal and they are designed to advance participating nations military-to-military coordination and capacity to plan and execute tactical operations in a multinational environment, it said.

The navies will practice professional exchanges and embarkations, communications exercises, surface action operations, leapfrogs, helicopter cross-deck evolutions, gunnery exercises, visit board and search and seizure and anti-submarine warfare.

Assets of the US Navy taking part in the exercise include the Arleigh Burke class guided-missile destroyer USS McCampbell and P3C Orion whereas India is fielding indigenously built frigate Shivalik, Guided Missile Destroyer Ranvijay and TU-142M maritime reconnaissance aircraft.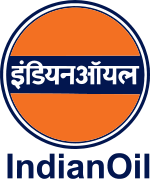 INDIAN OIL

Indian Oil Corporation (IndianOil) is India's largest commercial enterprise, with a sales turnover of Rs. 4,50,756 crore (US$ 73.7 billion) and profits of Rs. 5,273 crore for the year 2014-15. It is also the leading Indian corporate in Fortune's prestigious 'Global 500' listing of the world's largest corporates, ranked at the 96th position for the year 2014.

As India's flagship national oil company, with a 33,000-strong work-force currently, IndianOil has been meeting India's energy demands for over half a century. With a corporate vision to be 'The Energy of India' and to become 'A globally admired company,' IndianOil's business interests straddle the entire hydrocarbon value-chain – from refining, pipeline transportation and marketing of petroleum products to exploration & production of crude oil & gas, marketing of natural gas and petrochemicals, besides forays into alternative energy and globalisation of downstream operations.

Having set up subsidiaries in Sri Lanka, Mauritius and the UAE, the Corporation is simultaneously scouting for new business opportunities in the energy markets of Asia and Africa. It has also formed about 20 joint ventures with reputed business partners from India and abroad to pursue diverse business interests.
IndianOil's sprawling R&D Centre at Faridabad near Delhi is one of Asia's finest, and plays a key role in supporting the Corporation's business interests by developing economical, environment-friendly technology solutions. It has won recognition for four decades of pioneering work in lubricants formulation, refinery processes, pipeline transportation and alternative fuels, and holds 384 active patents, of which 233 are international patents.

The vibrant research undertaken by the Centre in tribology is showcased by IndianOil's SERVO® productline, with over 4,000 lubricant & grease formulations to suit all conceivable applications. The Centre has also developed several in-house refinery process technologies and catalysts to suit Indian conditions. Its alternative energy programmes include bio-energy, solar energy, Hydrogen energy, H-CNG blends, synthetic fuels and shale oil. The Centre is also focussed on cutting-edge research in the areas of nanotechnology, petrochemicals & polymers, coal gasification/ liquefaction, and gas-to-liquid technologies.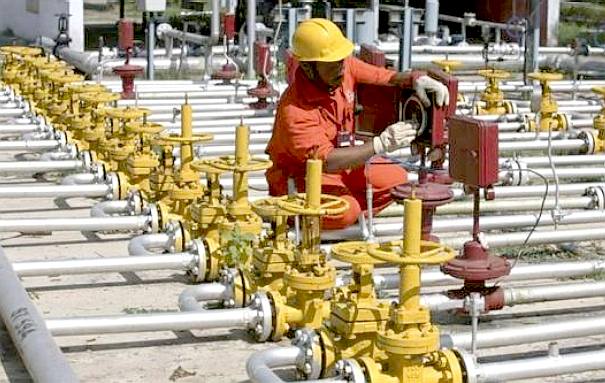 INDIAN OIL GREEN ENERGY INITIATIVES

IndianOil has ambitious plans to broaden its energy basket with alternative energy options such as wind, solar, bio-fuels and nuclear power.

Wind power systems to the tune of 69.3 MW have been installed in the States of Gujarat and Andhra Pradesh. A 5-MW grid-connected solar power plant at Rawra, Rajasthan, is operational since 2012. Solar power systems of about 900 kW have also been installed at various IndianOil installations and offices across the country. Steps are underway to set up an additional 200 MW of wind power and 60 MW of solar power systems.

As a major initiative in reducing carbon emissions, the Corporation has so far converted over 2,600 fuel stations to operate on solar energy. The cumulative capacity of 8.6 MW from these solar photo-voltaic power systems, with an annual generation capacity of 103 lakh units, has carbon emission reduction potential of 8,500 tonnes per year. IndianOil's extensive retail network in rural areas was leveraged to sell over 1.4 lakh rechargeable solar lanterns to help replace the traditional kerosene wick lamps in rural households which are not yet connected to grid power.

IndianOil has the largest captive plantation – covering 8,000 hectares – for bio-fuel production in India in the States of Chhattisgarh, Madhya Pradesh and Uttar Pradesh. To straddle the complete bio-fuel value chain, IndianOil has formed two joint ventures, IndianOil CREDA Biofuels Ltd. and IndianOil Ruchi Biofuels LLP. Currently, ethanol production from lignocellulosic sources such as rice straw, cotton stalk, bamboo, etc., is also being actively explored.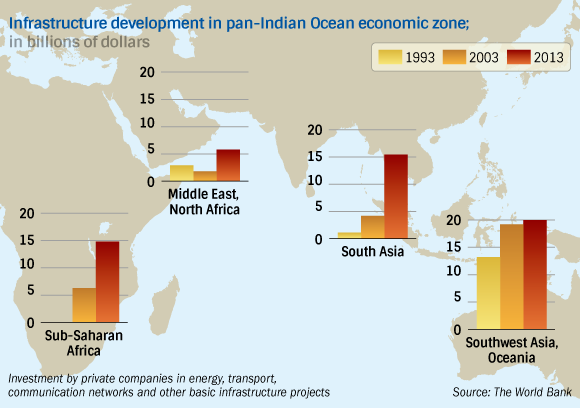 MUMBAI BILLIONAIRE MERGER 2015
Bloomberg - Billionaire Anil Agarwal's move to merge his two Indian units will create a national natural resources group to compete with BHP Billiton Ltd. and Vale SA.

Agarwal's Vedanta Ltd. is planning to absorb Cairn India Ltd., combining India's biggest producer of aluminum and copper with its largest onshore oil producer. The merger will create an entity with a market capitalization of about $11 billion, based on the last traded price of Vedanta Ltd.

"It's a dream to create a singular yet powerful natural resources conglomerate of Indian origin to mirror the likes of BHP or Vale," Tom Albanese, CEO of parent Vedanta Resources Plc, said Sunday at the media briefing in Mumbai. "This conglomerate will be globally recognized."

The merger will also help the group, weighed down by $12 billion of total debt, reorganize the finances of Vedanta Ltd., India's second-most indebted metals company. The increased size will allow Albanese, the former CEO of Rio Tinto Group, to be more competitive against global resources giants.

"The consolidated entity will have the distinct advantage of size and strength because of the cash on Cairn India's balance sheet," Deven Choksey, managing director of K.R. Choksey Shares & Securities Ltd., said in a phone interview. "The consolidation will make Vedanta a superpower to negotiate with lenders for raising
funds for expansions."

Shares Fluctuate

Both Cairn India and Vedanta Ltd. shares fluctuated between gains and losses on Monday. Cairn India gained 3.9% to 187.70 rupees at close of trade in Mumbai, rebounding from a drop of as much as 2.8%. Vedanta Ltd. fell 1.3% to 181.35 rupees, while Vedanta Resources declined 0.9% to 589 pence as of 12:15 p.m. in London.

Under the all-stock deal, Cairn India shareholders will get one ordinary share and one 7.5 percent-redeemable preference share in Vedanta Ltd., according to statements from both the companies on Sunday. The deal offers shareholders an implied premium of 7.3% over Cairn India's last close.

The merger may prove to be a "raw deal" for minority shareholders of Cairn India and they may reject the deal, Vikash Kumar Jain, an analyst at CLSA Asia-Pacific Markets, said in a note to clients on Monday, a day after the companies announced the merger. A rejection by minority shareholders may boost Cairn India's stock by 40% to 50%, CLSA forecast in the note, upgrading the stock to a buy rating.

"Approval from government due to court cases and minority shareholders because of unattractive valuations may prove a hurdle for this merger," Jain said in his note.

Energy Focus

Oil and gas will remain a key focus and Vedanta intends to protect the Cairn brand, Albanese said. The enlarged group will boost capital access, Cairn India CEO Mayank Ashar told reporters.

Vedanta Ltd.'s group debt surged to 777.52 billion rupees ($12 billion), excluding a $1.25 billion inter-company loan from Cairn India, after Agarwal bought the oil producer in 2011 and began expanding aluminum and power-generation capacity. Cairn India had cash of $2.7 billion cash as of March 31, according to an April 29 presentation on the website.

More than a quarter of Vedanta Ltd.'s operating profit came from aluminum in the last quarter, with other businesses including zinc and crude oil contributing the remainder.

That compares with Melbourne-based BHP, the world's biggest mining company, which last year got 32% of its sales from iron ore, 22% from petroleum and 21% from base metals, excluding aluminum. Rio de Janeiro-based Vale, the world's top nickel producer, had 72% of sales from ferrous minerals and coal, while base metals contributed 21% in the year ended Dec. 31.

Lazard & Co. advised Vedanta Ltd. on the deal, while DSP Merrill Lynch Ltd. and JM Financial Institutional Securities Ltd. were the advisers for Cairn India. J.P. Morgan Cazenove and Morgan Stanley assisted Vedanta Resources, according to the statement.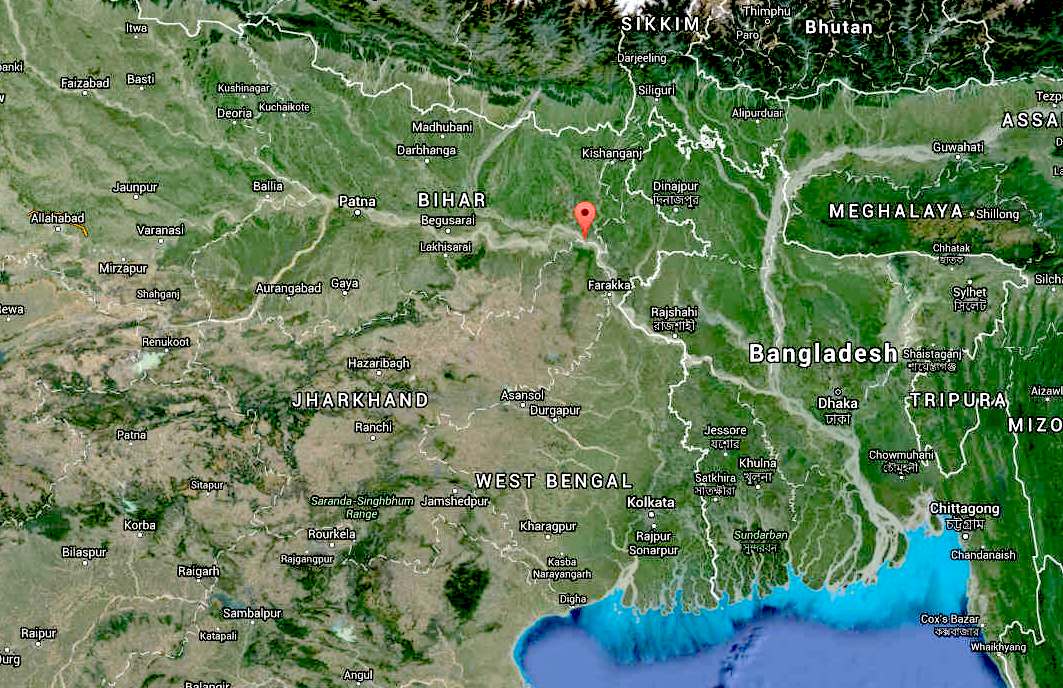 BAY OF BENGAL - The Ganges River Pollution is now at such a high level that the amount of toxins, chemicals and other dangerous bacteria found in the river are now almost 3000 times over the limit suggested by the WHO as 'safe'.

The river directly and indirectly affects the largest population of any river in the world with over more than 420 million people who rely on it for food, water, bathing and agriculture. And that is not to mention the tens of Millions of pilgrims who venture to India's most holy of rivers each year to bathe and worship.
Approximately 1 billion litres of raw, untreated sewage are dumped in the river on a daily basis. The amount has more than doubled in the last 20 years and experts predict another 100% increase in the following 20 years.

Some of the main Ganges river pollution contributors are those in industry - specifically in this case those of the leather industry who use vast amounts of chromium and other toxins and chemicals.

The world bank has agreed to loan India al most $1 Billion to clean up the Ganges.
POTENTIAL OIL EXPORTS - JULY 2009
India, which in 2009 imported 70 percent of the oil it used, could become an oil-exporting country. Why? Scientists have found about 30 billion tons of oil deposits in the Bay of Bengal.

This is two-and-a-half times the 13 billion tons of deposits that Iraq has, and almost as much as Saudi Arabia's, one of the world's largest oil exporters.

India, one of the faster-growing large countries - which includes China, Brazil and Russia forming part of the "BRIC" block in area and population - continues to need more oil in its march toward development. Its cities continue to modernize and as its population has grown. So have the number of vehicles, which consume oil. And as local demand for and export of large volumes of a variety of products grow, so does its number of factories and machinery, which consume oil.

Despite its increasing need for oil however, the gigantic amount of deposits would be far in excess of its domestic needs, and India may become a "petro-dollar" nation joining the league of oil exporters in the Middle East, Far East, Latin and North America ad the rest of the globe.

There is one problem however, before this could happen. The problems is that the massive oil deposits are lying deep within volcanic rock, known as the Deccan Traps. It will require scientific and engineering ingenuity to figure out the best and most cost-effective ways of tapping into the the rock through drilling or other means to extract the oil out.

But the good news is that India has an abundance of bright scientists and creative-thinking engineers who can figure out the solutions to this problem of extracting the massive oil deposits.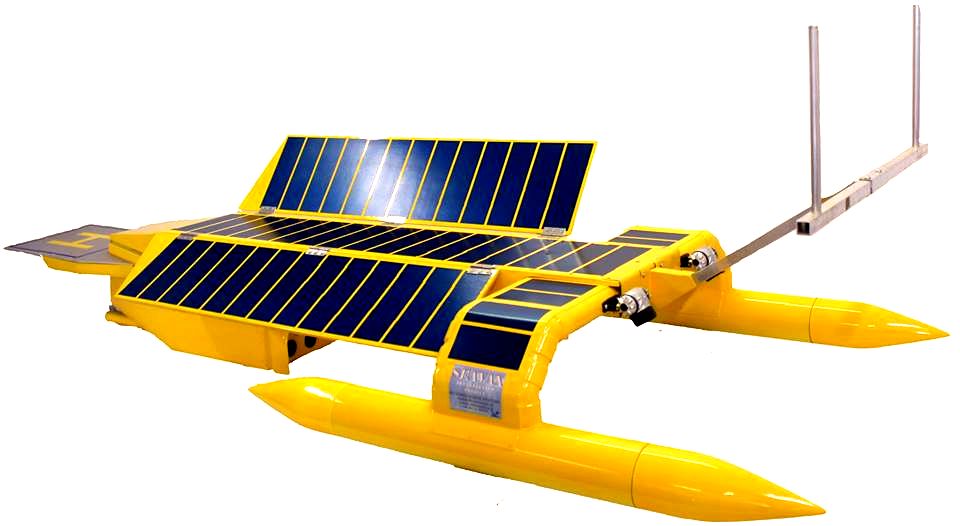 UNDER DEVELOPMENT - Presently under development, the SeaVax concept potentially offers a solution to ocean pollution. The speed that this project proceeds is entirely dependent on the level of support and interest that may be expressed by governments who are responsible for their patch and/or organizations that are looking to coordinate such efforts.
BMS LTD - is the only company in the world that is seriously looking to produce such a vessel. The SeaVax concept is designed to deal with ocean plastic waste as the baseline upon which to offer additional facilities such as a built in oil spillage collection module.
PROPOSED SEAVAX POLLUTION SOLUTION
One possible scenario for the Bay of Bengal, is to form a business consortium, perhaps with input from the local member of the Global Ocean Commission.
Once formed, such a consortium, referred to herein as the Bay of Bengal Management Group (BMG) could either look at the feasibility of securing a fleet of SeaVax ocean cleaners, or look at that scenario by comparison with alternative solutions.
The suggestion is that the BMG might reflect on the potential for fines for oil spillages and the contingency for such events, taking into consideration the corporate responsibility of oil producers and the duty of care that the Members of the Consortium owe, firstly to their population - and secondly, to the international community - to help tackle declining fish stocks.
In the event of future oil spills consideration is sure to be given when it comes to levying fines. While a fleet of solar and wind powered robots is waiting for the inevitable oils spills, they can earn their keep by patrolling the coast continuously for plastic and other debris that is coming from the land.
Such an endeavor will set a fine example to other nations who, at the moment, are doing nothing like this.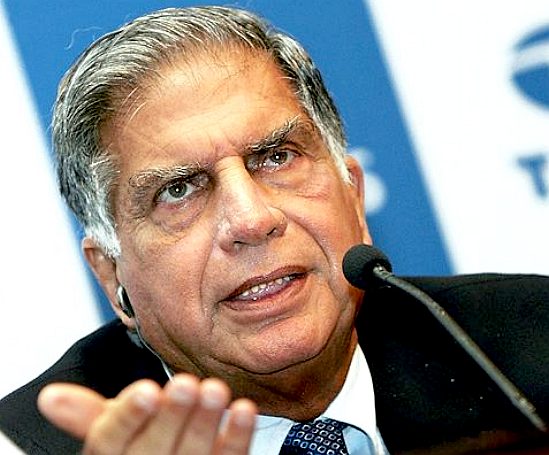 SIR RATAN TATA - is an Indian businessman and chairman Emeritus of Tata Sons. He was the chairman of Tata Group, a Mumbai-based conglomerate from 1991–2012. He stepped down as the chairman of Tata Group, on 28 December 2012. Sir Ratan represents India and surrounding countries, bordering on the Indian Ocean, to include the Bay of Bengal, as you can see on the world map showing the location of the Global Ocean Commissioners..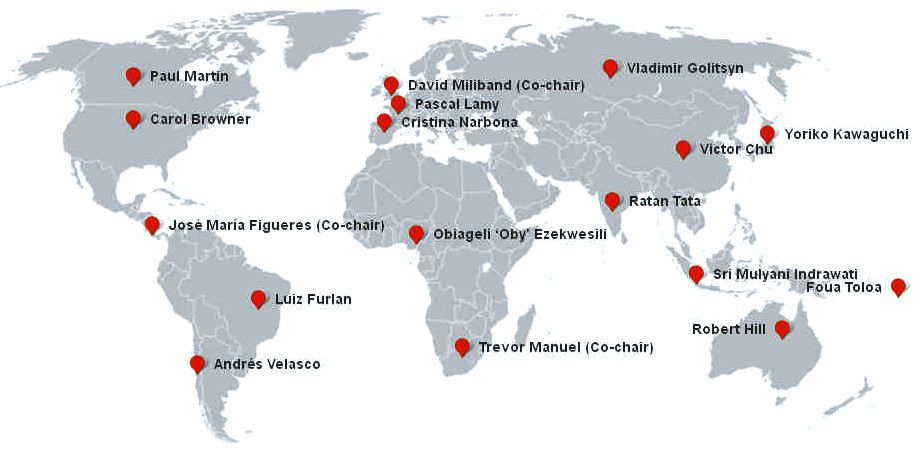 THE GLOBAL OCEAN COMMISSIONERS - Your representative for the GOC is shown on this map of the world showing the location of the Commissioners. Sir Ratan Tata is the most appropriate contact for the Bay of Bengal.
OIL SPILL MINI HISTORY
| Year | Rig Name | Rig Owner | Type | Damage / details |
| --- | --- | --- | --- | --- |
| 1955 | S-44 | | Sub Recessed pontoons | Blowout and fire. Returned to service. |
| 1959 | C. T. Thornton | Reading & Bates | Jackup | Blowout and fire damage. |
| 1964 | C. P. Baker | Reading & Bates | Drill barge | Blowout in Gulf of Mexico, vessel capsized, 22 killed. |
| 1965 | Trion | | Jackup | Destroyed by blowout. |
| 1965 | Paguro | SNAM | Jackup | Destroyed by blowout and fire. |
| 1968 | Little Bob | Coral | Jackup | Blowout and fire, killed 7. |
| 1969 | Wodeco III | Floor drilling | Drilling barge | Blowout |
| 1969 | Sedco 135G | Sedco Inc | Semi-submersible | Blowout damage |
| 1969 | Rimrick Tidelands | | Submersible | Blowout in Gulf of Mexico |
| 1970 | Stormdrill III | Storm Drilling | Jackup | Blowout and fire damage. |
| 1970 | Discoverer III | Offshore Co. | Drillship | Blowout (S. China Seas) |
| 1971 | Big John | Atwood Oceanics | Drill barge | Blowout and fire. |
| 1971 | Wodeco II | Floor Drilling | Drill barge | Blowout and fire off Peru, 7 killed. |
| 1972 | J. Storm II | Marine Drilling Co. | Jackup | Blowout in Gulf of Mexico |
| 1972 | M. G. Hulme | Reading & Bates | Jackup | Blowout and capsize in Java Sea. |
| 1972 | Rig 20 | Transworld Drilling | Jackup | Blowout in Gulf of Martaban. |
| 1973 | Mariner I | Sante Fe Drilling | Semi-sub | Blowout off Trinidad, 3 killed. |
| 1975 | Mariner II | Sante Fe Drilling | Semi-submersible | Lost BOP during blowout. |
| 1975 | J. Storm II | Marine Drilling Co. | Jackup | Blowout in Gulf of Mexico. |
| 1976 | Petrobras III | | Jackup | No info. |
| 1976 | W. D. Kent | Reading & Bates | Jackup | Damage while drilling relief well. |
| 1977 | Maersk Explorer | | Jackup | Blowout and fire in North Sea |
| 1977 | | | Platform | Blowout during well workover. |
| 1978 | Scan Bay | Scan Drilling | Jackup | Blowout and fire in the Persion Gulf. |
| 1979 | Salenergy II | Salen Offshore | Jackup | Blowout in Gulf of Mexico |
| 1979 | Sedco 135F | Sedco Drilling | Semi-submersible | Blowout and fire in Bay of Campeche Ixtoc I well. |
| 1980 | Sedco 135G | Sedco Drilling | Semi-submersible | Blowout and fire of Nigeria. |
| 1980 | Discoverer 534 | Offshore Co. | Drillship | Gas escape caught fire. |
| 1980 | Ron Tappmeyer | Reading & Bates | Jackup | Blowout in Persian Gulf, 5 killed. |
| 1980 | Nanhai II | Peoples Republic of China | Jackup | Blowout of Hainan Island. |
| 1980 | Maersk Endurer | Maersk Drilling | Jackup | Blowout in Red Sea, 2 killed. |
| 1980 | Ocean King | | Jackup | Blowout and fire in Gulf of Mexico, 5 killed |
| 1980 | Marlin 14 | Marlin Drilling | Jackup | Blowout in Gulf of Mexico |
| 1981 | Penrod 50 | Penrod Drilling | Submersible | Blowout and fire in Gulf of Mexico. |
| 1985 | West Vanguard | | Semi-submersible | Shallow gas blowout and fire in Norwegian sea, 1 fatality. |
| 1981 | Petromar V | Petromar | Drillship | Gas blowout and capsize in S. China seas |
| 1983 | Bull Run | Atwood Oceanics | Tender | Oil and gas blowout Dubai, 3 fatalities. |
| 1988 | | | Semi-submersible | Gas blowout at BOP and fire in the UK North Sea, 1 killed. |
| 1988 | | | Jackup | Blowout at Petrobras PCE-1 (Brazil) in April 24. Fire burned for 31 days. No fatalities. |
| 1989 | Al Baz | Sante Fe | Jackup | Shallow gas blowout and fire in Nigeria, 5 killed. |
| 1993 | M. Naqib Khalid | | Naqib Drilling | fire and explosion. Returned to service. |
| 1993 | Actinia | Transocean | Semi-submersible | Sub-sea blowout in Vietnam. |
| 2001 | Ensco 51 | Ensco | Jackup | Gas blowout and fire, Gulf of Mexico, no casualties |
| 2002 | Arabdrill 19 | Arabian Drilling Co. | Jackup | Structural collapse, blowout, fire and sinking. |
| 2004 | Adriatic IV | Global Sante Fe | Jackup | Blowout and fire at Temsah platform, Mediterranean Sea |
| 2007 | Usumacinta | | Jackup | Storm forced rig to move, causing well blowout on Kab 101 platform, 22 killed |
| 2009 | | | Jackup / Platform | Blowout and fire on rig and platform in Australia. |
| 2010 | | | Semi-submersible | Blowout and fire on the rig, subsea well blowout, killed 11 in explosion. |
| 2010 | | | Platform | Blowout and fire, 13 survivors, 1 injured. |
| 2012 | | | Jack-Up | Blowout and fire on the rig, collapsed, killed 2 in explosion. |
ACIDIFICATION - ADRIATIC - ARCTIC - ATLANTIC - BALTIC - BERING - CARIBBEAN - CORAL - EAST CHINA
ENGLISH CH - GOC - GULF GUINEA - GULF MEXICO - INDIAN - IOC - IRC - MALDIVES - MEDITERRANEAN - NORTH SEA - PACIFIC - PERSIAN GULF - SEA JAPAN - STH CHINA - PLASTIC - PLANKTON - PLASTIC OCEANS - SEA LEVEL RISE - UNCLOS - UNEP - WOC - WWF
AMAZON - BURIGANGA - CITARUM - CONGO - CUYAHOGA - GANGES - IRTYSH - JORDAN - LENA - MANTANZA-RIACHUELO
MARILAO - MEKONG - MISSISSIPPI - NIGER - NILE - PARANA - PASIG - SARNO - THAMES - YANGTZE - YAMUNA - YELLOW

LINKS & REFERENCE
New York Times 2014 The-great-invisible-on-the-deepwater-horizon-oil-spill
Wikipedia Blowouts_well_drilling notable_offshore
UNEP regional seas marine litter
Gcaptain nigeria-parliament-says-shell-pay-4-billion-2011-bonga-oil-spill
Facebook India-magazine/30-billion-tons-of-oil-deposits-in-bay-of-bengal-india-can-become-oil-exporter
World Oil July 2015 BG reports first oil from India's Mukta B platform
Worldoil 2015 June 15 billionaire-seeks-bhp-style-conglomerate-in-vedanta-deal
Asia-Nikkei-Politics-Economy-International-Relations-China-India-rivalry-grows-over-infrastructure-projects
Wikipedia Indian_Oil_Corporation
https://en.wikipedia.org/wiki/Indian_Oil_Corporation
http://asia.nikkei.com/Politics-Economy/International-Relations/China-India-rivalry-grows-over-infrastructure-projects
http://www.worldoil.com/news/2015/6/15/billionaire-seeks-bhp-style-conglomerate-in-vedanta-deal
http://www.worldoil.com/news/2015/7/08/bg-reports-first-oil-from-india-s-mukta-b-platform
https://en.wikipedia.org/wiki/Bay_of_Bengal
http://gcaptain.com/tag/gulf-of-guinea-oil-spill/#.VaKblLXSMSU
http://gcaptain.com/nigeria-parliament-says-shell-pay-4-billion-2011-bonga-oil-spill/#.VaKZU7XSMSU
http://www.pelletwatch.org/earth/
http://www.pelletwatch.org/maps/map-3.html
http://www.unep.org/regionalseas/marinelitter/publications/mpb/default.asp
https://crossedcrocodiles.wordpress.com/category/gulf-of-guinea/
https://en.wikipedia.org/wiki/Gulf_of_Guinea
http://www.nytimes.com/2014/10/29/movies/the-great-invisible-on-the-deepwater-horizon-oil-spill.html
http://www.marinetechnologynews.com/news/chevron-finds-deepwater-mexico-502566
http://en.wikipedia.org/wiki/Gulf_of_Mexico
http://en.wikipedia.org/wiki/Blowout_%28well_drilling%29#Notable_offshore_well_blowouts
http://en.wikipedia.org/wiki/List_of_oil_spills
FICTION - Operation Neptune - An advanced nuclear submarine is hijacked by environmental extremists intent on stopping pollution from the burning of fossil fuels. The extremists, dubbed 'Black Storm Rising' by the media, torpedo an oil well in the Gulf of Mexico as the start of a campaign to cause energy chaos, with bigger plans to come. If you enjoyed the movies: Battleship, Under Siege or The Hunt for Red October, this is a must for you.