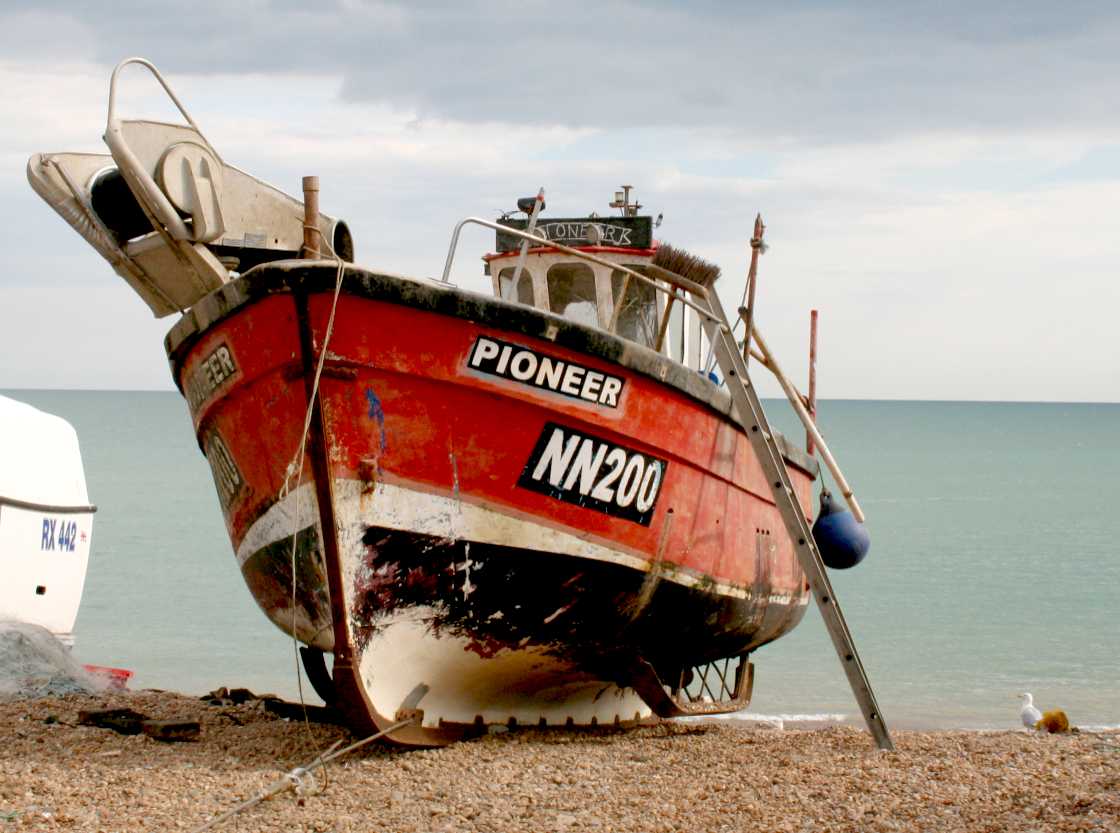 HASTINGS, THE ENGLISH CHANNEL - This was probably the world's biggest beach launched fishing fleet at one time, then along came the EU with the issue of "Discard" and "Quotas." This is of particular interest to the Hastings Fishing Fleet as since 1983, the European Union has decided how much fish they can catch. Obviously, the EU are more concerned with preserving fish stocks on a global basis. But as ever there are two sides to this story as these "Quotas", in part, were introduced to address the issue of "Over Fishing" selective species to meet the ever increasing consumer demand for "White Fish". But when you fish from a boat that is under 10-meters, and are part of a fishing heritage that has sustainably fished local waters for years and years—the problem of "Quotas" and "Discard" become personal.

Paul Joy, a lifelong fishermen who chairs the Hastings Fishermen's Society, lobbied the government for larger fishing quotas for smaller boats (2009). Paul was seeking a larger proportion of the quota to be given to the under 10-metre fleet in order to sustain fishing industries (and heritage) across the South East. He says that in Hastings, 93% of the boats are under 10-metres and they employ 83% of the town's fishing workforce, yet they are only allowed to catch about 30% of the area's cod quota. Paul fears that without a change in policy, fishing communities in Hastings and elsewhere could die out within the next decade, leaving just big commercial trawlers in the industry.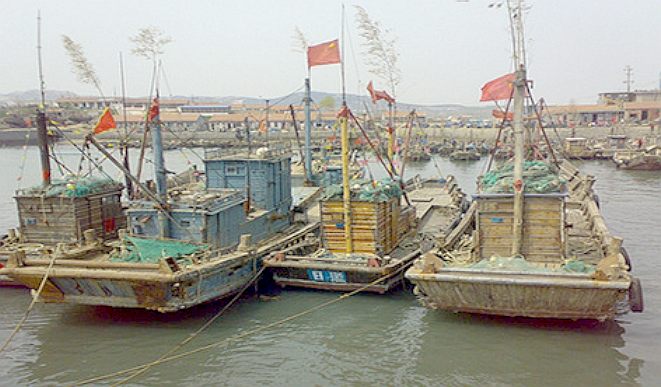 EARTH JOURNALISM, BEIJING - Dwindling fish stocks are a threat to global food security, particularly in China and other Asian countries, according to the Global Ocean Commission, an organisation campaigning for better ocean governance.

As Chinese appetite for fish increases – they ate more than 30% of the world's total consumption in 2009 - the depletion of fish stocks in the high seas could cause health problems for millions of people who depend primarily on fish for their protein."This is a looming crisis," said Andres Velasco, a commissioner and former finance minister of Chile, at a press briefing in Hong Kong.

Fishing in the high seas is currently managed by Regional Fishery Management Organizations, international bodies made up of coastal countries or countries whose fleets travel to certain areas to fish. The RFMOs, whose decisions are often highly political, have so far failed to prevent overfishing in the high seas. "They do a pretty bad job," Andrew Cornish, World Wildlife Fund Hong Kong's conservation director, is quoted as saying to Chinadialogue.

China, which sits on the South Pacific Regional Fisheries Management Organization, is increasingly competing with other Asian countries for fish stocks. Taylor Fravel, a South China sea expert at the Massachusetts Institute of Technology, writes that China is strengthening the rule of fishing in the disputed areas to support a large fishing industry in Hainan Province. by Wang Yue, 18 March 2014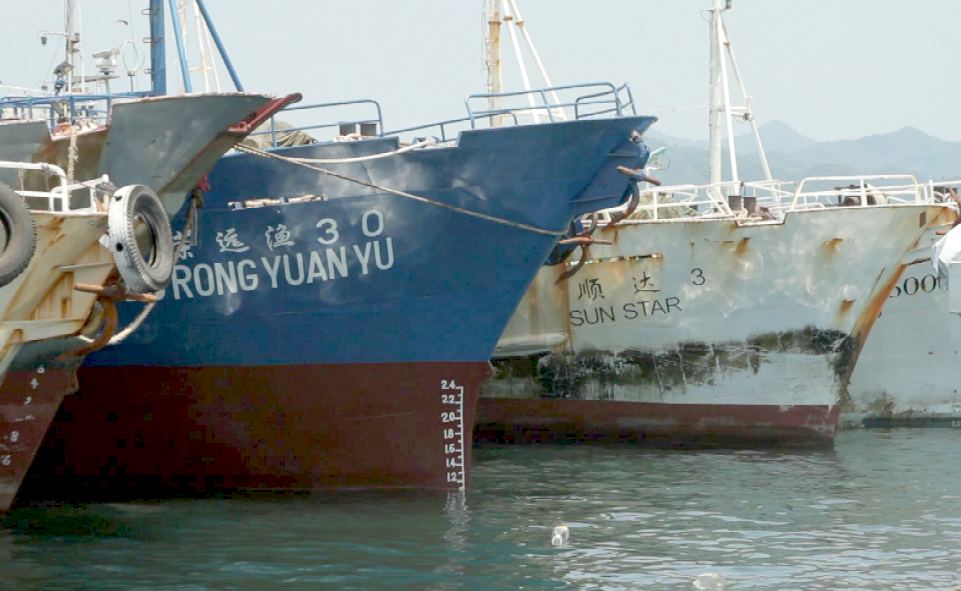 LONDON: WARMING SEAS MAY TAKE FISH & CHIPS OFF THE MENU
Warming seas may spell the end to traditional British food favorites such as haddock and chips, researchers said on Monday.

Haddock, plaice and lemon sole are to decline in numbers as the North Sea warms by a predicted 1.8 degrees Celsius over 50 years, according to research by University of Exeter scientists.

"Our study suggests that we will see proportionally less of some of the species we eat most of as they struggle to cope with warming conditions in the North Sea," said postgraduate researcher and research author Louise Rutterford.

The North Sea, the part of the Atlantic Ocean stretching between Britain, Norway, Denmark and Germany, has warmed four times faster than the global average over the last four decades.

The researchers calculated the affect of predicted future warming on popular fish species, which are likely to be squeezed as they can only thrive in particular water temperatures, habitats and depths.

Some fish species will not be able to travel northwards to cooler waters, as the depths to which they are suited are not available there.

"Our models predict cold water species will be squeezed out, with warmer water fish likely to take their place," said fellow paper author Steve Simpson, senior lecturer in marine biology and global change.

"For sustainable UK fisheries, we need to move on from haddock and chips and look to southern Europe for our gastronomic inspiration."

The research paper, "Future fish distributions constrained by depth in warming seas" appeared in the scientific journal Nature Climate Change.

Ref: Agence France-Presse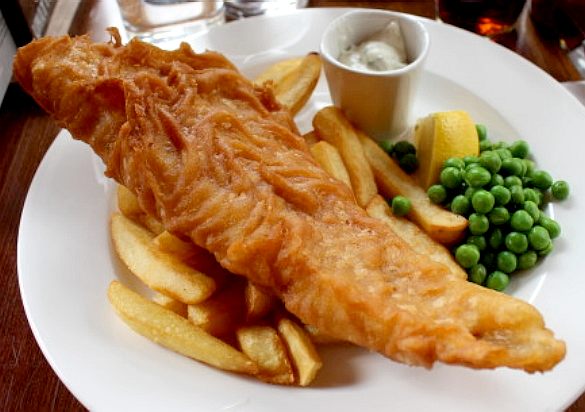 Tightening up the policing of the oceans will not stop the current trend of fish stock decline, neither will hunting down fishing pirates halt global warming. So, enjoy your fish and chips while you can - and while savoring one of your Friday night favorites, remember that at the moment by paying for fish caught by bottom trawlers, you are helping to destroy the marine environment. Why not ask your chippie how his suppliers catch their fish? While you are at it, why not ask your supermarket how their fish is caught!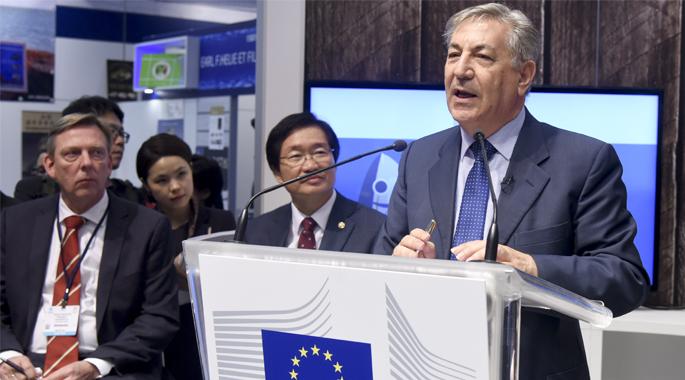 APRIL 21 2014 - The Brussels Seafood Expo Global hosted a debate entitled "EU Markets Driving Good Governance in Fisheries". The talk, led by European Commissioner for Environment, Maritime Affairs and Fisheries Karmenu Vella, addressed the issue of illegal fishing and the steps taken by the EU to fight it. Guus Pastoor, President of the European Fish Processors Association, spoke about labeling in relation to illegal fishing. Other speakers included Korean Vice-Minister for Agriculture, Food and Rural Affairs Kim Young-Suk as well as top representatives of NGOs and of the British Retail Consortium.
The EU is the largest seafood importer in the world by value, importing 24% of the global total, and as such wields considerable power to change behaviors and promote good governance through international trade incentives. Prior to the Regulation that came into force in 2010, an estimated €1.1 billion worth of illegally caught fish may have been imported into the EU.
The University of British Columbia estimates the global losses due to illegal fishing at $10-23 billion a year, or up to 26 million tonnes of fish – i.e. at least 15% of the world's catches. Aside from the financial implications, illegal fishing depletes fish stocks and damages ocean ecosystems. The vessels implicated in these activities seem to be also linked to other forms of organised crime; human rights violations are not uncommon aboard them.
THE GLOBAL OCEAN COMMISSION
The Commission is looking to improve the system of fishing governance, thus ending high seas over-fishing, stopping the loss of habitat and biodiversity, and improving monitoring and compliance.

The Global Ocean Commission
Somerville College
Woodstock Road
Oxford, OX2 6HD
UK+44 (0) 1865 280747

THE COMMISSION CO-CHAIRS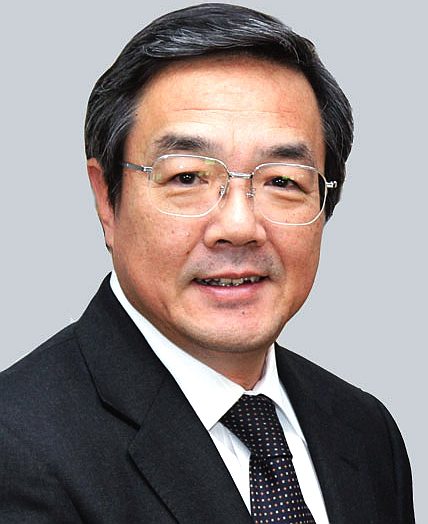 IMO Secretary General: Koji Sekimizu - With regard to sustainable use of the oceans, particularly fishing, Mr. Sekimizu referred to IMO's work with the Food and Agriculture Organization (FAO) to address illegal, unreported and unregulated (IUU) fishing.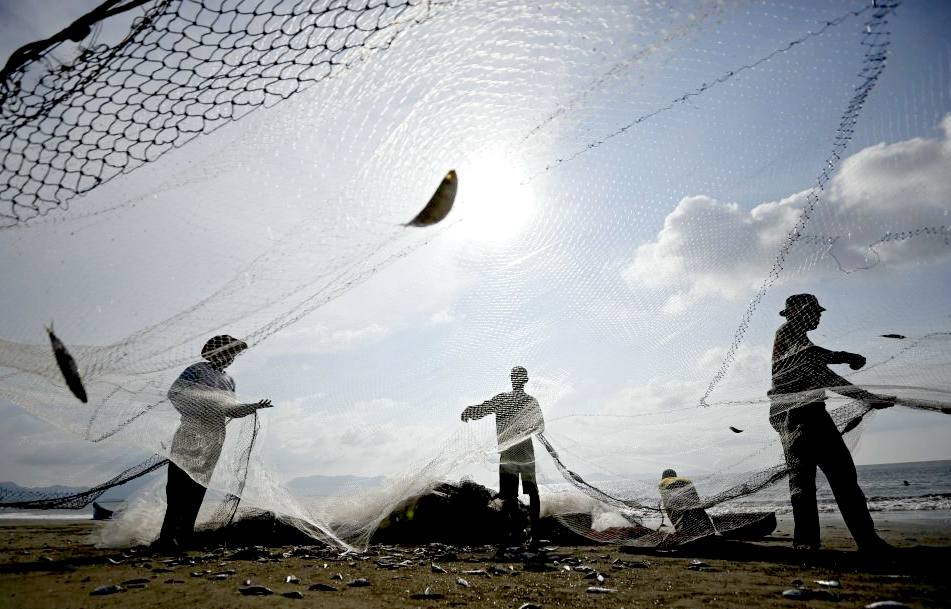 Fishing is an essential activity for sustainable food supply. Over-fishing costs the global economy around $50 billion dollars a year.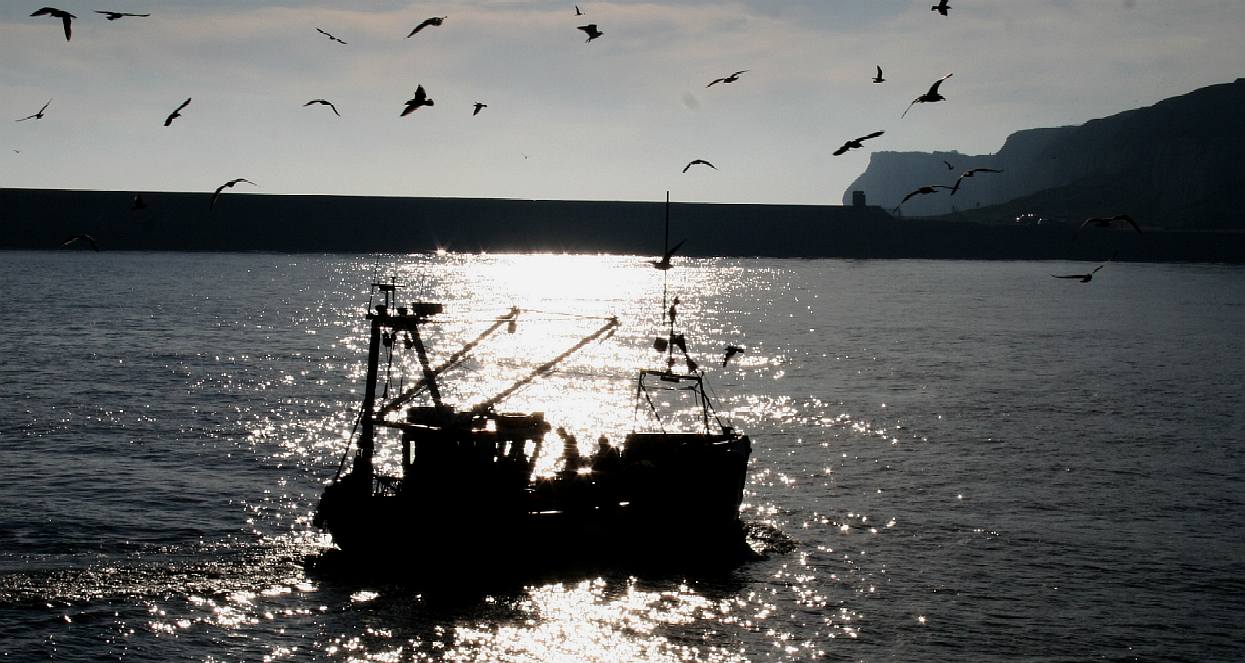 NEWHAVEN HARBOUR - We need to boost fish stocks by all means possible. Otherwise, scenes like this will become a distant memory as we potentially face food rationing in years to come.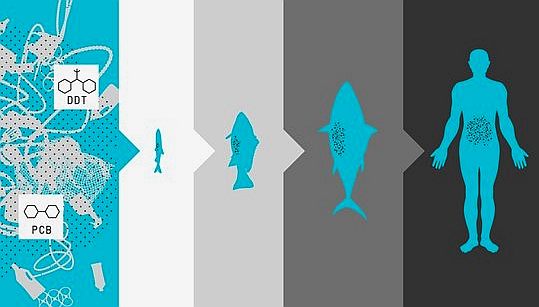 Tons of plastic floating in our oceans is a serious problem we face on this globe, considered to be one of most serious threats to our oceans. 90% of all trash floating on the ocean's surface is in the form of plastic materials, with 46,000 pieces of plastic per square mile. Plastic does not biodegrade, it photo-degrades with sunlight, breaking down into smaller and smaller pieces. These plastic pieces are eaten by marine life and eventually works it way up the food chain - as per the diagram below.
EUROPEAN COMMISSIONER FOR ENVIRONMENT, FISHERIES & MARITIME AFFAIRS
Global Ocean Commission co-Chairs David Miliband, Trevor Manuel and José María Figueres wrote to new European Commissioner for Environment, Fisheries and Maritime Affairs, Karmenu Vella, to express support for the EU's pioneering regulation on illegal, unreported and unregulated (IUU) fishing and to seek a meeting for further exploration and discussion.
The Commission's specific proposal on ending IUU fishing can be found in its 2014 report, From Decline to Recovery: A Rescue Package for the Global Ocean.
IUU fishing has a devastating impact on marine environments, livelihoods, food security and illegal fishers. The Global Ocean Commission believes that the EU IUU Regulation has tremendous potential for stopping the trade of illegal fish products into the world's largest seafood market – the EU – and, as a result, contributing to discouraging and eliminating IUU fishing practices around the globe.
DG MARE - The Directorate-General for Maritime Affairs and Fisheries is the Commission department responsible for the implementation of the Common Fisheries policy and of the Integrated Maritime Policy. With a staff of about 400, led by Director-General Lowri Evans (right) and based in Brussels, DG MARE is made up of 6 Directorates dealing with all aspects of both policies, including among others conservation, control, market measures, structural actions and international relations relating to fisheries. DG MARE reports to Karmenu Vella (left), Commissioner for Environment, Maritime Affairs and Fisheries. Lowri Evans has been Director-General in DG Maritime Affairs and Fisheries since 2010. Prior to that she has worked in several policy areas in the European Commission notably Competition and Employment. She started her professional career in audit and accountancy with Deloitte.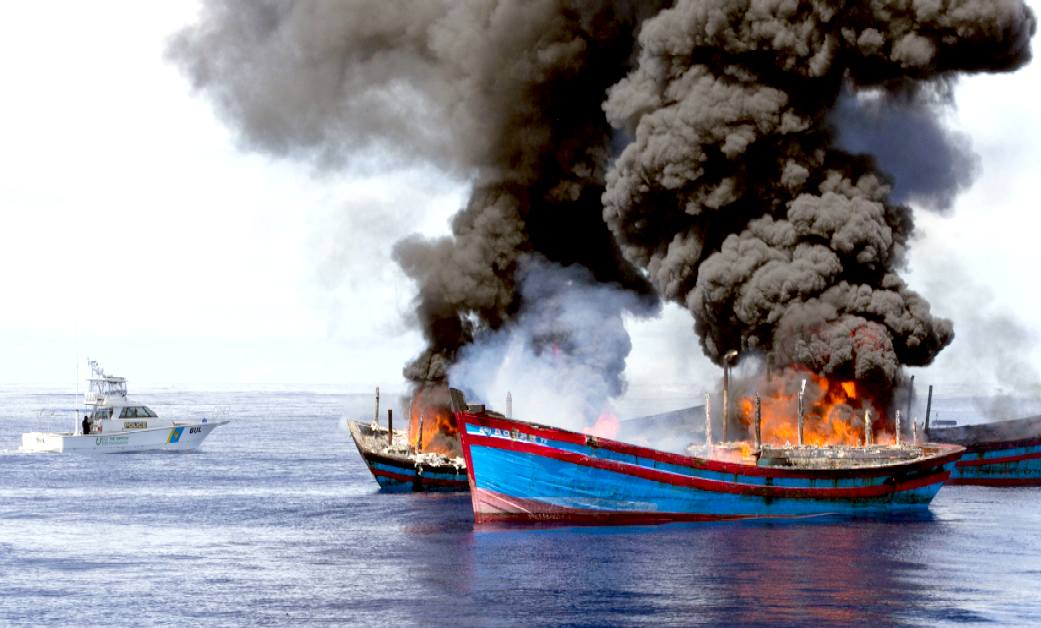 FUNERAL FIRE - Tightening up the policing of the oceans will not stop the current trend of fish stock decline, neither will hunting down fishing pirates halt global warming. So, enjoy your fish and chips while you can - and while savoring one of your Friday night favorites, remember that at the moment by paying for fish caught by bottom trawlers, you are helping to destroy the marine environment. Why not ask your chippie how his suppliers catch their fish? While you are at it, why not ask your supermarket how their fish is caught!
Stopping illegal products from entering the EU allows for the creation of a level playing field for EU fishermen who operate in a legal, transparent and fair way and provides a safety net for protecting the supply chains of European processors and retailers. A large number of pre-identified countries have stressed the importance of cooperation and collaboration with the EU in this process, acknowledging its significant role in the global effort to deter Illegal Unreported fishing.
EU CONTACTS
European Commission
Rue de la Loi / Wetstraat 200
1049 Brussels, Belgium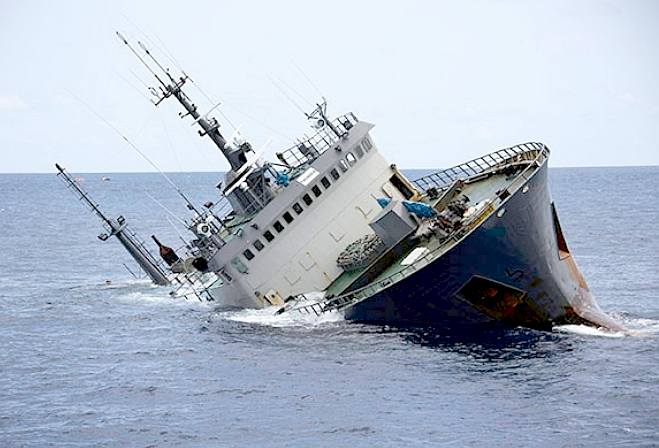 When a pirate fishing vessel sinks with its cargo intact, not only is the ship lost, but also the food onboard that is needed to feed the world.
110 DAY PURSUIT ENDS WITH AFRICAN FISHING VESSEL SCUTTLED - APRIL 2015
The captain of a rogue fishing vessel that had been tailed by activists for more than three months could have scuttled his ship off West Africa rather than face arrest with a load of illegally caught fish.
The pirate fishing ship's crew was rescued by its pursuers, two ships belonging to the Sea Shepherd fleet, the Sam Simon and the Bob Barker, named after the late co-founder of The Simpsons and the former host of The Price Is Right.
Siddharth Chakravarty, the captain of the Sam Simon, is quoted as saying in a telephone interview on the 6th of April, that the captain of the rogue ship Thunder, a Chilean, had told him that it sank because it had suffered a collision ..... an unlikely story. "We had crew on their boat and they noticed that all the doors had been tied open, which is the opposite of what you do if you're taking on water after a collision," he said. "Then the officers had neatly packed bags, so I have no doubt this was a planned, very intentional scuttling designed to remove evidence," Chakravarty said.
The captain of the Bob Barker, Peter Hammarstedt, wrote in an email: "Our small boat crew reported that that the crew of the Thunder, including the officers, were cheering and chanting from the life rafts as it sank - hardly the actions of people who were shocked by the sinking of their vessel."
The crew was placed on the back deck of the Sam Simon, which is piled with illegal nets that the Sam Simon's crew had pulled out three months ago in the area where the Thunder was found laying illegal nets. The ships first encountered one another off Australian waters, where fishing is managed by the Commission for the Conservation of Antarctic Marine Living Resources.
The illegally caught white-fleshed fish is familiar to patrons of high-end restaurants: It's marketed as the Chilean sea bass and is often the most expensive fish on the menu. But for marine biologists, it's called toothfish, a bottom-dwelling species so named because it has two sharklike rows of teeth, one in front of the other. In the dark waters around Antarctica, it's by far the biggest fish and sits at the top of the fish food chain, fearing only seals and killer whales. Its heart beats every six seconds. (The Antarctic variety, which lives closer to shore and often under ice, has an anti-freeze protein that allows it to thrive in waters colder than 32 degrees Fahrenheit.)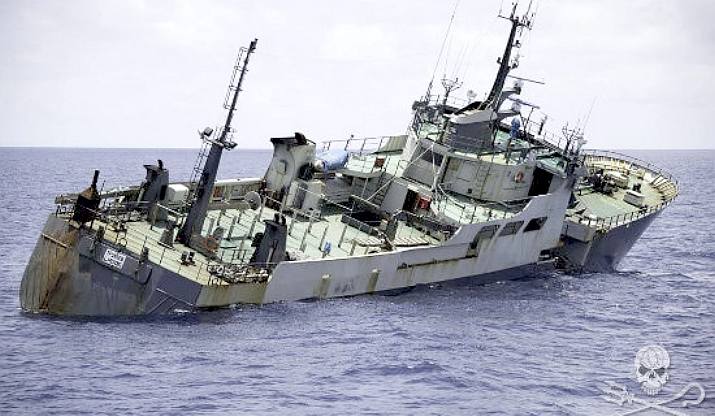 When they boarded the Thunder to help rescue its sailors, the Sea Shepherd crew saw Patagonian toothfish in the hold, though how much is not clear. The Thunder, which has changed names more than a dozen times over its decade long career as a toothfish poacher, was registered in Lagos, Nigeria - except that last week, the Nigerian authorities de-listed it, which made it a stateless, officially pirate vessel for the last few days of its life.
The Law of the Sea Convention recently ruled that flag states would from now on be held responsible for the illegal fishing carried out by their ships. The sinking came days after that decision. Duncan Currie, an international lawyer who filed a brief on the case, said "I think so" when asked by email whether the decision to hold countries responsible for poaching carried out under their flags would be a game-changer. Until now, flag states have not been held responsible for the damages, financial or environmental, wrought by boats fishing illegally.
The Thunder broke the law, according to Chakravarty, by using bottom-set gillnets, banned in the region since 2003 because of their deadly efficacy not only against toothfish but also against other species of no commercial value, known as by-catch.
"Of the five gill-net sets that my vessel recovered, we released back to the ocean about 50,000 kilos of toothfish," he said in a telephone interview. "That's about 20 toothfish per kilometer of net, which is a massive amount of fish. … In addition, there's a horrific amount of by-catch, more than three times as much" compared to fishing with legal long-lines, which use baited hooks.
When the toothfish craze started in the 1990s, it was a free-for-all, and the population of these slow-growing fish, which can reach six feet in length, quickly plummeted. Eventually, the poaching was reduced to that carried out by what the Amsterdam-based Sea Shepherd calls the "Bandit Six," vessels whose ownership has been traced to Spanish companies. The Thunder was one of these six.
Several times, these ships were found and even briefly impounded in ports around the world, but until now they were able to sell their valuable catch, pay small fines, and return to fishing.
This year, the Sea Shepherd, better known for obstructing whale-fishing vessels, launched Operation Icefish (as the toothfish is also known) in an attempt to prove that the "Bandit 6" could be found and arrested by the Australian and New Zealand authorities if only they tried, according to Paul Watson, Sea Shepherd's founder and chief, who has complained that neither country has prosecuted the toothfish poachers with much vigor.
The Sea Shepherd's approach worked. The Sam Simon found two vessels, the Kunlun, now under arrest in Phuket, Thailand, and the Yongding, which has vanished. (Meanwhile, a third member of the six, the Viking, is being held in Malaysia following an Interpol request.) The Bob Barker found the Thunder and tailed it for 110 days. The pursuers hoped the Thunder would run out of fuel and food and would head into port, where the crew would be arrested. "We never expected they would sink their ship," said Chakravarty.
As night fell over the tropical eastern Atlantic, the Sam Simon was steaming toward the port of Sao Tome off the coast of Gabon, where the crew - comprising 30 Indonesian members and 10 officers from Spain, Portugal, and Chile - were to be turned over to the authorities.

LINKS
Earth Journalism Asia faces future of dwindling fish stocks
EC Europa EU maritime affairs fisheries policy force behind good ocean governance
The Terramar project warming-seas-may-take-british-fish-and-chips-off-the-menu
The Jakarta Globe warming-seas-may-spell-end-britains-fish-chips
Pirate-fishing-vessel-sinks-with-its-illegal-haul-after-epic-chase
Time environment-prince-charles-oceans
National Geographic Prince Charles oceans trash plastic britain
Wikipedia Global_Ocean_Commission
ITV 2015-03-18 prince-charles-makes-impassioned-plea-for-oceans-clean-up
The-terramar-project-become-a-citizen-and-protector-of-the-high-seas
National Geographic news 2014 June Global-ocean-commission-report-high-seas-fishing-environment
Virgin leadership and advocacy introducing global ocean commission
The terramar project daily catch become a citizen and protector of the high seas
Wikipedia European_Commissioner_for_Maritime_Affairs_and_Fisheries
Reuters 2013 US oceans new global group to clean up
Pirate_chilean_sea_bass_fishing_vessel_sea_shepherd_pursues_the_thunder
http://www.hastingsfish.co.uk/
http://earthjournalism.net/stories/asia-faces-future-of-dwindling-fish-stocks
http://ec.europa.eu/dgs/maritimeaffairs_fisheries/magazine/en/policy/force-behind-good-ocean-governance
http://www.reuters.com/article/2013/02/11/us-oceans-idUSBRE91A00C20130211
http://en.wikipedia.org/wiki/European_Commissioner_for_Maritime_Affairs_and_Fisheries
http://www.virgin.com/unite/leadership-and-advocacy/introducing-global-ocean-commission
http://www.scienceifl.com/ocean-plastic-pollution.htm
http://www.globaloceancommission.org/
http://en.wikipedia.org/wiki/Global_Ocean_Commission
http://theterramarproject.org/thedailycatch/warming-seas-may-take-british-fish-and-chips-off-the-menu/
http://thejakartaglobe.beritasatu.com/business/warming-seas-may-spell-end-britains-fish-chips/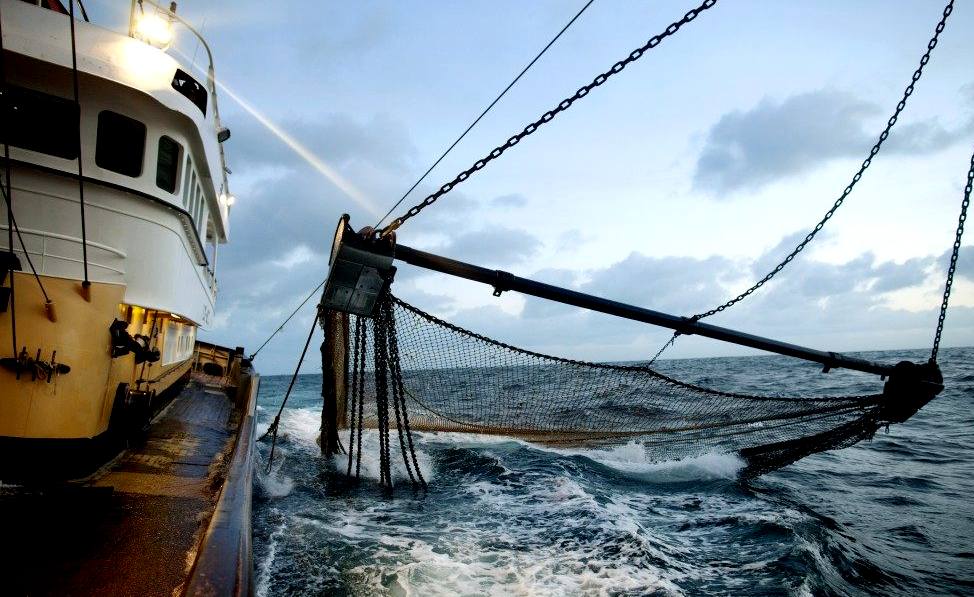 We need fish for food that are toxin free. To ensure fish stocks we need to eliminate plastic waste from the food chain before we poison ourselves. Climate change is also affecting fish that live in colder waters.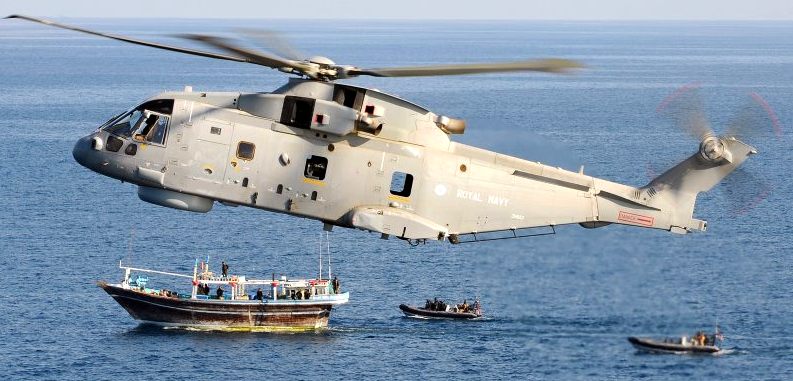 ACID OCEANS - ARCTIC - ATLANTIC - BALTIC - BERING - CARIBBEAN - CORAL - EAST CHINA - ENGLISH CH
GULF MEXICO - GOC - INDIAN - MEDITERRANEAN - NORTH SEA - PACIFIC - PERSIAN GULF - SEA JAPAN - STH CHINA
PLANKTON - PLASTIC - PLASTIC OCEANS - UNCLOS - WOC - WWF

THE GLOBAL OCEAN COMMISSIONERS A-Z
| | | | | | | |
| --- | --- | --- | --- | --- | --- | --- |
| | | | | | | |
| Carol Browner | Victor Chu | Obiageli Ezekwesili | Luiz Furlan | Vladimir Golitsyn | Robert Hill | Yoriko Kawaguchi |
| . | . | . | . | . | . | . |
| | | | | | | |
| Pascal Lamy | Paul Martin | Sri Mulyani Indrawati | Cristina Narbona | Ratan Tata | Foua Toloa | Andrés Velasco |
Rumor has it that the Global Ocean Commission is to be disbanded after 2016. What was that all about. Was it just a lot of hot air and grand titles? Talk is cheap. We need action if the world ocean economy is to stage a recovery, not a lot of highly paid executives all sitting around a table telling people about a problem they already know about.