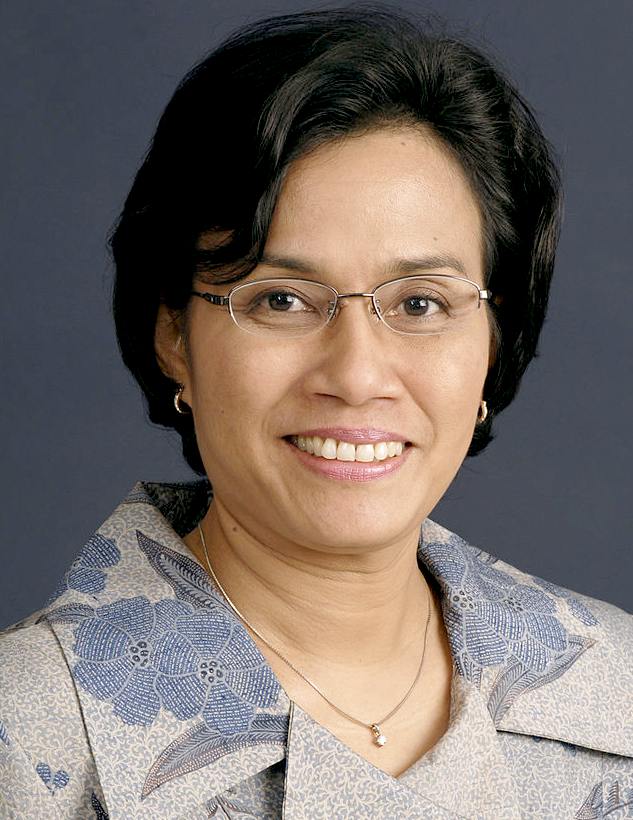 WORLD BANK GROUP - Sri Mulyani Indrawati is Managing Director and Chief Operating Officer of the World Bank Group and a former Finance Minister of Indonesia..

Following an early career in academia and development, Sri Mulyani was appointed as an Executive Director of the International Monetary Fund in 2002, representing 12 countries in Southeast Asia. Two years later she became State Minister for National Development Planning and Chair of the National Development Planning Agency.

Dr Mulyani's term as Finance Minister, from 2005 to 2010, saw increased growth and investment in the Indonesian economy. She implemented measures to combat corruption and increase collection of income tax.

Dr Mulyani has received numerous awards including Euromoney Magazine's Global Finance Minister of the Year. She holds a doctorate in economics from the University of Illinois and a BA in economics from the University of Indonesia.
Sri Mulyani Indrawati was born on the 26th of August 1962. She is an Indonesian economist. In June 2010 she was appointed the Managing Director of the World Bank Group, and resigned as Finance Minister of Indonesia in the Second United Indonesia Cabinet.

As Indonesian finance minister from 2005 to 2010, Sri Mulyani was known as a tough reformist and was largely credited with strengthening Indonesia's economy, increasing investments and steering Southeast Asia's largest economy through the 2007–10 financial crisis. In 2014, she was ranked as the 38th most powerful woman in the world by Forbes magazine.
INDONESIAN FINANCE MINISTER

Sri Mulyani was selected as Indonesian Finance Minister in 2005 by President Susilo Bambang Yudhoyono. One of her first acts was to fire corrupt tax and custom officers in the department. She successfully tackled corruption and initiated reforms in Indonesia's tax and customs office and enjoys a reputation for integrity. She succeeded in increasing direct investment in Indonesia. In 2004, the year President Susilo Bambang Yudhoyono took office, Indonesia received $4.6 billion in foreign direct investment. The next year, it attracted $8.9 billion.

In 2006, just one year after selected, she was named Euromoney Finance Minister of the Year by Euromoney magazine.

During her tenure in 2007, Indonesia recorded 6.6% economic growth, its highest rate since the 1997 Asian financial crisis. However, growth is down in 2008 to 6% due to the global economic slowdown. In July 2008, Sri Mulyani Indrawati was inaugurated as the Coordinating Minister for the economy, replacing Boediono, who was to head the central bank.

In August 2008, Mulyani was ranked by Forbes magazine as the 23rd most powerful woman in the world and the most powerful woman in Indonesia. During her tenure as Finance Minister, the country's foreign exchange reserves reached an all-time high of $50 billion. She oversaw a reduction in public debt to about 30% of gross domestic product from 60%, making it easier for Indonesia to sell debt to foreign institutional investors. She also revised incentive structures for civil servants in her ministry and began paying higher salaries to tax officials deemed to be "clean" so they would have less temptation to accept bribes.

In 2007 and 2008, Emerging Markets newspaper selected Sri Mulyani as Asia's Finance Minister of The Year.

After Susilo Bambang Yudhoyono was re-elected in 2009, she was re-appointed in her post of Finance Minister. In 2009 the Indonesian economy grew up by 4.5% while many part of the world is in recession. Indonesia is one of just three major emerging economies to grow faster than 4% in 2009. The other two are China and India. Under her supervision, government has managed to increase the number of income taxpayers from 4.35 million individuals to nearly 16 million in the last five years, and tax receipts grew by around 20% each year to more than Rp 600 trillion in 2010.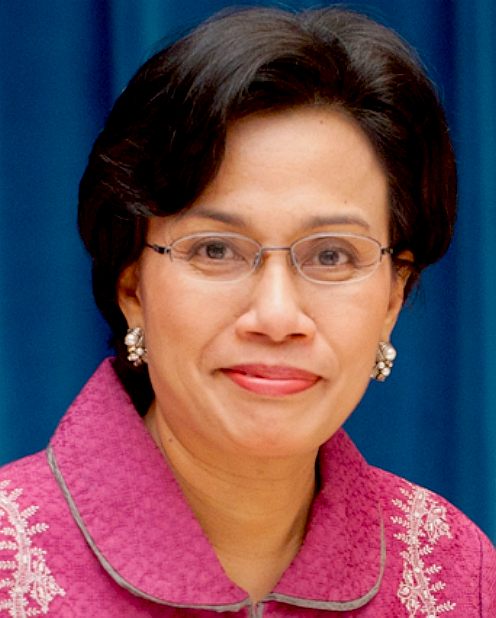 MONEY - Is the root of much evil. The invention was originally to make bartering easier for honest producers. Soon, money became the commodity rather than the goods themselves, allowing those who do not toil to make a living from those who do. Inevitably, any means of trade that allows the easy transfer of assets in readily exchanged form will lead to corruption - and that it does. Money though is also a genuine tool, in that it can be the means to make good things happen.
MOVE TO WORLD BANK

On May 5, 2010 Mulyani was appointed as one of three Managing Directors of the World Bank Group. She replaced Juan Jose Daboub, who completed his four-year term June 30, overseeing 74 nations in Latin America, Caribbean, East Asia and Pacific, Middle East and North Africa.

Her resignation was viewed negatively and caused financial turmoil in Indonesia, with the stock exchange closing down 3.8% after the news, amid a broad sell off in Asia, while the Indonesian rupiah fell nearly 1% against the dollar. The drop in Indonesian stock exchange was the sharpest in 17 months. The move has been called: "Indonesia's loss, and the World's gain".

There was widespread speculation that her resignation was due to political pressure, especially from powerful tycoon and chairman of Golkar Party, Aburizal Bakrie. Bakrie is known to have enmity toward Mulyani due to her investigation into massive tax fraud in the Bakrie Group, her refusal to prop up Bakrie's coal interests with government funds, and her refusal to state that the Sidoarjo mud flow, which is widely believed to have been caused by drilling of Bakrie's company, was a "natural disaster".

On May 20, President Susilo Bambang Yudhoyono named as her replacement Agus Martowardojo, CEO of Bank Mandiri, the largest bank in Indonesia.

In 2014, she was ranked as the 38th most powerful woman in the world by Forbes.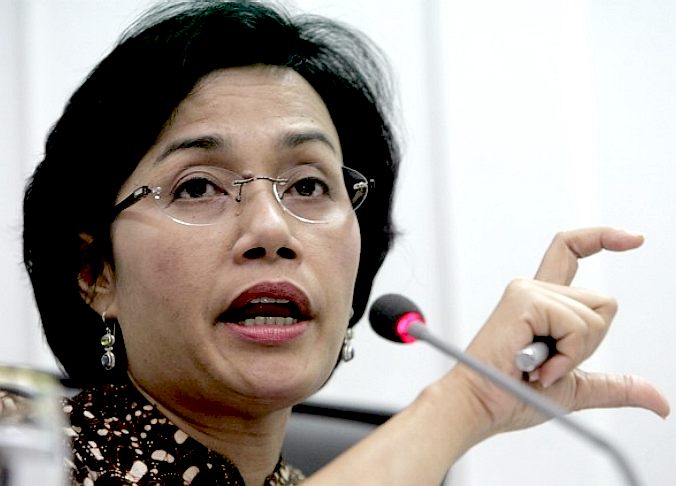 PHONE HACKING

In November 2013, British newspaper The Guardian published article with report from leaks by Edward Snowden, showing that Australian intelligence had allegedly hacked into mobile phones of top Indonesian leaders in 2009. This included Sri Mulyani who at that time was the minister of finance. Australian Prime Minister Tony Abbot defended it by saying that the activities were not so much "spying" as "research" and that its intention would always be to use any information "for good". In our opinion such remarks by a premier are entirely inappropriate. Phone hacking is both immoral and illegal no matter how you paint it. Anyone involved in such activities should be investigated and prosecuted - and stand down from office because of character issues out of kilter with a trusted position of authority. There are lines that should never be crossed, such as invading a country on poor intelligence - a war crime that has not attracted even one indictment to date.


EARLY & PRIVATE LIFE

Sri Mulyani was born in Tanjung Karang (now called Bandar Lampung) in Lampung, Sumatra, on August 26, 1962. She is the seventh child of university lecturers Prof. Satmoko and Retno Sriningsih. Her name is of Javanese origin, with Sanskrit roots. 'Sri' means "of radiance," or "diffusing light" and is common as both honorific and part of female names among the Javanese. Mulyani comes from the word mulya which is used to describe the concept: value, valuable. Indrawati come from Indra with the feminine suffix -vati.

She obtained her degree from Universitas Indonesia in 1986. Sri Mulyani received her master and doctorate in economics from the University of Illinois at Urbana-Champaign in 1992. In 2001, Mulyani left for Atlanta, Georgia, to serve as a consultant with the US Agency for International Development (USAID) for programs to strengthen Indonesia's autonomy. She also lectured on the Indonesian economy as visiting professor at the Andrew Young School of Policy Studies at the Georgia State University. From 2002 to 2004 she was an executive director on the board of the International Monetary Fund representing 12 economies in Southeast Asia.

She is married to economist Tony Sumartono, with whom she has three children. She is a professional economist and has no political affiliation.
THE COMMISSIONERS
| | | | | | | |
| --- | --- | --- | --- | --- | --- | --- |
| | | | | | | |
| Carol Browner | Victor Chu | Obiageli Ezekwesili | Luiz Furlan | Vladimir Golitsyn | Robert Hill | Yoriko Kawaguchi |
| . | . | . | . | . | . | . |
| | | | | | | |
| Pascal Lamy | Paul Martin | Sri Mulyani Indrawati | Cristina Narbona | Ratan Tata | Foua Toloa | Andrés Velasco |

The Global Ocean Commission
Somerville College
Woodstock Road
Oxford, OX2 6HD
Tel: UK+44 (0) 1865 280747
GLOBAL OCEAN COMMISSIONERS - CO-CHAIRS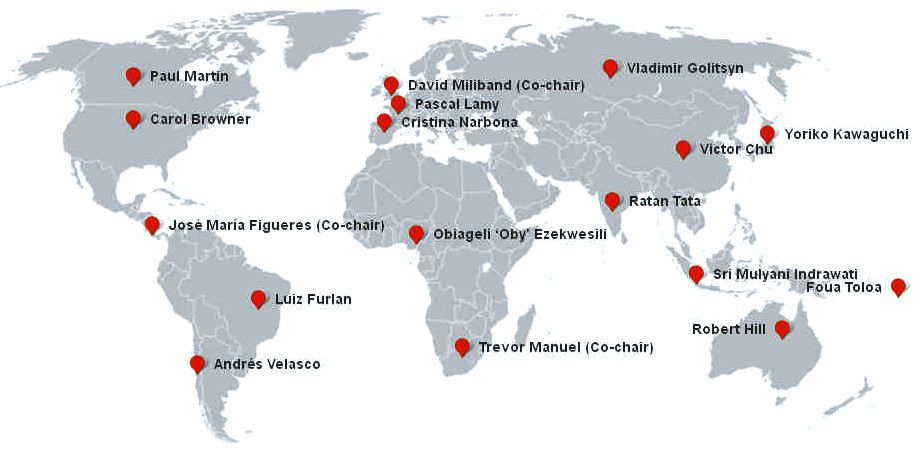 GLOBAL OCEAN COMMISSIONERS - A map of the world showing the location of the GOC's commissioners.
LINKS & REFERENCE
Speakerpedia Sri Mulyani Indrawati
Shethepeople world-bank-group-committed-to-achieving-gender-equality-at-workplace
Global ocean commissioners sri-mulyani-indrawati
Wikipedia Sri_Mulyani_Indrawati
National Geographic news 2014 June Global-ocean-commission-report-high-seas-fishing-environment
Virgin leadership and advocacy introducing global ocean commission
Wikipedia European_Commissioner_for_Maritime_Affairs_and_Fisheries
Reuters 2013 US oceans new global group to clean up
National Geographic 2014 global-ocean-commission-report-high-seas-fishing-environment
http://www.forbes.com/fdc/welcome_mjx.shtml
http://speakerpedia.com/speakers/sri-mulyani-indrawati
http://www.edge-cert.org/
http://www.worldbank.org/en/news/feature/2015/03/11/world-bank-group-to-seek-key-certification-on-workplace-equality
http://shethepeople.tv/news/world-bank-group-committed-to-achieving-gender-equality-at-workplace/
http://www.globaloceancommission.org/the-commissioners/sri-mulyani-indrawati/
http://en.wikipedia.org/wiki/Sri_Mulyani_Indrawati
http://en.wikipedia.org/wiki/European_Commissioner_for_Maritime_Affairs_and_Fisheries
http://www.globaloceancommission.org/
http://en.wikipedia.org/wiki/Global_Ocean_Commission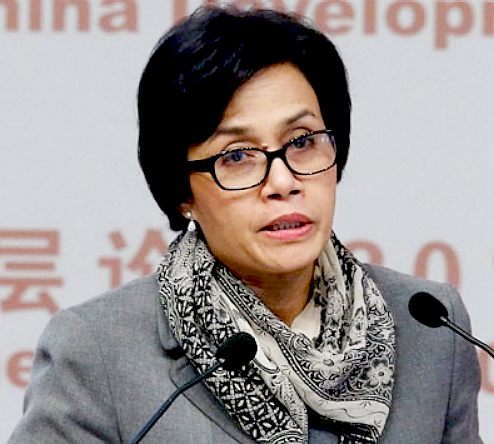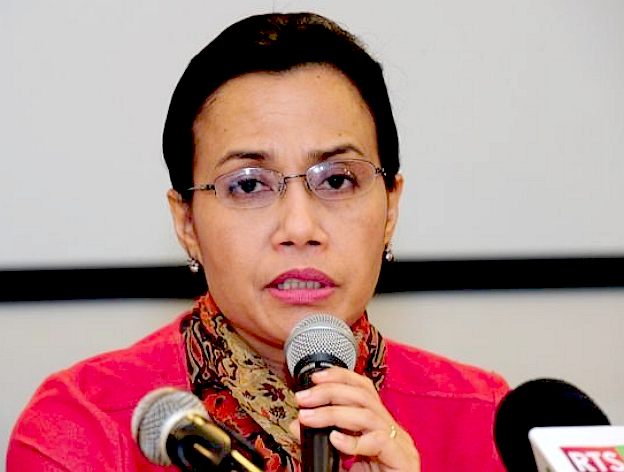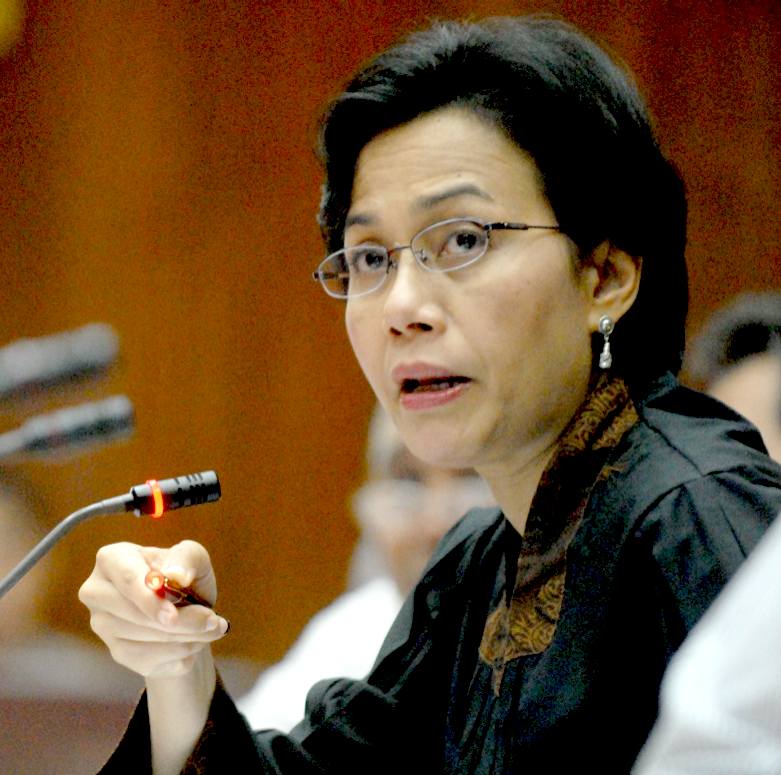 EQUALITY - Not too long ago, women across the world were struggling to get a chance to work shoulder to shoulder with men. The last few decades have changed that to a great extent. But still, female employees in almost all cultures still struggle for equal rights and opportunities at workplace. Thankfully, many big and influential organizations around the world have started to recognize the importance of promoting gender equality at work. Joining this league, the World Bank Group has committed to achieving EDGE certification - a key global standard for workplace gender equality.

President Jim Yong Kim is quoted as saying: "Women and men deserve the same opportunities to succeed here. And study after study shows that diversity has a positive impact on productivity. These are the reasons each of the entities that make up the World Bank Group and the organization as a whole have targets for reaching gender equity in our middle and management ranks," according to a report by The World Bank.

Only seven companies have yet achieved EDGE certification, which is regarded as the global standard for workplace gender equality. The companies, who have the certification, include including IKEA, L'Oreal USA, and Compartamos Banco. President Kim added, "Combined with the work we do every day, it will ensure that women - as clients and as leaders and staff at the World Bank Group - are key drivers in our effort to end extreme poverty by 2030 and boost shared prosperity."

World Bank Group Managing Director Sri Mulyani Indrawati said that women are powerful drivers of growth and formidable fighters of poverty and they cannot be left behind. The World Development report 2012 revealed that educating and empowering women is not just beneficial for women, but also their families, and their economies.
Only seven companies have achieved EDGE certification, which is regarded as the global standard for workplace gender equality. The companies, who have the certification include: IKEA, L'Oreal USA, and Compartamos Banco. President Kim is quoted as saying: "Combined with the work we do every day, it will ensure that women - as clients and as leaders and staff at the World Bank Group - are key drivers in our effort to end extreme poverty by 2030 and boost shared prosperity."
ACID OCEANS - ARCTIC - ATLANTIC - BALTIC - BERING - CARIBBEAN - CORAL - EAST CHINA - ENGLISH CH
GULF MEXICO - GOC - INDIAN - MEDITERRANEAN - NORTH SEA - PACIFIC - PERSIAN GULF - SEA JAPAN - STH CHINA
PLANKTON - PLASTIC - PLASTIC OCEANS - UNCLOS - UNEP - WWF