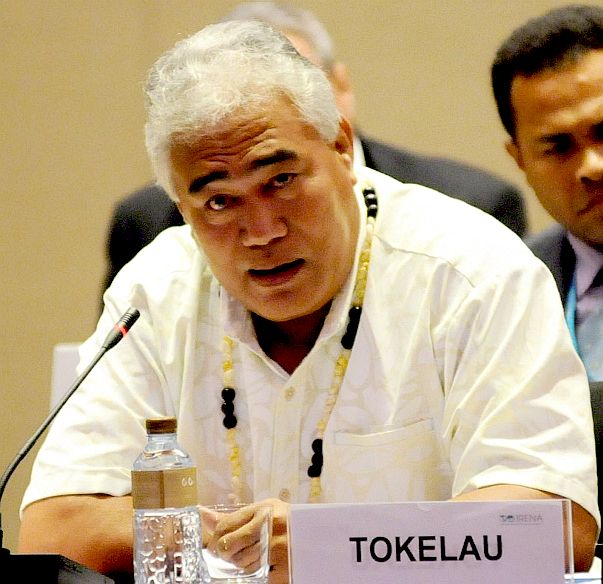 ABU DHABI, JAN 2012 - The Pacific Leaders Meeting, a high-level meeting on renewable energy organized by the International Renewable Energy Agency (IRENA), was held on 13 January 2012, immediately preceding the second session of the IRENA Assembly, in Abu Dhabi, United Arab Emirates. The event gathered Heads of State, Ministers, agency Directors, and other high-level members of government of 11 Pacific Island States to discuss the acceleration of renewable energy uptake in the Pacific.

Pacific Islands face numerous socioeconomic challenges, many of which stem from energy scarcity, energy price volatility and climate change, which in turn stems largely from fossil fuel emissions. It has been recognized that diversifying energy production in the region, especially towards more widespread domestic use of renewable energy, can play an important role in alleviating many of these challenges by reducing dependence on imported, dirty fossil fuels.

This meeting followed up on a meeting that took place in Sydney, Australia, on 26-28 October 2011, called Accelerated Renewable Energy Deployment in Islands. This meeting gathered states, development partners, inter-governmental and regional organizations, as well as industry to identify specific needs and challenges in renewable energy technology deployment in the Pacific.

At the conclusion of the Pacific Leaders Meeting, participants adopted the Abu Dhabi Communiqué on Accelerating Renewable Energy Uptake for the Pacific Islands, which recognizes the vast, underutilized potential for renewable energy in the Pacific region, outlines necessary steps to realize this potential, and in this light, agrees to work jointly to establish an enabling environment for renewables in the region.
OBITUARY
TOLOA, Foua Passed away on 23 June 2015 in California, USA. He is now at peace after a long health battle. Toloa was an esteemed, charismatic, eloquent leader and pioneer of Tokelau. Foua will also be remembered for his passion for the oceans and the environment. Foua was an elected member (Aliki Faipule) of the Council for the Ongoing Government (Executive Government) for his home island of Fakaofo, Tokelau from 2008 to 2013. He served as the Ulu o Tokelau (Titular Head) in 2009 and 2011 and held ministerial portfolios in Finance, Telecommunications, Transport and Energy.
Foua was re-elected as Aliki Faipule for Fakaofo for 2014 - 2016, a position he continued to uphold until he was no longer able to serve in late 2014. His commitment and drive to champion Tokelau in every way also saw the implementation of the Tokelau Renewable Energy Project whereby his beloved nation became the first in the world to have its electricity totally supplied through solar energy in October 2012.
Foua continued to contribute in the fight to raise international awareness of the devastating effect of climate change. He was revered internationally for this and consequently served as a Global Ocean Commissioner and Advisor to the Global Solar Head of State Board, which he still held up to his untimely passing.
Foua was a man of high principles blessed with a keen sense of humanity and honour, serving his local, national, regional and global communities. Foua was a perceptive, articulate and impassioned man whose legacy will continue to inspire those who were fortunate to have come into contact with him.
Ko te leo e hau mamao. E hagalogalo i te puao o te vaveao. Kua tagi faka-ligoligo te fakanoanoa. Kua lagona i na tokaaga tau aliki o Kava i Pouono. Tagi Pou i ana hakiliga, koloa tau kua to i moana. Healoa taku Fakaofo! Haloa toku Tokelau! Kua lofia ia Fakaofo. Kua gatolotolo foki ia tanumaga o Palapalaga o fenuamau. E tatanu ai o Aliki! Kua to te pa kaina i mulivaka! He fetu foki nae mata ki ei ia fanau nofo akoakoga.Healoa! He laumatagi nae agi malie, fakaola ai te motumotu. Mo fanau a Tokelau, mo hona taeao. Tui Tokelau e! He lagi mo Ohaoha. Ni aua ! Ni aua ko! Ke na he ni paepae gatu. Ke na he ni kilikili uli. Kae ko te kilikili kilei. E liaki ake e te moana i Kogaloto ma Matagi. He tautai e o malae, aua te matua tukua, tama manu, nae malu ai foki te la kehe. E fua tahi! E fua tolu! E fua lima! E fua fitu! E fua iva! E fua agafulu! E naatu e naatu, E tu i loto o te paki nei. E tu, e tu i loto o Fakafotu! E tu i loto o Punamelei. Kua matata kua vahahina. Te vaka ke uli tonu. Te vaka ke faitakia. Foua te tamana pele, moe tu, moe nofo, moe malie. E matea pea i te loto. Ke fafagu koe e Iehu to Aliki i te toe tu.
A Family service was held for Foua on Monday the 6th of July 2015 at the Church Unlimited, 3 Te Atatu Road, Glendene at 6pm. A Funeral Service was held on Tuesday 7 July at 10am at the same church. Please contact Nathan Pedro on 027 715 2333 for viewings. Published in the New Zealand Herald 3 July 2015.
POLITICAL CAREER
Foua Toloa is a Tokelauan politician who served as the Head of the Government of Tokelau, or Ulu, from February 21, 2009, to February 21, 2010. He is a member of the Council for the Ongoing Government of Tokelau, and is a faipule on Fakaofo. As the office of Ulu rotates on an annual basis, Toloa resumed office on February 21, 2011. For a time in 2011-2012, he was also Tokelau's minister for Finance, Telecommunications, Energy and Transport.
During a trip to Tokelauan communities of New Zealand in September 2009, Toloa advocated a return to observer representation in the Tokelau Fono for Tokelauans living overseas. Toloa stated that bringing back representation for Tokelauans abroad would allow the diaspora to contribute to decisions important to the future of their homeland. Toloa noted that it would be possible for overseas representatives to meet in Apia, Samoa, rather than Tokelau for easier travel. "Every General Fono once or twice a year they would come in as representatives to the General Fono, not as delegates but as observers and they can voice their opinion in terms of issues that are discussed with the General Fono, but when it comes to the voting, they are not allowed to vote." Toloa's visit to New Zealand was part of a series of discussions with Tokelauan communities living in New Zealand and Australia.
Ulu Toloa expressed disappointment with New Zealand Prime Minister John Key and the leaders of other developed countries for prioritizing economic concerns over the reduction of carbon emissions at the 2009 APEC summit in Singapore. World leaders at the APEC meeting failed to set a specific target for the reduction of greenhouse gas emissions and, instead, called for an "ambitious outcome" at the December 2009 United Nations Climate Change Conference in Copenhagen.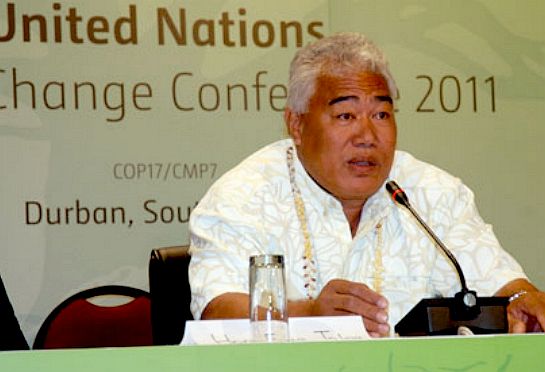 UNITED NATIONS DEC 2012 - Tokelau, a Pacific micro-state with only 1,500 people and three cars, today challenged world leaders at the UN climate talks in Durban to follow its lead and switch entirely to renewable energy. The pinprick of low-lying land halfway between new Zealand and Hawaii, is two days' boat ride – and no aeroplane – from anywhere. But, cyclones permitting, next September it will switch off its old diesel generators and be powered by a $7.5m solar PV system designed to provide 90% of its energy. The rest will come from home-made coconut oil.

"If all goes to plan, the three islands of Tokelau will formally lead the world in percentage reduction in the use of fossil fuels, will be number one leader in carbon emissions savings per person, and number one renewable energy country," said Foua Toloa, the ulu, or head, of the New Zealand protectorate.

"We stand to lose the most of any country in the world due to climate change and the rising sea levels, so leading the way by making the highest per person investment in the wold is a message to the world to do something," he said "It took me 64 hours to get here. Before I left my eldest daughter said: 'Go challenge the world in Durban to match or better the renewable energy targets we have set ourselves and which we will meet next year,'" said Toloa.

"We will be among the first to go under water. Already we are suffering extreme weather, storm surges, droughts, coral-bleaching, inundation of land and groundwater salination. The islanders, who depend on fish, can grow only a few crops on their 12sq kilometres of land." This year, because of a seven month long drought and a series of cyclones, which contaminated the underground water supplies, the islanders could not access water for the first time ever and have started to import it.

Other Pacific islands have considered relocating their populations, but not Tokelau. "We have no intention of leaving. This is a God-given land, we have a culture, a language, an identity and a heritage. We want to preserve Tokelau for future generations. "My heart is heavy. Climate change does not distinguish between colour or race. It is an everyday reality here. It is our life. If nothing comes from this meeting, then we will continue to suffer," he is quoted as saying.

Tokelau's switch to renewables is expected to encourage scores of other islands. It expects to save 12,000 tonnes of CO2 over the life of the 1MW solar power plant – around 1,600 times the annual CO2 emissions of the average person in the UK. Tokelau will also have no more worries over changing fuel prices and intermittent supplies. "No more noisy generators will disturb the quiet of the islands. We will be an example to the world, even though we have done nothing to deserve this," said Toloa.

The only trouble is the tiny state must find $900,000 as its share of the $7.5m project. "That is why we are hoping that the green climate fund is established in the next few days. It is very urgent."
Toloa criticized Prime Minister Key for placing pressing economic concerns ahead environmental issues, including the long-term survival of small island states. Toloa told Radio New Zealand International, "That the impact on nations such as ours threatens our livelihood and existence as a people, I think the Prime Minister understood our position and stated as much. However, in the mix of things it would seem that other priorities such as establishing a free trade policy to promote new economic growth takes precedent at this time."
In November 2011, Toloa, as Head of Government of Tokelau, became a founding member of the Polynesian Leaders Group, a regional grouping intended to cooperate on a variety of issues including culture and language, education, responses to climate change, and trade and investment.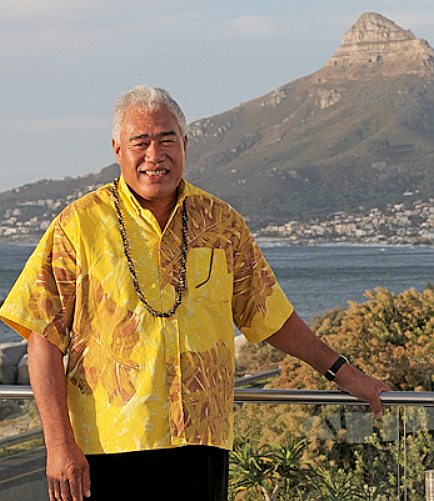 RENEWABLE ENERGY LEAD

In December 2011, at the 2011 United Nations Climate Change Conference in Durban, Toloa announced that Tokelau would, in 2012, "switch entirely to renewable energy", as it would "switch off its old diesel generators and be powered by a $7.5m solar PV system designed to provide 90% of its energy. The rest will come from home-made coconut oil". He urged the rest of the world to move towards renewable energy in like manner.

After the end of his term as Ulu, Toloa served as Minister for Finance, Telecommunications, Energy and Transport. He was sacked in June 2012 "after New Zealand's Foreign Minister, Murray McCully, had indicated he couldn't work with him". The dispute derived from the "dilapidated" MV Tokelau, the ship serving as Tokelau's link to the outside world. McCully considered it not to be seaworthy, but Toloa insisted it should continue to be used. Ulu Kerisiano Kalolo dismissed Toloa, and the MV Tokelau was replaced with a newer ship, the PB Matua.

Toloa was the only faipule re-elected in the 2014 election.
WHALE SANCTUARY
Foua instigated Tokelau's membership of the Pacific Oceanscape initiative, leading to a 2009 Declaration of Tokelau's EEZ as a whale sanctuary. Additionally, Mr Toloa rigorously promotes, in all fora, political and technical action to address impacts of climate change on Small Island Developing States.
SUSTAINABILITY

Before his political career, Mr Toloa worked in the Tokelau Public Service as an Agriculture Extension Officer, becoming Director of the Department of Economic Development, Natural Resources and Environment from 1984 to 1991, and then again in 2005. He has also completed numerous consultations with regional and international organisations such as the Pacific Regional Environmental Programme (SPREP), the United Nations Environment and Development Programmes (UNEP and UNDP), the Forum Fisheries Agency (FFA), IUCN and the World Bank.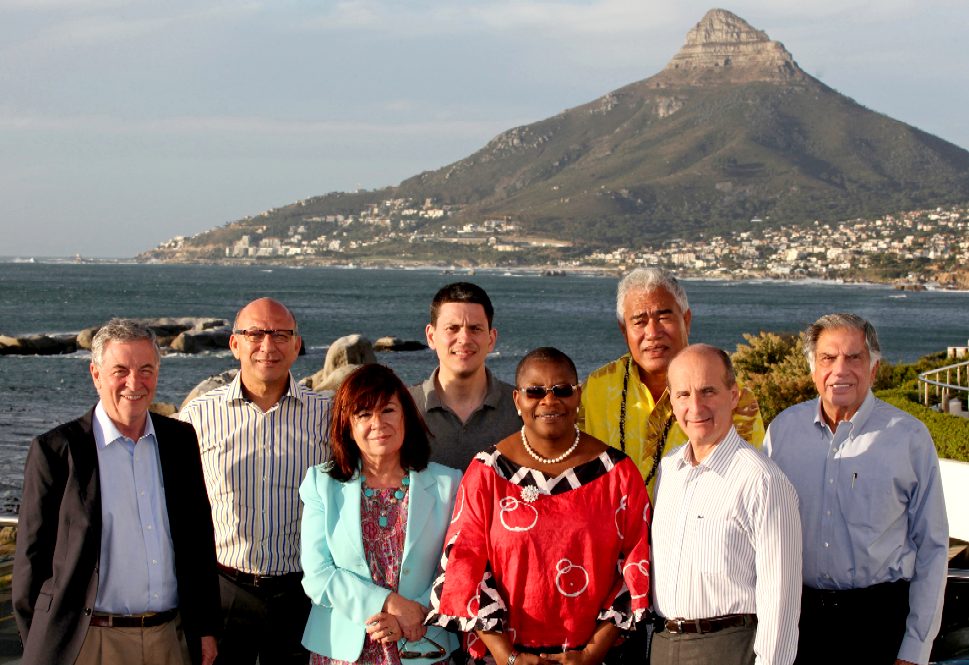 GOC CAPE TOWN - Members of the Global Ocean Commission at their inaugural meeting in Cape Town, South Africa. Left to right: Robert Hill, Trevor Manuel (Co-chair), Cristina Narbona, David Miliband (Co-chair), Obiageli Ezekwesili, Foua Toloa, José María Figueres (Co-chair), Sir Ratan Tata.
TOKELAU GEOGRAPHY
Tokelau includes three atolls in the South Pacific Ocean between longitudes 171° and 173° W and between latitudes 8° and 10° S, about midway between Hawaii and New Zealand. They lie about 500 km (311 mi) north of Samoa. The atolls are Atafu, Nukunonu, both in a group of islands once called the Duke of Clarence Group, and Fakaofo, once Bowditch Island. Their combined land area is 10.8 km2 (4 sq mi). The highest point of Tokelau is just 5 meters above sea level (16 feet). There are no ports or harbours. Tokelau lies in the Pacific tropical cyclone belt. A fourth island that is culturally, historically, and geographically, but not politically, part of the Tokelau chain is Swains Island (Olohega), under United States control since about 1900 and administered as part of American Samoa since 1925.

Swains Island was claimed by the United States pursuant to the Guano Islands Act, as were the other three islands of Tokelau, which claims were ceded to Tokelau by treaty in 1979. In the draft constitution of Tokelau subject to the Tokelauan self-determination referendum in 2006, Olohega was also claimed as a part of Tokelau, though the claim was surrendered in the same 1979 treaty. This established a clearly defined boundary between American Samoa and Tokelau.

Tokelau's claim to Swains is generally comparable to the Marshall Islands' claim to US-administered Wake Island, but the re-emergence of this somewhat dormant issue has been an unintended result of the United Nations' recent efforts to promote de-colonization in Tokelau. Tokelauans have proved somewhat reluctant to push their national identity in the political realm: recent de-colonization moves have mainly been driven from outside for ideological reasons. But at the same time, Tokelauans are reluctant to disown their common cultural identity with Swains Islanders who speak their language.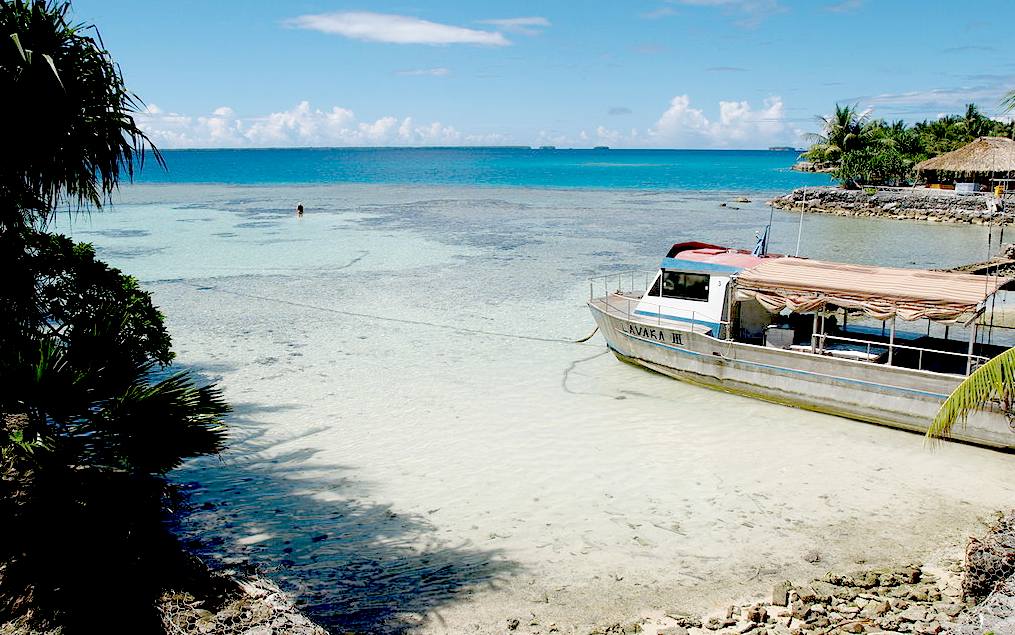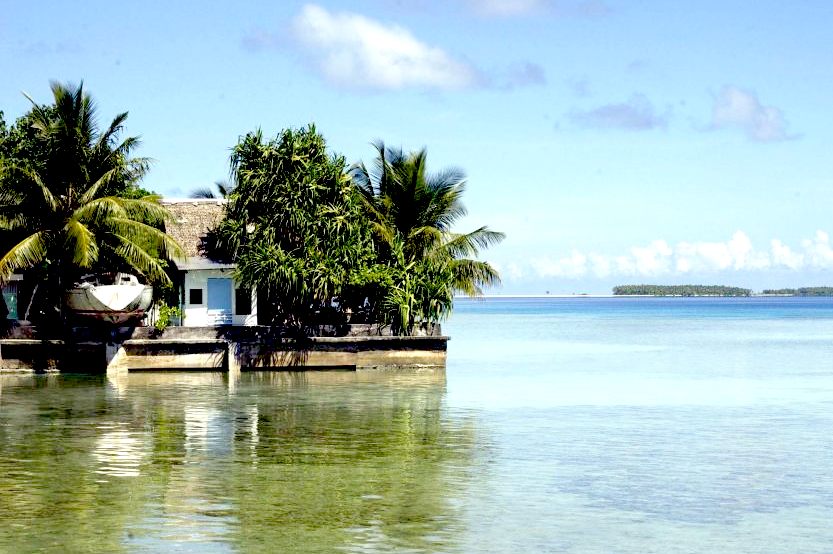 SOUTH PACIFIC PARADISE - These pictures of Tokelau may look like paradise, but the islands are slowly being flooded, victims of climate change.
TOKELAU GOVERNMENT - POLITICAL SYSTEM

Tokelau is a non-self-governing territory and has been administered by New Zealand since 1926. The Administrator of Tokelau, a statutory position, is held by a New Zealand senior public servant and is appointed by the Minister of Foreign Affairs. The Administrator has technical responsibility for the administration of Tokelau's executive government as set out in the Tokelau Act 1948 (as amended) and the Tokelau Administration Regulations 1993. In practice, however, through a progressive transfer of authority and responsibility over the past decade, Tokelau is largely self governing with a system of government based on traditional village leadership.

The position of Ulu-o-Tokelau, the Titular Head of State, is rotated among the leader of each atoll (the Faipule) on an annual basis. The General Fono (national assembly) meets three times a year and is made up of elected representatives from each atoll. Executive authority rests with the Council of the Ongoing Government of Tokelau which is based in Apia, Samoa. Tokelau does not have opposition parties.
Government the Tokelauan Way: Every three years sees the election of a Faipule (Village Head) and a Pulenuku (elected Mayor) who directs village activities. Members of the General Fono or National Assembly are also elected at three-year intervals to deal with national issues. The authority of the General Fono is granted by the Taupulega which remain the ultimate source of authority in Tokelau. Between the General Fono meetings, the three Faipule and three Pulenuku (mayors) meet as the Council for the Ongoing Government of Tokelau which forms the tie between the traditional village governing structure and the national government.

The Ulu-o-Tokelau, is the head of the national government. The Ulu chairs the Council for the Ongoing Government of Tokelau while the Chairman of the General Fono is elected by Fono members. Foua Toloa from Fakaofo is Ulu for 2009. Kuresa Nasau is Faipule of Atafu and will be Ulu in 2010, Pio Tuia is Faipule of Nukunonu and will serve in 2011.

The General Fono meets in three sessions of approximately four days during the year. Elections for General Fono representatives are held every three years. In the January 2002 elections, the General Fono adopted a population-based pattern of representation which in 2008 entitled Atafu to seven members, Fakaofo seven and Nukunonu six – making a total of 20 seats.

The Tokelau Amendment Act passed by the New Zealand Parliament in 1996, which came into force on 1 August of that year, conferred on the General Fono the authority to make rules for the peace, order and good government of Tokelau, including the power to impose taxes. The Rules of the General Fono have legal effect in Tokelau. Although Rules may be disallowed by the Administrator within a particular period of time, in practice this power has never been exercised.

New Zealand statute law does not apply to Tokelau unless it is expressly extended to Tokelau. In practice, no New Zealand legislation is extended to Tokelau without Tokelauan consent.

Political and Constitutional Development: In 2003 New Zealand and Tokelau developed a Joint Statement on the Principles of Partnership between the two entities. The document is of a political rather than legal nature and addresses the responsibilities of each party in managing their close partnership. This includes maintenance of language and culture, New Zealand citizenship, economic and administrative assistance, and the Tokelauan community in New Zealand. The document was signed in Tokelau in November 2003, in the presence of the Governor-General. The former Prime Minister of New Zealand made an official visit to Tokelau in August 2004.

In November 2005 New Zealand and Tokelau approved the text of a Draft Treaty of Free Association which formed the basis of a formal act of self-determination by Tokelau in February 2006. The referendum rules set by the General Fono required a two thirds majority of valid votes for a change of status to self-government in free association with New Zealand. The referendum was monitored by a United Nations team. Although the referendum did not reach the required two-third's majority, Tokelau asked that the draft Treaty and supporting documents remain 'on the table' as Tokelau debated its political future.

At the General Fono in August 2006 it was decided to hold a second referendum the following year. Extensive consultations took place in Tokelau prior to this second vote. In addition, Tokelau's Council for Ongoing Government met with Tokelauan communities outside Tokelau - in New Zealand, Hawaii, American Samoa, Samoa and Australia. From 20-24 October 2007, Tokelau held its second referendum and again did not reach the two-thirds majority required for a change of status. The result is that Tokelauans have exercised their right to self-determination on both these occasions by voting to remain members of a non-self governing territory within the Realm of New Zealand.

Following these two referenda Tokelau's leaders, in February 2008, met with New Zealand's Prime Minister and Minister of Foreign Affairs. In the discussions held during this period it was agreed that Tokelau would benefit from increased effort and attention being directed to the improvement of services and infrastructure on the atolls. This shared commitment has continued to inform programmes within Tokelau and those directed at supporting the quality of living on the atolls.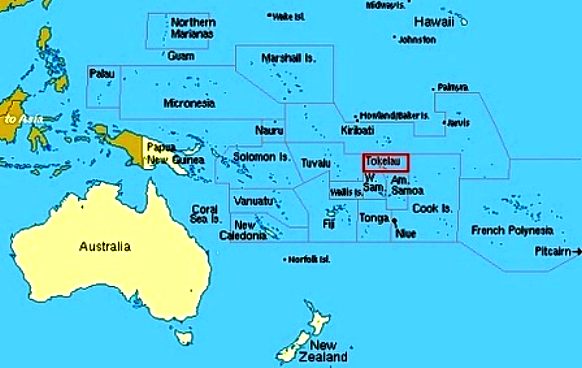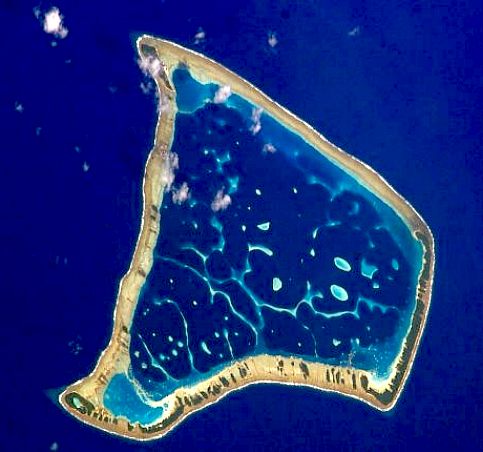 ABOVE LEFT - A location map showing Tokelau in the middle of the South Pacific Islands. ABOVE RIGHT - A NASA satellite photograph of the Fakaofo atoll. BELOW - a Map showing the three main Islands: Atafu, Nukunonu and Fakaofu.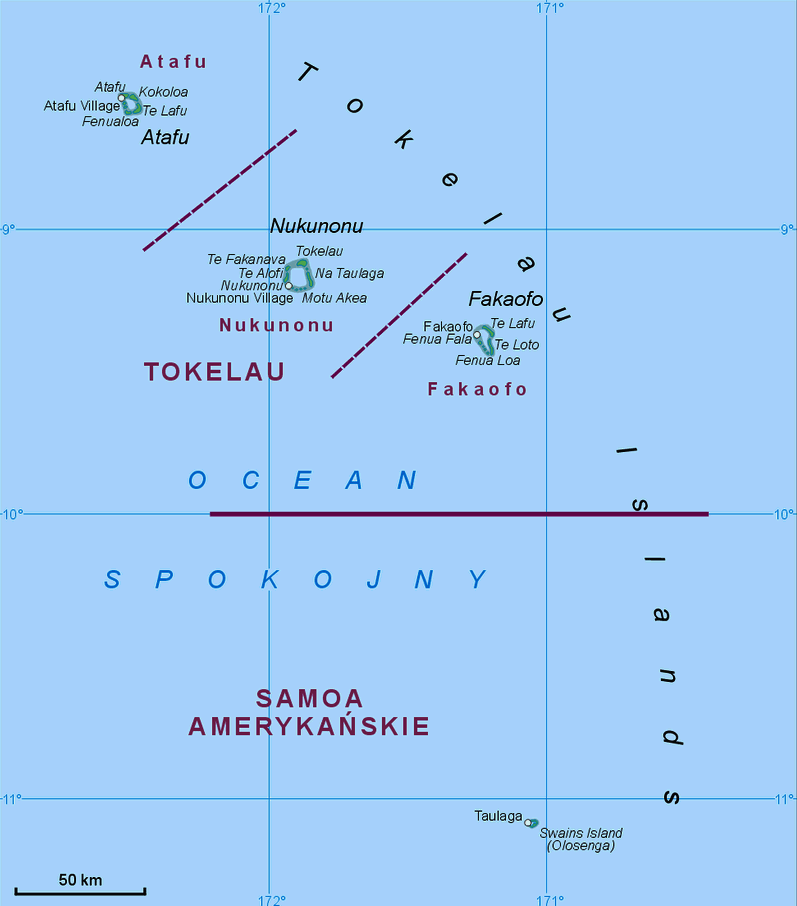 HEAD OF STATE
The head of state is Elizabeth II, the Queen in right of New Zealand, who also reigns over the United Kingdom and the other Commonwealth realms. The Queen is represented in the territory by acting Administrator Jonathan Kings. The current head of government is Foua Toloa, who presides over the Council for the Ongoing Governance of Tokelau, which functions as a cabinet. The Council consists of the Faipule (leader) and Pulenuku (village mayor) of each of the three atolls. The monarch is hereditary, the administrator appointed by the Minister of Foreign Affairs and Trade in New Zealand, and the office of head of government rotates between the three Faipule for a one-year term.

The Tokelau Amendment Act of 1996 confers legislative power on the General Fono, a unicameral body. The number of seats each atoll receives in the Fono is determined by population – at present, Fakaofo and Atafu each have seven and Nukunonu has six. Faipule and Pukenuku (atoll leaders and village mayors) also sit in the Fono.

On 11 November 2004, Tokelau and New Zealand took steps to formulate a treaty that would turn Tokelau from a non-self-governing territory to a self-governing state in free association with New Zealand. Besides the treaty, a United Nations-sponsored referendum on self-determination took place, with the three islands voting on successive days starting 13 February 2006. (Tokelauans based in Apia, Samoa, voted on 11 February.) Out of 581 votes cast, 349 were for Free Association, being short of the two-thirds majority required for the measure to pass. The referendum was profiled (somewhat light-heartedly) in 1 May 2006 issue of The New Yorker magazine. A repeat referendum took place on 20–24 October 2007, again narrowly failing to approve self-government. This time the vote was short by just 16 votes or 3%.

In May 2008, the United Nations' Secretary General Ban Ki-moon urged colonial powers "to complete the de-colonization process in every one of the remaining 16 Non-Self-Governing Territories", including Tokelau. This led the New Zealand Herald to comment that the United Nations was "apparently frustrated by two failed attempts to get Tokelau to vote for independence". In April 2008, speaking as leader of the National Party, future New Zealand Prime Minister John Key stated that New Zealand had "imposed two referenda on the people of the Tokelau Islands", and questioned "the accepted wisdom that small states should undergo a de-colonization process".
TOKELAU CONTACTS
Jovilisi Suveinakama
General Manager, Apia
Tokelau Apia Liaison Office
P O Box 3298
Apia, Samoa
Ph +685 20822

Hina Kele
Coordinator,
Taupulega Office, Fakaofo

Aukusitino Vitale
General Manager,
Taupulega Office,Nukunonu

Sefo Vulu
Director,
Taupulega Office, Atafu

For more information contact tevakai@lesamoa.net
THE FLYING TORTOISE - AUGUST 11 2012

Tokelau, the tiny country with the bluest of blue waters was the first wholly solar powered nation in the world. The first of three solar powered systems being installed on the three atolls that make up Tokelau has been turned on. Fakaofo turned off its old diesel electricity system that burned around 200 litres of fuel daily and became totally solar powered.

The other atolls, Nukunonu and Atafu will have their solar systems totally operational by the end of the year. The Mount Maunganui based New Zealand company Powersmart, said Tokelau's new system is among the largest off-grid solar systems in the world. It includes 4032 solar panels, 392 inverters and 1344 batteries, each weighing 230kg.

During periods of prolonged cloud cover, generators running on coconut oil will supply power and simultaneously recharge the battery bank. Tokelau is a little nation leading the world.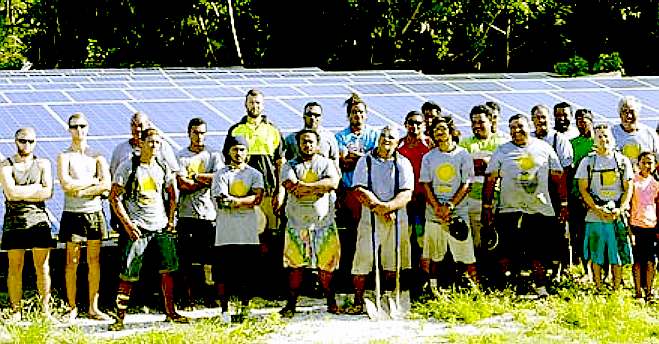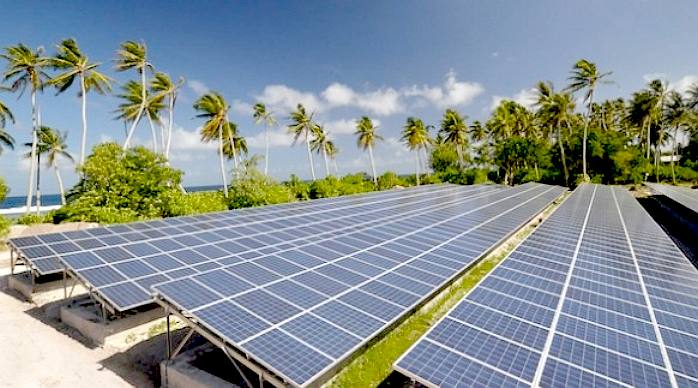 RAINBOW PALS

Tokelau is not just a small county — it's tiny. It is made up of three small atolls: Atafu, Nukunonu, and Fakaofo. Altogether, there are just 1,400 people in Tokelau. Though most of them are indigenous Pacific Islanders, they're not all alike. On Atafu, the smallest of the islands, most of the islanders are followers of the Protestant Church. On Nukunonu, the largest of the islands, almost everyone is Catholic. Of course, on Fakaofo, they're pretty evenly split.

The people of Tokelau have come together over a common concern: Sustainability. The islands of Tokelau are very low, at the highest just 5m above sea level. This means that rising ocean waters put their existence at risk in a very real way! There's not a lot that a tiny Oceanic nation can do to stop the global problem of fossil fuels, but they've got to try something, right?
Last year, Tokelau announced that is moving towards an almost 100% dependence on solar power and coconut oil. Just because Tokelau is small, doesn't mean it is an easy task. There is very limited transportation between the atolls — no airplanes, just boats. Also, the islands experience severe weather conditions throughout the hurricane season, so these solar panels will be built to last!

This is how the New Scientist explains it: "By mid-2012, each island's electricity grid will be powered by solar photovoltaic cells, with batteries to store excess electricity for the night. During periods of thick cloud cover or when electricity demand exceeds solar supply, a purpose-built generator that runs on coconut oil will supply power and simultaneously recharge the battery bank."

Wow! And they're not the only ones. There's an island way north in Denmark, that gets its energy entirely from wind turbines. Hmm, if I had to pick between living in a place that depended on wind, and one that lives off coconuts and sunshine.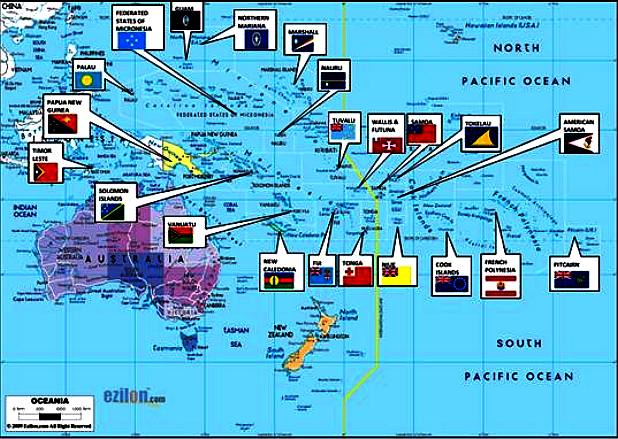 PACIFIC ISLANDS DEVELOPMENT FORUM (PIDF)

United – All Pacific People irrespective of political status. The PIDF is open to all Pacific Island Countries irrespective of their political status whether independent states or dependant territories and will involve all sectors of the economy whether public, private or civil society. The Pacific Countries are: American Samoa, Commonwealth of the Northern Marianas, Cook Islands, Federated States of Micronesia, French Polynesia, Guam, Kiribati, Marshall Island, Nauru, New Caledonia, Niue, Palau, Pitcairn Islands, PNG, Samoa, Solomon Island, Timor Leste, Tokelau, Tonga, Tuvalu, Vanuatu, Wallis and Futuna.

PIDF CONTACTS

Pacific Islands Development Forum Secretariat
56 Domain Road, Suva, FIJI
P.O. Box 2050, Government Buildings, Suva, FIJI

Tel: (679) 3311 518, (679) 3311 525
Fax: (679) 3311529, (679) 3311535
Email: secretariat@pacificidf.org
Website: www.pacificidf.org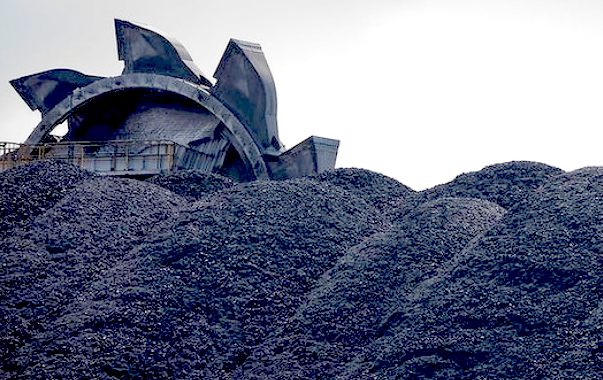 ABC NEWS MAY 2014

The mining giant, BHP has declined an invitation to visit the tiny Pacific island nation of Tokelau. The Ulu of Tokelau Aliki Faipule Kuresa Nasau wrote a letter to the president of BHP Billiton Coal, Dean Dalla Valle, asking him to visit to see the impacts of climate change first hand.

It followed recent comments Mr Dalla Valle made about the vital role coal plays in lifting 1.7 billion people out of poverty. But Mr Faipule says while reducing poverty is a commendable aim, as a fossil fuel, coal is contributing to climate change - something the people of Tokelau are having to deal with firsthand.

"The invitation is still open for him, for BHP or any others who would like to see the reality we are facing in Tokelau," Mr Faipule told Pacific Beat. "I am very concerned about our country in the future." The head of government says in his 20 years in the island he has seen the sea rise and the subsequent erosion. "It is a big change from the first time I got to Tokelau and it is very scary," Mr Faipule is quoted as saying. "The problem is if we don't do anything...we will be gone."

Mr Faipule says though he understands BHP's point of view, the mining giant should also understand the Pacific nation's fears. "Tokelau and small countries like Tokelau will be gone if we don't work together." "There are always two sides to the story and that's why I invited him (Mr Dalle Valle)."

Using fossil fuel like coal might help some poor but would have a negative impact on countries like Tokelau, Mr Faipule said. Tokelau, he says, has invested significant time and financial effort to make the nation more sustainable.

"We have done this by implementing mitigation projects towards the reduction of emission and becoming the first nation in the world to be fully 100 per cent solar," Mr Faipule said. "Tokelau has been changed only because we want to live and I am sure there is a better solution around in the world for everybody to do that, to do better than what it is today."
BBC NEWS FEBRUARY 23 2015

Profits at mining giant BHP Billiton have been hit by the falling price of iron ore, coal, copper and other commodities. Underlying profit for the half-year to 31 December fell by 31% to $5.35bn (£3.46bn), but that was better than industry analysts were expecting.

To compensate for falling prices BHP has made deep cuts in its spending on exploration and other investment. It spent $6.4bn during the six-month period, down 23% on the previous year.

"We started to prepare for a sustained period of lower prices almost three years ago by increasing our focus on efficiency and lowering our investment," chief executive Andrew Mackenzie said in a statement accompanying the latest results.

"Since then, we have achieved annualised productivity gains approaching $10bn and reduced capital spending by almost 40%," he said.

BHP is planning to move its aluminium, manganese into a separate company, which will also hold nickel and silver mines and some coal mines in Australia and South Africa.

Called South32, BHP hopes to spin-off the new company in the summer following a shareholder vote. The company has also been hit by falling oil prices. Last month BHP Billiton announced a 40% reduction in its US shale oil operation. By the end of June it plans to have reduced the number of shale rigs from 26 to 16. Bad news for BHP investors, good news for the rest of the world.
BHP CONTACTS
Australia

BHP Billiton Limited
BHP Billiton Centre
171 Collins Street
Melbourne Victoria 3000
Phone Australia: 1300 55 47 57
Phone International: (61 3) 9609 3333
Fax: (61 3) 9609 3015

Corporate Centres

BHP Billiton Plc
Neathouse Place
London SW1V 1LH
United Kingdom
Phone: (44 20) 7802 4000
Fax: (44 20) 7802 4111

BHP Billiton Marketing Asia Pte Ltd
10 Marina Boulevard, #50-01
Marina Bay Financial Centre, Tower 2
Singapore 018983
Phone: (65) 6421 6000
Fax: (65) 6421 7000

THE GLOBAL OCEAN COMMISSIONERS
| | | | | | | |
| --- | --- | --- | --- | --- | --- | --- |
| | | | | | | |
| Carol Browner | Victor Chu | Obiageli Ezekwesili | Luiz Furlan | Vladimir Golitsyn | Robert Hill | Yoriko Kawaguchi |
| . | . | . | . | . | . | . |
| | | | | | | |
| Pascal Lamy | Paul Martin | Sri Mulyani Indrawati | Cristina Narbona | Ratan Tata | Foua Toloa | Andrés Velasco |
GOC OBJECTIVES
The objective of the Global Ocean Commission is to address the issues herein by formulating 'politically and technically feasible short, medium, and long-term recommendations. The work of the Commission thus focuses on four key tasks:

1. To examine key threats, challenges, and changes to the ocean in the 21st century, and identify priority issues. The Commission will utilise both scientific and economic evidence, drawing on existing reports from world experts, as well as commencing original research in partnership with other organisations.

2. To review the effectiveness of the existing legal framework for the high seas in meeting these challenges. According to the Commission, this means a special focus on the effectiveness of regional fisheries management organisations, particularly with respect to their accountability, transparency, and performance. It also means reviewing the governance gap on biodiversity conservation and analysing options for combatting IUU fishing. The Commission will also assess the suitability of the existing legal regime for regulating emerging uses of the global ocean.

3. To engage with interested parties around the world, as well as the general public. The Commission will connect with fishers, military and merchant navies, recreational sailors, seafood companies, conservation groups and the emergent seabed mining business. The Commission also aims to raise understanding among policymakers, economists and other groups, including the general public, of the implications should high seas issues not be reformed.

4. To make recommendations regarding 'cost-effective, pragmatic and politically feasible reforms of high seas governance, management and enforcement.' While the threat analysis will take account of external issues such as climate change, recommendations will focus on reforms that can be achieved by evolving high seas governance. Some may concern the fundamental legal framework under which the global ocean is governed, whereas others may focus on improving the effectiveness of existing mechanisms.

The Global Ocean Commission
Somerville College
Woodstock Road
Oxford, OX2 6HD
Tel: UK+44 (0) 1865 280747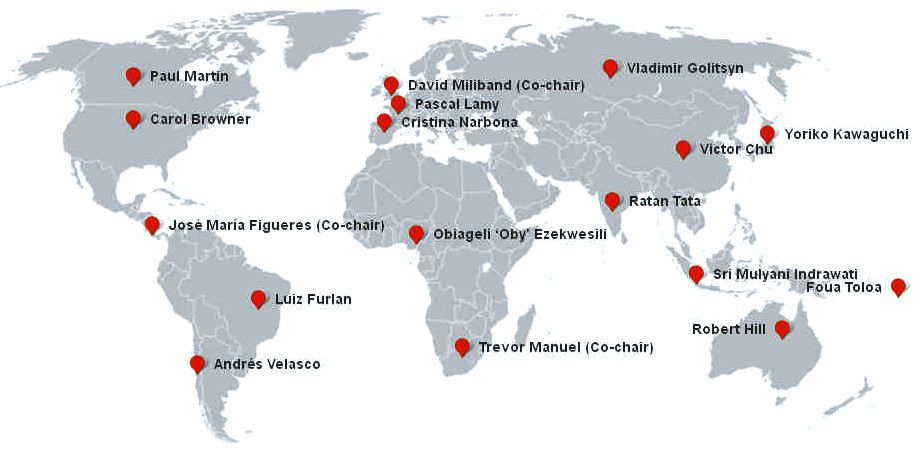 GLOBAL OCEAN COMMISSIONERS - A map of the world showing the location of the GOC's commissioners.
GLOBAL OCEAN COMMISSIONERS - CO-CHAIRS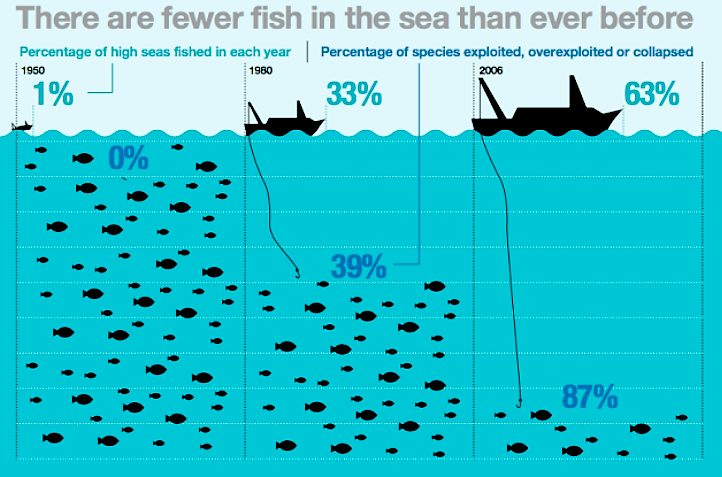 RICH COUNTRIES PAY ZOMBIES $5 BILLION A YEAR IN SUBSIDIES TO PLUNDER THE OCEANS - If industrial fleets weren't subsidized, they'd go out of business. Small-scale fisheries that don't need enormous amounts of fuel to catch huge hauls of fish - i.e. the ones using sustainable fishing practices - would then in theory thrive. Many of these fishermen are in poor countries whose governments can't afford to compete in the industrial looting.

Worse, there's a double-whammy zombie effect going on in the fishing context. Government subsidies to highly destructive industrial fleets don't just deprive small-scale fishermen of finite taxpayer dollars and edge them out of the market with cheap prices; they also rob them of current and long-term fishing stocks.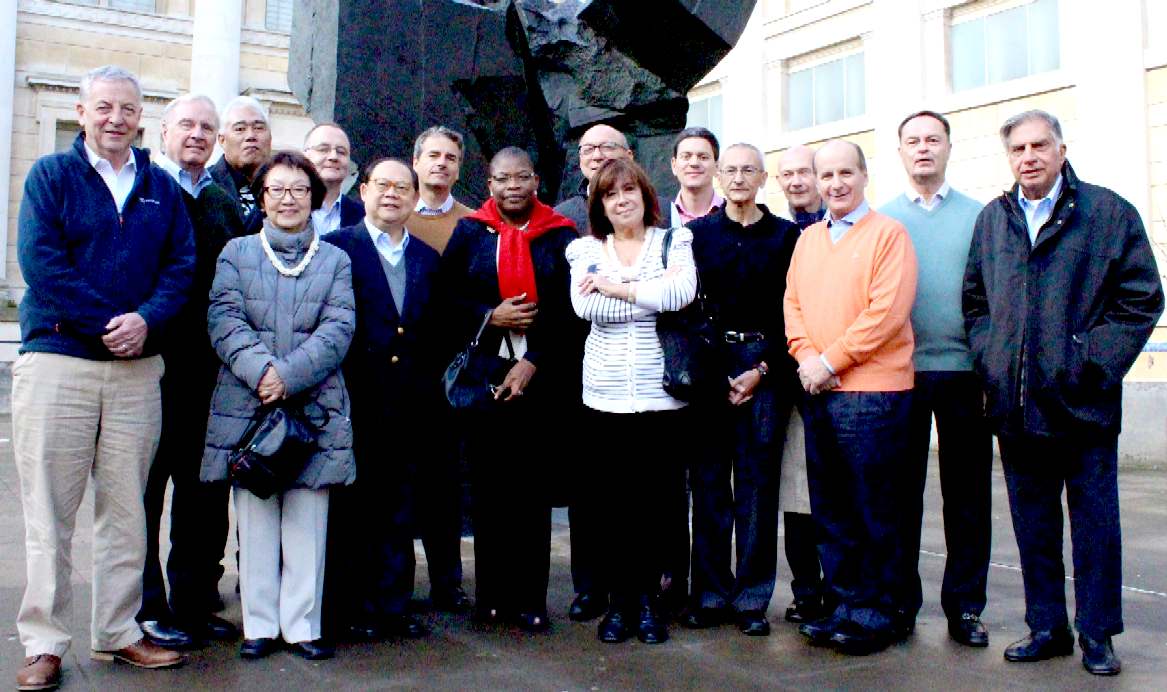 The Global Ocean Commission at its meeting in Oxford, 21st-23rd November 2013 (left to right) Robert Hill, Paul Martin, Foua Toloa, Yoriko Kawaguchi, Simon Reddy (Executive Secretary), Victor Chu, Andrés Velasco, Obiageli Ezekwesili, Trevor Manuel (Co-chair), Cristina Narbona, David Miliband (Co-chair), John Podesta, Pascal Lamy, José María Figueres (Co-chair), Vladimir Golitsyn, Ratan Tata.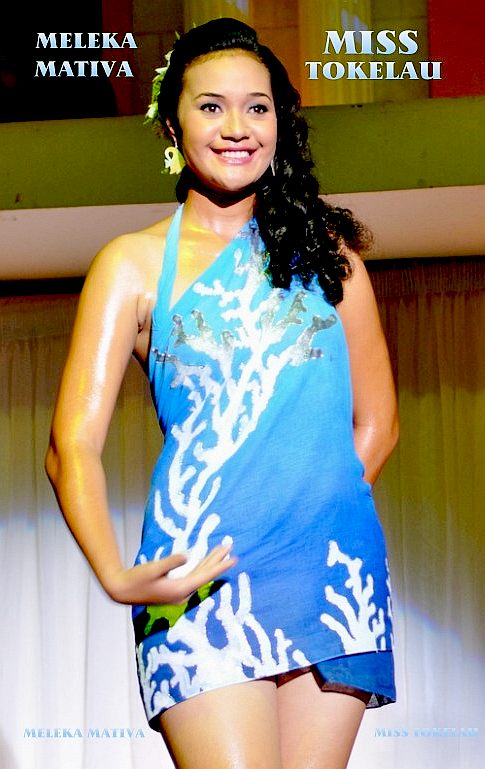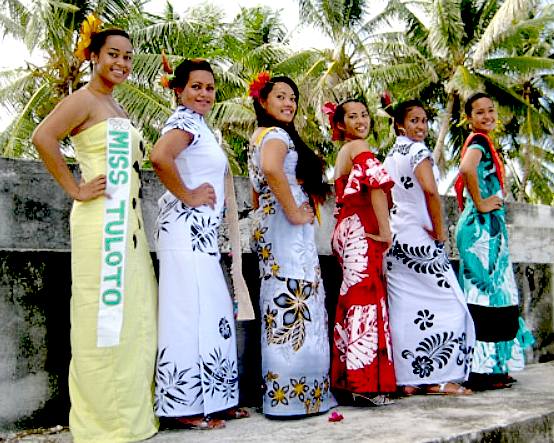 MISS SOUTH PACIFIC PAGEANT - The Sarong and Talent competition began on the evening of Friday 26th November 2010. The Port Moresby community got more than the K60 fee in return as each contestant walked out onto the top stage, was introduced and then walked down the stairs to the lower stage. The sarong parade made for a stunning show. Contestants described to the audience what the patterns or designs on their sarongs said about their culture and society, after which they participated in a traditional Motuan dance. It was an endearing sight to see all these beautiful young ladies of the South Pacific swaying to the rhythmic beat of PNG drums (kundu and garamut) in a night of cultural inspiration.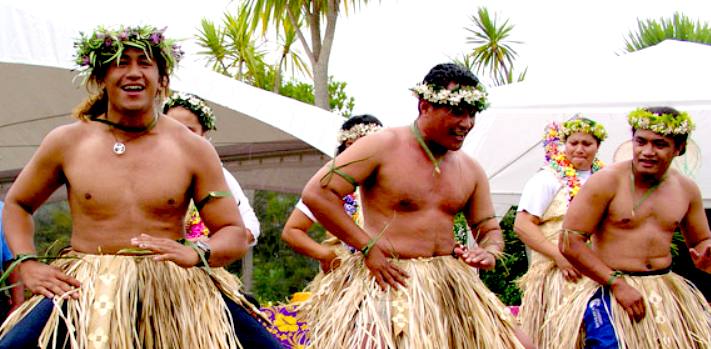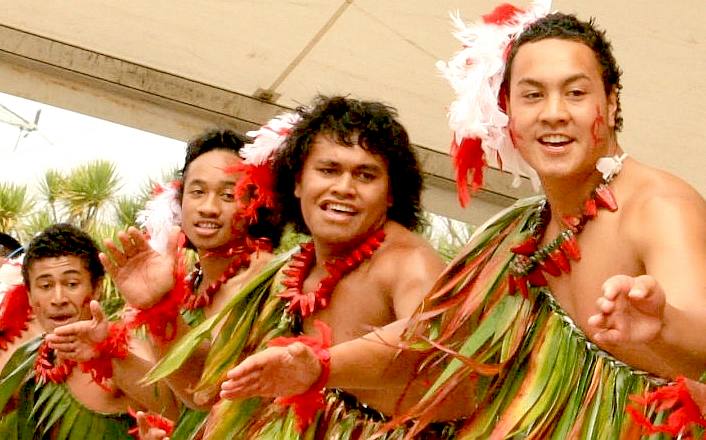 The theme of empowering women was not as apt as in latter years, since women all over the world have become just as powerful as their male counterparts. Regardless, the ever-illusive goal of greater participation of women in national and regional affairs means an empowered nation – we should not though forget that male and female dress and physique can be beautiful. Life is not just about power, it is about being content, socially, financially and politically.
LINKS & REFERENCE
The flying tortoise blogspot August 2012 Okelau first wholly solar powered
Notices New Zealand Herald obituaries obituary Foua Toloa
The Guardian 2011 December Pacific micro state renewable energy
Global ocean commissioners foua toloa
http://en.wikipedia.org/wiki/Foua_Toloa
National Geographic news 2014 June Global-ocean-commission-report-high-seas-fishing-environment
Virgin leadership and advocacy introducing global ocean commission
Wikipedia European_Commissioner_for_Maritime_Affairs_and_Fisheries
Reuters 2013 US oceans new global group to clean up
Freewebs Kingdom Covenant Church Australia Tokelau
ABC news 2014 May BHP mining giant declines invitation to visit pacific island
BBC News business BHP profits slump February 2015
Pacific Islands Development Forum
http://pacificidf.org/
http://www.bbc.co.uk/news/business-31596813
http://www.bhpbilliton.com/
http://theflyingtortoise.blogspot.co.uk/2012/08/tokelau-first-wholly-solar-powered.html
http://www.pacificsouth.com/featured/a-brief-history-of-the-south-pacific
http://www.abc.net.au/news/2014-05-03/an-mining-giant-bhp-declines-nvitation-to-visit-pacific-island-/5428018
http://www.freewebs.com/kingdomcovenantchurchaustralia/tokelau
https://en.wikipedia.org/wiki/Tokelau
http://tokelau.org.nz/Tokelau+Government.html
http://notices.nzherald.co.nz/obituaries/nzherald-nz/obituary.aspx?n=foua-toloa&pid=175208960
http://en.wikipedia.org/wiki/European_Commissioner_for_Maritime_Affairs_and_Fisheries
http://www.virgin.com/unite/leadership-and-advocacy/introducing-global-ocean-commission
http://www.scienceifl.com/ocean-plastic-pollution.htm
http://abcnews.go.com/US/wireStory/prince-charles-speaks-dangers-plastic-waste-oceans-29736519
http://www.globaloceancommission.org/
http://time.com/3750375/environment-prince-charles-oceans/
http://news.nationalgeographic.com/2015/03/150318-prince-charles-oceans-trash-plastic-britain/
http://en.wikipedia.org/wiki/Global_Ocean_Commission
http://www.itv.com/news/2015-03-18/prince-charles-makes-impassioned-plea-for-oceans-clean-up/
http://www.theguardian.com/environment/2011/dec/08/pacific-micro-state-renewable-energy
http://www.iisd.ca/irena/irenaa2/13jan.html
http://www.globaloceancommission.org/the-commissioners/foua-toloa/
http://en.wikipedia.org/wiki/Foua_Toloa
ACID OCEANS - ARCTIC - ATLANTIC - BALTIC - BAY BENGAL - BERING - CARIBBEAN - CORAL - EAST CHINA - ENGLISH CH
GULF GUINEA - GULF MEXICO - GOC - INDIAN - MEDITERRANEAN - NORTH SEA - PACIFIC - PERSIAN GULF - SEA JAPAN - STH CHINA
PLANKTON - PLASTIC - PLASTIC OCEANS - UNCLOS - UNEP - WWF