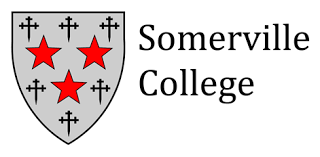 Somerville College is one of the constituent colleges of the University of Oxford in England. Founded in 1879 as Somerville Hall, it was one of the first women's colleges in Oxford. Today, around 50% of students are male. The first male students were admitted to the college in 1994. The college is located at the southern end of Woodstock Road, with Little Clarendon Street to the south and Walton Street to the west.

As of 2006, Somerville had an estimated financial endowment of £44.5 million. From its foundation in 1879, Somervillians have been making their mark on the world around them.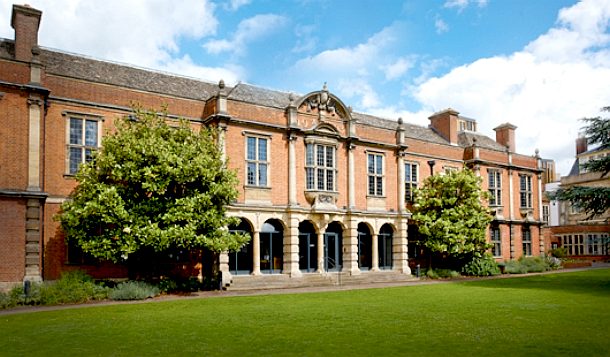 Somerville is home to around 400 undergraduates and 100 graduate students. It is a friendly, vibrant, diverse community, with a bright future. Two new accommodation buildings opened in September 2011, meaning that for the first time Somerville will be able to house the majority of undergraduates who wish to do so throughout their course. The University is undertaking a major new development of the Radcliffe Observatory Quarter, right next door to Somerville. The ROQ will be home to the Oxford University administrative offices, the new School of Government, the Mathematics Institute, the Humanities Centre, the Ruskin School of Art and a major development of the Bodleian Library.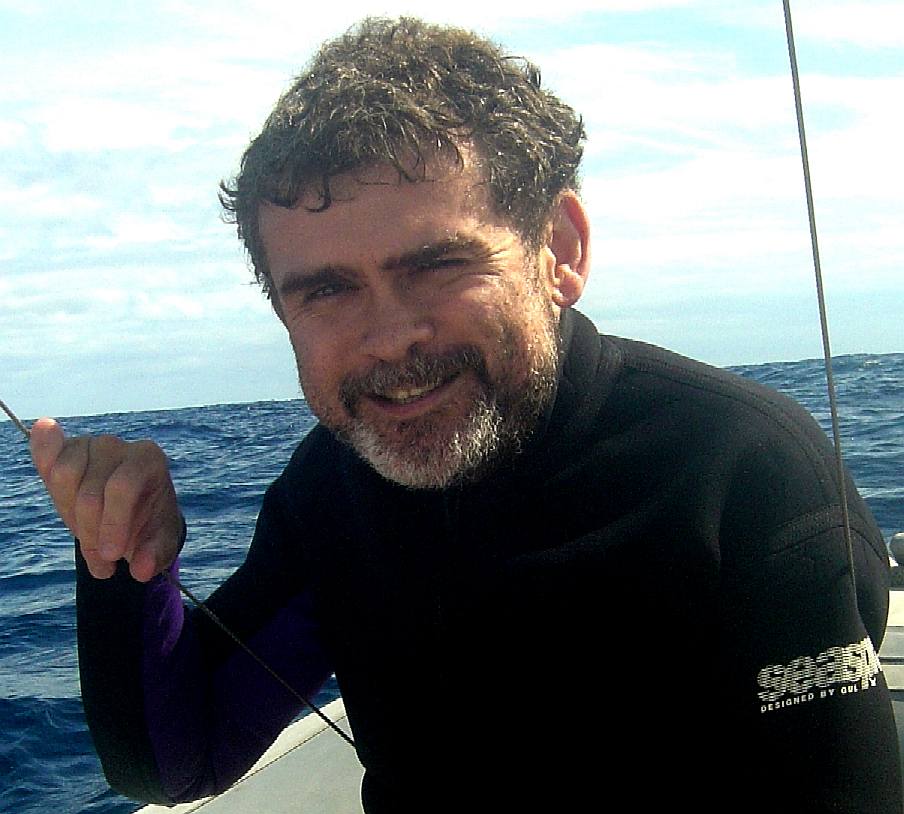 PROFESSOR ALEX ROGERS - Alex David Rogers is a Professor in Conservation Biology at the Department of Zoology, University of Oxford. In 1989 he obtained a B.Sc. (Hons) I Class in marine biology at the University of Liverpool. In 1992 he followed this with a Ph.D. in marine invertebrate systematics and genetics also from the University of Liverpool. His research focuses on the diversity, ecology, conservation and evolution of marine species. Alex has special interests in the deep sea, particularly seamounts, cold-water corals and chemosynthetic ecosystems. He employs molecular tools and traditional methods of taxonomy to study the evolution of marine organisms at a range of temporal and spatial scales. These encompass current environmental factors influencing genetic structure of populations, to historical events associated with past climate change that have shaped the current biota of the oceans.

Alex is internationally recognised for his expertise in deep-sea ecology and human impacts on the oceans. He has also worked extensively with governmental, intergovernmental and non-governmental organisations on impacts of human activities and climate change on marine ecosystems, particularly the high seas, deep-water ecosystems and coral reefs. His work has included reports for Greenpeace, the World Wildlife Fund (WWF), the Deep-Sea Conservation Coalition, the International Union for Conservation of Nature (IUCN), the United Nations International Seabed Authority (ISA), UN Division of Oceans and Law of the Sea (UN-DOALOS), UN Environmental Programme (UNEP) and the UN Food and Agricultural Organisation (FAO) and the G8 Global Legislators Organisation for a Balanced Environment (GLOBE International). At present, Dr Rogers is undertaking research and fieldwork exploring seamount, coral and chemosynthetic ecosystems around the world. He is also Scientific Director of the International Programme on State of the Ocean, an NGO that is specifically analysing current impacts on marine ecosystems globally. Email: alex.rogers@zoo.ox.ac.uk
NOTABLE ALUMNI
Somerville alumnae have achieved an impressive number of "firsts" - the most distinguishable being that of the first woman Prime Minister of the United Kingdom Margaret Thatcher. Also the first, and only, British woman to win a Nobel prize in science Dorothy Hodgkin; the highest ranking female officer of her time in the British intelligence services (the Queen of Spies) Daphne Park; and also the first woman to lead the world's largest democracy Indira Gandhi, who was Prime Minister of India for much of the 1970s.
The Global Ocean Commissioners gathered for their second annual meeting in New York on 5th - 6th July 2013.
THE GLOBAL OCEAN COMMISSION AT SOMERVILLE

The Global Ocean Commission originated as an initiative of The Pew Charitable Trusts, in partnership with Somerville College at the University of Oxford, Adessium Foundation and Oceans 5. It is supported by Pew, Adessium Foundation, Oceans 5 and The Swire Group Charitable Trust, but is independent of all. It is hosted by Somerville College.

SOMERVILLE COLLEGE, THE GLOBAL OCEAN COMMISSION AND PROSPECT MAGAZINE held a panel discussion on 21 November 2013 at Somerville College: Valuing the high seas: economics, environment and governance in the 21st Century.

The Q&A panel consisted of the three Global Ocean Commission Co-Chairs José María Figueres, former President of Costa Rica, David Miliband, former UK Foreign Secretary and Cristina Narbona, former Spanish Environment Minister.

Also on the panel were Alex Rogers, Ernest Cook Fellow at Somerville and Professor of Conservation Biology, Department of Zoology, University of Oxford, and Bronwen Maddox, Editor and Chief Executive, Prospect magazine. Bronwen Maddox chaired the discussion.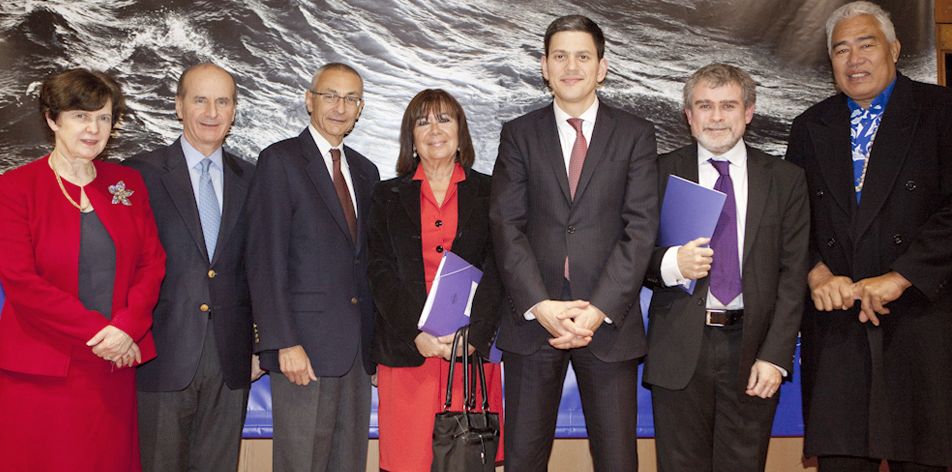 (left to right): Dr Alice Prochaska (Principal of Somerville College,) José María Figueres, John Podesta, Cristina Narbona, David Miliband, Prof Alex Rogers, Foua Toloa.


ABOUT THE GLOBAL OCEAN COMMISSION

The Global Ocean Commission is an independent, high-level initiative looking at management and governance of the global ocean. The Commission is drawn from the highest echelons of international politics, alongside experts in business, economics, law and development. It is jointly chaired by former Costa Rican President José María Figueres, Minister in the South African Presidency Trevor Manuel, and former UK Foreign Secretary David Miliband.

The Commission focuses on the high seas, the internationally governed parts of the global ocean that lie outside countries' exclusive economic zones. The high seas make up nearly half of the Earth's surface; but in several important ways, their governance and management fall short of standards needed in the 21st Century. Overfishing, loss of species and habitat, human rights abuses on illegal fishing vessels, threats to global security and lack of equity in resource use are among the consequences.

The Global Ocean Commission's role is to formulate recommendations for reforming high seas management and governance, and ensure that they gain the political support necessary to drive change. The aim is to secure a healthy, sustainably productive ocean delivering the maximum benefit to humankind.

Somerville College hosts the Commission's Secretariat, headed by Executive Secretary Simon Reddy. Students in sciences, humanities and arts subjects can benefit from the Commission's presence through internships, seminars and informal dialogue.
SOMERVILLE CONTACTS

Somerville College
Woodstock Road, Oxford
OX2 6HD United Kingdom
Tel: +44 (0)1865 270600
Email: enquiries@some.ox.ac.uk
Web: http://www.some.ox.ac.uk/
Charity Registration No. 1139440
SOMERVILLE COLLEGE LINKS
MARINE ACADEMIC INSTITUTIONS A-Z
Australian Maritime - Geneve - Hawaii Renewable - NERC - Newcastle Naval
NOC Oceanographic - Plymouth - Portsmouth - Seoul Naval - SOTON
Strathclyde Marine - Sussex - TU Delft - USP South Pacific - Webb Institute

LINKS & REFERENCE
Wikipedia Somerville_College_Oxford
Global_Ocean_Commission_at_Somerville
Global ocean commission about the
Global ocean commission needs bold vision
Somerville College
International Rescue
Zoo Oxford University Alex Rogers
State of the ocean
http://en.wikipedia.org/wiki/Somerville_College,_Oxford
http://www.some.ox.ac.uk/6142/all/1/Global_Ocean_Commission_at_Somerville.aspx
http://www.globaloceancommission.org/about-the-commission/
http://www.globaloceancommission.org/global-ocean-needs-bold-vision/
http://www.some.ox.ac.uk/
http://www.rescue.org/
http://www.zoo.ox.ac.uk/people/view/rogers_ad.htm
http://stateoftheocean.org/
Wikipedia University_of_Portsmouth
Wikipedia University_of_Southampton
Wolfson_Unit_Marine_Technology
http://www.port.ac.uk/
http://en.wikipedia.org/wiki/University_of_Portsmouth
http://www.southampton.ac.uk/
http://en.wikipedia.org/wiki/University_of_Southampton
http://www.wumtia.soton.ac.uk/
http://auvac.org/community-information/community-news/view/935
Oceanology International OI China 2014 Conference Programme Remote Technology Underwater Kevin Forshaw
NOC robot vehicles launched from Plymouth-on fish tracking mission
http://www.asvglobal.com/latest-news/first-sea-lord-opens-new-asv-facility
http://noc.ac.uk/news/robot-vehicles-launched-from-plymouth-morning-fish-tracking-mission
http://noc.ac.uk/research-at-sea/nmfss/mars
http://www.msubs.com/
http://www.xylemanalytics.co.uk/index.php
http://www.amc.edu.au/
http://www.gavia.is/
http://www.strath.ac.uk/na-me/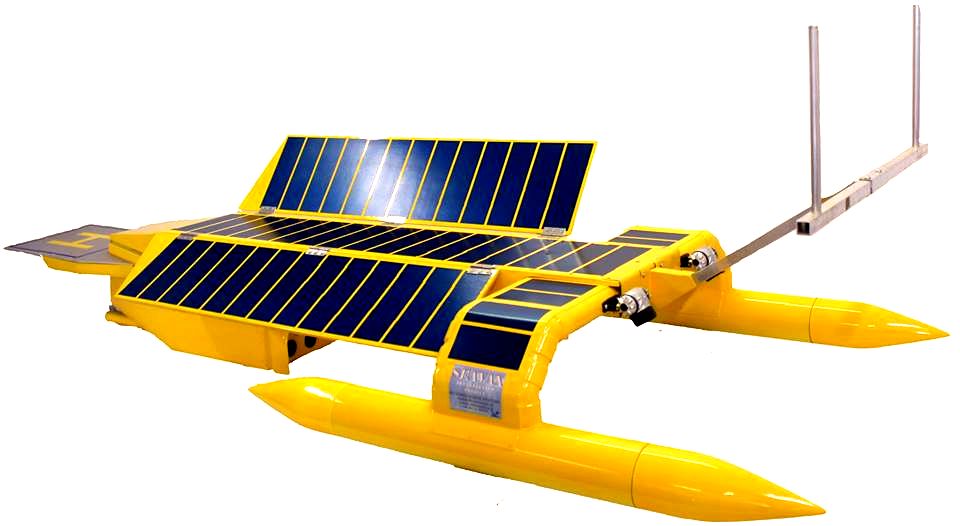 SEAVOLUTION - By cutting the cost of oceanographic survey and speeding up data collection, we will learn more about the oceans, for which the Bluefish ZCC platform is the ideal robotic ocean workhorse. Based on a stable trimaran form hull this design is under development by British engineers with potential collaboration from Europe - the object being to clean up plastic ocean waste. This robot ship uses no diesel fuel to monitor the oceans autonomously 24/7 and 365 days a year - only possible with the revolutionary energy harvesting system. The modular hullform is adaptable for automatic release and recovery of AUVs, ROVs or towed arrays, alternating between drone and fully autonomous modes. The small ship can even carry a UAV for advance scouting and anti piracy monitoring. This vessel pays for itself in fuel saved every ten years.
With climate change now recognised as one of the biggest dangers to our oceans, adapted Bluefish designs could be the zero carbon fishing vessels of the future.
ACIDIFICATION - ADRIATIC - ARCTIC - ATLANTIC - BALTIC - BERING - CARIBBEAN - CORAL - EAST CHINA
ENGLISH CH - GOC - GULF MEXICO - INDIAN - MEDITERRANEAN - NORTH SEA - PACIFIC - PERSIAN GULF - SEA JAPAN
STH CHINA - PLASTIC - PLANKTON - PLASTIC OCEANS - SEA LEVEL RISE - UNCLOS - UNEP WOC - WWF