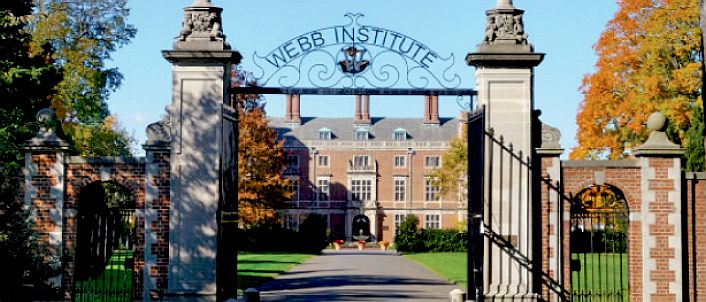 Your starter for ten - a grand entrance to Bruce Wayne's movie mansion. The Webb Institute was used for the exterior shots of Wayne Manor in the 1995 film Batman Forever and again for the 2014 TV series Gotham as well as being featured in the 1998 film Great Expectations.
The Webb Institute is a private undergraduate engineering college in Glen Cove, New York on Long Island. Each graduate of the Webb Institute earns a Bachelor of Science degree in naval architecture and marine engineering. Successful candidates for admission receive full tuition for four years. Webb Institute is noted in the marine industry for its unique emphasis on ship design, systems engineering, and practical work experience.
The Webb Institute is a four-year fully accredited engineering college. It is accredited by ABET and Middle States Commission on Higher Education.
ACADEMICS
The student body of Webb Institute typically numbers around 90, with 12% being female. Webb currently has 10 full-time faculty members and no teaching assistants. Students have high access to professors, who routinely make themselves available at most hours. Adjunct faculty from local colleges teach some humanities courses at Webb such as Political Philosophy and Japanese.

There are four identical classrooms, one for each class. The school is atypical as the professors, rather than students, rotate to each classroom, because of its small size. The front portion of the classroom is dedicated to lecture hours, while the rear has rows of drafting tables, one for each student, along with bookshelves and couches for 24-7 personalized study space.

The centerpiece of Webb's academic facilities is the 90-foot (27 m)-long model ship model basin, which is frequently used by students and faculty alike for experiments and research. Webb Institute has its own physics and chemistry laboratories, an extensive library, an engineering lab for mechanical and electrical experiments, a carpentry shop, and a machine shop. Students have limited around-the-clock access to these facilities. There is an emphasis throughout Webb's academic program on hands-on experience, and several classes require conducting experiments or building and testing models.

Academically, the coursework is intense. Students spend 5 hours a day in lecture, and can spend several hours a day doing homework and studying. During the mandatory internship period from January through February each year, students seek positions in the maritime industry, including shipyards, design offices, and aboard merchant vessels. All seniors are required to complete a senior thesis. Seniors are strongly encouraged to take the Fundamentals of Engineering exam, in which they usually perform exceptionally well.

85% of incoming students make it to graduation. Many graduates establish careers in the maritime industry, with a 100% job placement. Graduates also forge careers in other engineering fields, or find success in finance or law. About a third of each graduating class goes on to pursue an advanced degree. Webb has an active alumni association which supports graduates, fosters a thriving social network, and maintains an alumni fund. The alumni giving rate is over 70%, one of the highest rates in the United States.

Because of the founder's endowment, students who are U.S. citizens are not charged tuition at Webb. They must pay for other costs, such as room and board, books, and various fees. The Bachelor of Science degree is awarded after four years of "total immersion" study, which includes several months of job experience through internship periods.

Webb Institute has been highly rated by Princeton Review in the category of specialty engineering colleges. The institute maintains close relationships with the United States Merchant Marine Academy, the State University of New York Maritime College, and the Cooper Union.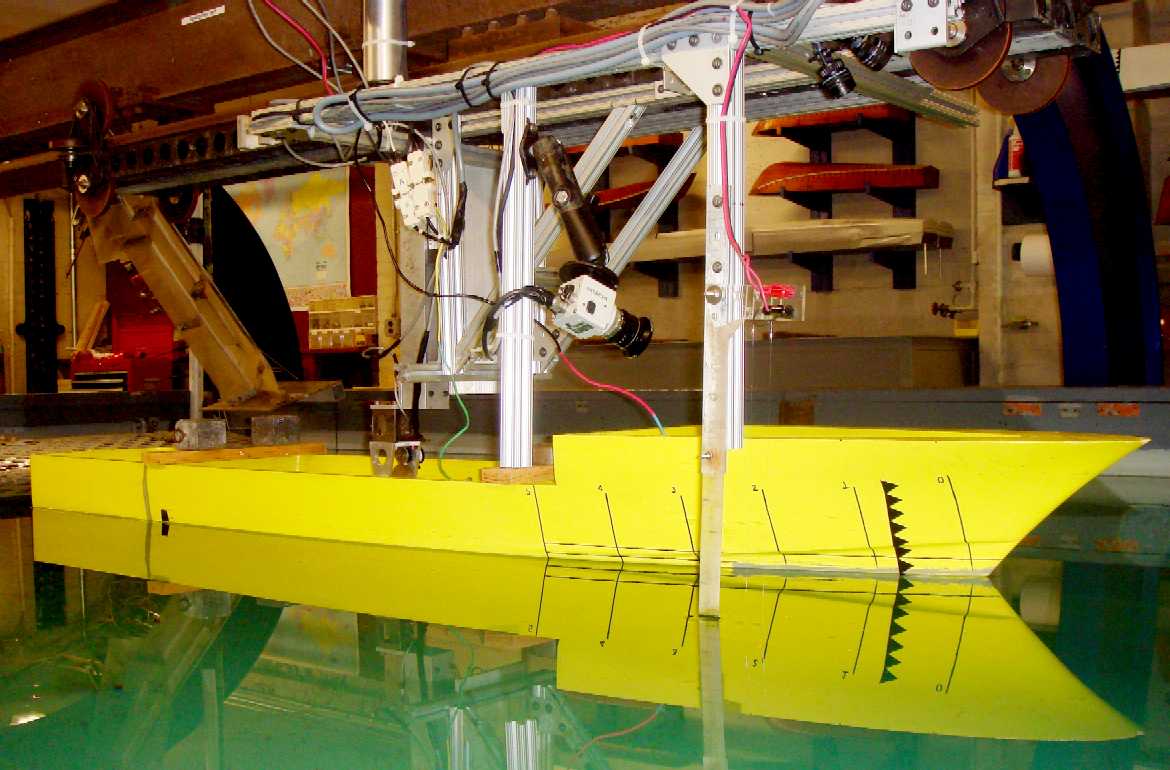 A towing tank basin is usually several metres wide and hundreds of metres long, equipped with a towing carriage that runs on two rails on either side. The towing carriage can either tow the model or follow the self-propelled model, and is equipped with computers and devices to register or control, respectively, variables such as speed, propeller thrust and torque, rudder angle etc.

The towing tank serves for resistance and propulsion tests with towed and self-propelled ship models to determine how much power the engine will have to provide to achieve the speed laid down in the contract between shipyard and ship owner. The towing tank also serves to determine the maneuvering behaviour in model scale. For this, the self-propelled model is exposed to a series of zig-zag maneuvers at different rudder angle amplitudes. Post-processing of the test data by means of system identification results in a numerical model to simulate any other maneuver like Dieudonné spiral test or turning circles.
WORK EXPERIENCE
Winter Work is Webb Institute's term for its unique internship periods. Webb students are required to work in certain areas of the marine industry for 8 weeks during the months of January and February. Freshmen act as apprentices/mechanics in shipyards or boatyards, and sophomores as cadets/observers at sea. Juniors and seniors perform internships in various engineering firms and design offices. By the time students graduate, they have 8 months of work experience. Recently, Winter Work has become increasingly more global, with several students traveling overseas to China, the Netherlands, Denmark, Greece, and the United Arab Emirates.
Webb's total enrollment is only around 80 undergraduates—offers just one double major: naval architecture and marine engineering. For students interested in that subject matter and related fields, it's an extraordinary value. Start with the price tag: free. Thanks to a substantial endowment, every Webb student who is a U.S. citizen or green card holder gets a full-tuition scholarship, worth $44,000 this year.

Bolstered by four required internships over the course of their studies, Webbies also typically graduate into terrific jobs. The typical recent grad reports earning about $65,000 a year, which compares favorably with graduates of other engineering schools. The path to those stellar outcomes isn't easy; the workload at Webb is routinely described as "intense." All students—about 80% of whom are male—are required to live on campus, which is scenically and conveniently located (given the nature of the program) on the Long Island Sound. One of the most popular of the five sports on campus, not surprisingly, is sailing.
MECHANICAL, MARINE and MATERIALS ENGINEERING COURSES 2014/5
Students receive great tutor access to help them with the "rigor" of a 146 credit academic program - over a four year period. This is one of the factors that virtually guarantees work placement, acheived through small classes, teamwork, a dedicated faculty, and industry networking. This combination makes Webb graduates among the best practically trained engineering graduates in the USA.
 
It will be intense. Your first courses in Naval Architecture and Marine Engineering are in your first semester. By the time you've earned your B.S. four years later, you'll have completed 146 credit hours.
In those same four years the Institute will send you off to sea, to make sure you love the world you will be getting into:-
FOUNDER - WILLIAM HENRY WEBB
The Webb Institute of Naval Architecture was founded in 1889 by industrialist and philanthropist William Henry Webb, who had established his career as a preeminent shipbuilder in the 19th century. He recognized the increasing role of science and engineering in the field of ship design, which had long been seen as more of an art form. Webb felt that the ship designers of the future would need to be skilled in structural and mechanical engineering, and other scientific disciplines. The institute graduated its first class in 1893, and continues to educate students in naval architecture and marine engineering.
On April 2, 1889, the state of New York incorporated Webb's Academy and Home for Shipbulders as a non-profit institution. Webb had provided the Academy with an endowment presumed to be sufficient to allow the institution to be self-supporting in perpetuity. It was intended to serve not only as an educational institution for future naval architects, but also as a retirement home for aged shipbuilders.

Webb commissioned New York architect Arthur P. Jennings to design a building for the institution to be built on 14 acres (5.7 ha) of land on a bluff overlooking the Harlem and Hudson rivers in the Bronx. Construction commenced in 1890 and was completed in 1893. The building was designed in the Romanesque style and was built of New York brownstone. It was intended to be "a romantic version of a medieval castle", with turrets, fanciful carving, and other flourishes. This facility was used for 50 years.

During World War II, the institute was closely associated with the U.S. Navy as a training center for naval officers.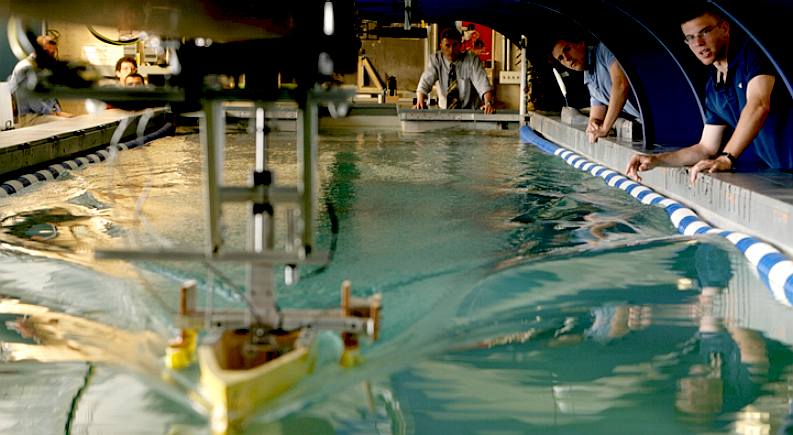 A towing tank can be equipped with a PMM (planar motion mechanism) or a CPMC (computerized planar motion carriage) to measure the hydrodynamic forces and moments on ships or submerged objects under the influence of oblique inflow and enforced motions. The towing tank can also be equipped with a wave generator to carry out seakeeping tests, either by simulating natural (irregular) waves or by exposing the model to a wave packet that yields a set of statistics known as response amplitude operators (acronym RAO), that determine the ship's likely real-life sea-going behavior when operating in seas with varying wave amplitudes and frequencies (these parameters being known as sea states). Modern seakeeping test facilities can determine these RAO statistics, with the aid of appropriate computer hardware and software, in a single test.

Today's state of the art CFD software does not yet allow computers to replace model tests in their entirety by computational flow calculations. One reason, but not the only one, is that elementization is still expensive. Also the lines design of some of the ships is carried out by the specialists of the ship model basin, either from the beginning or by optimizing the initial design obtained from the shipyard. The same applies to the design of propellers.
EXPANSION
By 1945, the Board of Trustees determined that the Bronx campus was no longer suitable and relocation was necessary. The Institute needed new laboratory facilities unavailable at the Bronx facility and they were able to sell the Bronx facility for a considerable sum.

The Institute chose to acquire The Braes, the former country estate of Herbert L. Pratt, in Glen Cove on the North Shore of Long Island. Designed by James Brite and constructed between 1912 and 1914, the main house had a distinct H-shaped layout and Jacobean, Tudor, and Renaissance-influenced design elements that made it distinct among Long Island estates of the era. It was the largest of the six Pratt estates in Glen Cove. The estate was purchased in November 1945 and conversion work began in 1946.

In April 1947, classes began at the new campus in Glen Cove. The main building had been renovated to include classrooms, dormitories, and offices. A model basin and gymnasium were constructed elsewhere on the campus. The main building was renamed Stevenson Taylor Hall in honor of the charter member and President of the Board of Trustees (1900–1926) of the institute. Through the conversion, the ground floor of Stevenson Taylor Hall retained much of the original 1915-era decor.

A modern library and auditorium were added to the campus in 1971. Webb admitted women as students in 1974.

The Webb Institute was used for the exterior shots of Wayne Manor in the 1995 film Batman Forever and again for the 2014 TV series Gotham as well as being featured in the 1998 film Great Expectations.
MONEY MAGAZINE - TIME - JULY 2014 - RANKS THE BEST COLLEGES IN AMERICA FOR YOUR MONEY
New Analysis Finds Babson College in Massachusetts Is Best Value Education in The Country; Webb Institute, MIT, Princeton, and Stanford in Top 5.

(Monday, July 28, 2014) - Today, Money reveals its list of Money's Best Colleges, a new approach to ranking colleges that uses unique measures of educational quality, affordability, and career outcomes to help families find the right school at the right price.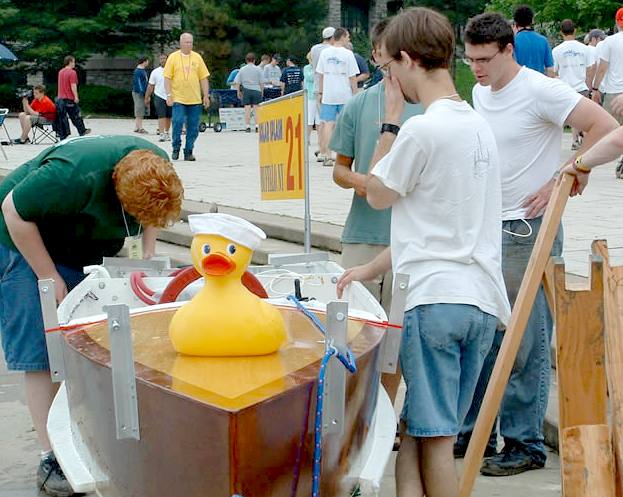 The Webb Institute at Solar Splash, with their rubber duck mascot

Nine months in the making, Money's Best Colleges ranks 665 schools on 17 measures, based on the most recent research about what really matters in higher education. Among its distinctive analyses: The list provides a more realistic way to price colleges, taking into account the complete cost of a degree rather than a single year. It is also the only ranking to evaluate which schools add the most value given the academic and economic background of the students who attend, and to level the playing field on majors, to show whether graduates of a particular college earn more (or less) than average, whether they got degrees in engineering or English. The result, says Money senior writer Kim Clark, who created the rankings and wrote the accompanying story, "is a list of colleges – some famous, some surprising - that, according to the best data available, provide real value. College is expensive, but the highly rated colleges on our list are the most likely to do a great job of educating your student and helping to launch him or her into a well-paying job."

To develop the new rankings, Money partnered with Mark Schneider, former commissioner of the Department of Education's National Center for Education Statistics and his company College Measures, which collects and analyzes data to drive improvements in higher ed. Major contributions also came from Payscale.com, which provided the earnings data. One of the most important findings to come out of the rankings, Schneider notes, is that you don't have to pay a lot to get a high quality education that really helps in the job market. "The published price of a college doesn't tell you very much about what you'll actually pay or of students' later life success," he says. "There is zero correlation with most of our measures."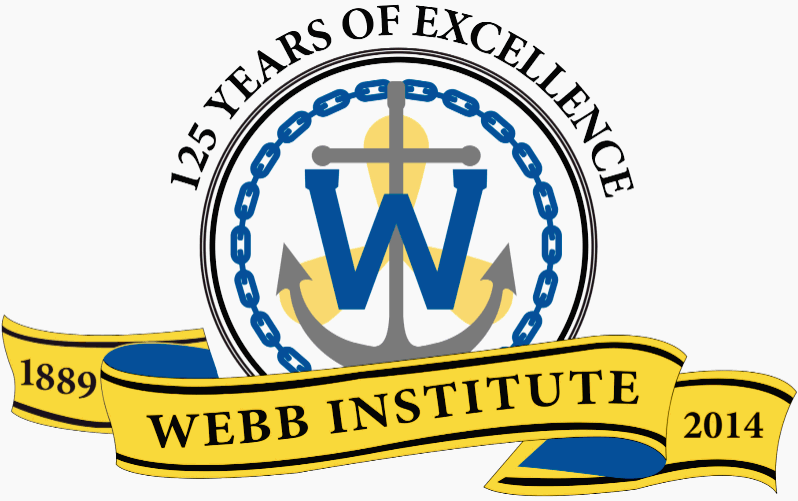 MONEY'S TOP 10 BEST COLLEGES:

1. Babson College – Babson Park, Mass.
2. Webb Institute – Glen Cove, N.Y.
3. Massachusetts Institute of Technology – Cambridge, Mass.
4. Princeton University – Princeton, N.J.
5. Stanford University – Stanford, Calif.
6. Harvard University – Cambridge, Mass.
7. Harvey Mudd College – Claremont, Calif.
8. Cooper Union – New York City, N.Y.
9. Brigham Young University – Provo – Provo, Utah
10. California Institute of Technology – Pasadena, Calif.
Location: Glen Cove, NY
Value Grade/Ranking Score: A/4.34
Enrollment: 79
Net Price of Degree: $77,606
Acceptance Rate: 38%
Average H.S. GPA: 4
Avg. Annual Salary Within 5 Yrs: $65,400
Website: webb.edu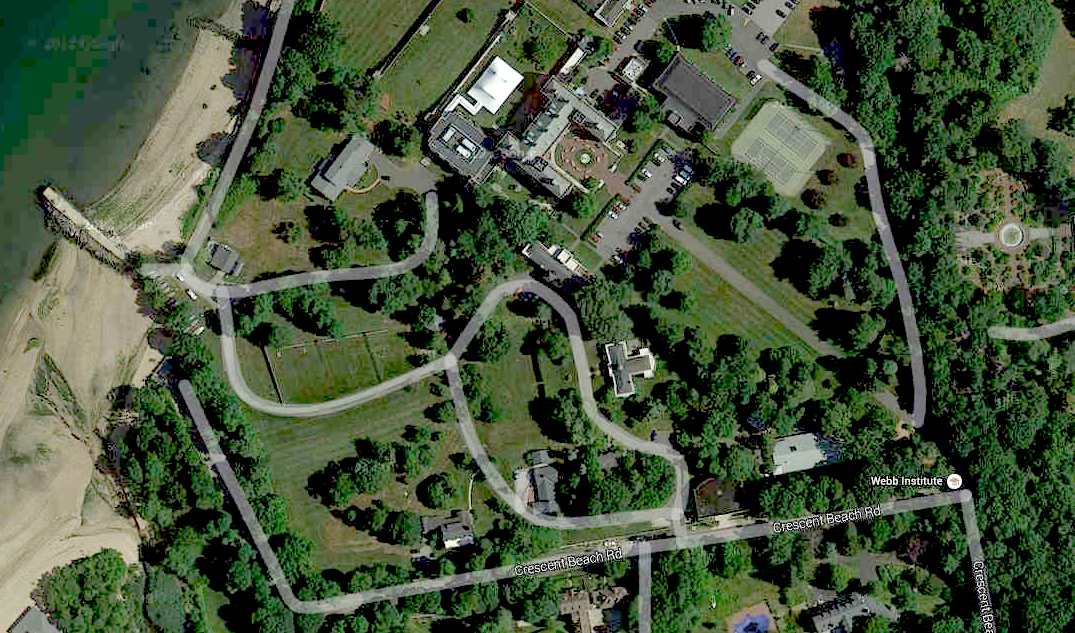 ADMINISTRATION DIRECTORY
Ms. Karen Albanese
Assistant to the Director of Financial Affairs
kalbanese@webb.edu
Direct: 516-671-2356
Main: 516-671-2213 EXT. 1122

Ms. Kerri Allegretta
Director of Media Relations and Communications
kallegretta@webb.edu
Direct: 516-403-5392
Main: 516-671-2213 EXT. 1103

Ms. Katie Becker
Assistant Director of Student Services and Admissions
kbecker@webb.edu
Direct: 516-671-8355
Main: 516-671-2213 EXT. 1117

Mr. Patrick Doherty
Electronics Lab Technician
pdoherty@webb.edu
Main: 516-671-2213 EXT. 1128

Mr. John Ferrante
Director of Facilities
jferrante@webb.edu
Direct: 516-918-2787
Main: 516-671-2213 EXT. 1129

Ms. Shanna Hamilton
Assistant Director of Development Services
shamilton@webb.edu
Direct: 516-759-2040
Main: 516-671-2213 EXT. 1101

Ms. Rhonda Lightcap
Director of Finance
rlightcap@webb.edu
Direct:516-403-5390
Main 516-671-0379 EXT. 1116

Mr. Joseph Mazurek
Senior Science Laboratory Technician
jmazurek@webb.edu
Main: 516-671-2213 EXT. 1258

Mr. R. Keith Michel
President
kmichel@webb.edu
Main: 516-671-2213 EXT. 1102

Ms. Peggy Michel
First Lady
pmichel@webb.edu
Mr. Peter Miller
Director of Information Technology
pmiller@webb.edu
Direct: 516-671-7373
Main: 516-671-2213 EXT. 1123
Ms. Svetlana Miller
Director of Human Resources
lmiller@webb.edu
Main: 516-629-3260 EXT. 1170

Mr. Greg Monfiletto
Assistant Director of Annual Fund, Stewardship and Research
gmonfiletto@webb.edu
Main: 516-759-2040 EXT. 1126

Mr. Peter Morris
Food Service Director
pmorris@webb.edu
Direct: 516-676-7813
Main: 516-671-2213 EXT. 1136

Mr. William Murray
Director of Enrollment Management
Title IX Coordinator
bmurray@webb.edu
Direct: 516-671-8355
Main: 516-671-2213 EXT. 1104

Mr. Anthony Pizziatolla
Assistant Director of Media Relations and Communications
apizziatolla@webb.edu
Direct: 516-403-5393
Main: 516-671-2213 EXT. 1171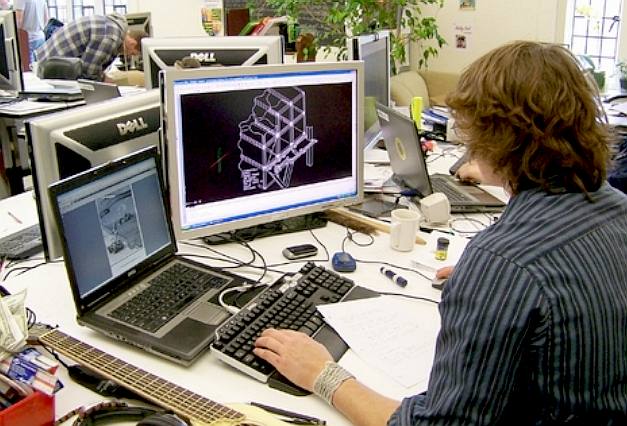 Students learn using the most up to date industry design software
WEBB CONTACTS
General Information
298 Crescent Beach Road
Glen Cove, NY 11542-1398
Phone: 516-671-2213
E-mail: inquiry@webb.edu

Admissions
Phone: 516-671-8355
E-mail: admissions@webb.edu

Development
Phone: 516-759-2040
E-mail: development@webb.edu

Media Relations
Phone: 516-403-5392
E-mail: kallegretta@webb.edu

Athletics
Phone: 516-671-8355
E-mail: sports@webb.edu

Webmaster
E-mail: webmaster@webb.edu

MARINE ACADEMIC INSTITUTIONS A-Z
Australian Maritime - Geneve - Hawaii Renewable - NERC - Newcastle Naval
NOC Oceanographic - Plymouth - Portsmouth - Seoul Naval - SOTON
Strathclyde Marine - Sussex - TU Delft - USP South Pacific - Webb Institute


LINKS & REFERENCE
http://www.webb.edu/
Time Money webb institute moneys best colleges
Colleges US news rankings and reviews best colleges webb Institute
Middle States Commission on Higher Education Webb Institute
http://en.wikipedia.org/wiki/Webb_Institute
http://time.com/money/3023677/webb-institute-moneys-best-colleges/
http://colleges.usnews.rankingsandreviews.com/best-colleges/webb-institute-2900/photos
http://twitter.com/@PlymUniConf
https://www.facebook.com/EventsWithPlymouthUniversity
http://www.bbc.co.uk/news/uk-england-devon-20135074
https://www.plymouth.ac.uk/
http://www.upsu.com/
http://en.wikipedia.org/wiki/Plymouth_University
http://www.open.ac.uk/
Wide Open Mag Plymouth charity urban downhill 2012
University Which Plymouth University
http://wideopenmag.co.uk/news/16097/plymouth-charity-urban-downhill-2012
http://university.which.co.uk/plymouth-university-p60
Wikipedia University_of_Southampton
Wolfson_Unit_Marine_Technology
http://www.southampton.ac.uk/
http://en.wikipedia.org/wiki/University_of_Southampton
http://www.wumtia.soton.ac.uk/
http://www.abet.org/
http://www.msche.org/institutions_view.asp?idinstitution=537
http://www.msche.org/
http://auvac.org/community-information/community-news/view/935
NOC robot vehicles launched from Plymouth-on fish tracking mission
http://www.tomtindale.com/full-cv/
http://www.asvglobal.com/latest-news/first-sea-lord-opens-new-asv-facility
http://noc.ac.uk/news/robot-vehicles-launched-from-plymouth-morning-fish-tracking-mission
http://noc.ac.uk/research-at-sea/nmfss/mars
http://www.msubs.com/
http://www.strath.ac.uk/na-me/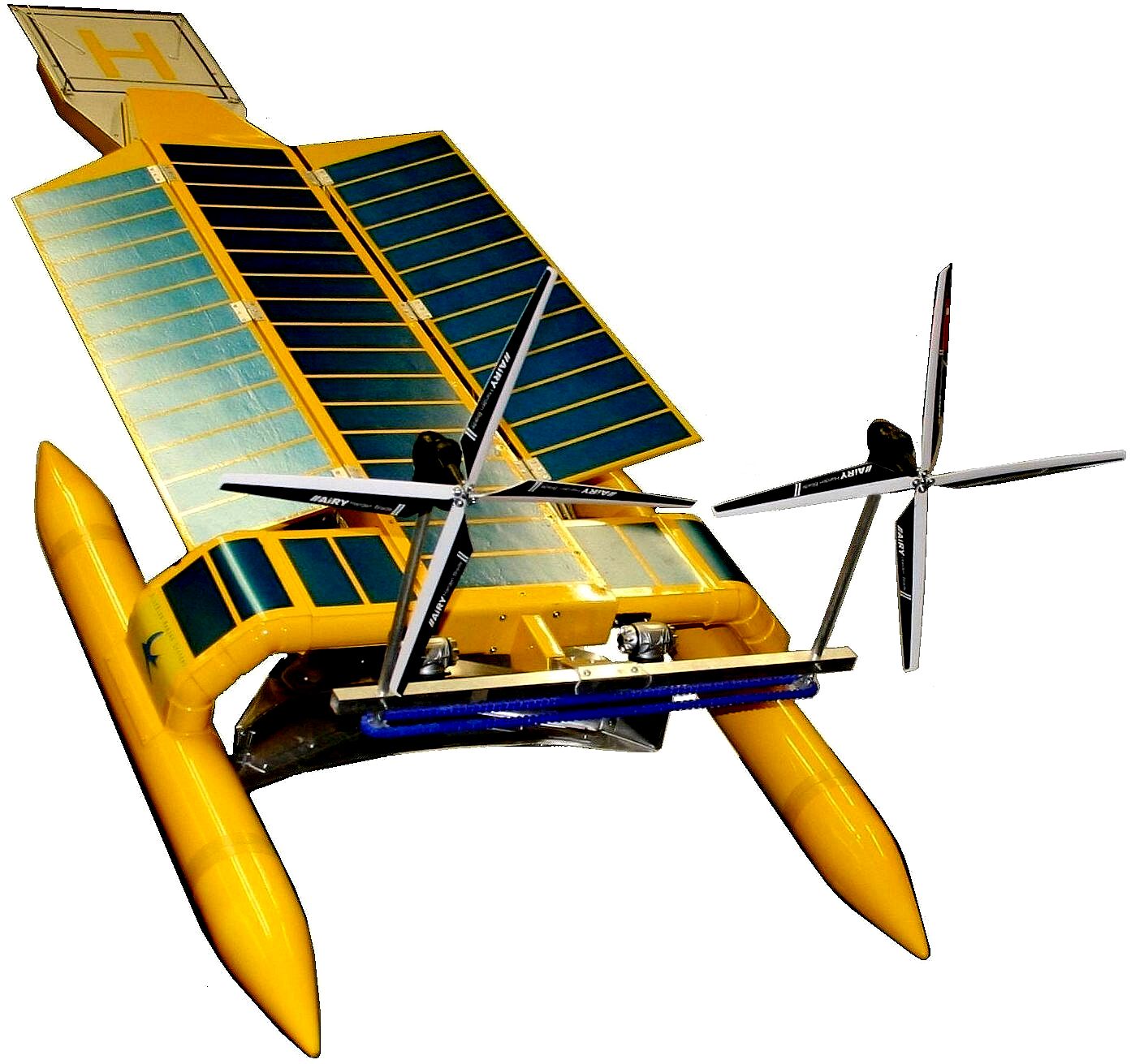 SEAVAX: THE OCEAN (PLASTIC) POLLUTION SOLUTION AND MORE - APRIL 2016. PROBABLY THE BIGGEST THREAT TO OUR OCEANS IS CLIMATE CHANGE. THAT IS A MASSIVE CHALLENGE THAT SEAVAX CANNOT BEGIN TO SCRATCH, BUT AT LEAST THIS ROBOT WILL PROVE AGAIN THAT SOLAR POWERED TRANSPORTATION CAN BE PUT TO PRACTICAL USE IN AN EFFORT TO CLEAN UP OUR DIRTY HABITS - WITHOUT USING FOSSIL FUELS. AS A VIRTUAL NOT FOR PROFIT, WE NEED YOUR HELP TO MAKE IT HAPPEN.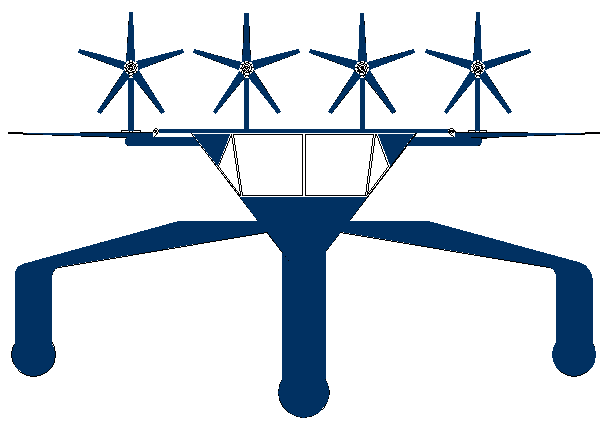 PATENT PENDING - By cutting the cost of oceanographic surveys and speeding up data collection, we will learn more about the oceans, for which the Bluefish ZCC platform is the ideal robotic ocean workhorse. Based on a stable SWASH hull this concept, first proposed by British engineers, is the culmination of more than 15 years experimenting. This robot ship will use no diesel fuel to monitor the oceans autonomously at relatively high speeds 24/7 and 365 days a year - only possible with the revolutionary energy harvesting system. The modular hull form is adaptable for automatic release and recovery of AUVs, ROVs or towed arrays, alternating between drone and fully autonomous modes. It is estimated that this vessel will pay for itself in fuel saved every ten years.