Naval Architecture & Marine Engineering

With an illustrious history stretching back to 1882, the Department of Naval Architecture and Marine Engineering is a key provider of marine technology expertise in the UK and beyond.

Ideally located in Glasgow, Strathclyde continue to build on the city's rich heritage of shipbuilding and sea-faring, making significant contributions to National and International policy-making and the advancement of the Marine Technology field.
Building on the city of Glasgow's rich heritage of Naval Architecture and Shipbuilding, NAOME provides first-rate graduates and research for the Maritime, Oil & Gas and Marine Renewables industries worldwide.

Professional Accreditation

Their BEng and MEng courses are accredited by the Royal Institution of Naval Architects (RINA) and the Institute of Marine Engineering, Science and Technology (IMarEST) on behalf of the Engineering Council.

Career Opportunities

Naval Architects are recognised as one of the highest-paid specialist engineers, with a wide variety of positions and roles. Career opportunities in the maritime industry and further afield, both in the UK and worldwide include ship design and technical consultancy, ship safety, shipping and ship operation and management, as well as specialised areas of fast ships, leisure craft, and shipbuilding and repair. Many of our graduates are involved in management and commerce. Increasingly, graduates will play leading roles in the engineering of offshore renewable energy sources, including offshore wind, wave and tidal power.
SOCIETY OF MARITIME INDUSTRIES

The University of Strathclyde has been appointed by the European Commission to report on the implementation of the Mutual Recognition of classification certificates for equipment, material and components

In 2009, the European Commission issued Regulation (EC) No 391/2009 Article 10.1 which refers to common rules and standards for ship inspection and survey organisations, and places an obligation on EU ROs to harmonise their classification rules and set up a system of mutual recognition (MR) of their classification certificates for equipment, material and components.

In order to evaluate and assess the current state of the implementation of the Regulation so far, Article 10.2 of the same Regulation includes the submission of a report to the European Parliament and the Council, based on an independent study, on the level reached in the process of harmonising the rules and procedures on MR certification.


CONTACTS
Naval Architecture & Marine Engineering
Henry Dyer Building
100 Montrose Street
Glasgow G4 0LZ

t: +44 (0)141 548 4094
f: +44 (0)141 552 2879

dept@na-me.ac.uk

Head of Department
Prof Atilla Incecik

Academic Selector - Undergraduate
Dr Dimitris Konovessis

Academic Selector - Postgraduate (Taught)
Prof P. Zhou

Questionnaire Contact:

Dr. Iraklis Lazakis - Lecturer
Dpt of Naval Architecture, Ocean and Marine Engineering
NAOME, University of Strathclyde
t: +44 (0)141 548 3070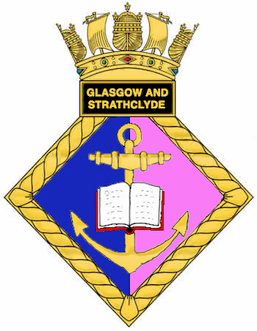 GLASGOW and STRATHCLYDE URNU

URNU's (or Universities Royal Naval Units) are Royal Navy training establishments within Universities throughout the UK. Each Unit has its own land-based training centre along with a dedicated Archer Class P2000 Patrol Vessel for use by the students. The purpose of the URNU is to help develop the leaders of tomorrow, by exposing them to the values and ethos of the Royal Navy and offering a wide range of maritime training and adventurous activities.

Members of the Glasgow and Strathclyde URNU are required to attend a weekly training night, and are given the opportunity to spend weekends (as well as Summer and Easter Deployments) at sea, onboard HMS Pursuer. Every student who joins will learn new skills in maritime navigation, leadership, and will be able to sit their RYA Exams to receive additional qualifications. On top of all this, you will make friends for life, and you will be paid for your time within the unit (every drill night/ day spent on ship). Also, there is absolutely no "call up liability" (you will not be sent to war!), and no student is under any commitment to join the navy after completing their time with us.
MARINE ACADEMIC INSTITUTIONS A-Z
Australian Maritime - Geneve - Hawaii Renewable - NERC - Newcastle Naval
NOC Oceanographic - Plymouth - Portsmouth - Seoul Naval - SOTON
Strathclyde Marine - Sussex - TU Delft - USP South Pacific - Webb Institute

LINKS & REFERENCE
http://www.strath.ac.uk/naome/
Glasgow and Strathclyde Royal Navy Unit
http://www.gandsurnu.co.uk/
http://www.rina.org.uk/
http://www.strath.ac.uk/naome/
http://www.strath.ac.uk/na-me/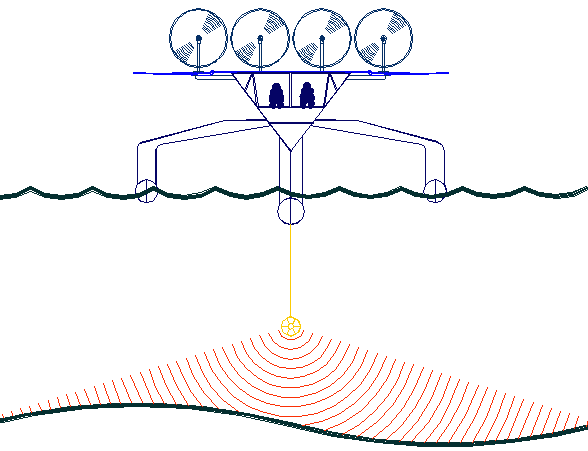 PATENT PENDING - The key to accurate hydrographic mapping is continuous monitoring, for which the Bluefish ZCC platform, presently under development, is a robotic ocean workhorse. Based on a stable SWASH hull this design is under development by a consortium of British engineers. The robot ship uses no diesel fuel to monitor the oceans autonomously (COLREGS compliant) at relatively high speed 24/7 and 365 days a year - only possible with the revolutionary (patent) energy harvesting system. The hullform is ideal for automatic release and recovery of ROVs or towed arrays, alternating between drone and fully autonomous modes. International development partners are welcome. We are not at this time bound by contract to any one country. This vessel pays for itself in fuel saved every ten years. Military developments of this concept may be the battleships of the future. See the proposed drone destroyer below.
Starboard 8 SAMs forward & 8 aft + 2 cruise missiles & 2 torpedoes.

Carried by a zero carbon fuelled for life platform.

Port 8 SAMs forward & 8 aft + 2 cruise missiles & 2 torpedoes.

The reaction time of a robot warrior is milliseconds.
SEANET™ DRONE - A hammerhead Scorpion HK combat warship - fitted with 4 x SAM turrets (one per quadrant with independent targeting), for 360 degree multiple cover. Each SAM turret carries 8 missiles (Rapier example), giving a battery of 32 rockets to fend off enemy aircraft. This micro battleship is also shown here with 4 Tomahawk cruise missiles in protected bays, fore and aft, and 4 x 21" MK48 torpedoes in the outriggers - all drawn to scale - as a prelude to proof of concept. The torpedoes and cruise missiles would not be visible, but we've shown them in x-ray. The OAL of this clever design is 52.7m or 171 feet. She is designed to cruise all day and night at 7-10 knots using only energy from nature - and sprint up to 25knots (depending on specification) in attack mode. This original concept vessel is design copyright © BMS Ltd 2014. The technology is also patent applied for.
The weapons are here shown as as exploded view, in their approximate battle ready positions, to give a better idea of the seriousness of the firepower that can be packed into one compact warship. With no need of crew quarters, galley, helm and heads, no space is wasted.
If the plan is to overwhelm an enemy's carrier strike force, this is the vessel to do it. A fleet of 5 or more robots operating in SeaNet fashion will present an unacceptable threat of annihilation to any small group of warships foolish enough to enter sovereign waters. Quite literally, they will be blown away - and the Scorpion HKs are disposable items, with no risk of losing human life. It's Kamikaze role reversal - with an encroaching enemy sure to die trying. At choke points or in times of war a strike force of 10-20 Scorpion HKs could take on and destroy a conventional naval fleet, sending the aggressor home with their tails between their legs.
The whole idea of regular SeaNet patrols is that the operators already know of impending build up in naval activity and the program automatically takes the appropriate action to ensure delivery of sufficient firepower to neutralize potentially threatening situations. Hence, a Scorpion HK is a peacekeeper, rather than a playground bully.