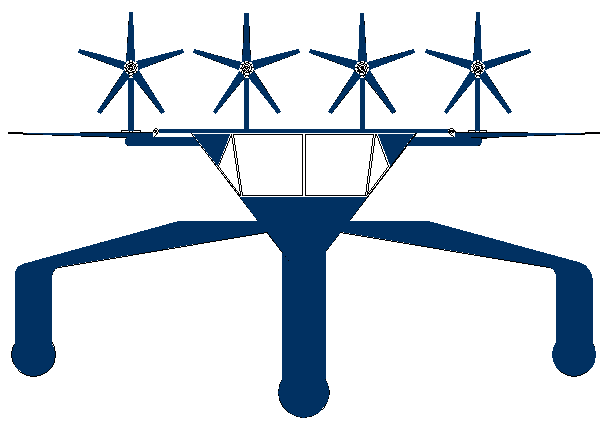 UPPING THE STAKES
We have shown how to reduce the cost of naval operations by replacing conventional aircraft carriers and submarines with robot warships - and now we will investigate taking that strategic and cost advantage to the next level, by including cruise missile launch capability in an adapted Wolverine ZCC™ warship, to compliment surface to air missiles and torpedoes with intermediate range nuclear weapons.
The Intermediate Range Nuclear Forces Treaty of 1987 (INF) between the Soviet Union and the USA, effectively prevents those two countries from developing ZCC warships with intermediate range nuclear capability. With ICBMs weighing 30-50 tons a piece, a ZCC would have to be much larger, or sacrifice SAMs and torpedoes - leaving itself defenseless against conventional attack. This is thus not an option for a small battleship.
The INF agreement does not extend to Argentina, Brazil, China, India, Pakistan, North or South Korea, the Middle East and many other countries that have ample defense budgets for such projects, many of which are building up their naval strength and looking to future technology to gain an edge. Due to their existing supplier arrangements the US and Soviet Union will be unable (economically unwilling) to transfer technology. The move is more likely to come from a rising military star, or consortium of states with a longer forecast crystal ball.
THE UPGRADE COST
The price tag of a Tomahawk tactical cruise missile is in the region of $1.45m. Two-hundred and twenty-two of these will add $322 million to the budget. But in reality four units per warship is more realistic, so the figure us nearer $1.28 billion. Doubtless bulk buying will bring this down by negotiation - and of course there are other suitable missiles on the market, or soon coming onto the market which are bound to be more economical.
Other missiles that are suitable Tomahawk substitutes are:
RK-55 (Russia)
Nirbay (India)
DH-10 (China)
Babur (Pakistan)
| | | | |
| --- | --- | --- | --- |
| ZONE | DESCRIPTION | OPERATIONAL ZCCs | $ COST |
| . | . | . | . |
| A | Pacific Ocean | 100 @ $31m | 3100,000,000 |
| B | Indian Ocean | 20 | 620,000,000 |
| C | North Atlantic | 30 | 930,000,000 |
| D | South Atlantic | 20 | 620,000,000 |
| E | Norwegian, Barents & Kara Seas | 12 | 372,000,000 |
| F | Mediterranean Sea | 6 | 186,000,000 |
| G | East Siberian & Beaufort Seas | 10 | 310,000,000 |
| H | Sea of Japan & East China Sea | 4 | 124,000,000 |
| I | Arabian Sea | 10 | 310,000,000 |
| J | Bay of Bengal | 4 | 124,000,000 |
| K | Caribbean Sea & Gulf of Mexico | 6 | 186,000,000 |
| . | . | . | . |
| ALL | Cruise missiles | 888 | 1,287,600,000. |
| . | . | . | . |
| . | TOTAL ZCCs | 222 | $ 6,882,000,000 |
| . | . | . | . |
| . | TOTAL ZCCs + Cruise | . | $ 8,169,600,000 |
| . | . | . | . |
| . | . | . | . |
DEPLOYMENT ZONES - Wolverine ZCC operations as a basic deployment to give a robotic navy the ability to sink every nuclear submarine and every aircraft carrier that is afloat on the oceans today + 4 x cruise missiles per vessel. Total projected cost for such capability is under $12 billion US dollars.
TOMAHAWK CRUISE MISSILES
The Tomahawk missile family consists of a number of subsonic long range, all-weather, jet engine-powered missiles designed to attack a variety of surface targets. Although a number of launch platforms have been deployed or envisaged, only sea (both surface ship and submarine) launched variants are currently in service. Tomahawk has a modular design, allowing a wide variety of warhead, guidance, and range capabilities, including nuclear W80 warheads. They weigh 1300-1600 kg depending on boosters.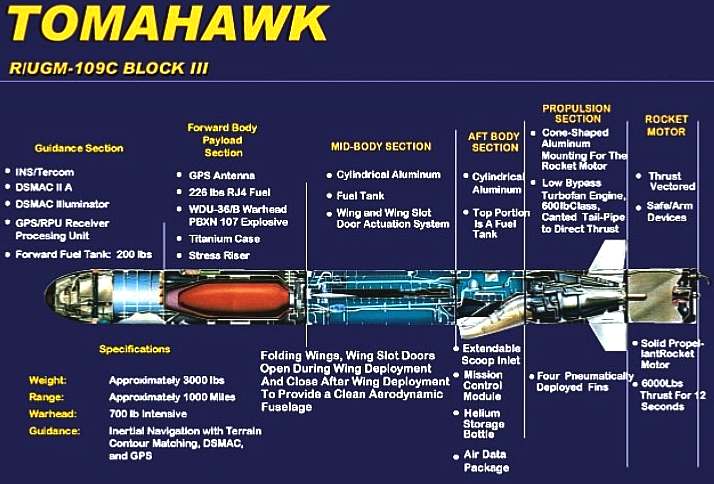 TACTICAL TOMAHAWKS

A major improvement to the Tomahawk is network-centric warfare-capabilities, using data from multiple sensors (aircraft, UAVs, satellites, foot soldiers, tanks, ships) to find its target. It will also be able to send data from its sensors to these platforms. It will be a part of the networked force being implemented by the Pentagon.

"Tactical Tomahawk" takes advantage of a loitering feature in the missile's flight path and allows commanders to redirect the missile to an alternative target, if required. It can be reprogrammed in-flight to attack pre-designated targets with GPS coordinates stored in its memory or to any other GPS coordinates. Also, the missile can send data about its status back to the commander. It entered service with the US Navy in late 2004.


In May 2009, Raytheon Missile Systems proposed an upgrade to the Tomahawk Block IV land-attack cruise missile that would allow it to destroy or disable large, hardened warships at 900 nautical miles (1,700 km) range.

REPLACEMENT

Since its introduction, about 6,000 Tomahawks have been manufactured, with 2,000 fired in combat. The Tomahawk is now facing anti-cruise missile surface-to-air missile threats. To counter this, the U.S. is developing a successor to the Tomahawk called the Cruise Missile XR (Extended Range). It will weigh 4,400 lbs, have a 2,000 km (1,200 mi) range, and a 2,000 lb warhead. It will be stealthier and use a combination of guidance and targeting systems. Each Cruise Missile XR is expected to cost $3 million.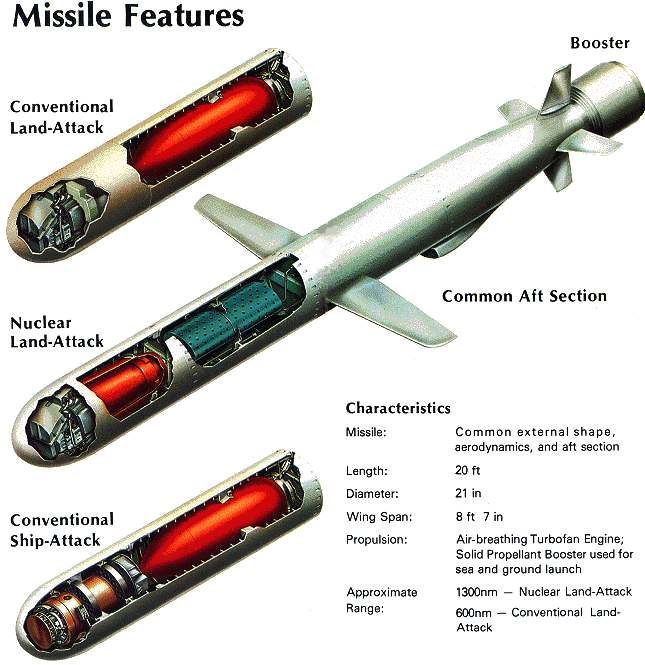 RK-55 or SAMPSON SS-N-21
The Novator RK-55 Granat (Russian: РК-55 Гранат 'Garnet'; NATO:SSC-X-4 'Slingshot'; GRAU:3K10) was a Soviet land-based cruise missile with a nuclear warhead. It was about to enter service in 1987 when such weapons were banned under the Intermediate-Range Nuclear Forces Treaty. A version launched from submarine torpedo tubes, the S-10 Granat (SS-N-21 'Sampson';GRAU:3M10), has apparently been converted to carry conventional warheads and continues in service to this day.

The RK-55 is very similar to the air-launched Kh-55 (AS-15 'Kent') but the Kh-55 has a drop-down turbofan engine and was designed by MKB Raduga. Both have formed the basis of post-Cold-War missiles, in particular the 3M-54 Klub (SS-N-27 'Sizzler') which has a supersonic approach phase.
RK-55s weigh 1700kg with a 200kt nuclear warhead and a range of 3000 km.

ROYAL NAVY - TLAM
The Tomahawk IV – known in the Royal Navy as TLAM (Tomahawk Land Attack Cruise Missile) – allows submarines to strike at ground targets hundreds of miles inland with pinpoint accuracy.

The missile has been in use with the Submarine Service since the late 1990s and has been used in anger in the Kosovo conflict and, more recently, in the campaigns against the Taleban and Saddam Hussein, chiefly against important targets which otherwise might seem relatively invulnerable. It is fired from a boat's torpedo tubes. Once it reaches the surface, a booster rocket ignites to propel the missile skywards. Tomahawk then heads for its target at around 550mph, delivering a 1,000lb explosive warhead.

Tomahawk IV is the latest version of the missile. It has a longer range than its predecessors (well in excess of 1,000 miles), can be directed at a new target in mid-flight, and can also beam back images of the battlefield to its mother submarine. It is fitted to all Trafalgar and Astute-class submarines.
LINKS & REFERENCE
List of sunken nuclear submarines
http://www.military-today.com/navy/seawolf_class.htm
http://battlepirates.wikia.com/wiki/Hulls
HMS Astute 1st of Class
HMS Vanguard- Trident
INS Sindhurakshak - explosion & sinking
Lusitania - Torpedo attack
Predator - Covert submarine hunter/killer
SAM - Surface to air missiles
Seawolf - Autonomous wolf pack deployment of Predator mini-subs
U20 - Kapitan Leutnant Walther Schwieger
USS Bluefish WWI submarine
USS Bluefish - Nuclear submarine
USS Nautilus - 1st nuclear submarine & subsea north pole passage
http://www.royalnavy.mod.uk/The-Fleet/Ships/Weapons-Systems/Tomahawk-Cruise-Missile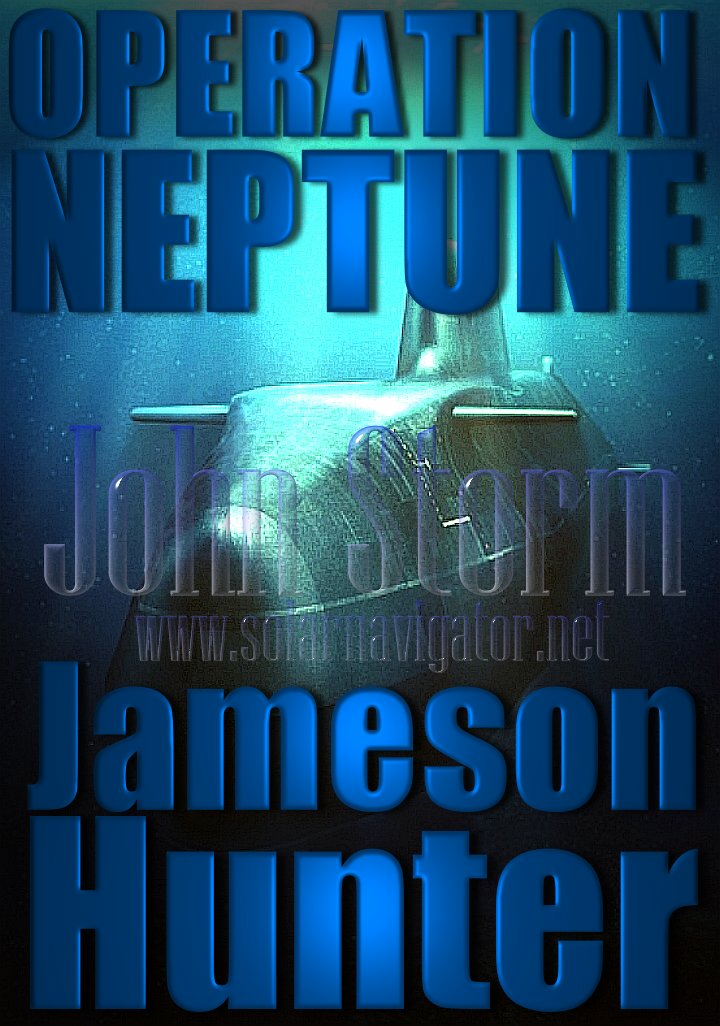 FICTION Operation Neptune - An advanced nuclear submarine is hijacked by environmental extremists intent on stopping pollution from the burning of fossil fuels. The extremists torpedo a number of oil rigs as part of a campaign to cause energy chaos, with bigger plans to come. If you enjoyed Battleship, Under Siege, Pacific Rim or The Hunt for Red October, this is a must for you.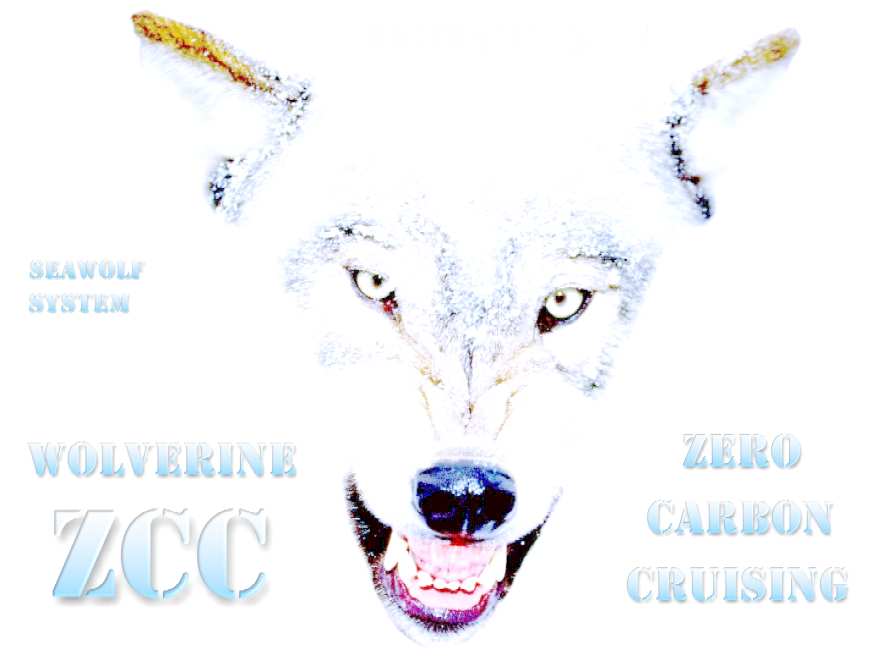 BLUEFISH DEVELOPMENT PROJECT INDEX A-Z