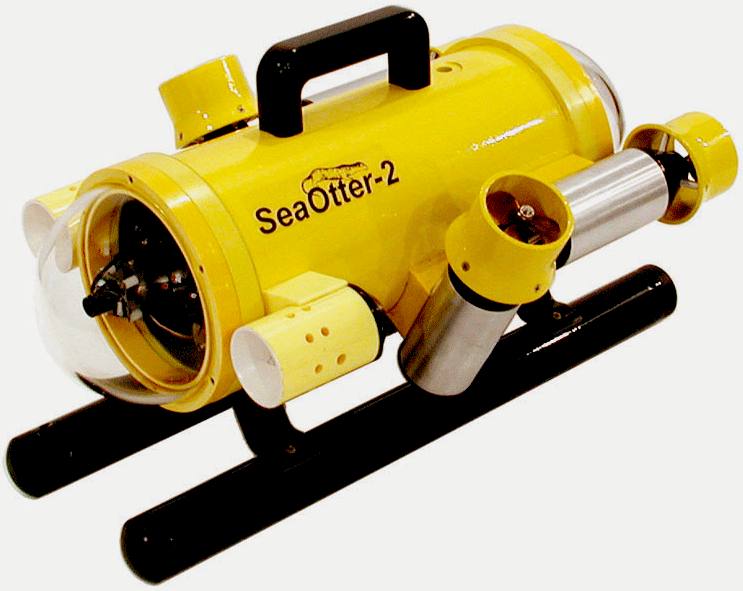 A Sea Otter 2 mini ROV, is much too large for our purposes, but would suffice for a 1/5th model of the Scorpion HK
A military version of the Bluefish zero carbon cruiser (ZCC) can have an optional pod in the main hull of the mothership that houses a micro ROV that is specifically designed to identify, locate and dispose of naval mines @ 1/20th scale to prove the concept.
It is not so much the size of an ROV that is the design challenge, it is the cable drum surface (mothership) support and other sensors needed for safe recovery of the robotic mini-submarine after each deployment.
In this case the Scorpion HK hull is particularly suited to autonomous launch and recovery of the micro-sub where it drops out of an already submerged hull, thus avoiding the smashing of waves and aeration that is typical of ROV launches. This is an even more important feature for recovery, where the design on the mothership removes a lot of the location difficulties that one might expect with conventional systems.
The same model will carry 1/20th scale SAM and cruise missiles and torpedoes. The cruise missile will be mounted under the solar decks and launched horizontally using rockets, much as they launch Tomahawks from the decks of ships at the moment. The SAM missiles will be mounted on twin fore and aft turrets to enable rapid multiple target acquisition. The torpedoes are installed in the active outriggers for automatic displacement compensation at firing. Simples.
1/5th and 1/10th SCALE MODEL UPSCALE
Models to 1/10th scale (5 meters or 16 feet) and 1/5th scale ( 10 meters or 32 feet) could be produced that would be useful oceanographic tools, and/or naval weapons. At the moment there is no funding available to us for such research.
WHAT'S SO SPECIAL ABOUT THE SCORPION & DRAGONFLY HKs?
Apart from the fact that once launched there are no fuel costs, the unique hull design provides a degree of flexibility that is unparallel in naval military history for such a compact craft - and here is why:
1. SAM MISSILES
3. TORPEDOES
5. SEANET
A fleet of Scorpion HKs (SHK) work together via a program that may be developed as a new tool for your Navy's anti-submarine and naval surface combat missions. Each SHK tracks its partner craft and can safely navigate among commercial shipping traffic as the convoy patrols sensitive choke points against an enemy fleet that is bound to have some tricks their sleeve.
The SeaNet gathers information of the opposition's movements for tactical analysis of the evasion techniques used by the enemy during peacetime and hostilities, and of course in storing data of successful naval engagements.
COSTING FOR R/C MODEL ROV MINE COUNTERMEASURES 1/20TH SCALE
FULL SIZE DEVELOPMENT PLATFORM BUILD ESTIMATES 2014

.
.
Tubing
.
30
Nose & tail domes
.
80
Paints
.
20
Propellers
.
50
Motors, controllers and RC
.
500
Batteries
.
200
Cabling
.
160
Fastenings
.
20
Sensors & cameras
.
200
Computers
.
200
Hull controls and servos
'
500
Labour: hull modifications
'1 week
500
Labour: ROV
'2 week
1000
Modelers insurance
.
00
.
.
.
Project build
Sub Total
£ 2960
.
.
.
Contingency
@ 35%
£ 1036
.
.
.
.
Build Total
£ 3996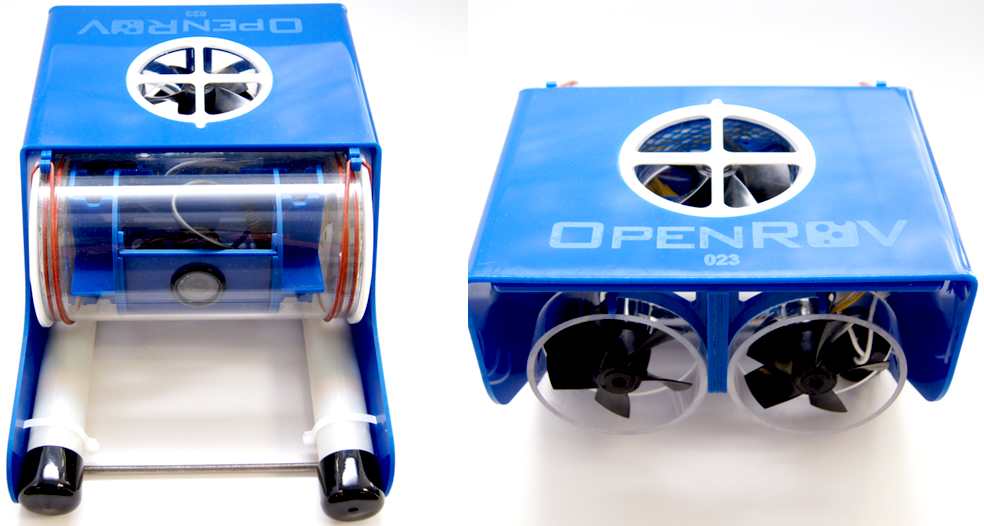 The OpenROV is also way to large for our 1/20th scale model, but it is a good price for someone who wants to build from a kit, thus skipping development, etc.
NEWS OF OTHER SUBMARINE HUNTING SYSTEMS - AIRCRAFT
SUBMARINE INDEX
Alvin DSV - Woods Hole Oceanographic Institution
Deepsea Challenger - Mariana Trench, James Cameron 2012
HMS Astute 1st of Class
HMS Vanguard- Trident
INS Sindhurakshak - explosion & sinking
Littoral combat vessels
Lusitania - Torpedo attack
Nuclear submarines lost at sea
Predator - Covert submarine hunter/killer
Seawolf - Autonomous wolf pack deployment of Predator mini-subs
Torpedoes - UUV anti submarine weapons
Trieste - World record depth - Mariana Trench 1960
U20 - Kapitan Leutnant Walther Schwieger
USS Bluefish WWI submarine
USS Bluefish - Nuclear submarine
USS Jimmy Carter - Seawolf class fast attack nuclear submarine
USS Nautilus - 1st nuclear submarine & subsea north pole passage
USS North Dakota - 11th Virginia class submarine
USS Scorpion - Lost at sea with all hands
LINKS & REFERENCE
PT boat contra rotating electric torpedo
http://hobbyking.com/hobbyking/store/__11164__EDF_Ducted_Fan_Unit_6Blade_2_75inch_70mm.html
http://www.homebuiltrovs.com/rovforum/viewtopic.php?f=3&t=735
http://robomarine.com/thrusters.html
http://www.crustcrawler.com/products/urov/index.php?prod=300
http://www.pt-boat.com/torpedo/torpedo.html
BLUEFISH DEVELOPMENT PROJECT INDEX A-Z