The USS Alabama
The USS Alabama (SSBN-731) is the sixth Ohio-class nuclear-powered fleet ballistic missile submarine, and the sixth United States ship to be named for the state of Alabama. The ship's motto mimics the state's motto, Audemus Jura Nostra Defendere ("We dare to defend our rights").
The contract for Alabama's construction was awarded on 27 February 1978 and her keel was laid down on 14 October 1980 at Groton, Connecticut, by the Electric Boat Division of General Dynamics. She was launched on 19 May 1984, sponsored by Mrs. Barbara E. Dickinson, wife of William Louis Dickinson, Representative from Alabama, and commissioned at Naval Submarine Base New London at New London, Connecticut, on 25 May 1985.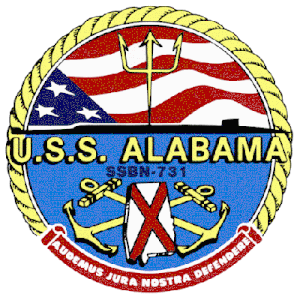 OPERATIONAL HISTORY
After commissioning, Alabama departed Connecticut to conduct her shakedown cruise off the coast of Florida. After several domestic maneuvers and crew changes, Alabama visited Mobile, Alabama, before heading for the Panama Canal and from there to Bangor, Washington. Alabama operated out of Bangor until mid-May 1986, when she embarked on her first strategic deterrent patrol. Operating from the Pacific Northwest, Alabama carried out four deterrent patrols between June and December 1986.

In May 1988, Alabama conducted a successful test ballistic missile firing, launching two Trident I C4 ballistic missiles. On 1 September 1988, Alabama moored at Bangor to complete her ninth deterrent patrol and the 100th strategic deterrent patrol by a Trident-armed submarine. An official ceremony commemorating the event was held pier-side with then-Undersecretary of the Navy H. Lawrence Garrett III heading the official greeting party. Alabama conducted another test ballistic missile firing in August 1989, launching four Trident I C4 ballistic missiles.

In the 1990s Alabama conducted routine refit operations out of Bangor Washington, post-refit sea trials operations in Dabob Bay, and patrol operations in the Pacific Ocean. Ports-of-call included Seattle, Washington; San Diego and Long Beach, California; and Pearl Harbor, Hawaii.
In February 1991, Alabama was selected as the change of command platform for the Commander-in-Chief Pacific Fleet (CINCPACFLT) in Pearl Harbor. August 1992, Alabama embarked Commander-in-Chief, United States Strategic Command (CINCSTRATCOM) and his entourage of senior U.S. Air Force and Navy Officers for an at-sea submerged orientation tour concerning SSBN strategic deterrent operations. In January 1996, the ship was awarded the Battle Efficiency E and the Strategic Operations S by the Commander of Submarine Squadron 17. In March, she was awarded the U.S. Strategic Command's Omaha Trophy for ballistic missile unit excellence. In March 1999, Alabama conducted exercises with the USS Constellation (CV-64) battle group and USS Topeka (SSN-754). In September, she conducted underway operations for the Defense Advisory Counsel on Women in the Services.

After completing 47 strategic deterrent patrols, Alabama underwent a refit in 1999 and returned to service with numerous tactical and survivability upgrades. In the spring 2000, Alabama completed her 50th strategic deterrent patrol and celebrated her 15th birthday. February 2000, conducted exercises with the USS Abraham Lincoln (CVN-72) battle group. In April, she conducted a VIP cruise in Dabob Bay, Washington to host the Chief of Defense of Japan and members of his staff. In August, she again conducted exercises with the USS Abraham Lincoln battle group.

Alabama entered the Bremerton Annex of Naval Base Kitsap at Bangor in 2005 to undergo a nuclear reactor refueling overhaul and conversion of her ballistic missile systems to support the Trident II D5 ballistic missiles, which replaced her Trident I C4 ballistic missiles and launchers; Alabama was the last Trident C4-equipped submarine to be refitted with the Trident D5 missile system. The refueling overhaul and Trident D5 conversion was completed in February 2009.

As of April 2014, Alabama is part of Submarine Group 9 and her home port is at Naval Submarine Base, Bangor, Washington.
THE OHIO CLASS

The Ohio class is a class of nuclear-powered submarines used by the United States Navy. The navy has 18 Ohio-class submarines: 14 ballistic missile submarines (SSBN) and four that were later converted to guided missile submarines (SSGN).

The Ohio class is named after the lead submarine of this class, USS Ohio. The 14 Trident II SSBNs together carry approximately fifty percent of the total US active inventory of strategic thermonuclear warheads. The exact number of warheads deployed in the oceans of the world varies in an unpredictable and classified manner, always at or below a maximum number set by various Strategic Arms Reduction Treaties. Although the Trident missiles have no pre-set targets when the submarines go on patrol, the warships, when required, are capable of quickly being assigned targets by using secure and constant radio communications links at sea, including very low frequency (VLF) systems.

All the Ohio-class submarines, except for the USS Henry M. Jackson (SSBN-730), are named for U.S. states, which until that point was a tradition reserved for battleships and cruisers.

The Ohio-class submarines are the largest submarines ever built for the U.S. Navy. Two classes of the Russian Navy's submarines have larger total displacements: the Soviet-designed Typhoon-class submarines have more than twice the total displacement, and Russia's Borei-class submarines have roughly 25 percent greater displacement, but the Ohio-class warships carry more missiles than either of the other designs: 24 Trident missiles per boat, versus 16 missiles for the Borei class (20 for the Borei II) and 20 for the Typhoon-class.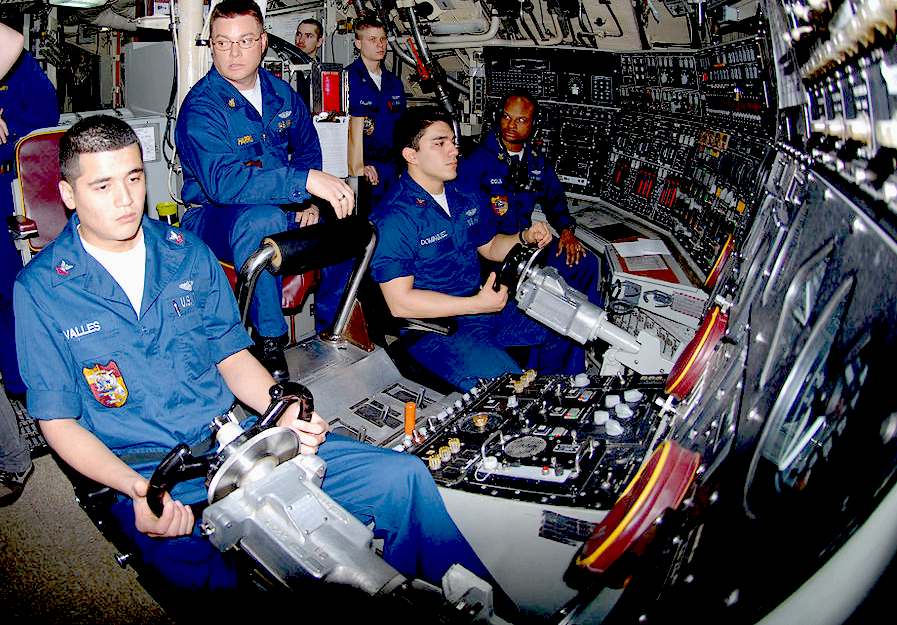 RETIREMENT & REPLACEMENTS

The U.S. Department of Defense anticipates a continued need for a sea-based strategic nuclear force. The first of the current Ohio SSBNs are expected to be retired by 2029, meaning that a platform must already be seaworthy by that time. A replacement may cost over $4 billion per unit compared to the USS Ohio's $2 billion. The U.S. Navy is exploring two options. The first is a variant of the Virginia-class nuclear attack submarines. The second is a dedicated SSBN, either with a new hull or based on an overhaul of the current Ohio.

With the cooperation of both Electric Boat and Newport News Shipbuilding, in 2007, the U.S. Navy began a cost control study. Then in December 2008 the U.S. Navy awarded Electric Boat a contract for the missile compartment design of the Ohio-class replacement, worth up to $592 million. Newport News is expected to receive close to 4% of that project. The U.S. Navy has yet to confirm an Ohio-class replacement program. However, in April 2009, U.S. Defense Secretary Robert M. Gates confirmed that the U.S. Navy should begin such a program in 2010. The new vessel is scheduled to enter the design phase by 2014. It is anticipated that, if a new hull design is used, the program must be initiated by 2016 in order to meet the 2029 deadline.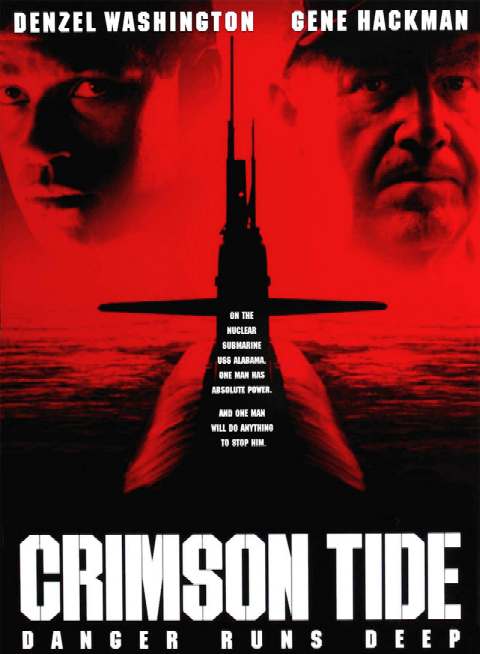 CRIMSON TIDE

Crimson Tide is a 1995 American submarine film directed by Tony Scott, produced by Don Simpson and Jerry Bruckheimer. It takes place during a period of political turmoil in the Russian Federation, in which ultranationalists threaten to launch nuclear missiles at the United States and Japan. It focuses on a clash of wills between the new executive officer (Denzel Washington) and the seasoned commanding officer (Gene Hackman) of a nuclear missile submarine, arising from conflicting interpretations of an order to launch their missiles.

The film was scored by Hans Zimmer, who won a Grammy Award for the main theme, which makes heavy use of synthesizers in place of traditional orchestral instruments.
US NAVY OBJECTIONS
The U.S. Navy objected to many of the elements in the script - particularly the aspect of mutiny on board a U.S. naval vessel - and as such, the film was produced without the assistance of the U.S. Navy. The French Navy (Marine Nationale) assisted the team for production with the French aircraft carrier Foch and one SNLE.

Because of the Navy's refusal to cooperate with the filming, the production company was unable to secure footage of a submarine submerging. After checking to make sure there was no law against filming naval vessels, the producers waited at the submarine base at Pearl Harbor until a submarine put to sea. After a submarine left port, they pursued it in a boat and helicopter, filming as they went. They continued to do so until it submerged, giving them the footage they needed to incorporate into the film.
MOVIE PLOT
In post-Soviet Russia civil war erupts as a result of the ongoing conflict in Chechnya. Military units loyal to Vladimir Radchenko, a Russian ultra-nationalist, have taken control of a nuclear missile installation and are threatening nuclear war if either the American or Russian governments attempt to confront him.

A US Navy nuclear submarine, the USS Alabama, is assigned to a patrol mission to be available to launch its missiles in a pre-emptive strike if Radchenko attempts to fuel his missiles. Captain Frank Ramsey (Hackman) is the commanding officer of the sub, one of few commanders left in the US Navy with combat experience. He chooses as his new executive officer (XO) Lieutenant Commander Ron Hunter (Washington), who has an extensive education in military history and tactics, but no combat experience.

During their initial days at sea tension between Ramsey and Hunter becomes apparent due to a clash of personalities: Hunter's more analytical, cautious approach, as opposed to Ramsey's more impulsive and intuitive approach. The Alabama eventually receives an Emergency Action Message, ordering the launch of ten of its missiles against the Russian nuclear installation, based on satellite information that the Russians' missiles are being fuelled. Before the Alabama can launch its missiles, a second radio message begins to be received, but is cut off by the attack of a Russian Akula-class submarine loyal to Radchenko.

The radio electronics are damaged in the attack and cannot be used to decode the second message. With the last confirmed order being to launch Captain Ramsey decides to proceed. Hunter refuses to concur as is procedurally required because he believes the partial second message may be a retraction. Hunter argues that the Alabama is not the only American submarine in the area, and if the order is not retracted, other submarines will launch their missiles as part of the fleet's standard redundancy doctrine. Ramsey argues that the other American submarines may have been destroyed.


When Hunter refuses to consent Ramsey tries to relieve him of duty and replace him with a different officer. Instead Hunter orders the arrest of Ramsey for attempting to circumvent protocol. The crew's loyalty is divided between Hunter and Ramsey but Hunter initially takes command. The Alabama is attacked again by the Russian submarine. The Alabama destroys it but during the ensuring chaos a counter-mutiny ensues and Ramsey retakes the bridge.

Hunter escapes his arrest and gains the support of the weapons officer in the missile control room further delaying the launch. Other crew members try to repair the radio while the battle for command continues. Eventually Ramsey traps Hunter on the bridge thus quelling all mutinous actions, but with the radio team reporting they are near success, the two men agree to a compromise; they will wait until the deadline to see if the radio can be repaired.

After several tense minutes communications are restored and they finally see the full message from the second transmission. It is a retraction ordering that the missile launch be aborted because Radchenko's rebellion has been quelled. After returning to base Ramsey and Hunter are put before a naval tribunal to answer for their actions. The tribunal concludes that both men were simultaneously right and wrong so Hunter's actions were lawfully justified.

Unofficially the tribunal chastises both men for failing to resolve the issues between them. Thanks to Ramsey's personal recommendation the tribunal agrees to grant Hunter command of his own sub while allowing Ramsey to save face via an early retirement. Both men then reconcile their differences and part ways.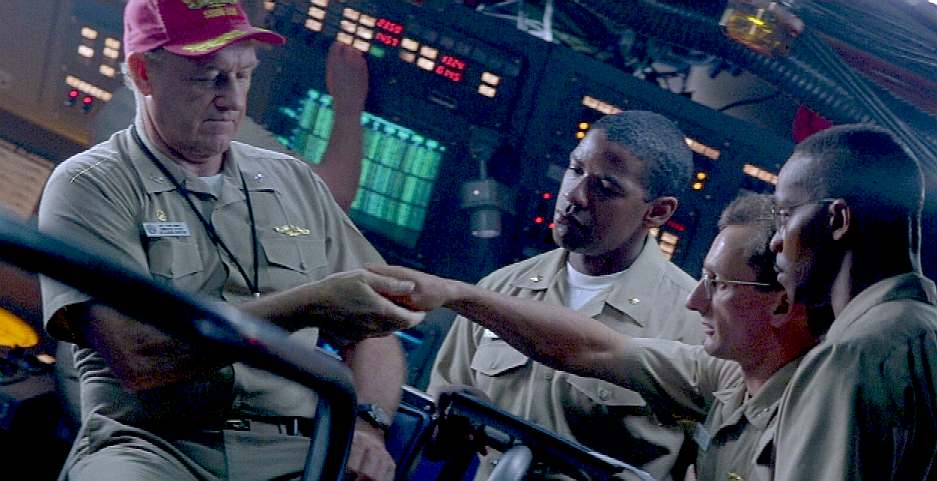 BOX OFFICE
Crimson Tide earned $18.6 million in the United States on its opening weekend, which ranked #1 for all films released that week. Overall, it earned $91 million in the U.S. and an additional $66 million internationally, for a total of $157.3 million - on a budget of $53 million.
CAST

Denzel Washington as Lieutenant Commander Ron Hunter
Gene Hackman as Captain Frank Ramsey
George Dzundza as Chief of the Boat Walters
Viggo Mortensen as Lieutenant Peter "Weps" Ince
James Gandolfini as Lieutenant Bobby Dougherty
Matt Craven as Lieutenant Roy Zimmer
Rocky Carroll as Lieutenant Darik Westergard
Danny Nucci as Petty Officer Danny Rivetti
Michael Milhoan as Chief of the Watch Hunsicker
Steve Zahn as Seaman William Barnes
Rick Schroder as Lt. Paul Hellerman
Lillo Brancato, Jr. as Petty Officer Third Class Russell Vossler
Ryan Phillippe as Seaman Grattam
Daniel von Bargen as Vladimir Radchenko
Jason Robards as Rear Admiral Anderson, Board of Inquiry President (uncredited)

Diagram of the layout of the USS Alabama
TOP TEN SUBMARINE MOVIES
10 K-19 - The Widowmaker (2002)

K-19 - The Widowmaker is about a Soviet nuclear submarine that is on it's maiden voyage when things go drastically wrong. The sad, and scary part is this film is based on a true story that actually took place during 1961. A very serious malfunction occurs in the cooling system of this new Soviet submarine, which cools the reactor core. The resourceful Captain Vostrikov (Harrison Ford) tries everything he and his crew can think of to keep the core from a melt down.. The crew was not geared up to handle this sort of emergency. They are forced to work on the core with substandard equipment, and this has deadly consequences. Harrison Ford and Liam Neeson work together great in K-19 Widowmaker.


9. Run Silent - Run Deep (1958)

Run Silent - Run Deep stars Clark Gable and Burt Lancaster as well as the young, Don Rickles. The film about a Japanese destroyer and a US submarine and it's Captain, Commander Richardson (Clark Gable). Commander Richardson had had command of his own submarine once before only to have it sank by a Japanese Destroyer. He also lost a lot of men to the attack. After quite some time Richardson was able to get command of another submarine to exact his revenge. Getting command of another submarine meant he'd stepped on some toes, the toes he stepped on were connected to his new Executive Officer, Captain Bledsoe (Burt Lancaster). This early submarine film has an all-star cast and is worth watching once.

Captain Richardson: A fleet boat of the Navy, with most of her fighting capability intact! And you'd take her back to Pearl, I don't believe it!


8. Torpedo Run (1958)

Torpedo Run is a film about the commander of a US submarine fighting against the Japanese Empire during World War II. The commander of the US Submarine has to make some extremely tough calls. The Japanese are moving fright and supplies and using American prisoners of war to prevent their ships from getting fired on. Torpedo Run stars Glen Ford and Ernest Borgnine.


7. The Enemy Below (1957)

Enemy Below was one of the first movies to try and portray the harsh lifestyle of a wartime submarine crew. Considering the film was made in 1957, Dick Powell did a splendid job making the film with the resources of the time. Enemy Below is about a US Destroyer verses a German U-boat during the World War II era. The film shows both sides, both commanders, both of their predicaments, and both boats. The ultimate game of chess with a twist of anti-war stirred. Robert Michum and Curd Jurgens played the opposing Captains, and both did an excellent job acting.

Captain Murrell: That there's no end to misery and destruction. You cut the head off a snake, and it grows another one. You cut that one off, and you find another. You can't kill it, because it's something within ourselves. You can call it the enemy if you want to, but it's part of us; we're all men.


6. U-571 (2000)

U-571 is a film concerning how the Allies captured the secrets to the German Enigma machine during World War II. When the Allies learn that a German U-Boat is in distress, they scramble to capture the German vessel intact. The trick is to get it before the Germans can rescue her and get close enough to board her without the enemy crew scuttling the boat. The US refits one of our submarines to look similar to a German U-Boat. The only problem is that the mission is top-secret and no one can know, including the US commanders in the Atlantic. The movie is fast paced and very enjoyable. Matthew McConaughey and Bill Paxton make an excellent team together.

Major Coonan: "How far down does this ship go?"
Lt. Commander Dahlgren: "Oh, she'll go all the way to the bottom if we don't stop her."


5. CSS Hunley (1999)

The film CSS Hunley was made for TV in 1999 by Turner Network Television and stars Donald Sutherland. The film like most other TNT civil war films was historically accurate. CSS Hunley is about a Confederate made submarine during the American Civil War era. The problem with this is that there were no submarines in that era. The CSS Hunley was one of the first submarines ever made. The losses that occurred during the developmental stages were crazy! The thing was little more than a round tube with a propeller on one end, and a long shaft on the other where an explosive charge could be placed. There were nine volunteers inside pedaling on the crank the made the propeller work. The idea was to blast the Union blockade out of the water. The CSS Hunley was the first submarine to sink an enemy ship (Housatonic) in combat. Even for folks that are not fans of civil war movies, this film is worth watching once. Another great American civil war movie that was backed by Ted Turner.


4. The Hunt For Red October (1990)

The Hunt For Red October is based on one of Tom Clancy's novels in the Ryan series. This film is an excellent piece of work. It is about the Soviet Unions top submarine commander Captain Ramias, (Sean Connery) who is commanding the pride of the Soviet submarine fleet, The Red October . He is deadheading towards the United States in the deadliest and stealthiest nuclear submarine ever made. Jack Ryan (Alec Baldwin) is a top man from the CIA who had studied Captain Ramias in some detail. The two play cat and mouse in a deadly game of chess. Furthermore this is another outstanding piece of directing by John McTiernan.

Captain Ramias: "We will pass through the American patrols, past their sonar nets, and lay off their largest city, and listen to their rock and roll... while we conduct missile drills."


3. 20,000 Leagues Under The Sea (1954)

The first submarine movie that I seen as a child was 20,000 Leagues Under The Sea . Although I wasn't able to comprehend the sub-plots in the film, I recall enjoying the movie nonetheless. 20,000 Leagues Under The Sea is based on Jules Verne's novel and was Walt Disney's first major motion picture. The film has a bit of everything in it for everyone. The genius Captain Nemo has turned his back on society and lives off of the sea and in the sea. He manages to do this aboard an awesome submarine called the Nautilus. Kirk Douglas and James Mason were excellent. Even at 50 years old the film is still entertaining.

Captain Nemo: there is hope for the future. When the world is ready for a new and better life, all this will someday come to pass, in God's good time.


2. Crimson Tide (1995)

Crimson Tide was an excellent movie that could make the top ten lists in several categories. A cast with Denzel Washington, and Gene Hackman is hard to beat. The two work together fantastically. Crimson Tide is about one of the most powerful men in the world, the commander (Gene Hackman) of a nuclear submarine. His Executive Officer Hunter, (Denzel Washington) have completely different views on the world, war philosophy and current events. Things heat up very fast when a break-away faction in the former Soviet Union get it's hands on some nuclear missiles along with the launch codes. To make things even more interesting their submarine looses radio contact with it's command, then comes under attack by a Russian AKULA class attack submarine. Tony Scott is at his best with Crimson Tide.

Hunter: In my humble opinion, in the nuclear world, the true enemy is war itself.


1. Das Boot (1981)

Das Boot is hands down, the best submarine film by far. The directing of Wolfgang Petersen could not have been much better, the realism was astounding. After watching this two and a half hour long movie, you feel like your cramped in the boat and a part of the crew. Das Boot is a film about a German U-boat and it's crew during World War II, in the Atlantic. Petersen takes us along on the suicidal missions and attacks of a U boat. The endless hours, days and months of sheer boredom sitting below the surface of the sea. Then in a split second they are in battle and maneuvering for their lives. The depth charges that a submarine crew must endure are nerve shattering. The tactics that the captain (Jürgen Prochnow) uses are innovative and unique, otherwise the boat would have no chance. War time submariners endure all kinds of hell. They live, eat and sleep in a grimy, confined, noisy, treacherous tube filled with the stench of diesel fuel. The acting and dialog were also superb. The film comes to a close and leaves one thinking about it for quite sometime.

Lieutenant Werner; They made us all train for this day. "To be fearless and proud and alone. To need no one, just sacrifice. All for the Fatherland." Oh God, all just empty words. It's not the way they said it was, is it? I just want someone to be with. The only thing I feel is afraid.


MORE SUBSEA MOVIES

• Murphy's War
• The Bedford Incident
• Hellcats of the Navy
• Above Us The Waves
• Ice Station Zebra
• Crash Dive
• Torpedo Alley
• The Abyss
• Leviathan
SUBMARINE INDEX
Alvin DSV - Woods Hole Oceanographic Institution
Deepsea Challenger - Mariana Trench, James Cameron 2012
HMS Astute 1st of Class
HMS Vanguard- Trident
INS Sindhurakshak - explosion & sinking
Littoral combat vessels
Lusitania - Torpedo attack
Nuclear submarines lost at sea
Predator - Covert submarine hunter/killer
Seawolf - Autonomous wolf pack deployment of Predator mini-subs
Torpedoes - UUV anti submarine weapons
Trieste - World record depth - Mariana Trench 1960
U-Boats -
U20 - Kapitan Leutnant Walther Schwieger
USS Bluefish WWI submarine
USS Bluefish - Nuclear submarine
USS Jimmy Carter - Seawolf class fast attack nuclear submarine
USS Nautilus - 1st nuclear submarine & subsea north pole passage
USS Scorpion - Lost at sea all hands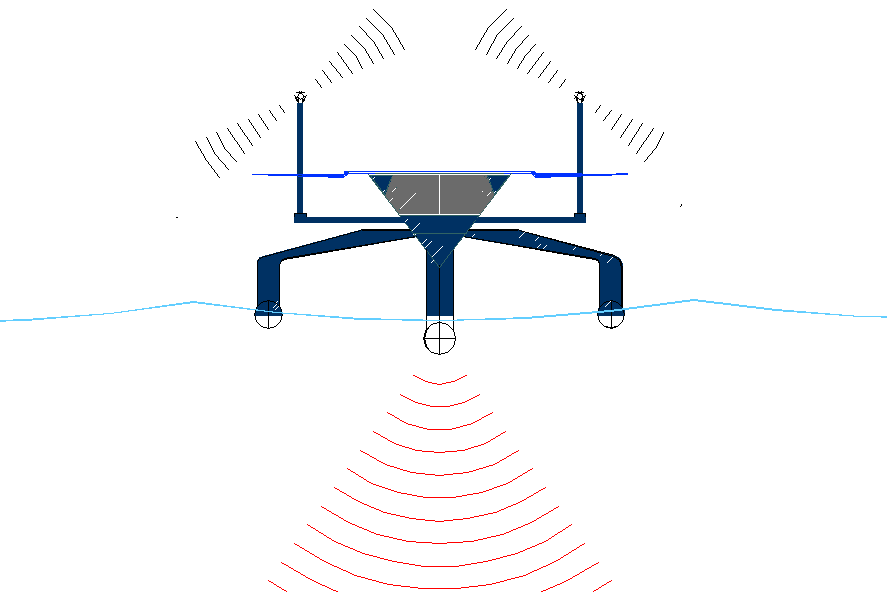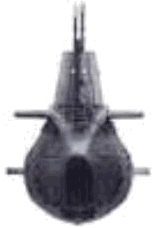 SUBMARINE HKs - If the submerged nuclear submarine shown above has a crew on board (most likely) they are in grave danger, because the ASV submarine hunter-killer (HK) on the surface above it is a drone that can either track the submarine and pass information to a network of marine drones, or, in times of hostilities - sink the submarine as soon as it is located with torpedoes or depth charges. Contrary to the belief that submarines are invisible once submerged, in fact there are several ways of detecting them. Persistence pays. Nuclear submarines are a pollution hazard waiting to happen. Nuclear reactors on any kind of vessel should properly be banned, as should nuclear tipped missiles. Especially so where with modern sensors and autonomous drones to carry out routine searching, submarines are relatively easy targets.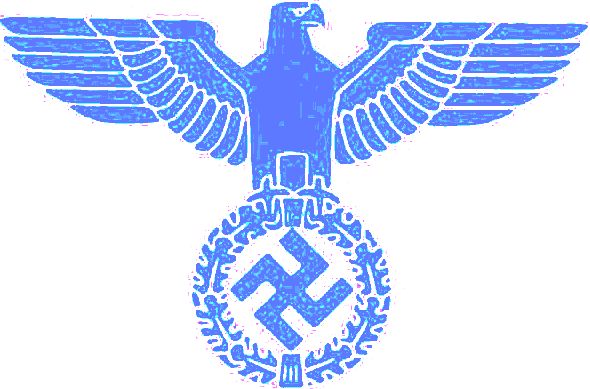 LINKS & REFERENCE
Wikipedia USS_Alabama SSBN-731
Wikipedia Ohio-class_submarine
http://en.wikipedia.org/wiki/Crimson_Tide_%28film%29
http://en.wikipedia.org/wiki/USS_Alabama_%28SSBN-731%29
http://en.wikipedia.org/wiki/Ohio-class_submarine
National Geographic k19 disasters_detail
History the-uss-scorpion-buried-at-sea
Wikipedia USS_Scorpion SSN-589
U-boat-skipper-ruthlessly-torpedoed-British-ship-defied-Hitler-rescue-survivors
http://www.britannica.com/EBchecked/topic/612159/U-boat
Solved-Mystery-missing-WW1-German-submarines-uncovered-explorers-remains-41-U-boats-UK-coast
http://www.historylearningsite.co.uk/u-boats.htm
http://www.submerged.co.uk/u534.php
https://en.wikipedia.org/wiki/U-boat
http://www.uboatarchive.net/
http://www.uboat.net/
http://www.lusitania.net/lastrestingplace.htm
http://www.history.navy.mil/wars/korea/minewar.htm
http://www.oneternalpatrol.com/uss-scorpion-589.htm
http://www.nationalgeographic.com/k19/disasters_detail1.html
http://www.historynet.com/the-uss-scorpion-buried-at-sea.htm
http://en.wikipedia.org/wiki/HMHS_Britannic
hhttp://en.wikipedia.org/wiki/HMHS_Britannic
http://en.wikipedia.org/wiki/Admiralty_Mining_Establishment
http://en.wikipedia.org/wiki/Naval_mine
http://www.enterprise-europe-scotland.com/sct/news/?newsid=4306
http://en.wikipedia.org/wiki/USS_Scorpion_%28SSN-589%29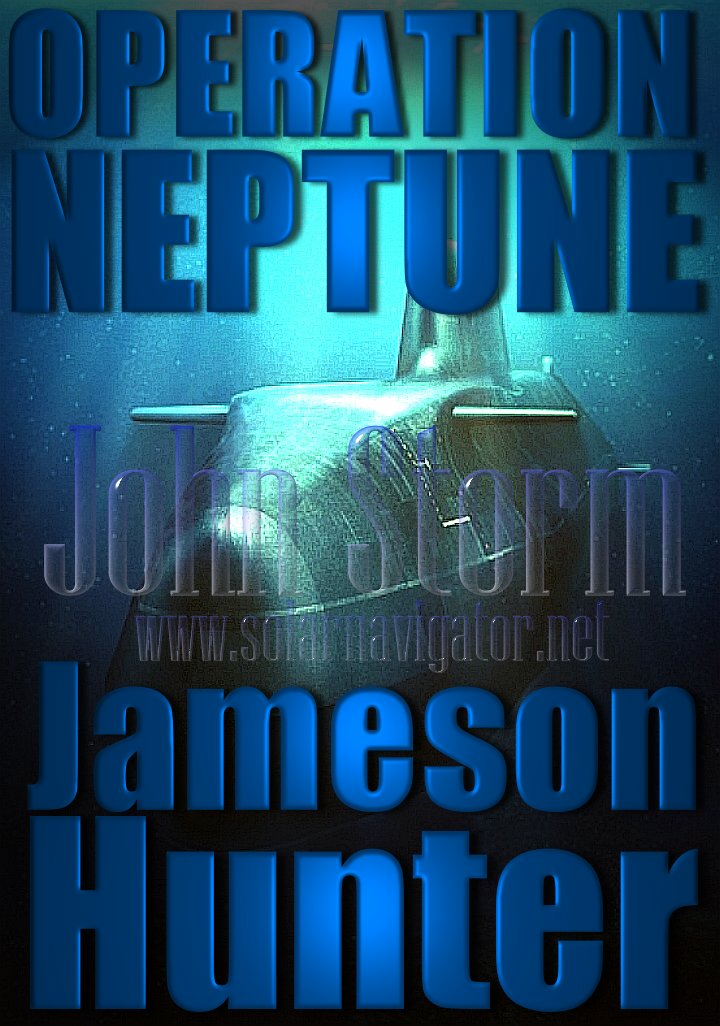 FICTION - Operation Neptune - An advanced nuclear submarine is hijacked by environmental extremists intent on stopping pollution from the burning of fossil fuels. The extremists torpedo a number of oil wells as part of a campaign to cause energy chaos, with bigger plans to come. With US Navy and Royal Navy warships being destroyed, like Crimson Tide, there will be no cooperation from these navies in the making of a film. We wonder if the Russian and Chinese navies might look at the production differently. If you enjoyed Battleship, Under Siege or The Hunt for Red October, this is a must for you.