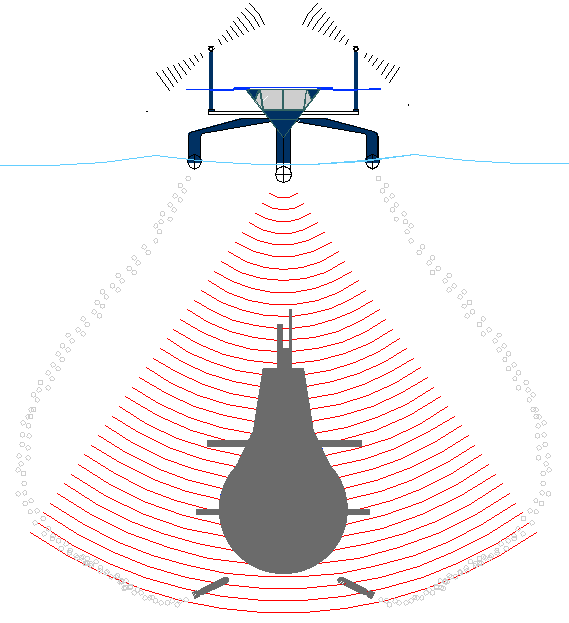 PATENT PENDING - An illustration showing a nuclear powered submarine (to scale) at a depth of 30 metres (100ft) being detected by a Scorpion ZCC, converted to a submarine hunter/killer drone, and fired upon using MK48 Gould/Honeywell torpedoes that are especially designed to tackle fast deep diving nuclear U Boats, such as the US Navy's Seawolf class, or UK Astute submarines. The value of the nuclear submarine is roughly 23-35 times that of the Scorpion ZCC, without taking into account human lives as consequential losses. Used in a SeaNet configuration the unmanned HK is an effective system to neutralize covert enemy operations.
Consider also that in times of war, a nuclear submarine will take about a year to build. Whereas, a Scorpion HK might be completed in less than a month due to much smaller sub-assemblies that might be mass-produced in many factories at the same time. The Scorpion and Dragonfly military conversions are all based on the Bluefish concept ZCC platforms. They may be converted from one variant to another by simply changing modules.
The cost of producing a vessel like the Scorpion HK is dependent of the number to be produced. As with any mass-produced item, the more you build the cheaper it becomes. As so much of the vessel shares parts common to other version used for civilian tasks, the cost is likely to remain low, save that the cost of munitions may not be placed in the same accounting category as ordinary shipping.
OPERATIONAL COSTS - The first thing to consider with a Scorpion HK is that there is no fuel cost, being powered by energy harvested from nature. Then there is no crew provisioning at sea to take into account. These factors are very important to any navy that is trying to reduce harmful toxic emissions and also meet budget cuts.
Shared duties will cut the cost of persistent monitoring even further. When not in combat mode, a Scorpion HK might carry out other tasks, such a mine detection, hydro and oceanographic monitoring. All of this should be taken account of when working out the cost of keeping up a strong military presence by way of deterrent. PLEASE NOTE THAT THIS PROJECT IS FOR WARGAMING PURPOSES ONLY AND IS NOT INTENDED AND MAY NOT BE USED BY ANY MILITARY FOR ANY WARLIKE PURPOSE.
ABOUT ROBOTIC SWARMS - NASA originally designed the system for the Mars Rover. ONR adapted it for the Navy's needs but the philosophical history of swarm robotics can be traced to a paper from 1995 in which artificial intelligence researchers James Kennedy and Russell Eberhardt argue that the collective behaviors that birds, fish, insects, and humans display in response to rewards or threats could be captured mathematically and brought to bear on improving artificially intelligent entities in a simulation.

The "social sharing of information among conspeciates offers an evolutionary advantage," borrowing a bit of wisdom from biologist E.O. Wilson. Kennedy and Eberhardt lay out some the major tenets for writing algorithms to mimic natural flocking or schooling behavior. It's a matter of quickly rating different known variables, threat, reward, and environment. The growing availability of small drones have transformed robot swarms from an obscure academic concept into a YouTube sensation.
Consider the above 2012 demo showing how University of Pennsylvania researchers turned a series of small robotic quad helicopters into musicians, which got 3 million views. YouTube swarm stunts seem to grow by size and complexity faster than companies can make smartphones.
Now take that level of coordination and imagine a whole bunch of naval HK drones taking a swipe at an aircraft carrier with suitable missiles. The attack on the USS Strike, which did not sink the vessel, if launched by a network of ocean drones with cruise or other more potent missiles, is sure to score a battleship wipeout.
Much of the discussion and fear of armed unmanned vehicles ignores a central fact. Aerial drones like the Predator or Reaper are operated by two-man human teams, a pilot to steer the drone, and a sensor operator to control the various mechanical eyes and ears. The boats that participated in the event on the James River were able to sense one another as well as other vessels, and execute complicated "swarm" maneuvers, with a bare minimum of guidance. These boats are not your average drones.
STATE OF THE ART
Drone submarine hunters are nothing new. DARPA has been shelling out contracts for such machines for some time. Other navies have been using unmanned boats for target practice for years and limited duration UUVs for mine hunting. The skies are littered with drones that are armed to the teeth, at present flying for the most part in uncontested airspace.
How long then before we see unmanned aircraft carriers and submarines? The problem has been that up until now there has not been a system that is accepted as COLREGs compliant. For that to happen somebody will have to build and test an unmanned vessel to prove a viable system, much as Google are doing at the moment with their modern bubble cars. Google though are a proactive forward thinking concern, while the military these days want off the shelf solutions and who can blame them, after having been fleeced by MOD vetted subcontractors for so long.
WHAT'S SO SPECIAL ABOUT THE SCORPION or DRAGONFLY HKs?
Apart from the fact that once launched there are no fuel costs, the unique hull design provides a degree of flexibility that is unparallel in naval military history for such a compact craft - and here is why:
1. Torpedo launch and auto compensation
Normally, a ship or submarine that launches a torpedo would have substantial tubes with a compressed air system to force the fish out into the seawater. The loss of displacement then entails a re-balance of the vessel to re-gain true running.
With the active hull system, after a 21" torpedo is launched and once the void is pumped dry, the increase in displacement from the loss of around 1.6 metric tons of torpedo is automatically readjusted by lifting that leg out of the water to recover minimum wetted surface area running, each active leg working cooperatively with the opposite leg to maintain a level attitude.
2. Advanced sensing with submerged central hull
Using a combination of .......... (classified)
3. ROV deployment
Normally, this would be used for mine searching and clearance, but may be set up to launch and recover a towed array, or to drop depth charges.
4. Stealth capability
Useful in combat situations, where the hull can shield itself with the angle of its solar wings, turning them into deflectors and lower itself into the water to reduce bridge height.
5. Unrivalled persistence without nuclear power
The combination of solar and wind energy harvesting can provide sufficient energy to power the vessel at around 7-10 knots continuously, with a sprint speed of around 20 knots. That is not sufficient speed to run down a nuclear submarine with one craft, but a network of Scorpions in Seawolf formation might easily ensnare a submerged vessel. As each enemy submarine is taken out of the equation, the Seawolf pack might concentrate resources to locate and target the next submarine, etc. It's an adult game of Battleships with computers deciding the moves and robot ships carrying out the orders.
6. Economical to build and operate
The basic hull and energy harvesting apparatus can be brought in well under $5m. See estimates below.
SCORPION HULL SHIP BUILD ESTIMATES 2014 - MANNED (A)

.
.
Steels
.
3,500
Alloys
.
80,000
Composites
.
10,000
Timber
.
5,500
Paints
.
2,500
Glass
.
2,300
Hydraulics
.
20,000
Safety equipment
.
10,000
Transmission
.
40,000
Propeller
.
5,000
Motors
.
50,000
Navigation Electronics
.
40,000
Battery cartridges
.
200,000
Battery controls
.
16,000
Solar charging arrays
.
300,000
Welding and other tool hire
.
6,000
Fastenings
.
2,500
Galley fit out
.
7,000
Bunks
.
4,000
Onboard diving repair equipment
.
5,000
Labour: hull design
2 months
66,000
Labour: fabrication
2 months
130,000
Labour: assembly
4 months
70,000
Labour: electronics design
.
110,000
Labour: tank testing
.
4,000
Premises rent
6 months
25,200
Insurance
.
£ 25,000
.
.
.
Project build
Sub Total
£ 1,239,500
.
.
.
Contingency
@ 35%
£ 328,825
.
.
.
.
(A) Build Total
£ 1,673,325
SCORPION ROBOTIC HULL PROJECT ESTIMATES 2014 - UNMANNED (B)

.

.

Computer hardware

.

10,000

Robotics hardware

.

40,000

AI Robotics software

.

70,000

Satellite software+

.

50,000

Closed water testing

.

20,000

Open water testing

.

£ 80,000

.

.

.

.

.

.

Unmanned element

.

£ 270,000

.

.

.

Contingency for unmanned element

@ 15%

£ 40,500

.

.

.

.

Sub Total (B)

£ 310,500

.

.

.

Boat build & tests

Sub Total (A)

£ 1,673,325

.

.

.

.

.

.

.

.

.

.

.Project Total A&B

£ 1,983,825

.

.

.

Contingency - all project elements

@ 35%

£ 694,338.7

.

.

.

.

.

.

.

.

.

Build and trials

Project Grand Total

£ 2,678,163.7

.

(unmanned)

.

@ 1.61 rate exchange

.
DARPA SOLICITATIONS - TACTICAL TECHNOLOGY OFFICE (TTO)

Solicitation Number: DARPA-BAA-14-25 (Maritime Systems)

TTO is interested in demonstrator platforms to test and evaluate new technologies that significantly advance functionality and radically expand the performance envelope and capabilities of current maritime platform operations. This includes innovation in multi-platform integration across all domains that further enhance the sub-surface and surface maritime presence and operational capability, transformational shape structures as well as platform system designs that are able to operate in dynamic and adverse weather conditions. Central themes for maritime systems include:

a. Platform technologies that enable a dramatic improvement in key operating parameters of maritime and sub-surface vessels (speed and endurance in high sea state, crush and cruising depth, etc.).

b. Sea-based unmanned air vehicles focusing on innovative aero designs, novel launch and recovery of unmanned platforms. These would expand operational reach of the maritime surface vessels with limited deck space.

c. Methods by which human operators effectively perform tasks through remote unmanned systems operations utilizing minimal data content and communications bandwidth.

d. Non-lethal approaches to disable maritime platforms that are interspersed with non- combatant surface vessels.

e. Advanced extended range high speed propulsive "Agile" torpedo engagement with reduced signatures.

f. Innovations in rail gun, coil gun, light gas gun, and advanced cannon technologies.

g. Technologies that enable new/novel and cost-effective platform approaches to traditional maritime missions.

h. Kinetic and non-kinetic defeat of non-traditional threats and high volume precision engagement against near-peer offensive systems.

i. Novel technologies that cost-effectively expand and bridge maritime and sub-surface platform use with other domains such as: maritime-to-air, maritime-to-space, sub- surface-to-ground, and sub-surface-to-air.

j. Propulsion technologies that enable new missions or deliver increased power, power density, proficiency and/or an order of magnitude increase in key performance parameters (thrust, endurance, top speed, and time on target).
TTO MISSION and STRATEGY

1. TTO Mission

The mission of DARPA (TTO) is to provide or prevent strategic and tactical surprise with very high-payoff, high-risk development and demonstration of revolutionary new platforms in Air, Ground, Maritime, and Space systems. In addition, TTO focuses on the following cross-cutting themes: "Agile" development approach, cooperative autonomy, unmanned systems, power and propulsion.

2. TTO Strategy

TTO investments are structured across a range of focus areas, encompassing multiple mission domains and cross-cutting enabling capabilities. The TTO strategy is focused on preventing and creating strategic surprise. We seek global (to include space) capabilities with endurance, precision, and survivability in all environments. The TTO strategy seeks the development and demonstration of system level technologies and prototypes which outpace adversary capabilities and force structures.

TTO is interested in advanced capabilities in all physical domains: Ground, Maritime/Undersea, Air and Space. As part of this, TTO is focused on autonomous systems and advanced autonomy in all physical domains. TTO is interested in individual systems and groups of autonomous systems that collaborate (collaborative autonomy/swimming systems). TTO is also interested in collaborative operations of manned and unmanned teams in all physical domains.

TTO is interested in the development and application of robotic system/automation technologies to enhance warfighter capabilities, improve platform efficiency, and reduce resources and operations required to perform critical mission tasks. TTO seeks innovations in the interaction of autonomous robotics system behaviors with sparse supervisory human control in applied to warfighter operations. Finally, TTO has significant interest in model-based approaches to autonomy, swarming, counter-swarming, multi-platform coordination, and multi-modal human interaction optimized for various warfighter needs.

TTO is greatly interested in approaches that stress reduced systems cost and lifecycle affordability. TTO seeks to develop/employ a cost imposing strategy on our adversaries: develop and employ novel systems which cost much less to satisfy current and future missions against adversaries, or force adversaries to expand great resources to mitigate our new capabilities ("invert the cost equation"). As part of new system demonstrations, TTO is interested in "Agile" time to market driven approaches for systems development, which explicitly use a "design to cost" paradigm.

TTO is interested in addressing global transport and logistical challenges, also called "strategic lift." Strategic lift can be comprised of new platforms, systems of system architectures, and theater/intra-theater considerations. Platforms of interest include high speed naval vessels, surface effect ships, advanced naval propulsion, airships, intra-theater heavy lift, and novel naval architectures. Intermodal transport and staging concepts are also of interest. Advanced robotics and automation as applied to logistics challenges are of interest with the strategic lift challenges.
TTO is explicitly not interested in approaches or technologies that make incremental or evolutionary advancements over the state-of-the-art. TTO is interested in research, design, development, and demonstration of systems which create a decisive overmatch or asymmetric capability in accordance with the TTO mission.
DARPA CONTACTS
675 North Randolph Street
Arlington, Virginia 22203-2114
United States

Primary Point of Contact:
D. Peter Donaghue,
Contracting Officer
DARPA-BAA-14-25@darpa.mil
NEWS OF OTHER SUBMARINE HUNTING SYSTEMS - AIRCRAFT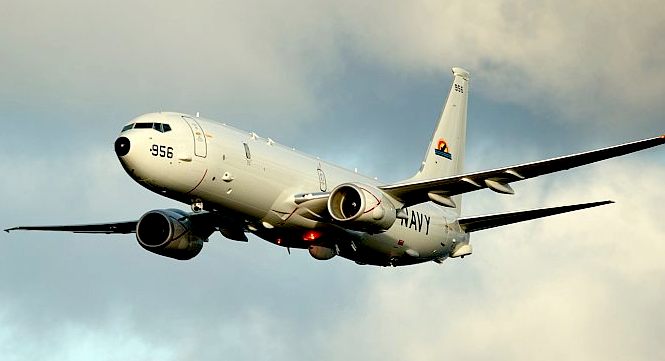 The Being P81 Navy anti-submarine surveillance aircraft
JANUARY 2014 - REDIFF NEWS - BOEING P81, INDIAN NAVY

A yet-to-be-released US Department of Defence report has found that the Indian Navy's expensive new Boeing P-8I multi-mission maritime aircraft ineffective at surveillance and detection and destruction of submarines.

An unexpected and worrying question mark has been placed over the Indian Navy's expensive new Boeing P-8I multi-mission maritime aircraft, which were bought to allow the navy to monitor the Indian Ocean and to destroy enemy submarines that it detected.

According to a Bloomberg news report, the US Department of Defence (Pentagon) has found that the US Navy's version of the aircraft, the P-8A, is ineffective at both surveillance, and in detecting and destroying submarines.

Michael Gilmore, the Pentagon's chief weapons inspector, is reported as saying that the P-8A:
"is not effective for the intelligence, surveillance and reconnaissance mission and is not effective for wide area anti-submarine search."
This is according to Bloomberg, which cites Gilmore's annual report on major weapons.

The Indian Navy, which has bought eight P8-I aircraft for $2.1 billion, is Boeing's first international customer for this platform.

P-8I's cutting-edge sensors, radios and submarine-killing weaponry are integrated onto a special Boeing 737 aircraft, giving it the endurance to fly 1,100 kilometres to a patrol area, remain "on station" for six hours, and then fly back to base.

Yet the Pentagon's report, which has not been officially released, points out flaws in the aircraft's radar performance, sensor integration and data transfer.

It says that current version of the P-8A had not overcome "major deficiencies" identified in combat testing in 2012-13. Contacted for a response, the Indian Navy and the MoD did not reply.

The Boeing Company has declined to comment, stating that the Pentagon report had not been officially released.

The US embassy in New Delhi did not respond to an emailed request for comments. For Washington, as for New Delhi, this news is worrying.

The first P-8A of 117 that the US Navy plans to buy was deployed to Kadena, in Japan. It is operating along with others in the tense maritime environment of the Sea of Japan, tracking Chinese submarines.

The three P-8Is already delivered to India (with five more due to come by 2015) are based at Arakonam, near Chennai, to watch over India's 7,500-kilometre coastline and the ocean stretch from the Strait of Malacca to the Strait of Hormuz.

In November, the US Navy had declared the P-8A ready for combat deployment, while admitted that the US Navy had developed "software upgrades to correct deficiencies."

Vice Admiral Robert Thomas, who commands the US 7th Fleet, backed the P-8A, stating on January 10 that it "represents a significant improvement" over the P-3 Orion, which it replaced in the US fleet.

The P-8I's sensors include Raytheon multi-mode radar to detect aircraft, ships and submarines, while another belly-mounted radar looks backwards, like an electronic rear-view-mirror.

When a submarine is suspected, the aircraft drops sonar-buoys into the water, which radio back suspicious sounds.

A "magnetic anomaly detector" on the P-8I's tail also detects submarines. The P-8I can destroy ships and submarines with Harpoon missiles, Mark 82 depth charges and Mark 54 torpedoes mounted on the aircraft.
BMS LTD LICENSING
BMS have acquired the rights to this patent applied- for technology. We are likely to be granting licenses in respect of the above innovations to appropriate developers, along with conceptual development support consultancy. In addition we are preparing international improvement specifications for filing at a time to suit stakeholders, such that world patent protection is obtained at a time to coincide with new product launches. This may not be necessary or desirable where military confidentiality is an issue. Contact us in confidence to discuss your fleet needs and strategy.

UK IPO - PATENT OFFICE GB2511731
SUBMARINE INDEX
Alvin DSV - Woods Hole Oceanographic Institution
Deepsea Challenger - Mariana Trench, James Cameron 2012
HMS Astute 1st of Class
HMS Vanguard- Trident
INS Sindhurakshak - explosion & sinking
Littoral combat vessels
Lusitania - Torpedo attack
Nuclear submarines lost at sea
Predator - Covert submarine hunter/killer
Seawolf - Autonomous wolf pack deployment of Predator mini-subs
Torpedoes - UUV anti submarine weapons
Trieste - World record depth - Mariana Trench 1960
U20 - Kapitan Leutnant Walther Schwieger
USS Bluefish WWI submarine
USS Bluefish - Nuclear submarine
USS Jimmy Carter - Seawolf class fast attack nuclear submarine
USS Nautilus - 1st nuclear submarine & subsea north pole passage
USS North Dakota - 11th Virginia class submarine
USS Scorpion - Lost at sea with all hands
LINKS & REFERENCE
EV world submarine drone launch
Spectrum IEEE military robots navy launches drone from submarine
http://www.lockheedmartin.com/
http://www.lockheedmartin.co.uk/
FBO Federal Business Opportunities - Military Missions Tactical Technology Office TTO
National Defense Magazine Sailor-Less Ships Soon Could Be a Reality in US Navy
Daily Mail HMS-Talent-Five-days-aboard-Britains-silent-warriors
DARPA Anti-Submarine_Warfare_ASW_Continuous_Trail_Unmanned_Vessel_ACTUV
The Atlantic 2014 The-navys-future-fleet-of-swarming-boat-drones
http://www.theatlantic.com/technology/archive/2014/10/the-navys-future-fleet-of-swarming-boat-drones/381128/
http://www.theengineer.co.uk/in-depth/robotic-submarines-make-waves-in-the-oil-and-gas-sector/1018396.article
http://www.gizmag.com/darpa-saic-actuv-drone/25607/
http://www.businessinsider.com/chinese-drones-reverse-engineered-to-hunt-submarines-2012-4
http://breakingdefense.com/2013/03/run-silent-run-deep-run-without-crew/
http://miragec14.blogspot.co.uk/2013/07/the-next-vietnam-submarine-hunter-c295.html
http://www.youtube.com/watch?v=HtdhnMCWSnQ
http://www.youtube.com/watch?v=xruThwvXZVE
http://www.youtube.com/watch?v=5MBH-w1bQ4s
http://www.darpa.mil/default.aspx
http://www.rediff.com/news/report/slide-show-1-navys-new-submarine-hunter-ineffective/20140127.htm
BLUEFISH DEVELOPMENT PROJECT INDEX A-Z